Official ETC CCP reseller - support eve-pirate.com by visiting our sponsor:
Posted by Hesh in General
Monday, September 6. 2010
Oresbain switched on the small astro-mapping terminal. His mission was important and he wanted to be sure his chosen route was accurate. Many pirates before him had lost valuable time and money because of bad navigation. The destination was some run of the mill Concord patrolled system called Halaima. However, the prize was anything but normal. An entire industrial fleet operating at a belt during the sanctioned corporate war his colleagues had so generously arranged not three days before. Latest intra-corporate comms had indicated as many as four Hulk class miners being supported by an Orca command ship.

He phased out the map by flipping the H.U.D. back online. The Ishtar Class HAC creaked and shook as its engines fired up and Oresbain entered the jump sequences. Frozen Miner had been with him a long time; often the only ship within multiple jumps of travel. He had been forced to make special adjustments this time and as a result her maneuvering was a bit more sluggish than his regular standard nano-enhanced setup.

Light and matter compounded in an explosion of transmitted velocity as the gate in Halaima received Frozen Miner from warp. Oresbain double check the local comm registry and set course for the Ninth planet's asteroid belt. His adrenaline surged when he came across their names still in the registry--the intel was still accurate! Bright blue afterburners kicked him back into his seat for the short system warp to the belt.


In the black of Halaima IX, shadows were being extinguished by the orange red glow of Ore industries strip mining lasers. A group of Ore's finest Hulk class mining vessels sat clustered around their command ship and mobile hangar. They sat motionless and proud; a space stonehenge in dedication to efficiency in industry.


Warp shed from his hull, he watched the targeting assist terminal tucked into the corner of his H.U.D. One red target was designated, then two, three, four; an industrial command ship sitting directly in the heart of the fleet! He kicked on the afterburner module to close the 12km between his ship and they prey. Targeting reticules sprang to life as his on board computer bracketed the slow-responding vessels. Frozen Miner slammed into the grouping of Hulks. Industrialist shields collided with assault ship armor and the resulting concussion countered emergency alignment thrusters. At the same moment, the Ishtar spewed Ogre II class combat drones into the already massed confusion of tritanium and energy. Mere moments passed before the first star explosion lit the night with fire and debris. The remaining Hulks continued to align as one managed to enter warp confusion. Oresbain cursed and continued to pulse his warp disruption computer at the remaining ships. Another starburst as his Ogres moved their angry teeth on to the final Hulk and his Ishtar spit hot antimatter plasma at the industrial command ship.

The final Hulk ignited in a flash of dust at nearly the moment Oresbain's comms flashed.

"Please, stop."

Oresbain let the Ogres chew away some of the Orca's remaining armor. "Would I do that? You're mining during a war buddy...you'll get exactly what's coming."

"You're right. Just stop. We're just trying to mine in peace. We didn't want this war. Lets work something out!"

"Haha, ok, how about some isk? Two hundred million should do the trick," he laughed as he keyed up his account in the computer and waited for an indication of a deposit. Moments later his grin grew and his eyes sparkled when the 200 million joined his original balance. "Thanks. Now, did ya wanna work something out or not?"

"You son of a bitch."

Posted by Joe Hawks in
Friday, July 23. 2010
9 Days old, im getting more and more pleased with what a young toon can do. The last few days iv done another few attemts to ransom people, but without big luck really, only a few kills instead.
This morning, i flipped a retriver.. He didnt engage, darn.. Oh but a hurricane showed up from another corp, but with more or less the same name. Ah must be the main of the retriver.
He flipped the can back.. Doh, the toon was over 1 year old, that could only mean bad business, well i really didnt have much to lose so i engaged.
Man, a cane on range hit hard on a rifter and i was both scrammed and webbed so my speed wernt that great. I was just hopping to get within tracking range of his autoconnons. With most of my shield gone, he started missing.
Phyyy, i was shaking like never before, waiting for him to release his most likely warrior IIs.. weird no drones..
As i was really slowly eating trough his shield, the retriver desided to engage with his drones.. Hornets.. I quickly took them out 1 by one turning my web and guns on the drones. As i was about to engage the retriver also, it managed to warp out.
I turned focus back to the cane, still shaking. with really low skills about 450k sp now, i should be more than lucky to take down a 1 year old cane. His shield went down, and i started pounding the armor. No way i would be able to break an armor tank on a cane doing 30 damage per hit.
To my supprise i saw the armor slowly dropping. After pounding the cane for like 10 min, the retriver returned and again released his drones on me. Oh man, once more i had to turn focus on drones and take them down fast. They did manage to get into my armor before i managed to take them out. I quickly tried to lock the retriver, but again he managed to warp out.
After another 10-15 min of pounding this cane, he finally got into hull...
HA!! Ransom time, man this must sad for him, getting a ransom from a 9 days old.
Oh wait.. WHAT!!!
The guy is not in local anymore, but still here scrammed... Bummer the dude had locked out of game. Ah well nothing else i could do than blow him to pices.
I went to loot his wreck, looking forward to see this poor fit. WOW pure T2. The loot along brought in over 10 mill isk. Not bad for a 9 day old.
But yes the fit was really pore, you can find it on battleclinic.
http://eve.battleclinic.com/killboard/killmail.php?id=10518138
Looking forward, for more Yarrrs in the upcomming days
Rifter fit used:
3x 150mm ac 1
1x Warp scram 1
1x Web 1
1x ab 1
1x small armor repair 1
1x Damage control 1
1x Overdrive injection 1
Posted by Slaul in Piracy
Sunday, May 30. 2010
I decided to fit out a Rifter with a cookie-cutter build and go cruising around low-sec looking for a fight. I found one. While jumping through the asteroid belts in a 0.4 system, I encountered some wrecks. Checking the ownership details, I found out whose wrecks they were and that this pilot was still in local! So I kept jumping through the belts, this time moving more quickly, and after three or four more jumps I found him! He was piloting a Vexor ratting the belts with T1 light scout drones and T1 medium scout drones.

Since it was my first time out and I've only been playing EVE for about three weeks now, I was slightly intimidated by the idea of fighting the Vexor and all the drones at the same time but I decided to do it anyways. It'd be good experience regardless of the outcome.I quickly moved in, afterburner blazing, while the Vexor pilot simply looted his wrecks; didn't he notice me?

Once I made it within range, I activated my scrambler and stasis webifier and quickly started orbiting at 500m. Within moments his shields were going down under the combined firepower of three 150mm autocannons and a rocket launcher. However, the Vexor had not yet opened fire or attacked with drones. What was he doing? Did he have a secret weapon? Apparently not because around when I started hitting his armor he finally began attacking me with, if I recall correctly, 250mm railguns which could not hit me. His drones, however, were now attacking me and were eating through my shields rather quickly.

Choosing to forgo targeting the drones in favor or trying to finish the Vexor quickly, I kept all my firepower on the main target and in short order he was into structure. At this point I opened a conversation hoping for a nice ransom to pad my wallet. However the Vexor pilot turned out to be Russian and did not speak English so he did not understand my demands for ISK and I ended up destroying the Vexor in one of the most beautiful explosions I have seen in EVE.

I decided to let the pod go and just go straight for the loot. A decision that probably enabled me to escape with any loot at all because seconds after I had filled my cargohold a battleship warped to zero right on top of me! With my armor and ammo running low, I decided to warp to a nearby planet and then docked at a station to survey my winnings. In total I made over 1.5M from my first kill!

It was a good day and I look forward to more kills, and probably deaths, in the future.

-Slaul
Posted by Skrammer in Piracy
Sunday, April 11. 2010
Well, I was running around Wirdalen in my rifter today, cruising the belts looking for ANYTHING to fight, and i came upon a rather rare sight. Sitting before me in the 3rd belt was a hulk that was only a few months old, with a full flight of T1 Interceptor drones circling him, mining into a can. I noticed he was in a corp, so I naturally assumed it was a trap. I decided it was much too juicy a mark to pass up, so I very discreetly zoomed up to his can at 750 M/s and canflipped him. There were millions in ore just sitting in the can, so I knew he'd be pissed. I was definately right. Before I even got all the ore out, he was targetting me, and his drones were swarming me. I ignored them and started pounding his shields with my autocannons. after a while I realized he was shield tanked, and I was now down into my armor tank. I started attacking his drones and killed all but 3, and then realized I was into structure. Crap. I warped to the sun (because nobody ever checks the sun, and its freaking shiny and fun to look at) and put several weapons offline so I could regenerate my armor. After five minutes of regenerating, I decided to warp back in and try again. This time he has a few more drones, but im not going to make the same mistake. I scrammed, webbed, and orbited him and fought off his drones. after the fifth satisfying explosion, I started in on him. after abour 5-10 mins of pounding, his shields and armor melted away. When he got to structure, I hailed him. He was taking awhile to respond, but it didnt matter because his only corpmate in the system was in an almost totally unarmed mammoth. I asked for a ransom of 70 million. after about a minute of yet more silence, and one failed transfer of 7000, his buddy warped in. In a freaking merlin. I cracked up. Then I told him to call off the merlin, and within 20 seconds the merlin self destructed. I told him he had 20 seconds to poppage. Then My wallet blinked. I saw more money than ive ever seen, being only a couple weeks old, and I smiled. I warped off towards the sunset, and lived happily ever after.
Posted by Skrammer in
Thursday, April 8. 2010
Hey, this is my first post on eve-pirate.

Well.... where should I start.. Hmm well I started playing eve about five days ago, and for my first three days I was a miner. Then I decided to Try my hand at piracy, because it sounded fun. On my fourth day, I hardly even played eve, except to buy a rifter and some pirate-y equipment (scrammer, web, three 200mm autocannons and a rocket launcher, and a decent armor tank). Most of my fourth day was spent on eve-pirate reading about my new profession. Then on my fifth day, being rather hasty and bloodthisty, I learned to use the scanner and started scanning down hi-sec for can flipping targets. After about fifteen minutes, I found one in Hadaugago. A month-old retriever pilot, sitting there in a belt all by his lonesome, mining into a can. He didn't even pause when I calmly flew up to his can and, taking my sweet time, jetted my own piece of veldspar, and swapped his somewhere around thirty or forty thousand veldspar into my can. Now, naturally, I wasnt sure of my pvp abilities yet, so I didnt know what I could do, and didn't know if I could win or not. I didn't even expect a reaction from him. But about thirty seconds later, He locked me and sent out the drones. A full flight of Acolyte I's. Before his drones could even get within range of my, he was scrammed, webbed, and taking fire from my autos. I thought maybe they could take me when they took out my shields in about forty seconds, but when they got to my armor, I realized that they could barely even chip it. I chuckled. His shields dropped in twenty seconds, and his armor in about forty, then his hull was at about seventy-five percent when he convo'd me. I thought "Huh, thats kind of wierd... Whatever.. Ill go with it..". before I could even speak, he said "i'll give you money if you let me live". I appraised the ship and the situation, taking into account that he didnt have a whole lot of ore, didnt have any good equipment onboard that I could see (he was using Miner I's), and said "Alright. I want to see two million ISK in my wallet within sixty-seconds.". Within thirty-five, My wallet was flashing. I said "Why, thank you for your business, kind sir!" and proceeded to warp to station. But there was trouble. Sitting before me camped at the station was one of his corpmates, flying a raven. I quickly warped to a planet, then to two more, and started scanning the first two planets. I saw him at the first one, and as soon as he showed up on my scan I warped to the station and docked quickly. In the convo with the miner I had just liberated of some of the spoils of his asteroid addiction, he was laying down a ton of smack talk, saying his corp was going to hunt me down. I proceeded to inform him that I was already safe, and that he was a complete carebear for having someone else hunting me for him. He closed the chat after that lol.
since then, (this was two days ago) i've gotten two bursts (yes BURSTS) from canflipping, both of which attacked ME first, and bagged a 5m ransom on a scythe. If you want to hear about any of those, or want to give constructive criticism or something, please Comment.
Thanks for reading!
Skrammer
Posted by Xonja in Piracy
Wednesday, April 15. 2009
First off, I've been reading EVE-Pirate a lot a year or so ago, and always loved the stories. Haven't been reading a lot recently, mostly because i've hung up the eyepatch since my parrot had to go on rehab. All that rum wasn't good for him. I'm a part time killer now, but i guess this story still fits in here. Originally posted on my alliance's internal forums, a little birdie (not my parrot, although he and Nanobot share the british accent) suggested I re-post it here. Hope it makes you smile at least

As i'm moving the bit of stuff I still have in Bosboger over to Hek, I make a quick stop in Olfeim in my Ranis. Haven't been here in ages. Sure enough, it is the same sleepy system it always used to be. A deadend lowsec with only one entrance from a 0.5, it used to be playground for noob ratters and pirates alike. It's more than quiet tonight, and the tranquility carries over to me.
Bored, I warp around for a quick scan. I don't feel like engaging anything, having my cargohold full of the shiny faction stuffs i'm hauling. The faint "ping" of my scanner barely wakes me, and like in a trance I turn the dials and knobs. My tiny 'ceptor seems to move by itself, sleepwarping in on the Scythe Fleet Issue in belt 1-1.
The pilot, short of a year old, is oblivious to my presence. I'm not too excited either, having just NPC'd my security status back up to -1.94, being barely legal in 1.0 systems again. I hate missions. Mindless and boring, almost as bad as... wait-- Getting closer, I notice a distinct glow emerging from his ship. Mining lasers! As my ship eases into a 500m orbit around his, I almost bump into the little dronies zipping about between the Scythe and a nearby 'roid. A closer look reveals them to be Harvesters, the holy grail of mining directors.
I must be dreaming. Is this some kind of set up, deliberately staged to rob me of my precious secstat? It just looks too good to be true. It dawns on me this young pilot might not have noticed that he has left the safe haven one stargate over, and is no longer under CONCORD protection. Slightly amused, I do the logical thing: I flip his can!
The ore muncher gives me an unexpected reaction. Not only does he keep mining, he reaffirms his generous altruism in local chat:
Vector 8 > you're welcome

Seems there's a mining party, and i'm invited. Coming to my senses, I strike up a convo.
QUOTE private chat:
Xonja 2zero > hi

Vector 8 > Howdy M8
Xonja 2zero > so, what are you up to?
Vector 8 > Im mining so that I can pay the 50 mil to join ur corp
Xonja 2zero > really
Vector 8 > yup
Xonja 2zero > that's kinda cute
Right. Cute in a very
special
way. What's he on? Joining our corp? I have no idea who he is, or since when we require 50m to join. Much less accept miners. I'm pissed off. Stupid roid humper got bonked on the head by a few too many rocks, thinks we're a mining corporation? This cannot be tolerated. His icon in my overview has changed to a dollar sign. However, I play along, holding back, drawing out this moment of tranquility. I want him to
feel
his stupidity, all the passed chances of running away as long as he still could.
QUOTE private chat:
Xonja 2zero > wait, let me kill these rats
Xonja 2zero > so that's done
Vector 8 > hehe....ty
Vector 8 > luv killin rats
A couple other chat windows pop up, and while I tell people to get back to me later I miss the mining Scythe picking up speed... and warping out. To station. Escaped. ARRRGH!!! Convinced now that the pilot is a noob, I figure he might still have noticed his mistake and ran to never come back. Staying in character as the friendly hisec ore thief, I keep up the chit chat.
QUOTE private chat:
Xonja 2zero > btw, you can have your ore back if you want
Xonja 2zero > i don't mind
Vector 8 > that's ok m8....It wasnt that much and there's alot to go around....gotta keep on friendly terms with my new corp m8's
Xonja 2zero > how do you mean?
Vector 8 > keep the loot
Xonja 2zero > oh, ok :)
Is he playing with me? I'm puzzled, as endlessly long minutes pass. I'm hammering the scanner, and finally, there is his Scythe again. Moments later, he's back in belt. Refitted? Expecting a barrage of projectiles and missiles hitting my hull any second now, i'm almost speechless as he turns his mining lasers back on.
QUOTE private chat:
Xonja 2zero > btw, i'm not sure if you noticed
Xonja 2zero > did you?
Vector 8 > what?
Xonja 2zero > you didn't
Xonja 2zero > you're in lowsec
Xonja 2zero > wanna keep your ship?
As I say this, I get to work. Describing his duo of Tech 1 Hammerhead and Acolyte drones as underwhelming would be giving them grossly too much credit, but I kill them off anyway, going for a ransom.
QUOTE private chat:
Vector 8 > yes
Vector 8 > I know that
Xonja 2zero > make me an offer then
Vector 8 > im in low sec
Vector 8 > I can only spare 10 mil
Xonja 2zero > well, you could spare your ship then
Vector 8 > common.....Im joining your corp after all
Xonja 2zero > doesn't look like it
While we chat, two rifters warp in. They're noobs, but go for my itsy red-flashy ceptor without a second thought. Not their lucky day. Just as I vaporize them, Mr. Mining Fleetscythe takes his chance for a bold maneuver: he ejects to save his pod! Without his skills holding it together, structure melts down to a little square, my drones still whacking on it. Phew, called back just in time :o
QUOTE private chat:
Vector 8 > bye bye
Quickly, I park the ranis at a safespot and go back in pod to pick up my catch. Expecting a lackluster mining setup worth selling for around 50m total, i'm speechless as I find this: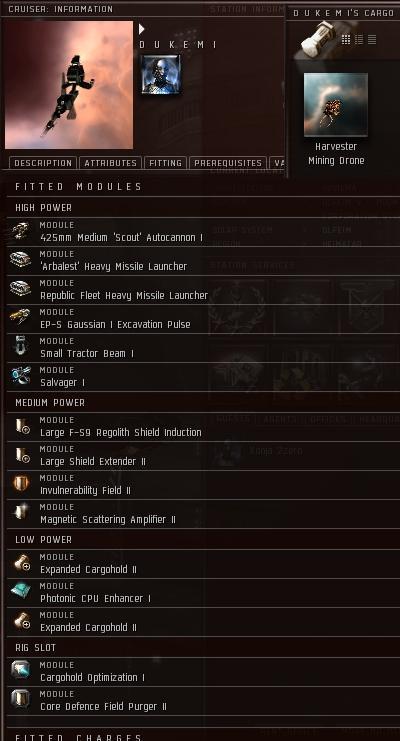 Over 500m worth all together it seems. I'd have settled with a 30 to 40 mil ransom. Silently, I fly my new Fleet Scythe back to Hek, a question burning in my head:
WHY? D:
So.... ahem. Anyone want to buy a Fleet Scythe with a T2 Purger?
Posted by MeatMissle in Piracy
Saturday, November 1. 2008
It was getting late for where I live and the systems were thinning out as our prey docked for the night. Me and my fellow corpmate decided to go hunting for the late night ratter. Juan, my partner in crime, chimed out over teamspeak he had loads of activity in a system next door. I jumped in my ceptor to just check it out. Hmm... Tempest, Abaddon, Megathron, Mammoth, and Phoenix on scan. They appeared on scanner at a pos but the pos were seemingly devoid of any attachments. Sure enough, the pos was just being anchored, not online, no shields, no modules. Completely unprotected capital sitting at a moon!

Needless to say I burned the 166k towards the Phoenix, overloading my mwd to hit 10k. Unfortunately the phoenix warps off but the mega and abaddon stay. I rallied the troops in TS and they began the three jump journey. I landed and tackled the megathron, who decided to target paint me? The Abaddon engaged as well as I dart around like an annoying fly. I convo the Mega...


Continue Reading Who Says Pirates Are Poor.
(Page 1 of 1, totaling 7 entries)