Official ETC CCP reseller - support eve-pirate.com by visiting our sponsor:
Posted by Davis Burnside in Roleplay
Sunday, September 5. 2010
-By Nojha Herrit, Journalist for Herald of EVE


All across the Heimatar region, a story has been passed down for years. It can be occasionally heard at a bar between friends or used to scare fresh pilots from the academy. I can even remember hearing it from my uncle as a kid, who added absurd details to frighten me. There have been many that question it and others who swear on its authenticity. No matter what you believe, though, you can't escape the haunt that the story brings. For when you find yourself flying through quiet space, you will sometimes feel the tingle of your spine and the tremble of your hand.
This is the story that echoes across the cosmos...

In Illinfrik, there is said to be a mysterious ship with an even more mysterious pilot. Pilots have supposedly been killed in situations that border on fantasy, and those who are lucky enough to have clones describe the bizarre ordeal when they awaken.
One man said that he was attacked mid-warp when a ship that he had never seen before entered the warp tunnel right behind him and killed his battleship and his pod with a single shot. He claims that the ship was unlike anything he had seen before. He says that it changed shape and color and fired a weapon too small and powerful to even exist.
Another man claims to have been attacked from over 1000 KM away. According to him, the ship suddenly appeared on his local overview, but thought nothing of it until his warp drive malfunctioned and his ship was cut in half by some unknown energy beam.
But perhaps the strangest report is from Jouc Liage, a former cargo ship operator. I had to fly planet-side to get an interview with him, and he was reluctant to tell me his story. After a modest bribe, however, he cleared his throat and told me to take a seat. "I was flying my Fenrir, which was loaded with over 400 million ISK worth of cargo, and I was escorted by a dozen battlecruisers." He seemed nervous as he tells his story, and kept his gaze fixed on something behind my head. "We were in mid-warp, with no indication of trouble." He says. "Then we all suddenly drop out of warp, halfway to our destination. All the pilots were scrambling to figure out what happened, when a strange ship just appeared about 3 km in front of me. It was about the size of a cruiser, had no windows, and shone dark purple in the sunlight. But the strangest part was the hull; it bended and shifted and snaked constantly, like a psychedelic sculpture. My Security team could not target it, and my scanner was going insane. The readings fluctuated from 10 kg to over 700,000,000 kg several times a second, combat drones flew away from it, and my computer thought that it was a crate of turkey." Jouc leaned forward and looked and the ground. "I received a message on my comm. Unit, but it an unintelligible string of letters and numbers. I responded, saying 'We don't mean no harm, just tell us what you want.' But as soon as I sent it, all of my escort ships started shooting each other! Not only that, the ship hit me with a single blast and my entire ship was vaporized!" He lit up a cigarette. "It was the freakiest shit I had ever seen. I couldn't even imagine it in my nightmares. When my clone awoke, the doctors said I was screaming violently, and I had to be restrained". Jouc declined any further questions from my interview. Since the incident, Jouc got a job as a waiter and has not left his home planet.
The only thing that is known about this mysterious being is that it has never been seen at a stargate or station, only attacks targets bigger than itself, and supposedly will not attack a ship if an Amarrian is onboard. Even the elusive Jovian nation has denied the existence of such a ship, and nobody is sure if there is only the one or if there are others like it. Reports of the ship only occur in Illinfrik, and there haven't been any sighting or attacks in the last 6 years. The safety of pilots in the system is not guaranteed, though. The entity may decide, for whatever reasons, to terrorize New Eden once more...

Posted by Ziku in Roleplay
Monday, July 21. 2008
I have never agreed too much with Gallente ship design, always thought it to be too 'pretty'. The soft lines, a smooth bubbly forms... Put that Engineering effort into making a better Auto Cannon I say. But there is just something about the way that Thorax felt, that rush of power flowing in when all systems came online. I haven't felt this way since my first Hurricane. Even the tight, swept back form of this vessel appealed to me. I continue to fantasize the killing potential in this craft until the proximity alerts go off.
Single Target in-bound. I had dropped out of warp less than fifteen seconds ago and already a target! Rifter class frigate. Thought spans in all directions, as my ship fires all engines, leans into a tight orbit, slips into partial warp with the Micro Warp Drive, and the concentration shifts to locking the target. All modules stand ready as my sensors pinpoint their target. I can feel my mouth water, I have to force I swallow.
Lock. A brief moment everything dims as all modules light off. Warp Scrambler, Statis Webifier, and Four Nosferatu modules. Almost as quickly, energy surges back in to the capacitors, bleeding the target dry.
The Drones, already armed, spill from their hiding place, blazing towards the target. Their first combined volley tears away the Rifter shields. No big accomplishment there, but when the second and third sear and char their way through the Rifter's armor and into his hull I giggle. I command a ceasefire to the drones.
I hail my target. Two Hundred Thousand ISK. Short and sweet. I'm nervous at this point, I'd rather not become someone else's kill. This is taking too long. I start counting off over comms.
Five.
Four.
Three.
Two.
... A reply. "1 second"
One Decimal Five.
One and One Third.
One Decimal One.
Another message, begging "I'm a new pilot"
Decimal Nine.
Decimal Five.
Zero.
The drones eagerly jump to life. Their first volley ignore what little shield recharge had occurred in the interval. Pieces of the Rifter go spewing in all direction as that one lucky round ruptures the Fusion Core.
The Escape Pod flies past my Thorax, already initiated into Warp. That's fine. There will be others.
I hit Warp again; I spent too long in that belt. Next time I'll know not to wait so long. After a few belts my mind wanders back to the plasma cloud burning freely from my last target. What beauty is to be found in destruction!
Proximity alert! My warp drive had already aligned to the next belt. Scanners already cleared their cache. What was that?
I stop in this belt and fire up the MWD. I want some distance between me and the opponent. Local comms start to chatter. I'm being hunted! The thrill sparks again. A whole new rush, not of the kill, but of the chase.
I let my eagerness gets the best of me. I allow my position to slip over comms, and within seconds a Rupture class cruiser warps in. With over 243km between us, I realize that I am still in control of this fight. Just then, some Angel Militia Pirate's warp in to investigate. My opponent quickly dispatches them. In fact, so quick that my surprise attack doesn't succeed. I couldn't align that fast.
The same dance begins. Lock. All systems initiate. Drones released. I hear the larger Auto Cannons of my opponent penetrating my shielding, tearing into my armor. Enemy Drones sending their Lasers into my hull, separating steel from structure. I increase orbit and try firing some Smart Bombs that I had fitted to shake the drones, open distance to prevent Auto Cannon damage, but it was too late. Modules and main systems alike were shutting down. Damage controls had failed and most of the ship had de-pressurized. Now I watch from my escape Pod as my Fusion Core erupts. I chuckle, as the odd tingle the Pod has in its warp shudders through me, and I make a clean getaway back home.
Once at a safe distance I pull my attacker up on comms. I thank him, now I know what to be cautious for, I have learned. One more lesson, one more step towards my destiny.

I return to station and browse the markets for my next combat ship. I run a few simulations for Capacitor Efficiency, Shield and Armor Durability, and Weapon Damage Outputs.
But before I have a chance to make any purchases, other pilots from my corporation send me a fleet invite. We have a war target trying to make his way towards Rens.
I ponder a moment. Haste requires a ship already fitted, in hangar, and ready to fly. I put out the alert, scramble my Jaguar for immediate departure!
The Hunt Is On!


Cleared for publication by: Ander
Posted by flashfresh in Piracy
Wednesday, February 20. 2008
flashfresh
TEAMWORK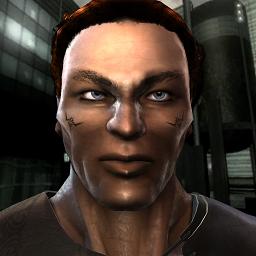 I might give up putting myself forward as bait. Twice I have baited for a fleet / gang and twice I got mauled because either the gang wasn't paying attention or they were positioned too many jumps away and thought I was next door.
Continue Reading Teamwork FTW!!
Posted by Kha0s in Piracy
Saturday, September 8. 2007
I've found myself logging into Eve less and less over the last week or so. Our last war wasn't as big a success as I had been hoping and we still had mercs tailing us, making it hard to get into any lengthy fights without having to look over our shoulders. Targets seemed to be few and far between, and the potential customers that I
could
find didn't seem very eager to let me carry out the services I offer. Things were going slow, slower than usual, and I had grown slightly bored with the hunt.
Cleared for publication by: Ander
Continue Reading Return To The Fray
Posted by flashfresh in Piracy
Thursday, August 16. 2007
flashfresh
This happened a couple of months back but it was all chat logs and no story until now.
Today, I was out hunting in E## when I came across this chap in a belt: Akaya Kalari. He got out fast, before I could lock him but he we struck up a conversation and chatted for the next hour or so. The prey was thin today as G### was full of other pirates and meanies.
Continue Reading Tackled a temptest ....but dude, where's my kill mail?
Posted by Sorom Ydde in Piracy
Friday, July 6. 2007
"I once almost caught a fish thiiiiiiiiiiiiiiiiiis big."

Well, not a fish, a Battleship actually. And damn it was close. Would have been my first PVP Battleship kill...would have...could have...should have, but the Fates stepped in and denied me my prize.

I just recently issued my first war dec against a small corp I had a run-in or two with. More on that later hopefully.

They had moved their headquarters several jumps to the south, luckily I was able to track them down fairly easily. I spent a few days getting the lay of the land and droping a few useful bookmarks in this and neighboring systems. But, after a few days of not even seeing one of their members online I decided to see if I could stir up some extracurricular fun.

I check a few belts, nothing going on...then I see her. A nice, new Mega mining away at some Kernite. Now, something about a BS mining in high sec Empire that just turns my stomach. I'm in my T-Rax, but I figured "what the hell". My belly is full of loot, so I head to the nearest station, unload, and then warp back to my new friend.

I burn it toward one of her cans, make the switch and head over to the other can. Just as I get there 5 T2 medium drones pour out of the Mega, she locks and sends them after me. I return the favor and send my Hammerhead II's at her. I trust in my drone skills, so I leave them to the ship as I begin webbing and blasting her drones. One by one they go pop. I have her locked down, but as her shields and armor begin to drop, she starts to run.

I keep right behind her with my scram as she tries to get out of range, everything's going as planned, but then I notice that she's starting to get some distance on me. I should have easily kept pace, suddenly she's out of scram and webber range. I expect her to warp off at any second, but she doesn't so my drones keep chewing on her armor and then hull.

At this point she's way out of range of my ship and I finally realize that I'd run straight into her second jetcan and I was helplessly bouncing off. By the time I corrected the situation she had realized she was no longer scramed and warped off. Before she left the belt I saw she was almost totally in the red and only had a tiny bit of hull left. If she had stayed another few seconds she would have been toast. Of course, had I had the scram on her, she would have been forced to stay a few more seconds.

I say my curses and pull in my drones. I had poped 4 of her drones, so I finished off the 5th and then went to blow up her ore in case she or someone else came back. Just as I was scooping out her second jetcan a signal appeared on my overview.

She was back, but without the badly damaged Mega...she was in a Hyperion. Needless to say, with my shields still down at a minimum and with the only ammo I had left loaded into my turrets, I decided this fight would not end well. I pulled in the drones I had destroying the ore and made a quick exit.

I offered her a good fight in local and congrats on surpsing me with the Hyper. I got no response so I headed to a station to wait down the timer. After a few minutes I head back to the belt to find her standing guard over the ore as a friend hauled it away. We had a little banter back in forth in local then she warped off to a station.

I still didn't have any war targets online so I logged for the night. It was a while before I fell asleep though...I kept thinking about how close I was to that kill. I could almost taste the burning wreckage. I realize now that I should have thrown balls to the wall and tackled the Hyperion once my shield were back up, but live and learn.

I'm sure there will be a next time. Plus now I know what my ship and skills can do in a real fight.

-------------------------UPDATE--------------------------

So, I'm on last night in the same neighborhood where I almost got the Mega. Still no war targets on, but my "friend" is. I hop through a few systems and eventually pass her at a gate. She pipes up in local warning the 4 others present that I was a can flipper/ore thief and to be wary of me. Of course, no one is mining anyway, plus this area of space is known for it's "roque" elements so I don't think anyone cared about little ole' me.

I do my thing and eventually run across my "friend" in a belt in her Hyperion. She warps to another belt, I follow, she warps to another belt, I follow...then I realize she's rat hunting NPC frigates in her Hyperion! That's almost worse then mining in high sec Empire in her Mega.

I steal the loot from one or her wrecks and then set a tight orbit. We start to banter and I make up my mind that no matter how long it takes, someday I'm going to end up with a killmail with her name as victim.

Needless to say, despite my theft and my efforts to pressure her to engage my T-Rax, she doesn't. She said I was "just a speck and not worth her time", which translates into "I'm not sure if my Hyperion would be able to take your T-Rax and I'm affraid to try." So, after 20 mintues or so, I gave up for the night and logged...I have a feeling playing with my new "friend" is going to be fun.

Cleared for publication by: Ander
Posted by Sorom Ydde in Piracy
Tuesday, June 19. 2007
So, it's been one month since my first pirate kill and things have been kind of slow, but a huge learning experience.

I found a few high sec systems crawling with macro miners. I spent several days hauling away millions in their ore, but as is the case with most macro's, they wouldn't engage. They just kept mining or moved on. I did manage to collect 10 medium drones from them when something must have happened to the computer on their end and several character's went logoffski, leaving their poor drones all cold and alone in the belts. Of course it was my duty to give them a new home in my safe, warm hanger.

Anyway, things were slow but I was making a couple million ISK for about 10-15 minutes of hauling, not too bad. I got bored pretty quick though and decided to give it a rest as to not scare them away from the area. I started roaming a strip of about 10 systems in my T-Rax looking for targets, but nothing really presented itself. I did find some people jetcan mining, but no one thought their ore or honor was worth engaging over, so I'd haul some of their ore away, but mainly I'd just put it into my can and when it was obvious they weren't going to do anything about it, I'd just blow it up.

I did find a few guys who taught me some valuable lessons in the art of ore switching/stealing. In my travels I had a few guys steal "my" ore back after I warped out and I missed them back to a station. I couldn't believe how pissed I got after "my" ore was stolen. I learned that if I don't have a hauler in the system, I'm not going to take the ore with me, so I need to either blow it up in their faces or set a good trap for them. I'm still working on this, but the lessons I learned from those few guys, really helped me a lot. Plus I've marked them down in my address book as future targets. A few I'm even considering for my first war dec. I'll keep you posted on that.

All of this brings me to early this morning.

Cleared for publication by: Ander

Continue Reading A month later: Another kill and a lot of learning.
Posted by Sicks_Strings in Piracy
Saturday, May 19. 2007
Well, I'm sorry for not publishing an article in a long time, but I've been very busy. Well, you'll hear all about it.

So I took a little break from pirating to get some money. I was doing missions....eww. Me and my friend ended up starting a corp. Bla bla bla. It was going well, but I decided I couldn't pirate for a while. We had quite a few newer players, and if we got wardecc'd, it wouldn't be good for them.

So anyway, I'm getting totally fed up with missions, so I took out a rifter to rat.

So I'm ratting. Same ol' same ol'. Orbit at 10km, turn on my SBII, and my guns. Then I chat.

Zzzzzz

After while, I switch rats.

Zzzzzz

Then, someone with low sec status warps in on me. My heart starts pumping harder and harder as he locks me. I'm back in business.
Continue Reading I'm baaack!
Posted by sudoken in Piracy
Tuesday, May 15. 2007
This is my first big fight so the details might be a little sketchy, enjoy!.


Having had a busy day I was looking forward to hoping onto eve and blowing a few things up with the guys in my alliance. I logged in to discover them about 6-7 jumps from my current system. I logged into our vent coms, said my hello's and asked what everyone was up to. Apparently they were in the djimame system building up to go protect a POS belonging to one of our alliance members ally of old.

The enemy was the Royal Hiigaran Navy, a corp I had not heard of before. I set my destination and proceded to make my jumps into the apropriate system. Upon getting there, we immediatly jumped to angur, then moved on to the POS. On our approach we all bounched off the shields, whoops forgot to input the password. After we all had put in the PW to enter the shields we warped back in and went about telling them what they could do to improve their defenses.

After sitting there for a while we started to get bored. Our commander sent me and my little enyo out to scout the enemy ships that were in system. After checking all the stations and having deemed that they were not docked, I narrowed them down in an SS near the sun. After reporting my findings our commander, darkside101, (whom I will refer to as dark from now on) ordered me to scout the gates on both sides, after scouting the third gate and finding more allies on the other side. I reported that nothing was to be found of the enemy forces.

Cleared for publication by: Ander
Continue Reading Stacked forces the little guys comes out on top
Posted by sudoken in Piracy
Wednesday, April 11. 2007
Yarr here's another one from me, enjoy!
I was in systems looking for war targets, being kinda bored I ran into a dead end system. Getting ready to turn around and go out, I hit my scanner on a whim. What came up kinda surprised me, I had 2 rokh, and a retriever on scans. All mining. Well not one to pass anything up, I decided to hit the retriever because of the mineral output I might get(yes also because it was the easier target, call me a coward I dont care

).
I warp in and see the retriever mining (go figure) and MWD over to his can(s). I bump off one of them and rebound into the miner. Fixing myself I head back to the can, I take a look inside and what do I see? Not much. Only a little bit of veld with some plag. I take a look at the other one, and I start to drool. This can is 1/4 full of kernite.......mmm delicious kernite, plus some other ore. I procede to flip the first one and its completely full brother. The miner does nothing at first, then turns and warps off. "Oh well" I thought, free ore.
I go get my iteron, and began the ore hauling process. While i was doing this a prophecy warped in and started approaching the cans full of "my" ore. Completely aware what he was about to do, I warped to the station where I had put my thorax and returned to find him blinking red. I started my orbit and launched my drones. Once I was all set up into my orbit, I locked and opened up with my blasters, along with the nos drones and web/scram. He wasnt going anywhere.
As I began to slowly eat through his shields, I realized I was in for a long fight. My blasters did their job though along with my 5 light t2 drones (would have had mediums, but I was out looking for war inties) He starts hitting me with the pew pew, and some missiles. The lasers didnt really do anything but those missiles ate through my shields pretty quick.
Once into my armor though thats where he stopped, he didnt have the dps to break into my tank. I slowly ate at this guy through his shields, then into his armor, then finally into structure. Man this was taking forever, I shut off my repper as he was half structure, to preserve my dwindling cap power. He slowly munched into my armor, but not enough to have me worry. Finally I saw the explosion that I had been waiting for all this time, and it was beautiful. Looking into the wreck I found a couple T1 items that were at least worth the battle. So total, I made between 8-10 mil from this fight including the sellage of all that ore. Thinking back I should have ransomed him, but unfortunatly when I get into a fight I lose it and dont think just act, call me insane if you will. Now the killmail because I know you love it. (names left out as per their request(I spoke with them later on to ask and apparently they were told to run from me because the guy I had killed was a "seasoned" pvper))
[ 2007.04.10 01:51:23 ] Sudoken > hello there
[ 2007.04.10 01:51:32 ] xxxxxxx > hi
[ 2007.04.10 01:51:51 ] xxxxxxx > aren't u the one we should be running from?

2007.04.10 00:26
Victim: xxxxxxxxx
Alliance: NONE
Corp: xxxxxx xxxxx xxxxxxxxxxx xxxxx
Destroyed: Prophecy
System: xxxxxx
Security: 0.6
Involved parties:
Name: Sudoken (laid the final blow)
Security: -1.8
Alliance: The Sani Sabik
Corp: Bloodveil
Ship: Thorax
Weapon: Anode Ion Particle Cannon I
Name: Blood Seeker / Blood Raiders
Destroyed items:
F-12 Nonlinear Tracking Processor
Heavy Afocal Maser I (Cargo)
Heavy Modulated Energy Beam I
Tracking Enhancer I
Microcell Nanite Reflective Membrane I
Medium Automated I Carapace Restoration
Ultraviolet M
Ultraviolet M
Mining Foreman Link - Laser Optimization
Heavy Afocal Maser I
Small Hull Repairer I (Cargo)
Cleared for publication by: Ander
Posted by sudoken in
Saturday, April 7. 2007
Okay I havent been pirating for long but I have been reading the stories and adventures of you masters of the gun, and ive decided to have a go at it.

It all started out as a boring day with me sitting in a station talking to random people and corp members. I undocked for a bit, just to see what was happening because something was always happening here (high sec folks) with the wars and all. It wasnt long before some shooting started and some pilot got smacked by concord.

Looting his wreck I found a bunch of nummy t2 items but selected all and clicked and dragged. The first thing i grabbed was a 800 cap booster charge and my tiny rifter couldnt hold anything else, so someone came and snagged all that t2 stuff before I could jettison the cap charge.

Well I just sat there a little longer and before long somebody took my cap charge I had left there (completely forgot about it) the guy was in a thrasher and I expect was looking for an easy kill. I redocked and pulled out my thorax (lovely ship that is).

I proceded to lock scram and web him while pounding him with what I had. He redocked and thus started the local smack talk (sorry didnt keep the convo) -skip ahead 1 hour- I was back at the same station and found he had re-ejected that cap charge so I took it back just waiting for the fight. Sure enough he redocked and came out in a bellicose so it began, I relocked him, he fired I returned jammed and webbed with my 4 blasters going and my nos he went pretty quick, coupled with my 5 t2 med drones he didnt see till it was to late, and I ate this kid alive.

Halfway through dealing with him his buddy in a nemesis undocks, and fires on me. Kinda stupid I know but hey. So I get through with the bellicose and switch targets faster than ive ever seen myself do it. But with my repper going and keeping my tank solid I barely felt the 200+ dmg he did with those cruise missiles. Only dimly remember getting hit by one or two but apparently I was hit by 5 of them.

Anyways he gets through my shields easily and starts into my armor. WHAM, a missile hit the armor but it only drops a smidgen and my repper easily compensates. I return fire with everything I have and literaly rip him apart. Within seconds the nemesis dropped like a rock so to say. Shields gone in seconds, along with armor, as my blasters and drones do their work. Structure almost insta poped.

Didnt make much off of this fight only about 4 mil or so but it was worth it to shut them both up. Now for the killmail because I know you love it. On a side note both of these guys are a year older than I am.

Cleared for publication by: Ander
Rest of story moved to extended body.

Continue Reading 2v1 domination
Posted by Sicks_Strings in Piracy
Friday, April 6. 2007
Ok everyone. Here's episode 4, and as promised in EP 3, it's one of me actually winning

Alright. I'm off to my new pirating location in Essence, since the anti-pirate alliance, CVA, was cracking down on me in Domain.
I have to jump through some low-sec space, which isn't a problem, but I take off autopilot and start to fly my way there. When I jump through to the next system, I had feeling. A good feeling. Call it dumb luck, or the "Pirate's Sixth Sense." Regardless, I had a feeling.
I jump in, and right from the gate I can see 4 belts. I decided to give them a quick scan and be on my way, when I catch a Ferox in one of those belts. Lucky for me he didn't rename his ship, so I got to check out his credentials. He was still in a starter corp. Nice, a cearbears alt.
Now here's the major decision. I'm in a bleeder Punisher, aptly named Termite, (I take bites out of big things, and I'm hard to get rid of

) and he's in a Caldari BC. "What the hey, I'll give it a shot." I jump in.
Immediatly when I see and lock him, my heart starts racing. I know this is going to be quite a fight. I scram him, and kick on my ab to close the range before he knows what's going on. I get to under 10km away before he gets me locked and sends the drones and missiles my way.
I'm up close now, and shut down my ab to save the cap I know I'll need. I set my nos on him, and target his drones. OUCH! In about 2 seconds he takes down 3/4 of my shields. I kick in the armor repper to prevent him from digging deep into my armor. POP goes one drone. 2 to go. Pop goes the second.... 2 more to go? He let loose another drone. He has 3 drones out again. My armor is half gone already.
This is bad.
Read on.
Cleared for publication by: Ander
Oh and btw, you've been promoted to "author"

Gratz!
Continue Reading The adventures of Strings EP4!
(Page 1 of 1, totaling 12 entries)