Official ETC CCP reseller - support eve-pirate.com by visiting our sponsor:
Showing user profile of selected author: - PHPR Freighter
Posted by PHPR Freighter in General
Wednesday, April 4. 2007
I am sitting around looking for macros since the last update took out all the Ice fields in .8 space and higher. I got my POS in order 90% of the way and I was sick and tired of surveying. Found 2 moons, 1 with Hydrocarbon and another with Hydrocarbon and Cobalt.

Anyways. got bored and went up through the low-sec near Tama. Brought my hurricane for the hell of it. Nothing in the belts there so I killed the rats and moved on to another system. No one there and it is the same thing for the next 4 systems. I land in Tannolen and I see 8 people. I start my search through the belts and came across a Caracal ratting. Locked, scrambled and missiles are launched. He goes down quickly while taking my shields down to 75%. I didn't bother to ransom because he was repping his armor and was down half structure, so he prob didn't have any cash left.


Cleared for publication by: Ander
Killmail moved to extended body. Bit short post but yer a returning poster so it'll pass for now.

Continue Reading Some PVP fun at a last minute idea
Posted by PHPR Freighter in War
Wednesday, January 31. 2007
Hey all again..
I have had alot of fun out in 0.0, and Privateers have been a pain to get stuff down to 0.0 from empire.. but that isn't the point of my story this time around.
This time, it was me on one of my alts... My alt Imma Trit and the corp he had joined that fights against macroers.
We were hunting some targets and someone had reported a full CNR (Caldari Navy Raven) with a full Dread Guristas setup. So I headed to Motsu to play bait.
Well. one of the people in a CNC undocked and I aggroed, almost blew so I ran. I did not have any stabs or anything. no scrambs and the what not. I led him on a chase through out the system to wait for a domi friend. I had a drake friend but he wasn't aggroed or was wardecced against him.
After my Domi friend got there, he scrambed, nossed and pulled out the holy drones to help with my puny Punisher and my T2 Pulse lasers. Well, he popped after a min or 2, and we didn't get the pod. But we were happy with our kill when we pulled off loot of a Dread Guristas Heat Dissipation Field, Beta Reactor Control: Diagnostic System, and an XR-3200 Heavy Missile Launcher.
Then his buddy undocked and aggroed me, with my job as bait, he aggroed me second after hitting my drake friend. So he had a Drake, Punisher and Domi on him and he went down faster then the first CNC.
After which I grabbed the loot in a hurry after someone MWD'd to the can to check it. I docked and put the loot in the station, thus ending my station camping spree. I used my experience in PVP to help with the kills.

well. I didn't get any final blows, but I did get the kill assists, all in all, it was fun and the corp we dec'ed is out maybe 500 mil+ and waiting on the response of the 2 Bil Ransom after scanning the CNR with the full Dread Guristas/Pith setup... Also note, he had a Pith X-Type XL Shield Booster, so that was a massive factor in the ransom.
Cleared for publication by: Ander
Posted by PHPR Freighter in Dishonourable
Thursday, January 18. 2007
Log in for a while to do some Macro Miner killing when one of our members mentioned he recruited 3 new people. Ok, I thought, Cool. More people to mess with.
Well. One logs in and asks for money and access to the corp hanger. Sitting there thinking, sounds fishy... Well, when I checked his profile, he created the account (estimation) at 0500 11-24-2006 and joined the corp at 0630 the same day. He later claims he created his account 23 hours ago and continues on how he is good at whatever and claims to have a cruiser in 6 hours after having Spaceship Command 3 and Amarr Frig 3 (he is amarr btw) after a couple minutes we are talking to him, our Director (2nd in Command) logs in. We invite him to a little convo with the current corp members that are online. and we tell him what we know of him.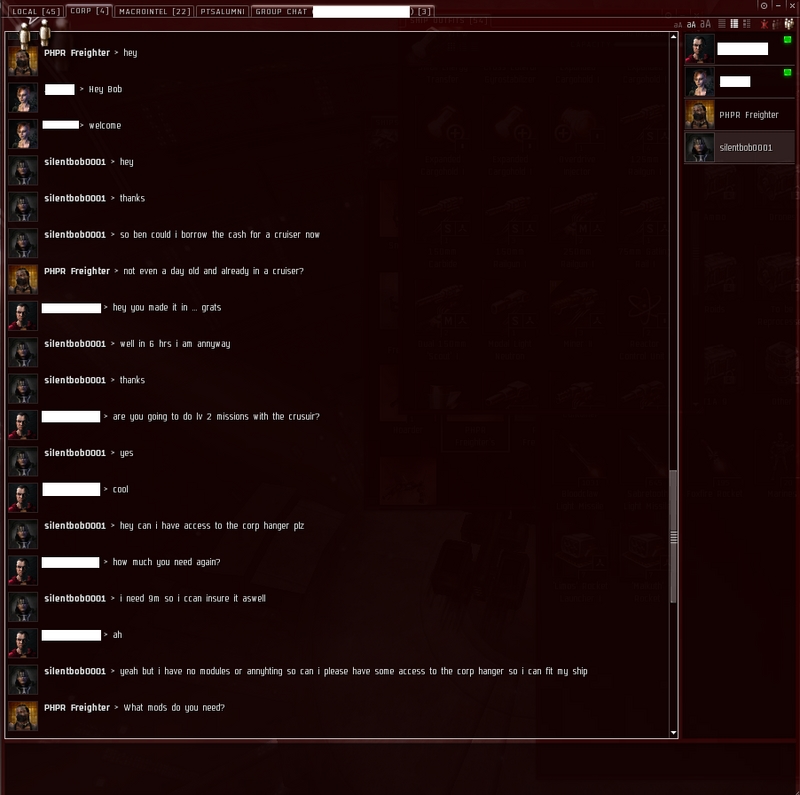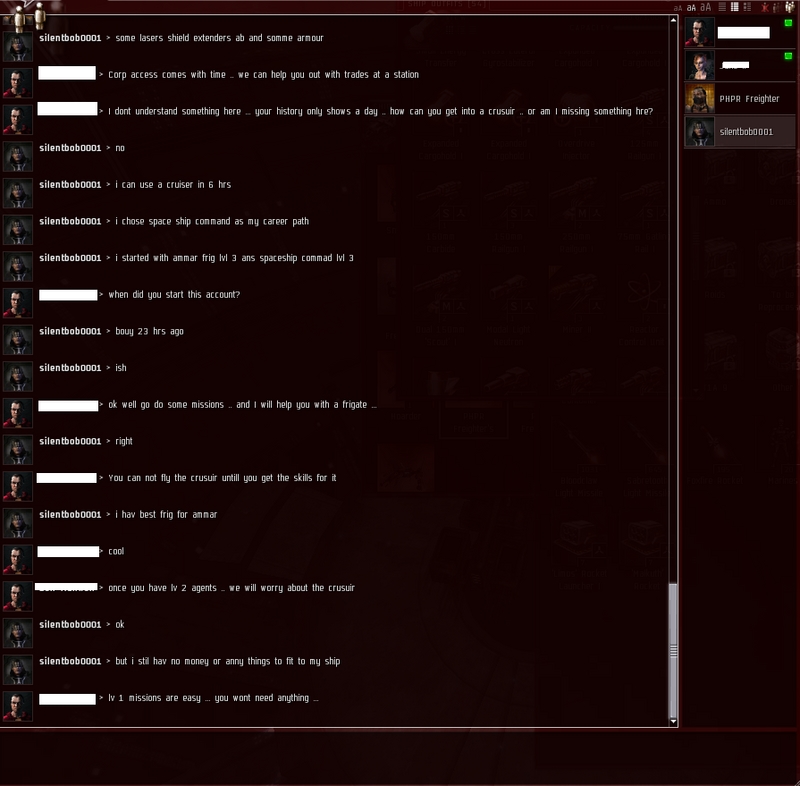 So I asked our Director if I can blow up his ship and pod. He said I can and that night... Met him at Josameto(sp?) planet 5, but logged out due to "lightening striking his backyard"
So earlier today (11/25) I met with him, he looted my can, and I put 2 pts of scramb on him, nossed him and blew him up. I had insurance on my rifter on a payout of 280k, and bout it for 269k, so pretty much being paid to kill him. Anyways. I ate through his pod and waited the 2 mins (no kidding) for concord to blow me up. I should have set an instant to the station warped and docked and waited for my criminal flag to count down. But I was stupid and didn't do so in time.
And after I podded him, lots of smack talk of "F-you you F-er" and "I hope you die a horrible death you M-F-er" etc and along those lines. This would be the first time I had ever podded someone, took a massive hit on sec rating and couldn't stop shaking for the next hour. It was excellent. Same rifter setup as before.
And here are the kill mails.
2006.11.24 21:35
Victim: silentbob0001
Alliance: NONE
Corp: Ministry of War
Destroyed: Punisher
System: Josameto
Security: 0.6
Involved parties:
Name: PHPR Freighter (laid the final blow)
Security: 0.5
Alliance: NONE
Corp: ----------
Ship: Rifter
Weapon: 200mm Light Gallium I Machine Gun
Destroyed items:
Dual Light Beam Laser I
Dual Light Beam Laser I
Civilian Shield Booster I
Multifrequency S
Multifrequency S
200mm Reinforced Nanofiber Plates I (Cargo)
150mm Railgun I (Cargo)
75mm Gatling Rail I (Cargo)
Survey Scanner I (Cargo)
And for the Capsule:
2006.11.24 21:36
Victim: silentbob0001
Alliance: NONE
Corp: Ministry of War
Destroyed: Capsule
System: Josameto
Security: 0.6
Involved parties:
Name: PHPR Freighter (laid the final blow)
Security: -0.8
Alliance: NONE
Corp: -----------
Ship: Rifter
Weapon: 200mm Light Gallium I Machine Gun
Cleared for publication by: Ander
Posted by PHPR Freighter in Piracy
Thursday, November 23. 2006
Running around in Isikesu to find a lone retreiver out mining into a belt. I grab my hauler that I can easily put 10k m3 on it and go ore stealing his can. He brings his drones out and tries to attack me, so I dock, bring my rifter out and he has a buddy in a ferox. He attacks to around 25% hull and I warp out faster then you can say "Ganked." They guy private convos me and wants a fight. Well, our kill rights didn't last and I blew from Sentries. We went to a moon, and he blew by concord. So I set out a can and he turned it which gives me kill rights. We were at it for a while until he warped and he wants to continue it at a belt.. I said fine by me but keep your friends out of it. I also added in that if he blows me, I will give him his ore back and then some. Well, I ended up winning with around 66% hull left on my rifter (btw, it was rifter vs rifter) and he had an impressive armor tank. I was just having 3 ACs and a Missile launcher, civ booster, ECM, and Hydropropellent something.... Frig Named AB I know that. for lows I had a CPU, Overdrive injector and a stabber (I know I am evil). As I said, I ended up winning and it was a good battle for the 2 hour wait for him

I was starting to expect a Ferox or a BC/Cruiser... Then I would have to go get my Vexor or Ferox.
In the end, I lost a rifter and my opponet 2 rifters. Here is a copy of the kill mail:
2006.11.22 03:08
Victim: -------
Alliance: NONE
Corp: -----------
Destroyed: Rifter
System: Isikesu
Security: 0.7
Involved parties:
Name: PHPR Freighter (laid the final blow)
Security: 0.0
Alliance: NONE
Corp: ----------
Ship: Rifter
Weapon: Flameburst Light Missile
Destroyed items:
J5b Phased Prototype Warp Inhibitor I
Barton Reactor Capacitor Recharger I
Small Automated I Carapace Restoration
Proton S, Qty: 1000 (Cargo)
Energized Adaptive Nano Membrane I
150mm Light Prototype I Automatic Cannon
'Malkuth' Standard Missile Launcher I
Cold-Gas I Arcjet Thrusters
Flameburst Light Missile, Qty: 292 (Cargo)
Fusion S, Qty: 23 (Cargo)
Nuclear S, Qty: 77
Cleared for publication by: Ander
(Page 1 of 1, totaling 4 entries)