Official ETC CCP reseller - support eve-pirate.com by visiting our sponsor:
Showing user profile of selected author: - freaky
Posted by freaky in Piracy
Friday, September 28. 2007
freaky
This is part 2. I hope you liked
Part One. Be sure to read Part One first before continuing!
Keep reading, it only gets better and better!
So I left off the last story at..........
For example. I was in TMP alone. I saw two war targets. One Drake and one Interdictor I can't recall which. I see one of them at a planet so I warp to it in my Myrm. Mind you I had backup waiting one system over. So I warp to the planet just as the Drake leaves and the Dictor warps in. I get it webbed and almost manage to pop it. He MWD's out of range quick enough and sits and circles me. So I sit there waiting for the Drake to warp in. He warps in and I lock him down and my guys warp in......
Continue Reading Dirty Work---Part 2
Posted by freaky in Piracy
Friday, September 28. 2007
freaky
Part 3
Be sure to read
Part One
and
Part Two
first before reading on!
I hope you're all enjoying this so far.
Here's where I left off in the last section.....
Everyone chooses to play the game the way they see fit. I can't argue with that. I don't begrudge anyone's style of play. I may find it boring, I may find it lame, but these people are paying money to play their way, not mine. So I don't sit there and say that we're any better than the next guy.
What I do say is that we are civil, sportsmanlike, honest and have integrity. Lot's of people laugh at that because they say you cannot embody any of those attributes and be a pirate at the same time. I am a firm believer that you can and that's we do.
Continue Reading Dirty Work---Part 3
Posted by freaky in Piracy
Friday, September 28. 2007
freaky
We're almost to the end folks. Just be sure to have read the entire thing in order. Starting with
Part One
then
Part Two
and then
Part Three
.
Here's where I left off.......
I r in yur allianze, spyin yur chatz!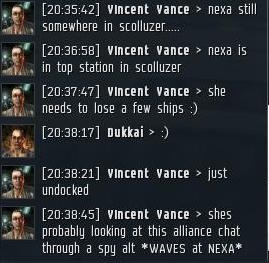 How does Nexa roll? Let my enemies fill you in.

Continue Reading Dirty Work----Part 4 The Finale
Posted by freaky in Piracy
Friday, September 21. 2007
freaky
Greetings friends and foes. I had initially intended to regale you with an epic tale of profound proportions, but I am still putting that masterpiece together. It's shaping up to be the longest story ever I think.
So since I have been getting lots of emails about what happened with the whole Beck Altarr incident, I figured I would catch everyone up on what transpired with that and also with Soul Finder. You can read about
Beck Altarr
here. You can catch up on
Soul Finder
as well.
So read on too see what happened with those two nutters.
I mentioned that I am working on a grand old story. I am struggling writing this one because it's literally massive in scale. Unfortunately Ander has this system set to only hold so much space. It's only like 100 characters bigger than the space they allow for Evemails.

Actually the problem is Ander only has Story Storage trained to level 1 so I am limited in space. That last story with Beck was a long one too. I actually had to edit that one down quite a bit to make it fit.
Unfortunately this story is ginormous and will easily take up two, maybe even 3 layouts. So I am kind of torn on writing it. A lot of people said that last story was very long, but it was really good.
The story I am working on is about us war decing the EMP corp. In one of my last stories I mentioned them. One of their pilots decided to be cheeky and attempt to gank some faction loot from a kill we just made. I swapped the loot into a TRAPS jetcan and he swung in and managed to grab a cap booster 800.
We managed to catch him a system over and pop his Megathron which caused him to flip out and tell us to fuck off and call us assholes. So we decided to war dec them. They had 180 people, they were based in low sec, had a large POS and we saw lots of em in battleships.
They of course had a copy of the Carebear Playbook™. Do something stupid, smack talk, laugh off the threats, get dec'd, don't use diplomacy, run, hide, get killed repeatedly, join an alliance, etc.
Wait, it gets even better. It turns out the alliance is complete shit on several fronts. It gets better still. A few members of the alliance didn't like what the CEO said. I emailed a chat log of him bashing the rest of the corps to the other corps CEO's and players. They are also giving me intel now as well in exchange for not hunting them. It also didn't hurt that they were both huge fans of my stories here. Two spys for twice the fun. Twice the paranoia.
So let me know if I should post it. I mean it has a lot of screenies and a lot of text. I mean it's pretty funny to see them pissed off and smacktalking in local, smacktalking in chat, smacktalking on killboards, and emails. Then all the retarded stuff they say about why we suck, they go and do it themselves and think they're awesome for doing it.
Like what you might ask? Well for example, we would catch a BS of theirs and kill it with 2 or 3 BC's. They would scream in chat, in local, on their forums and killboards about how lame we are because we couldn't kill their single BS 1vs1, and we suck because it was 3vs1. Then they snag one of us in a BC and they would have a Raven, Hyperion, Rapier, Stiletto, and Purifier and hoot and holler how we suck cause we died.
We find out they lie, they cheat and scam people, they logoffski, they smacktalk and lose a lot. Sound like it could be a good read?
I could use some words of encouragement here. I mean I love reading when people are caught looking like idiots, hypocrites, liars and scammers. So you guys up for an novella? Let me know here or drop me a line.
Keep reading though to see what happened with Soul Finder and Beck Altarr.
Continue Reading Closure and a bit of a teaser
Posted by freaky in Dishonourable
Thursday, August 16. 2007
freaky
That's it folks. It's all over. We have found the biggest whiner and carebear(s) in all of Eve. It's true! Don't believe me? Read on and tell me you've seen such depravity in other people before, in a video game no less.
You might've read some of my stories in the past about people like Admiral Denzark, Psycotic1, Soul Finder and other odd fellows who make for quite an interesting read.
I'd like to introduce you to Beck Altarr. He was featured on the tail end of my last
story on Eve-Pirate.
He's one of those guys who makes you wonder what the fuck is wrong with people. I mean we're playing a video game here after all. Aren't we? Some people like to take things to the next level. In his case, he takes me along for the ride with him.
Now unfortunately there are not a lot of screenies here. It's text intensive. However what it lacks in screenshots it makes up for in substance. Do you like to see people whine? Do you like watching them self destruct as their video game world is rocked from under them? Do you enjoy reading about carebears who question a pirate's character and ethics, who then turn around and get caught in lies doing the same thing they're accusing someone else of doing?
You may learn a lot here. I know I did. I actually read the EULA and TOS, as well as a bunch of the FAQ's on the main Eve website. I also had recent contacts with GM's in regards to something other than reimbursement, this time it was for harassment.
This story is still unfolding but if you like to see people get what's coming to them, I suggest you read on. I hope you find it as entertaining as I did.
Continue Reading We Have a Winner! Opps, I Mean whiner!
Posted by freaky in Piracy
Wednesday, August 8. 2007
freaky
We've been going through a few personnel changes in TRAPS lately. A lot of our long time members left TRAPS to explore other options in their Eve careers and the few of us left at TRAPS wish them all the best.
I've got a huge story in the works for ya folks. I guess that what happens when CCP sneaks in a super-extended downtime on me when I least expect it.
It's been a roller coaster ride the last month or so between us losing a few good members to us making more good friends via our combined efforts with REPO corp.
We hit up high sec, low sec and back again. All along the way racking up a few kills, pissing a few people off, and finding new people to harass.
I'll start with when we had our joint war effort with REPO and declared war against the FREGE alliance. They were hard to find and harder to kill. Every encounter I had with them ended up with them warping away because of WCS. Lots of em. Though one encounter I got on a killmail there were 10 other people on it so stabs or not, he wasn't getting away anyhow.
We chased this FREGE Abaddon and just couldn't catch it. I guess 6 WCS will do that to ya...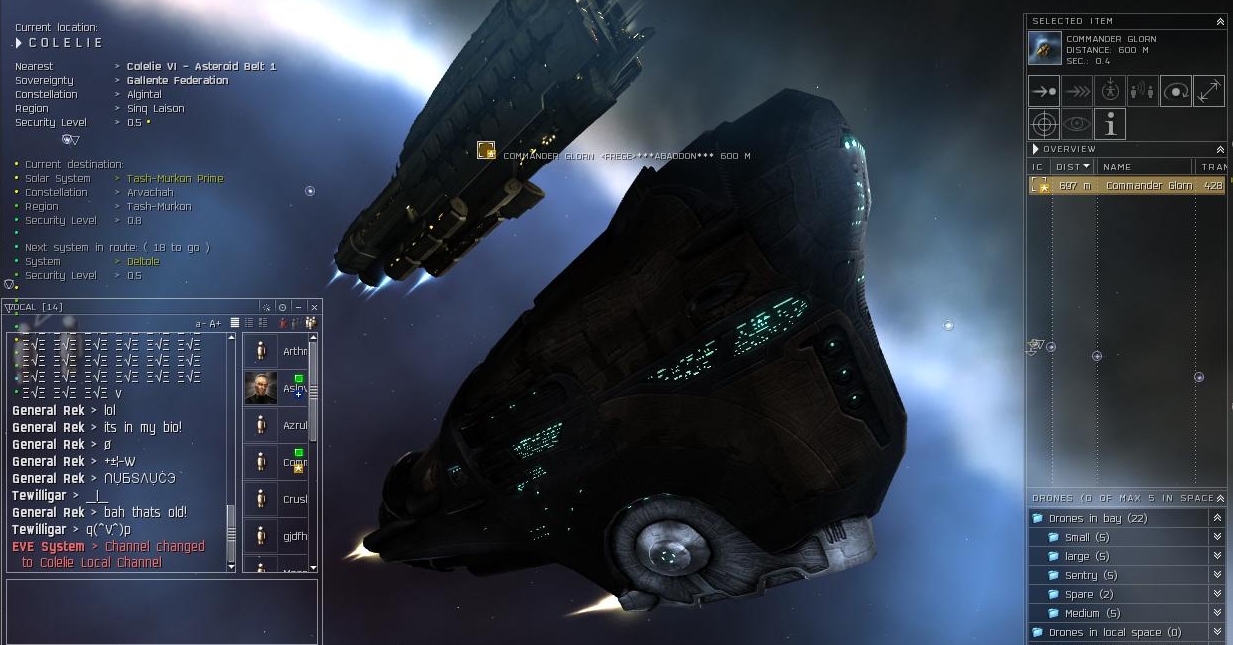 Keep on reading. This is going to be another epic tale rife with sordid screenshots and titillating chat logs. Grab some grub and plant your butt and read on!
Continue Reading Bringing the High Sec Back
Posted by freaky in OOC
Monday, August 6. 2007
freaky
T.R.A.P.'s --- The Really Awesome Players corporation is currently recruiting. We've had some players move on to new pastures after a long stint in our corp and we are ready for some new blood.
We are mainly based in Empire space, specifically in the Tash Murkon area, but we do venture all about.
We are mainly an Empire war dec corp. We dec for fun first, profit second. Occasionally we take a merc contract now and then as well.
We are spread out all over the world. We have players in the USA, UK, Australia, and other parts of the world. All nationalities are welcome.
We don't mine though some of us occasionally run missions between war targets, we also engage in all sorts of piracy.
We don't have many rules in our corp. Basically have fun, do what you want, participate when you can and enjoy Eve. The only real rule is no cheating, lying, scamming or smack talking.
We value fun and friendship above all else. We don't have cliques in this corp. Everyone is treated as an equal and you will get out of it what you put into it, just like everything else in this game.
I am not going to bullshit ya with a bunch of phony promises like some of those corps you see out there recruiting willy nilly, using you to further their corp wallets via corp taxes.
Here's what we look for in a pilot.
The ability to fly BC or better.
The ability to be self-sufficient.
The ability to work alone or in a group.
The ability to read/understand corp chat and emails.
Prior PvP experience is always a plus, but if you're lacking and can follow the previous requirement, you shouldn't have a problem.
Here is what we are not looking for.
Co-dependant people who can't function without a group or without some serious hand-holding.
People who whine about being outnumbered or losing ships or being camped.
People who don't fly their ships because they're afraid to lose it and can't afford a new one.
People who constantly brag or act like retards over simple things.
People who grub ISK, mods, ships, or assistance from others.
We don't offer a lot in the way of ships, mods, insurance or any discounts on items. We don't have corp hangars. We don't have a POS. We don't have guaranteed low sec or 0.0 access.
What we do have is a friendly bunch of people who enjoy playing Eve. We offer constant war targets, of course we can't guarantee they will undock or log in, and we can't guarantee a victory in every encounter. We offer a casual PvP, pirate and griefing environment. Of course you can be as hardcore as you want though. Most of us are pretty laid back.
You will likely not get rich quick in our corp. A lot of people read my stories on Eve Pirate.com and think we are just killing and looting to no end. That can happen now and then but a lot of it is cat and mouse so for some people, it's a bit more fun, and for others, they might find it dreadfully boring. It's not for everyone.
I highly suggest you read a few of my stories on Eve Pirate.com. Click my author name at the beginning of the story to see all of them.
Alts are welcome, your main's privacy is assured of course. So if you're looking to try something new or different, give us a whirl. We might be your cup of tea.
If you have any questions, please convo me or email me in game or out of game at nexanecis@gmail.com
Do not just apply without talking to me first. Any unsolicited apps are rejected and I don't even look at them. Anyone who want's to join a corp without bothering to ask any questions or have questions asked of them isn't likely to be a good corpmate. That's just my opinion. Of course you could just apply randomly with some large allianced corp and get in a lot easier. Of course, we might be war dec'ing them shortly so you may have a chance to fly against us.

Also we posted this on the main Eve-O forums. If you like my stories, please hop over to our
post
and give us a lil bumpage and say hello!
Posted by freaky in Piracy
Sunday, July 8. 2007
freaky
You might remember my last two stories about killing the G.U.A.R.D. alliance. If not, you can read them
here
and
here
.
If you're too lazy to read those stories, the basic plot line revolves around a corp of smack talkers we dec'd called RIMTECH, who after being beaten daily decided to run to their friends in the GUARD alliance. They probably figured it would be a good deal all around. 0.0 access, more German friends as this was a German-only alliance, and a large contingent of wingmen to help battle back the evil forces of TRAPS and REPO corps.
Needless to say, they guessed wrong and suffered the consequences. This story picks up where the other ones left off. We had GUARD on the ropes. No more were they out with 30 man gangs roving the area to punish us. Instead they holed up in out of the way systems and started working on faction to get new agents so they could return to missioning 20 jumps away from their home area. Of course, we were more than willing to follow and drop in on them unexpectedly.
Eventually the entire alliance disbanded and now only an alt placeholder corp is there to hang on to the name. Did GUARD folding have anything to do with the REPO/TRAPS tag team combo? GUARD says no. Others say perhaps. Let's see what you think after the story.
I will also touch on some funny stuff that people pull in this game. I love people who just outright fucking lie. We also wrapped up a war against Crimson Council. I had temporarily dropped their war to focus on the RIMTECH splinter corps that popped up but they came to their senses and paid the surrender fee before the war could be restarted against them.
RIMTECH did some amusing stuff as well. They are prime examples of how you can avoid wars with minimal to moderate inconvenience on your part in this game.
Continue Reading Goes Under After Regularly Defeated or G.U.A.R.D.
Posted by freaky in Piracy
Sunday, June 17. 2007
freaky
This story picks up where my last one left off. As you may remember we had 3 active wars going against Caesarri Industries, Crimson Council and the German smacktalkers of RIMTECH.
Remember the part in my last story where I posted part of the rules from the Carebear Playbook?
1. Get war dec'd
2. Laugh at the corp who dec'd you. Talk shit. Lie and cheat if at all possible.
3. If you have died a lot now, think of as many excuses as you can. Hide out. Make threats. Name drop if possible.
4. If you're still losing 500mil a week from losses, and the corp is offering you 200mil to surrender, don't accept it. Petition it.
5. Consider starting a new corp or even better, join an alliance. Another option is to stay permadocked.
6. If those aren't viable options, run and hide in a NPC corp and pray they don't war dec the next corp you join.
RIMTECH has followed it to a T. They got war dec'd. They talked shit. They dishonored 1 vs 1's they asked for. They made threats....

[ 2007.06.03 07:03:28 ] Necro Lyte > fuck on your screenies now you will get a war
[ 2007.06.03 07:03:32 ] Necro Lyte > be prepaired
[ 2007.06.03 07:03:43 ] Nexa Necis > go get friends. you'll need em


[ 2007.06.03 07:03:49 ] Dianeces > Pew Pew Lazorz!
[ 2007.06.03 07:03:57 ] Necro Lyte > lol
[ 2007.06.03 07:04:07 ] Necro Lyte > wait freind wait
[ 2007.06.03 07:04:14 ] Necro Lyte > u re4ally will be surprised
[ 2007.06.03 07:04:17 ] Necro Lyte > really
[ 2007.06.03 07:04:19 ] Nexa Necis > uh huh

They made excuses....

[ 2007.06.02 14:17:11 ] Nexa Necis > quite brave when its 8 vs 2 i see

though yesterday morning 5 vs 2 wasnt good enough


[ 2007.06.02 14:18:14 ] Ryan Caldari > you always have the chance to dock


[ 2007.06.02 14:18:23 ] Necro Lyte > yes but you are pvp experianced player
[ 2007.06.02 14:18:31 ] Necro Lyte > so show all your trix
[ 2007.06.02 14:18:51 ] Ryan Caldari > and your fitting will be much better than ours

They name drop, just look at their bio's.....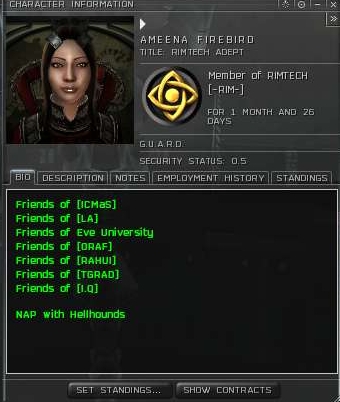 Stay tuned to see how they skipped rule #4 as far as I know, and jumped right to rule #5. Some of them even skipped to rule #6. As they skip to rule #5, it brings a world of hurt down on the German only Alliance, G.U.A.R.D. In between spanking the alliance we still find time to kill our friends in Crimson Council too.
Continue Reading G.U.A.R.D. Alliance Trial Run Cost Them 15 Billion And Counting
Posted by freaky in Piracy
Sunday, June 3. 2007
freaky
It's been a sort of slow few weeks for us here in TRAPS. My own play time has been severely ham stringed because I just bought a new house or POR (Player Owned Residence) as some Eve players call it. Needless to say, between 10 hour work days, moving and getting settled in, I haven't had a whole lot of time to kill people.
Still we managed to score a few victories and snag a few surrender fees along the way. This story will cover 6 different corps we've fought or are still fighting against.
It will also be my first story with a video attached. It's not the best video. I have very limited experience with editing software and most of our targets at the time just weren't in a fighting mood. You can download it
here
.
There isn't a ton of action to be had this time around honestly but there is plenty of whining, and people getting caught cheating and lying. No one from my corp of course. For some reason it's the "honorable and just" corps that do all the lying and whining. Go figure.
Remember Caesarri Industries? We took out their 2 POS's and wasted their ships like no tomorrow. They still haven't paid the surrender fee and we are still making money from keeping the war active against them.
One of their members suffers their 19th loss to us.......
Continue Reading Sour Grapes For Carebears = Fine Whines For TRAPS
Posted by freaky in Piracy
Friday, April 20. 2007
freaky
Man, to be honest, this is a tough story to write. Why? Because I just don't know where to start. Honestly. I have not run into this amount of smack talk and lying in a long time. If you thought
Admiral Denzark
was bad in that story, this guy and some of his corp take smack talk to a whole new level.
They even go so far as to hire a mercenary corp to help them, yet they don't realize the CEO of the corp is more interested in scamming a profit than a job well done.
Sorry to say I don't have a ton of screenshots as I've not been on as much as I would like due to a death in the family, but it's nice to see my guys dealing with adversity without the need for rude and sexually graphic smack talk. Though I did admonish them for not taking screenshots. I can't be in every battle, you know.
So stay tuned, even though this story will lack the usual gobs of photos, it gives you a most amusing, if not even scary look into the mind of someone who is in need of help.
I honestly debated writing this story. The main reason being that it involves the reading of chat logs. Which to some, I am sure is pretty boring. Me, personally, I enjoy reading that kind of stuff, especially when it's in a funny way. Several people contacted me about the last story and when I told them how this story was shaping up, they still said to post it, even though there isn't a shitload of ship battles, it's more of a text assault. So if you're looking for a fight sequence every other paragraph, I am afraid this is not a story for you. Should you, however, enjoy reading what completely nutty people spew while playing this fine game, then by all means continue reading!
You might want a refresher course on the full meal deal on how we came to know Psycotic1 and his roving corp of raving lunatics. You can read about the beginning
here
.
Now, on with the show..........
Continue Reading Smack Talking Corp Hires Unethical Mercs FTL!
Posted by freaky in Piracy
Monday, April 9. 2007
freaky
What is the Ripple Effect? According to Wikipedia,
"The ripple effect is an education-related term associated with the studies of Jacob Kounin. It involves the effects that a reprimand in a group has on members of the group who are not the intended targets of the reprimand."
This happens with many of our stories. One person's actions end up affecting their entire corp.
Take for example Zion. / Ticker [ZION.]. One night I was in Tash Murkon Prime chilling out since no war targets of ours were on. So I decided to go steal some ore and pick a fight. As always there were macrominers aplenty in the system. There were also a few player corps mining as well.
Out in my Taranis I went. I stumbled upon a small mining op of the Zion people. They had maybe 5-10k worth of ore and a mining crystal in the can. I swap the can and sit for a few minutes. Nothing happens. So I continue through the belts can grabbing along the way..........
Read on to see how the ripple effect worked in their case, not once, but twice. Also there are some updates on the Caesarri corp and Red Rodger Stars corp wars..............
Continue Reading The Ripple Effect
Posted by freaky in Piracy
Sunday, March 25. 2007
freaky
This has been a busy few weeks for my corp. We have been getting into all sorts of trouble. Everything from killing our Russian enemies to continue the fight to avenge Apollo Creed, to ransoming carebears in high sec for hundreds of millions, and even taking down 2 medium POS's (with a bit of help of course).
Stay tuned as this story will have a ton of action, lots of laughs, a plethora of pictures for people to peruse and ponder. You will see ships die and pilots cry as a supposedly passive carebear CEO is unmasked to show their truly evil pirate side. Who says pirates are the worst scum in Eve? Not me, that's for sure.
So grab a can of long-limb roes and a cold Quafe and feast your eyes on this one..........
Continue Reading Revenge: A dish best served cold
Posted by freaky in Piracy
Saturday, March 3. 2007
freaky
LOGOFFSKI - [lawg-AWF-skee]
verb, noun
verb
1. To log off Eve before a fight or mid-fight in a vain attempt to save a ship or capsule :
Once the carebear realized his hull-repped Apoc was no match for my Vexor, he logoffski'd.
noun
1. A nickname given to pilots who are known for logging off during a fight when things go bad :
That guy Rlotus is a real logoffski.
At this point in time I am thinking this word originated in Russia. What evidence do I have to support this? Well then, you're just going to have to keep reading now, aren't you? Maybe then you will also see what role Apollo Creed plays in all of this.
Also included in this story at no cost to you is a bit of follow up to a grand old smacktalker and a new addition to the smacktalking carebear ranks who is definitely a go getter.
As usual, there are plenty of pictures for those of you who haven't trained your Reading skill past level 1.
Continue Reading The origins of Logoffski and Apollo Creed is avenged!
Posted by freaky in Piracy
Sunday, February 18. 2007
freaky
That's a common though that pops into my head every time a new convo window opens up with someone ranting and raving about a loss, or someone trying to "put me in my place" by "explaining" all the things about me that suck in game and real life as well.
Still, it provides me and my corpmates with lots of laughs and entertainment.
For example, we have war dec'd Kiroshi Group. The war has been going on for quite a while now. 3 weeks or so I think. As usual they start off with smacktalk.....
[ 2007.02.03 06:44:35 ] Saywen Tofire > i've had run ins with your minions griefing in asteroid belts, and i'm feeling no mercy toward your corp atm
Mind you the constant smacktalking from their corp has already resulted in 2 war dec's prior to ours. I mean, we're pretty random in our war dec selections for the most part. This guy's corp has been chosen as least two times in the past few weeks.
This guy Saywen is pure class. He embodies all that is carebear about Eve. He talks a ton of shit. His corp gets war dec'd. He talks more shit. He loses a bunch. He talks more shit. He dies some more. He stops trying to fight and starts running missions. He get's cornered in a system, he talks shit how good he is for not undocking. The next day he gets you cornered in a station and starts talking about how only pussies stay docked.
You've seen these types of players. You know the ones who play off dying with the excuse, "Dude, I just made 20mil from insurance, so you just made me money by killing me! ROFL!!!!" Of course after that point, all you see them flying are Impairors and shuttles the rest of the war. Fun stuff.
Then, a blast from the past revisited. A CEO from a corp I had dec'd a while back. His corp bio blabbed on about honor, sportsmanship and maturity. They we're all the exact opposite of that. I even wrote a story about them
here
.
Wait till you see this guys logic when he convoes me out of the blue 6 months after the war dec ended!
Then we have the merc corps hired to dissuade us from war dec'ing these corps. This time they hired my old friends Privateer Alliance. Think that stopped us? Read on and see how we dealt with them as well.......
Continue Reading It's just a game isn't it?