Official ETC CCP reseller - support eve-pirate.com by visiting our sponsor:
Showing user profile of selected author: - Xonja
Posted by Xonja in Piracy
Wednesday, April 15. 2009
First off, I've been reading EVE-Pirate a lot a year or so ago, and always loved the stories. Haven't been reading a lot recently, mostly because i've hung up the eyepatch since my parrot had to go on rehab. All that rum wasn't good for him. I'm a part time killer now, but i guess this story still fits in here. Originally posted on my alliance's internal forums, a little birdie (not my parrot, although he and Nanobot share the british accent) suggested I re-post it here. Hope it makes you smile at least

As i'm moving the bit of stuff I still have in Bosboger over to Hek, I make a quick stop in Olfeim in my Ranis. Haven't been here in ages. Sure enough, it is the same sleepy system it always used to be. A deadend lowsec with only one entrance from a 0.5, it used to be playground for noob ratters and pirates alike. It's more than quiet tonight, and the tranquility carries over to me.
Bored, I warp around for a quick scan. I don't feel like engaging anything, having my cargohold full of the shiny faction stuffs i'm hauling. The faint "ping" of my scanner barely wakes me, and like in a trance I turn the dials and knobs. My tiny 'ceptor seems to move by itself, sleepwarping in on the Scythe Fleet Issue in belt 1-1.
The pilot, short of a year old, is oblivious to my presence. I'm not too excited either, having just NPC'd my security status back up to -1.94, being barely legal in 1.0 systems again. I hate missions. Mindless and boring, almost as bad as... wait-- Getting closer, I notice a distinct glow emerging from his ship. Mining lasers! As my ship eases into a 500m orbit around his, I almost bump into the little dronies zipping about between the Scythe and a nearby 'roid. A closer look reveals them to be Harvesters, the holy grail of mining directors.
I must be dreaming. Is this some kind of set up, deliberately staged to rob me of my precious secstat? It just looks too good to be true. It dawns on me this young pilot might not have noticed that he has left the safe haven one stargate over, and is no longer under CONCORD protection. Slightly amused, I do the logical thing: I flip his can!
The ore muncher gives me an unexpected reaction. Not only does he keep mining, he reaffirms his generous altruism in local chat:
Vector 8 > you're welcome

Seems there's a mining party, and i'm invited. Coming to my senses, I strike up a convo.
QUOTE private chat:
Xonja 2zero > hi

Vector 8 > Howdy M8
Xonja 2zero > so, what are you up to?
Vector 8 > Im mining so that I can pay the 50 mil to join ur corp
Xonja 2zero > really
Vector 8 > yup
Xonja 2zero > that's kinda cute
Right. Cute in a very
special
way. What's he on? Joining our corp? I have no idea who he is, or since when we require 50m to join. Much less accept miners. I'm pissed off. Stupid roid humper got bonked on the head by a few too many rocks, thinks we're a mining corporation? This cannot be tolerated. His icon in my overview has changed to a dollar sign. However, I play along, holding back, drawing out this moment of tranquility. I want him to
feel
his stupidity, all the passed chances of running away as long as he still could.
QUOTE private chat:
Xonja 2zero > wait, let me kill these rats
Xonja 2zero > so that's done
Vector 8 > hehe....ty
Vector 8 > luv killin rats
A couple other chat windows pop up, and while I tell people to get back to me later I miss the mining Scythe picking up speed... and warping out. To station. Escaped. ARRRGH!!! Convinced now that the pilot is a noob, I figure he might still have noticed his mistake and ran to never come back. Staying in character as the friendly hisec ore thief, I keep up the chit chat.
QUOTE private chat:
Xonja 2zero > btw, you can have your ore back if you want
Xonja 2zero > i don't mind
Vector 8 > that's ok m8....It wasnt that much and there's alot to go around....gotta keep on friendly terms with my new corp m8's
Xonja 2zero > how do you mean?
Vector 8 > keep the loot
Xonja 2zero > oh, ok :)
Is he playing with me? I'm puzzled, as endlessly long minutes pass. I'm hammering the scanner, and finally, there is his Scythe again. Moments later, he's back in belt. Refitted? Expecting a barrage of projectiles and missiles hitting my hull any second now, i'm almost speechless as he turns his mining lasers back on.
QUOTE private chat:
Xonja 2zero > btw, i'm not sure if you noticed
Xonja 2zero > did you?
Vector 8 > what?
Xonja 2zero > you didn't
Xonja 2zero > you're in lowsec
Xonja 2zero > wanna keep your ship?
As I say this, I get to work. Describing his duo of Tech 1 Hammerhead and Acolyte drones as underwhelming would be giving them grossly too much credit, but I kill them off anyway, going for a ransom.
QUOTE private chat:
Vector 8 > yes
Vector 8 > I know that
Xonja 2zero > make me an offer then
Vector 8 > im in low sec
Vector 8 > I can only spare 10 mil
Xonja 2zero > well, you could spare your ship then
Vector 8 > common.....Im joining your corp after all
Xonja 2zero > doesn't look like it
While we chat, two rifters warp in. They're noobs, but go for my itsy red-flashy ceptor without a second thought. Not their lucky day. Just as I vaporize them, Mr. Mining Fleetscythe takes his chance for a bold maneuver: he ejects to save his pod! Without his skills holding it together, structure melts down to a little square, my drones still whacking on it. Phew, called back just in time :o
QUOTE private chat:
Vector 8 > bye bye
Quickly, I park the ranis at a safespot and go back in pod to pick up my catch. Expecting a lackluster mining setup worth selling for around 50m total, i'm speechless as I find this: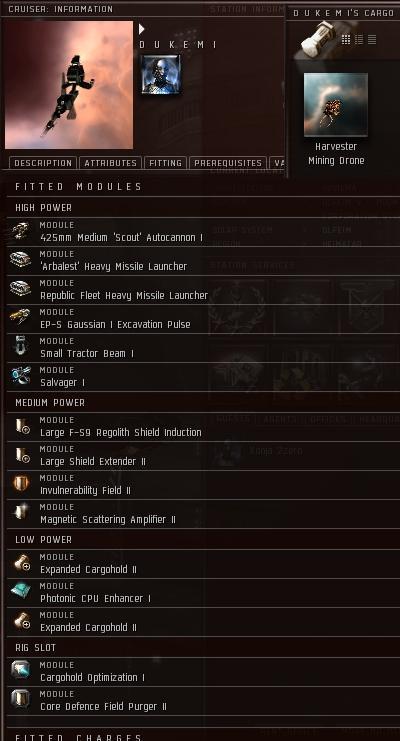 Over 500m worth all together it seems. I'd have settled with a 30 to 40 mil ransom. Silently, I fly my new Fleet Scythe back to Hek, a question burning in my head:
WHY? D:
So.... ahem. Anyone want to buy a Fleet Scythe with a T2 Purger?
(Page 1 of 1, totaling 1 entries)