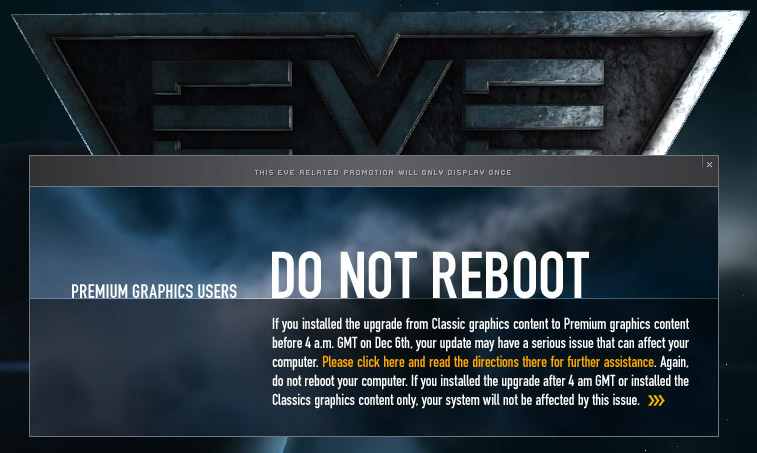 Due to a bug in the installer some people who installed the premium graphics update before 4am GMT on Dec 6th may suffer serious issues when trying to reboot their computers with Windows XP/2000.
The problem is due to the installer accidently removing boot.ini outside EVE install folder.
The boot file which was supposed to be deleted was the one inside EVE folder but due to path problems it deleted the one in c:\ .
Click the link to get information on how to resolve the issues.
Or simply copy paste the following text below into "C:\boot.ini" if that file is missing (only for Windows XP):
[boot loader]
timeout=30
default=multi(0)disk(0)rdisk(0)partition(1)\WINDOWS

[operating systems]
multi(0)disk(0)rdisk(0)partition(1)\WINDOWS="Microsoft Windows XP" /fastdetect
multi(0)disk(0)rdisk(0)partition(2)\WINDOWS="Microsoft Windows XP" /fastdetect
multi(0)disk(0)rdisk(0)partition(3)\WINDOWS="Microsoft Windows XP" /fastdetect
multi(0)disk(0)rdisk(0)partition(4)\WINDOWS="Microsoft Windows XP" /fastdetect
multi(0)disk(0)rdisk(0)partition(5)\WINDOWS="Microsoft Windows XP" /fastdetect
multi(0)disk(0)rdisk(1)partition(1)\WINDOWS="Microsoft Windows XP" /fastdetect
multi(0)disk(0)rdisk(1)partition(2)\WINDOWS="Microsoft Windows XP" /fastdetect
multi(0)disk(0)rdisk(1)partition(3)\WINDOWS="Microsoft Windows XP" /fastdetect
multi(0)disk(0)rdisk(1)partition(4)\WINDOWS="Microsoft Windows XP" /fastdetect
multi(0)disk(0)rdisk(1)partition(5)\WINDOWS="Microsoft Windows XP" /fastdetect
multi(0)disk(0)rdisk(2)partition(1)\WINDOWS="Microsoft Windows XP" /fastdetect
multi(0)disk(0)rdisk(2)partition(2)\WINDOWS="Microsoft Windows XP" /fastdetect
multi(0)disk(0)rdisk(2)partition(3)\WINDOWS="Microsoft Windows XP" /fastdetect
multi(0)disk(0)rdisk(2)partition(4)\WINDOWS="Microsoft Windows XP" /fastdetect
multi(0)disk(0)rdisk(2)partition(5)\WINDOWS="Microsoft Windows XP" /fastdetect