Official ETC CCP reseller - support eve-pirate.com by visiting our sponsor:
Posted by freaky in Piracy
Saturday, July 11. 2009
freaky
A great man once uttered those words. They ring true today as they did 50 years ago. Granted they were referring to WW2 and I am referring to a spaceship video game. There is quite a distinction between real-life and video-game-life. At least for some of us there is a distinction. For others, the lines are blurred which is fine by me because it makes for some really entertaining stories.
Our next story will pick up right where the other left off. We were hard at work killing corp-jumpers, lamers who hide in alliances as well as some hardened PvP outfits. As usual, it's a little bit of everything. Though, to be honest, I miss the days where we had epic wars against one major corp or alliance. Sort of like the Crimson Alliance story or like with the Beck Altarr story.
Unfortunately it seems that the quick fix to remedy a war dec is to immediately join an alliance. Fortunately it provides us with additional targets but with a substantial increase in war dec costs. It's ok though, because the "people to kill" folder in my address book is still full of friends we have yet to pay a visit to.
Well, on to the new story. You may or may not remember, we left off being at war with a corp called Vengeance Ascendant who dec'd a friend of my corpmates. VA then had their sister corp, Vengeance Imperium dec us in return. After losing quite a bit, VI and VA had members leaving left and right. VA's CEO tried to negotiate a surrender which failed so he threatened to petition, and VI dropped their dec against us, so we dec'd them right back. So it left them with the only logical option, join an alliance and commence with an insane amount of smack talk. Gobs and gobs of completely unsolicited smack.
Of course, that type of behavior makes us laugh. It also makes for a great story. Let's take a look at what the Federal Republic alliance is all about.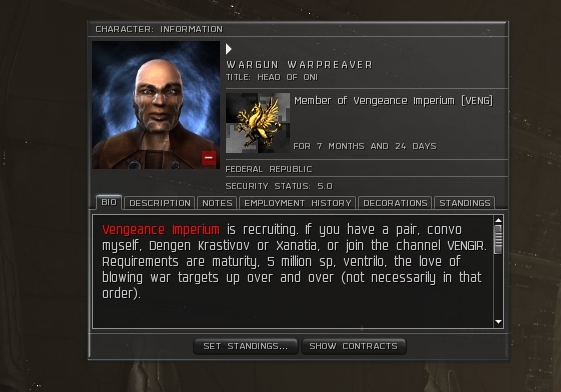 Their alliance bio has this...
Federal Republic

We are dedicated to the destruction of anyone who would make themselves our enemies.
Pretty intimidating, no? They fail to live up to it. I will explain why later in the story. It appears they're recruiting corps with 20+ members interested in PvP. Say you don't have a whole corp to join the alliance and you want to join Vengeance Imperium. What is needed? According to the bio in that pic,
Requirements are...

you have a pair
maturity
5 million sp
ventrilo
the love of blowing war targets up over and over
We have come to discover you really only need 1 of those 5 requirements. Read on to find out why....
You don't need a "pair" to join them. You can be the type who runs from your last corp because it was getting a beating and join VI.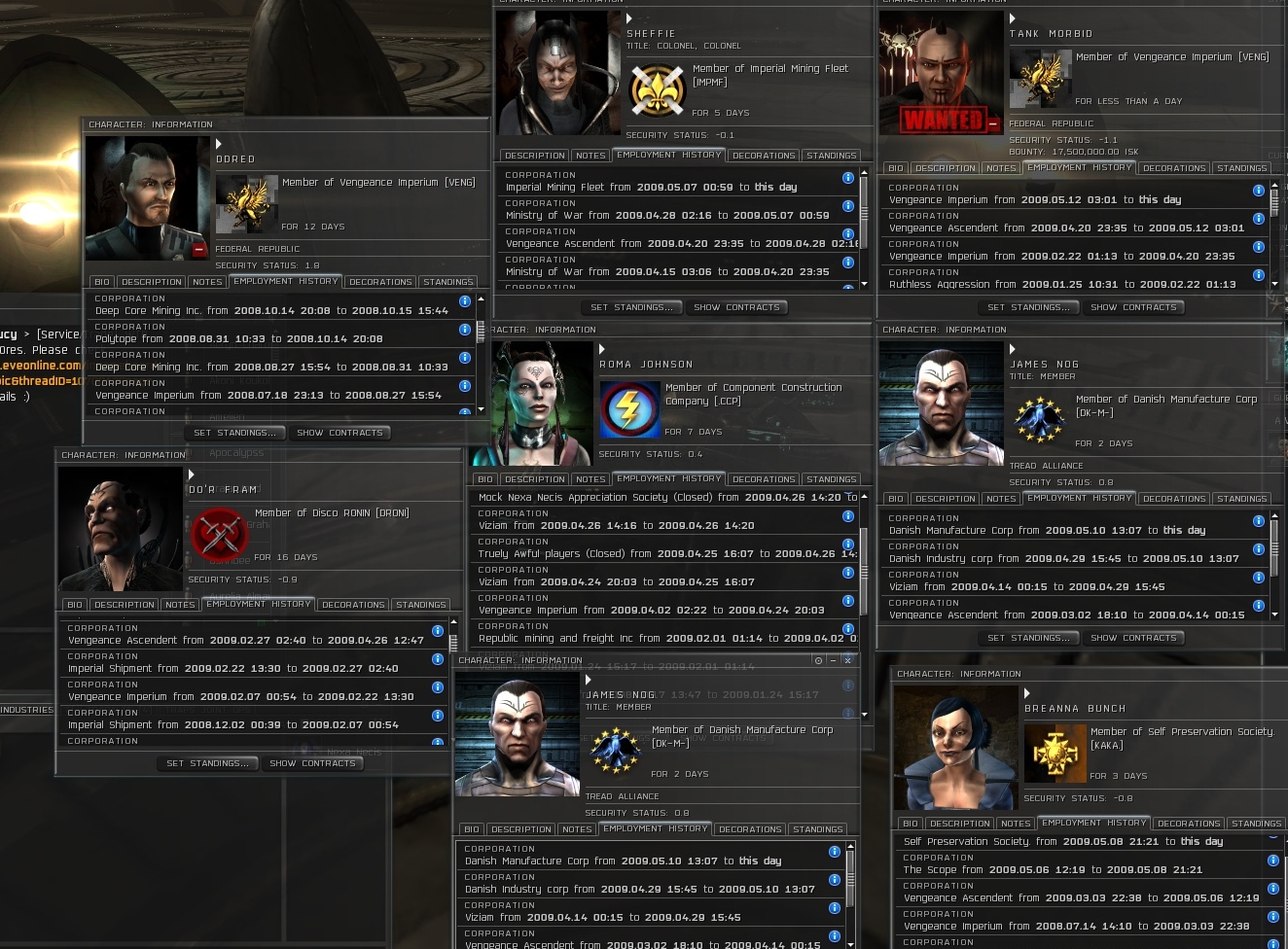 You don't need a pair to stay docked when it was anything close to an even fight. You don't need a pair when 99% of the time they sat up the ass of the station, buried way up the stations asshole as to avoid leaving the safety of the redock range.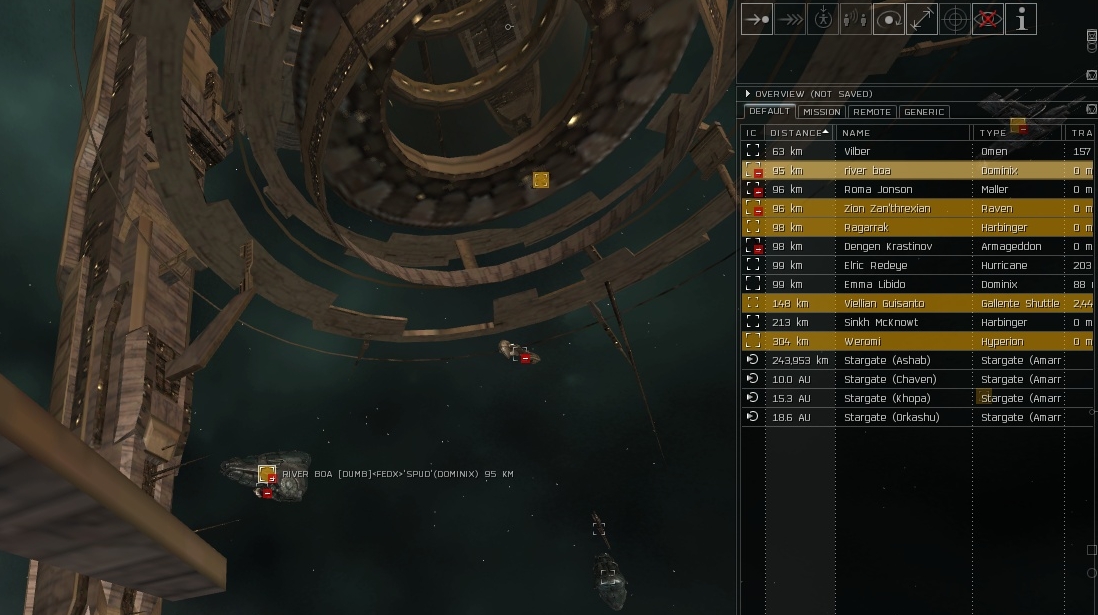 Seriously, I have never seen people sit up a stations ass so much. They would undock and fly around rarely solo. If solo or if it was 2-3 guys, it was in small ships or cloakers. No real risk like flying solo in a BC/BS. So for me at least, I certainly can't say their play style required "a pair" as they claim.
I mean, would you recruit someone who wants to surrender and eagerly admits that they are facing a superior foe?
Emdin Tasoravich > was just wondering how we come to an end to this conflict i understand you defending your friendly corp but that war is over and it wasnt personal to begin with so i wanted to talk about options
?Emdin Tasoravich > As is evident by the kill boards you are stronger than us
I do believe they require you to have Vent. That is the safest bet and likely the most/only accurate part of that blurb.
I do not think they require 5 million SP. According to this guy, you need 10 million SP.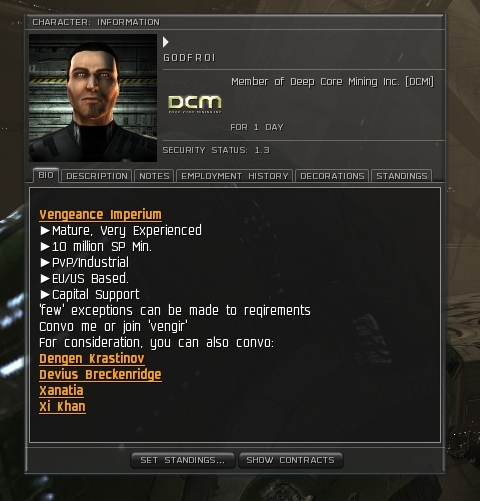 Sounds like the more desperate you get for players, your minimum requirements get lower and lower too. I like that they're mature and very experienced too.
I mean they must be mature when they accept people who talk about my family in real-life....
Nexa Necis > he emailed me a bunch of stuff, insults etc
Nexa Necis > bringing up RL and my family and such
Breanna Bunch > i thought he was bullshitting when he mentiond that stuff
Breanna Bunch > had no idea he was near the truth....
I don't know if this guy was serious or not but it's not something I would make fun of either way....

Nexa Necis > but bringing up my kids in game is a no no
Emdin Tasoravich > what?! kids
Emdin Tasoravich > that is way over the line
Nexa Necis > yep telling me im pathetic and need to get laid, etc
Nexa Necis > then sending the mails from other alts and then blocking me heh
Breanna Bunch > as far as i know he only has 2 roma's
Breanna Bunch > and a hauler alt ...
Nexa Necis > its a character he doesnt play just a filler character on his acct
Emdin Tasoravich > kids are a sesetive subject for me my ex took my two kids and ran off and i have never even got to hold my little girl
I don't know if he was serious because right after that he cried he is going to run and tell CCP on me....
[ 2009.04.26 03:44:17 ] Emdin Tasoravich > we didnt and i have already seen several lies and i have the chat logs i need for a pettition so you have fun now
?[ 2009.04.26 03:44:53 ] Nexa Necis > rofl
?[ 2009.04.26 03:45:03 ] Breanna Bunch > 0.o that was a tad abrupt
?[ 2009.04.26 03:45:06 ] Nexa Necis > have fun petitioning :)
I can only imagine what the petition said. Let me try to guess....
"Hi Mr. CCP people. I would like to draw your attention to Nexa Necis. They are a jerk. You see we declared war on a corp and then got bit in the hiney cause they were friends with TRAPS, and, well, you see, we had our friends corp dec TRAPS, and well we lost, and we were cool and dropped the war on TRAPS, but then TRAPS decd our friends corp and now they're killing us like crazy. When I asked them to drop the war, they said no because one of our players/friends decided to make fun of his underage children and email him from several alts and say all sorts of mean things to them. It has nothing to do with us though even though he is in our corp with one of his alts and we use his other alt to haul for us, there is no reason for them to do this. This is highly illegal. Please rectify this immediately so we can safely canbait in Chaven, a lovely newbie starter system where people are silly and take our cans."
I can say 100% that maturity is not required. As I said, most of them would talk about my family in local. It's a game, no need to bring up my family or any real-life issues for that matter.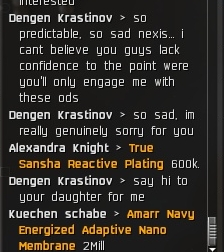 I can't imagine the fascination with my children. It's a bit sick. Constant talk about underage children. It seems one of their members, Roma Johnson aka Roma Jonson(alt), came to Eve Pirate, saw my link to the Eve Radio interview and poured over it. Taking notes and memorizing every last detail about it. As soon as he was done absorbing the info contained therein he immediately emails me on an alt.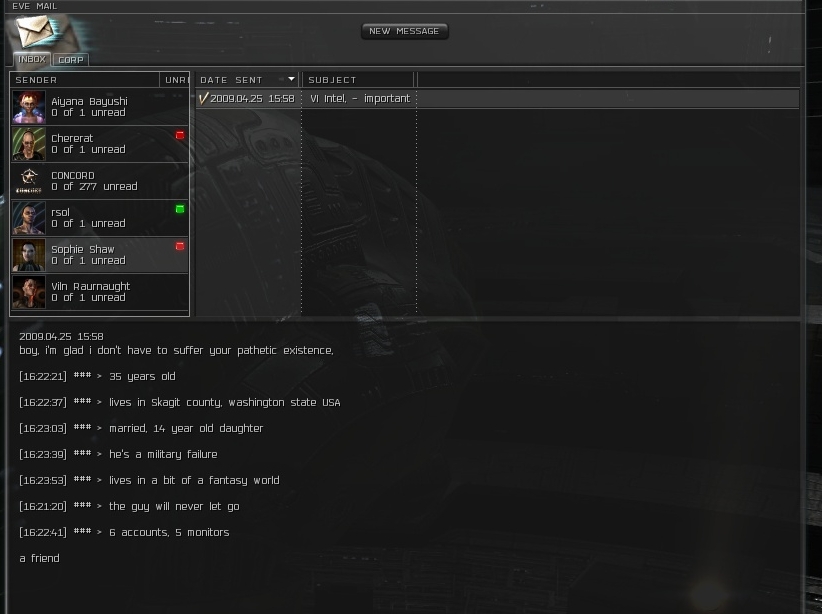 I mean I have no proof it's his alt but he was the one who brought up the info in the interview, and his CEO's convo from above confirms that Roma was the one talking about it. After all Roma did email me constantly from his two main characters.
Here is a small glimpse of what I was dealing with. He sent way more but I deleted them. Then I started upping my CSPA charge to 1mil and he would stop, but the second I dropped it, he would write back.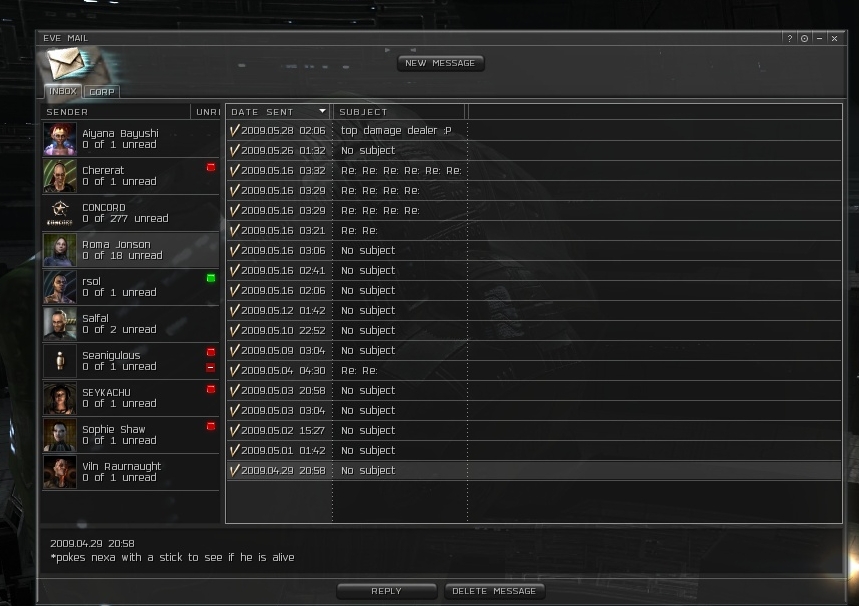 I'd say between the two characters I got over 100 emails. Obsess much? Hmm?
He gets all hyped up when he sees that someone left TRAPS....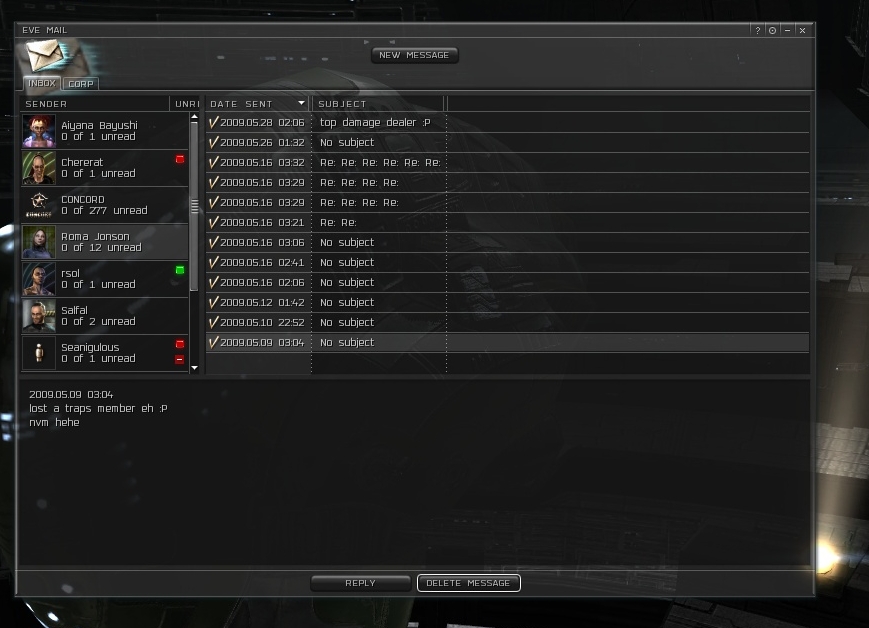 I think he might have realized that you look amazingly retarded when you're trying to goad someone about losing a member when you have stuff like this going on amongst you and your friends....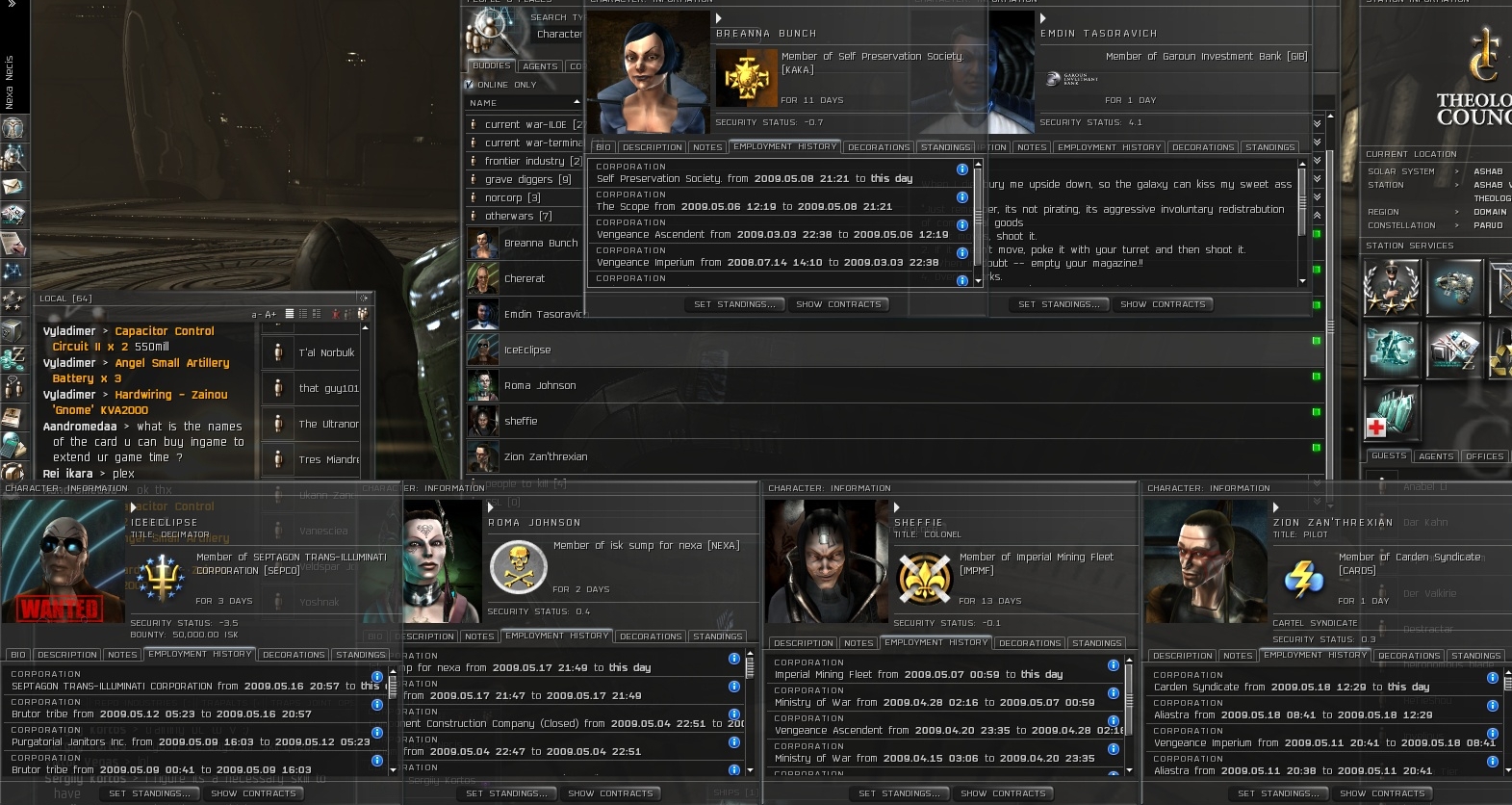 Hell, even the CEO Emdin left corp and put a placeholder in. That's pretty bad. I guess his petition did not result in the answer he was looking for.
I shit you not though when I say Roma and his pals lack any maturity whatsoever. It's to the point where he started making fun of stuff that I have no clue where he heard it. I am guessing someone saw him spouting off in local and decided to feed him some bogus intel and he ran with it all the way to the bank.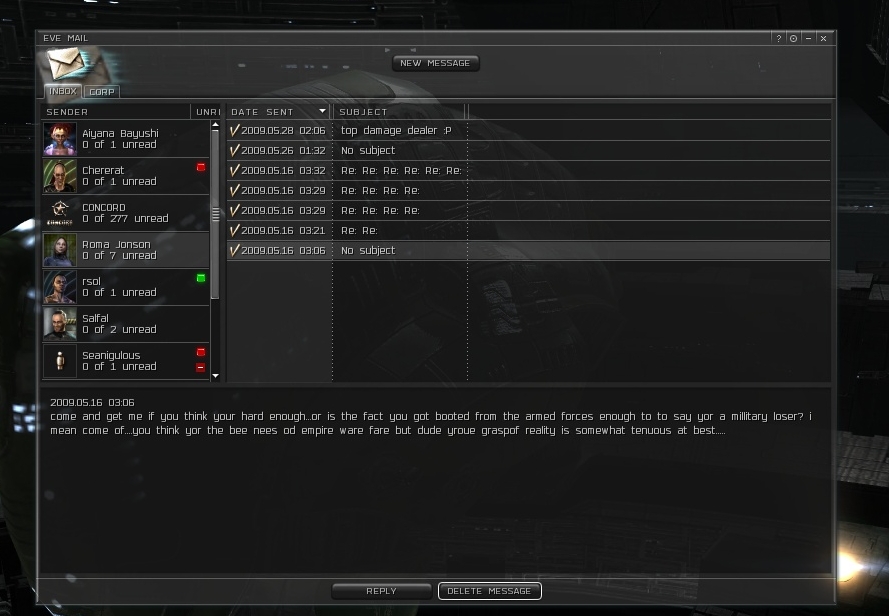 Dishonorable discharge from the military? Not even close. He kept making fun that being in the military equates being a loser and being kicked out of the armed forces means I am the biggest loser ever. I can only guess that this guy isn't an American because regardless of anyones opinion about the current wars, everyone here supports our troops and the troops from other countries helping to lend a hand.
TRAPS has a large contingent of military players stationed all over the world, many of whom are in active duty in bad places which results them in being away from Eve and I keep them in corp regardless of inactivity. We support all the good people out there who serve in the armed forces in all capacities. To make fun of me, or them is in poor taste.
So far we have them making inappropriate comments about my underage child, making fun of me for being erroneously dishonorably discharged, and oh yeah, he dares to comment about us doing Empire wars.
Their own CEO said they were doing the same as we do when they dec'd my mates' friend's corp. See when TRAPS declares war on a few corps and alliances, it's lame. Regardless of who we dec, it's lame because, well I don't know what their logic is. When they do it, they call it "training"....
Breanna Bunch > training....
Breanna Bunch > deck a corp pf simialr size....
Emdin Tasoravich > we didnt know and like i said to ssix
Emdin Tasoravich > wasnt persoanl was the same size and advertised pvp
Breanna Bunch > seems ressonable to me
I mean I guess we could be cool like them if we sat canbaiting in Chaven non-stop. Of course they claim they don't do that yet I posted pics in the last story, which they refuted. However, when you look at their KB and you see a
Typhoon killing a 2 day old player
in Chaven. You can always enjoy when a
Deimos and Arazu kill a 2 hour old player in an Impairor!
Now that is some seriously weak shit.
They can say, "Oh he stole from one of our kills there" or something like that but the KB doesn't show any other kills prior to his, so the end result? Canbaiting in a newb starter system against 2 hour old players in a noob ship with two T2 high end ships.
Surely, one might say, "Well that's an isolated incident." and I would say you are wrong. Dead wrong. Fancy a kill against
a 1.5 hour old player vs. a Stiletto and a Kronos!
How fucking badass can you get? They actually had the guts to fight a
1vs1, Kronos vs. Impairor!
I stand corrected, you definitely need a paid to join this badass group of people. Fuck yeah!
Almost 30% of their kills in Chaven are
against Impairor newb ships.
That's pretty damn impressive. Don't get me wrong, we have our share of newb ship kills, but nothing like this with multiple people in billion dollar ships doing it.
Now we all know there is always a bad apple among the bunch. I guess you have this guy Roma and his two characters spewing forth all sorts of idiotic comments, and Dengen repeatedly asking about my child, but believe me, the whole outfit engages in such "mature" discussion.
Xanatia > something was shooting something
Xanatia > then something else shot another thing
Xanatia > then someone tried to be kunning
Xanatia > and warped in a secret fleet that was awesome to shoot at something
?Xanatia > because he is awesome
Xanatia > and DOESN't have OCD
Dengen Krastinov > they're all really awesome players
Xanatia > and the yDON'T have OCD
Xanatia > don't say that, Nexa will take it personal, even though he doesn't have OCD
Xanatia > nor does he have 6 accounts, nor 5 monitord
Xanatia > s
Xanatia > nor does he play all day
Xanatia > and he doen't haveOCD, whatever anyone tells you
Xanatia > yeap, he's AWESOME all right
Xanatia > really really awesome
Roma Jonson > nexa necis = heap-load of garbage
Mind you I haven't even said a single peep in local. I would show up and it would pour forth incessantly. He mentions me having OCD because in my Eve Radio interview, I mentioned running missions satisfies the OCD in me. Meaning, I think we all have a sort of OCD when playing the same game over and over. If you've ever played EQ or WoW, you know the feeling where you're killing the same mobs in the same place every time you play, it's not exactly the most fun thing, but it does satisfy a certain thing. Otherwise, why would you do it constantly. It was a silly comment, that they are content to go on and on about.
So now we have talking about my underage child, making fun of a dishonorable discharge, calling us lame for doing Empire wars and now making fun of my "medical condition". As you can see, their pedigree for maturity surpasses all of your expectations.
After a bit it seems Roma get's annoyed. He claims he is not phased by me decing all the corps his alt joins.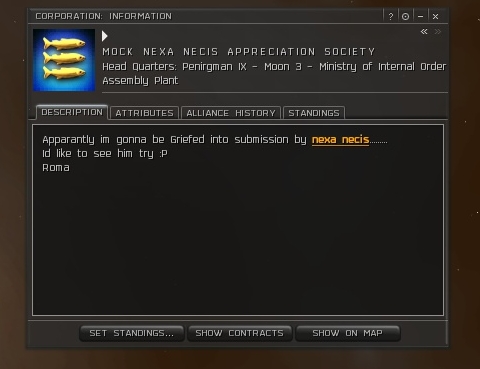 This email would indicate that he is lying about not being bothered by it.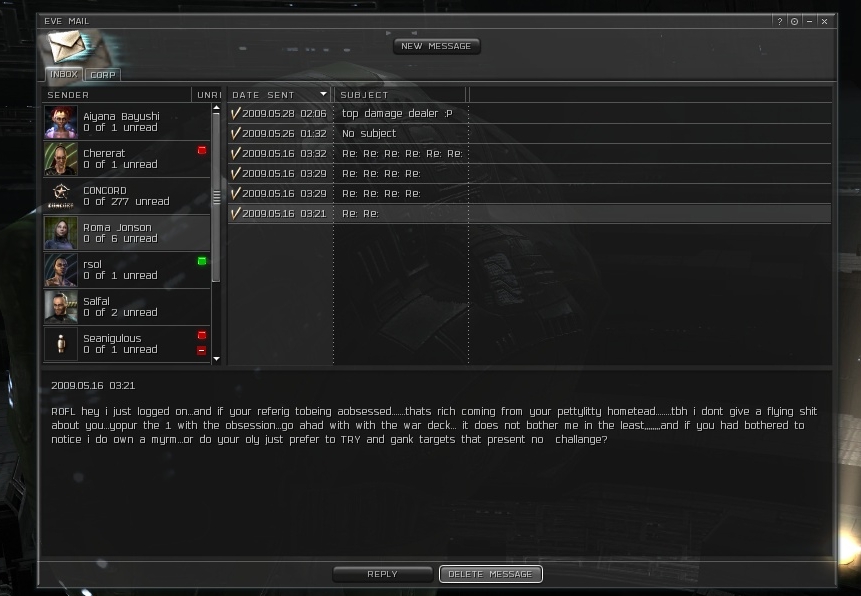 I love his spelling and punctuation. The sign of an educated man obviously. I really love that he says we dec people who present no challenge. Yet you can see they have no problem ganking Impairor with a 1 billion ISK ship. The funniest thing is that his comments are basically slandering his own corp and friends. I mean if we dec people who present no "challange" as he likes to spell it, yet we are decing him, his friends corp and then their alliance for weeks on end, that doesn't speak highly of them now does it?
Eventually a few other corps got sick of their crap and dec'd them too. That really began the "never undock unless we know for sure we have at least 5vs1 odds against them" behavior. I kid you not, every time I looked they were flying up the stations ass.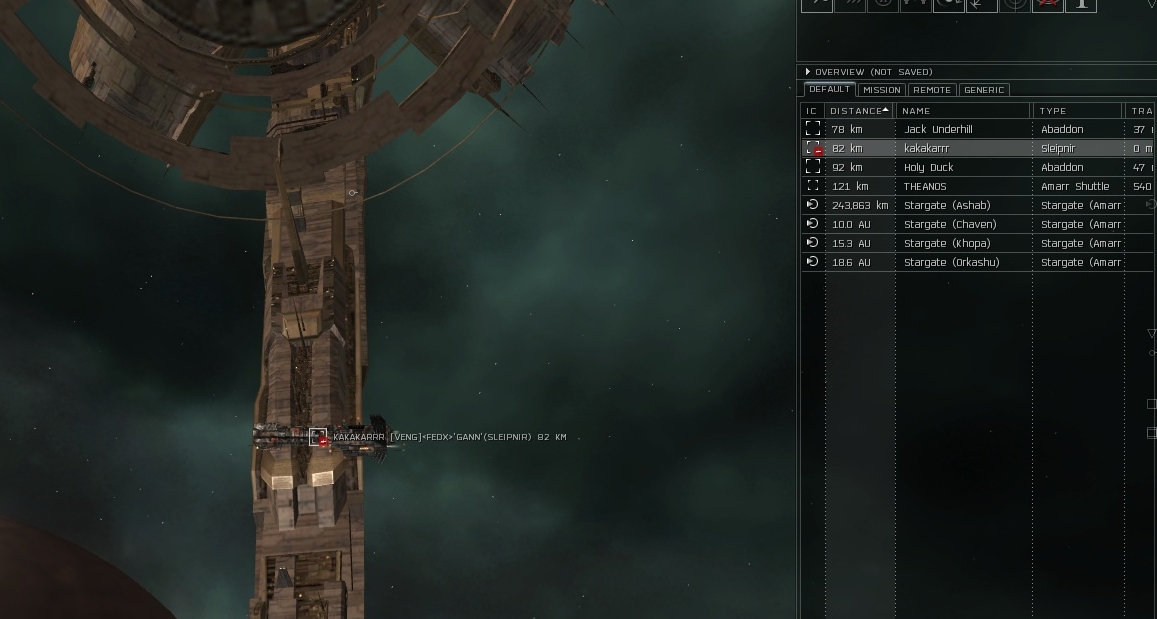 Their other war targets notice the same behavior.....

?Roma Jonson > what happened to your fleet ?
?Xanatia > yes, now run along, keep your tail between your legs
?Xanatia > and send us your tears
?Roma Jonson > they all buggered off when we all logged on
?Novamako > they went home, they didnt think you wanted to play
?Xanatia > thre is a nice carebear
?Novamako > they dont like camping people who play station gmes
?liam perrins > was offline
?Xanatia > a likely story
?Novamako > a true one too
?Xanatia > Novamako, duty does nothing BUT play station games
?Roma Jonson > who hired you btw id like to know
?
Some people have said that I make this stuff up because it makes us look good, but here you have an instance where TRAPS is not even in local and they are running off at the mouth. It was like that constantly in local. I am sure the Penirgman residents enjoyed the show though.
One time I was in Penirgman and my alt was all lined up to get me to land on top of Roma's Falcon, I warped in as two of them warped to the gate, instead of warping to an SS, I went to a belt, swapped to my alt, got in position, swapped back and got killed instantly. I lost a
Vexor to 2 BS.
That got them going of course. Hooting and hollering.

Nexa Necis >


Roma Jonson > lol
liam perrins >

didnt even get to lock u
Xanatia > the really awesome fail
Nexa Necis > didnt think you guys ever left the undock radius
Nexa Necis > thats a first
?Roma Jonson > ECCM - Magnetometric I x2 hmmm is that in case u find me lol
Xanatia > yolu are confusing us with you
Xanatia > maybe nexa should put that fight in
Xanatia > one of her chronicles
liam perrins > well he denied me a killmail... by dying so damn fast
Nexa Necis > thats a heckuva lot of smack coming from a corp who ran into their alliance to avoid fighting, who then begged their friends to come help them
Nexa Necis > http://traps.griefwatch.net/index.php?p=campaigns&campaign=6555
Xanatia > oo, look, smack
Nexa Necis > they decd us then stopped
Nexa Necis > so we decd em back
Nexa Necis > now theyre very upset
Xanatia > lol, we're not upset
Xanatia > we just laugh at you
Nexa Necis > makes sense
Xanatia > btw, if i were you, given your alleged 'history'
Xanatia > i'd have a paternity test
So now they're making fun of my child again by claiming I am not the father. Very classy. Very mature indeed. Our corp was guessing at this point that their entire corp is a bunch of RL friends, all under 14, never been kissed and slightly mentally retarded. Kind of like that
crazy German kid who goes nutso on his computer.
I like that prior they had constantly made fun of me for having multiple accounts and the guy who killed me was a guy with several accounts themselves. As always, it's cool when they do it, lame when we do it. Go figure. Of course they keep smacking and going crazy, again making fun of my kids.

?[ 2009.05.10 23:44:17 ] Nexa Necis > make fun of my kids in RL
?[ 2009.05.10 23:44:19 ] Nexa Necis > real mature


Xanatia > no, i'm making fun of YOU
Xanatia > big difference
Nexa Necis > either wya
Nexa Necis > way
Nexa Necis > its a game
Nexa Necis > and you're losing
Xanatia > really
elven serpent > i dont think he understand xan
Nexa Necis > to a crap corp like ours
Xanatia > says mister 6 accounts
Nexa Necis > ahem, its 4 now
kakakarrr > wee don't make fun of u kid's, laughing at them was a accident, but damm they are ugly
Nexa Necis > when gtcs went up in isk, i consolidated
Nexa Necis > see
Nexa Necis > lame that people do that over a video game
?Nexa Necis > gonna bite ya in the behind one day


Xanatia > lame that people run 6 accounts on 5 monitors
Roma Jonson > actuall i did not with any of my alts have a go at your family IN ANYWAY............
Roma Jonson > *actaully..
Xanatia > i mean, who spends that much money on a game?
Roma Jonson > thats just alow
Roma Jonson > *low
Nexa Necis > uh GTCs cost no money
Xanatia > time = money
Xanatia > isk = time
They contradict themselves constantly. I like how Roma thinks making fun of my kids is low but making fun of me for being in the military is totally cool. They also contradict themselves by saying before that I never undock and am always AFK, now they are saying I play too much. Half their members have alts, they were so easy to spot. Every time they got killed the same 5 alts would show up. Once you called them out, they would start being retarded.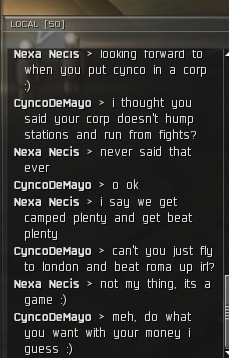 Instead, they are content to keep up the smack. All this over a Vexor kill against 2 battleships. Can you imagine if it was a real challenge and they won? They'd probably fraps it and jerk off to it daily. Here are a few choice selections of their smack. I edited out the local banter from non-TRAPS, and non-FedRep people. It went on for about an hour or so.
Nexa Necis > sure why not, you guys like bringing my family up in game so might as well
Xanatia > i've never once mentioned any family
Roma Jonson > as i said just now that wasnt me..........imnot the only person to know about your and your family
Xanatia > except perhaps your ability to produce one
Xanatia > Eunochs do tend to have severe problems reproducing
Can you see their maturity shining through? No? Perhaps if you read a bit more.....
Xanatia > so, you admit to being griefers?
Nexa Necis > i offered your ceo a chance to surrender, he lied and said hes petitioning me
elven serpent > funny i thought griefing people out the game was against eula
Nexa Necis > how is it griefing?
Xanatia > not performing in the bedchamber, perhaps?
elven serpent > lol
elven serpent > dude
Nexa Necis > nope its not
Nexa Necis > war decs are legal
elven serpent > yorue talking youreself into a big hol
elven serpent > hole
Xanatia > well, whether it is griefing or not, is irrelevant
Nexa Necis > we grief people via war decs
Nexa Necis > petition away
Nexa Necis > you read my stories, you know people have tried before
So now they are concerned with my performance in the bedchamber? Who the fuck says bedchamber? Sounds a bit fruity to me. I like that they are trying to "get evidence" of me admitting we grief people. This is coming from the people can baiting in Chaven killing 2 hour old players with a Marauder. Their alliance bio states they like to kill war targets over and over and over. That is griefing, is it not?
Roma Jonson > but i do know you dont like corp jumpers
elven serpent > if u want to go into the thing of buying isk and trying to greif us out of game u better have deep pockets
Xanatia > but if you read the EULA, you will find 'griefing' is against the EULA, and griefing is exactly what you have declared is your intention, ergo, against the EULA
Roma Jonson > and moaned about them for 2 years on the forums
Nexa Necis > show me the exact verse
Xanatia > only a simpleton would not understand that
Nexa Necis > well then petition and iill be gone
Xanatia > no, who would we have to laugh at if we doid that?
liam perrins > i`d rather return the favor


Nexa Necis > there ya go
liam perrins > tho hiding in station is hardly greifing
liam perrins > are you spinning like a pro yet?
As always, they say TRAPS sucks, we are nothing, they aren't concerned with us, etc, etc. Yet they go and read my stories, look up forum posts, and try to find out about my real life as much as they can. Now if someone didn't bother you, why would you bother doing all of that? It makes no sense to me.
Here's one from the old carebear playbook!
Roma Jonson > im still awaiting war decks for my alts new corp nexa
Nexa Necis > yeah you will have em in a few, my next story should go up tonight
liam perrins > is it entitled `how to get owned in 5 seconds`?
Nexa Necis > yes
Roma Jonson > the vexor should have got away from 2 bs trying to lock it lol
Nexa Necis > yeah i was doing something else on an alt


Roma Jonson > now theres a supprise
Roma Jonson > is any of traps not your alt ?
liam perrins > thats pretty retarded
Nexa Necis > nope
Nexa Necis > so why run into an alliance if were so bad? i mean you only did it to drive up the war fees, if you wanted a fight you coulda kept us decd but ya didnt
Nexa Necis > and i guessed right, said youd either jump corp or jump into an alliance
Asobe Seksu > ROFLO
liam perrins > we where due to form this alliance anyhow .. dont fletter youreself
Ah yes! The old, "We already planned on making/joining this alliance WAY WAY before you came along. See, we're so badass and we love wars so much, and we can easily crush you alone, but we'd much rather form an alliance to drive up war fees and to gain extra assistance" excuse.
Liam says I am retarded because I died from alt-screen-swapping. Using the transitive property we can state that his own corpmates are
retarded as well!
Tank on Thursday 28th May 23:46
somehow they managed to get on gate in the 30 seconds between me checking with alt and jumping in with tank, lucky me i guess.... so yeah.. fuck my life :'(
ROFL!! So they're using alt's and dying as a result of screen-swapping. Most of them have alts. Of course they don't spend cash or ISK maintaining their alt accounts. They somehow get them for free and really they're not that into Eve, since they only have 2 or 3 accounts. It's all starting to make sense now!
liam perrins > YOURE TEARS PLEASE ME
Nexa Necis > good
Nexa Necis > glad
liam perrins > http://eve-files.com/dl/193445
liam perrins >


liam perrins > /emote likes it when they squeal
Asobe Seksu > to think nonfactors like TRAPS would push VI into an alliance for support is absolutely laughable..
Asobe Seksu > you guys hardly ever fight
Asobe Seksu > and when you do it's not the same timezone
Roma Jonson > also you never seem to take risks ....
Roma Jonson > and opnly killed a myrmidon cos the guy dc'd right in from of you
Xanatia > Too many people are thinking of security instead of opportunity. They seem more afraid of life than death.
Roma Jonson > aye
Xanatia > your bio describes you perfectly
The grammar from this group is atrocious. I don't correct any spelling errors in these logs. Everyone makes some mistakes but my auto-spellchecker in Firefox is having a heart attack when I post their chatlog.
The Myrmidon guy he is referring to is Breanna Bunch who previously had magically crashed to desktop every time they jumped over into a gate camp of ours. They managed to do it in their Myrmidon as well. Mere happenstance? Not likely.
Perhaps you would enjoy more retardation? Here you go!
Xanatia > well, you are a really awseome player, are you not?
Roma Jonson > well you eve pirate story link doesn't work
Xanatia > a really awesome player would go 7 v1, and win
Nexa Necis > yeah something with the url and eve
Roma Jonson > your died b4 we dropped out of warp


Nexa Necis > yep blah blah
Roma Jonson > lol
Nexa Necis > smack all day
Roma Jonson > ran out of smack ?
Nexa Necis > were not the ones hiding in an alliance
Xanatia > thats not smack talk
liam perrins > who`se hiding?
Roma Jonson > LOL
Nexa Necis > you're so badass, make it mutual


Xanatia > smack talk is throwing insults
Not only did they not have the balls to make it mutual, they had dec'd us previously and let it drop after they lost most of the fights and then immediately ran into the alliance. I mean if you're saying you can stomp us, we suck, we are nothing, and we ask you to make the war mutual and you refuse, it says more about you than anything else. It says you're afraid, plain and simple.
You really have to enjoy their last comment. Smack talk is throwing insults. They certainly have that down pat for sure.
Nexa Necis > yep so make it mutual if youre so good
Nexa Necis > you wont
Nexa Necis > you dont have the guts
Xanatia > why should we?
Roma Jonson > neither do you nxa


Nexa Necis > cause you're so badass
Roma Jonson > *nexa
Xanatia > make you spend isk
liam perrins > funyn enough we actualy have better things to do than fart about with a bunch of noobs with ideas over their station
A direct "challange" to them and all they do is jabber away. Yeah Liam had better things to do like help kill that Impairor with his Stiletto and his mates Kronos. Pathetic, don't you think?
I had gotten careless though and a bit complacent when flipping back and forth between my and the alt. The new probing system was now in and if you're an ace at it like we are, you can score a probe pretty quickly. They pulled it off nicely and snagged a Phobos of mine.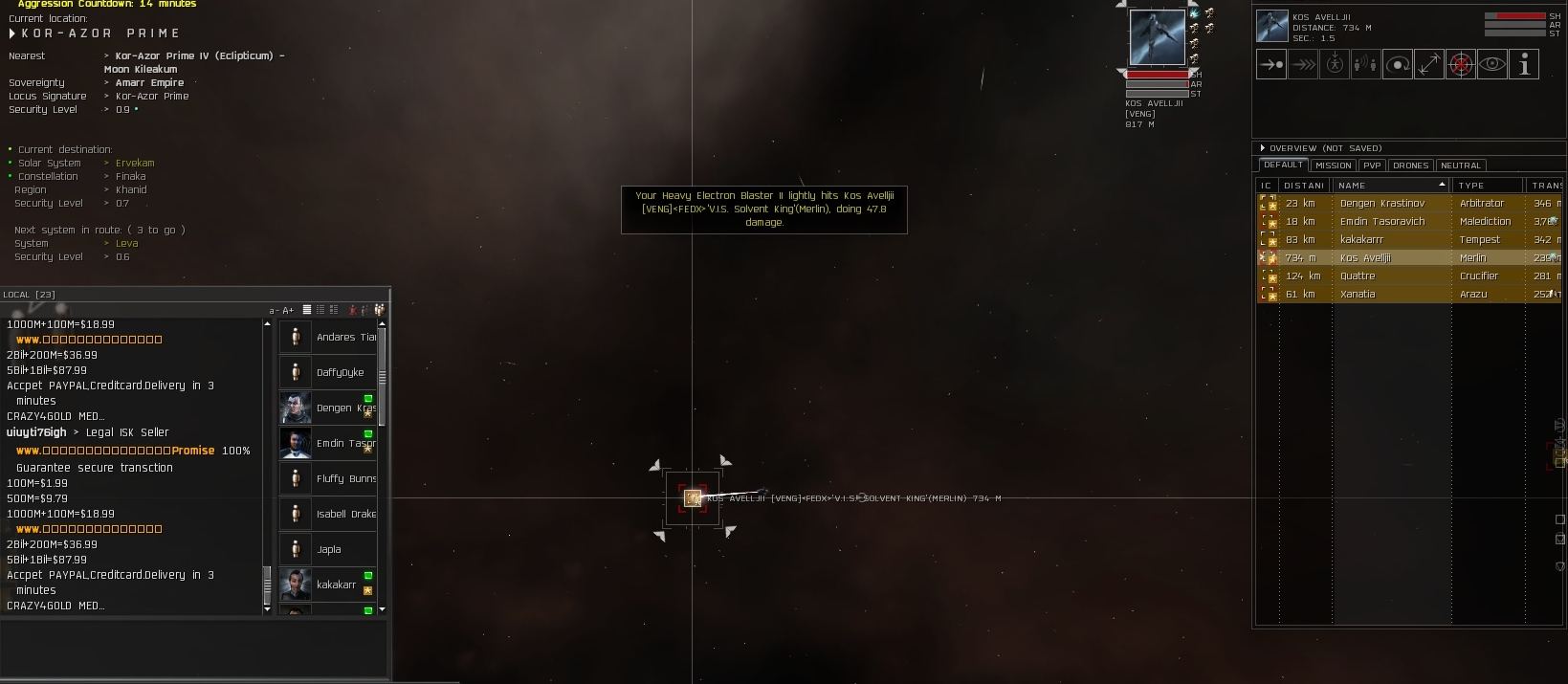 I did manage to take down a frig, but the damn Malediction wouldn't stand still and a single web wasn't enough to live. The funny part was I debated fitting a 1pt scram to get me out of the exact situation I was in but alas, lesson learned. I immediately offered a "GF" and "job well done". It was a fairly long fight because the Malediction tackled me and I knew that his friends would be warping in but with the long distance it would take them, I would be far enough off their warp in and I wouldn't be in scram/weapon range.
Eventually they compensated for my tactic and landed square on me and blew my ship to bits. Those are the exciting times I love. Where it can go either way and it goes back and forth, back and forth for a bit. I was trying to time my MWD to go the opposite direction of the Malediction and hope to get out of his scram range but I obviously never did.
I never made any excuses and never whined about losing. They did though. Almost every kill had a comment. There was an occasional "GF" to be had but it was usually followed by one excuse or another.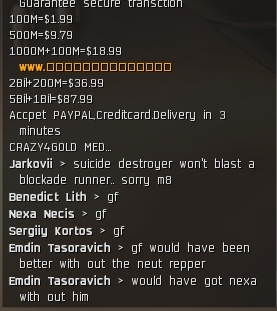 I can't help that when people engage me outside of stations in Amarr there are a lot of our friends there who remote rep me. Sometimes I don't even know them personally but they are fans of our stories here so they lend a helping hand. Of course they complain about it but it was OK for them to use Roma's alt in a remote rep/neuting Armageddon when he jumped into an NPC corp. Again, it's good for the goose, but not for the gander.
At this point, you might be wondering, "There's no way that corp has any decent players!" and you would be wrong. I only saw this guy once but he was one of the only one of them to do some solo hunting.
We got intel that a Sleipnir was chasing one of my guys, so we formed a bit of a pincer tactic and it went off nicely. He was a good sport and we were honestly amazed there was no smack talk whatsoever.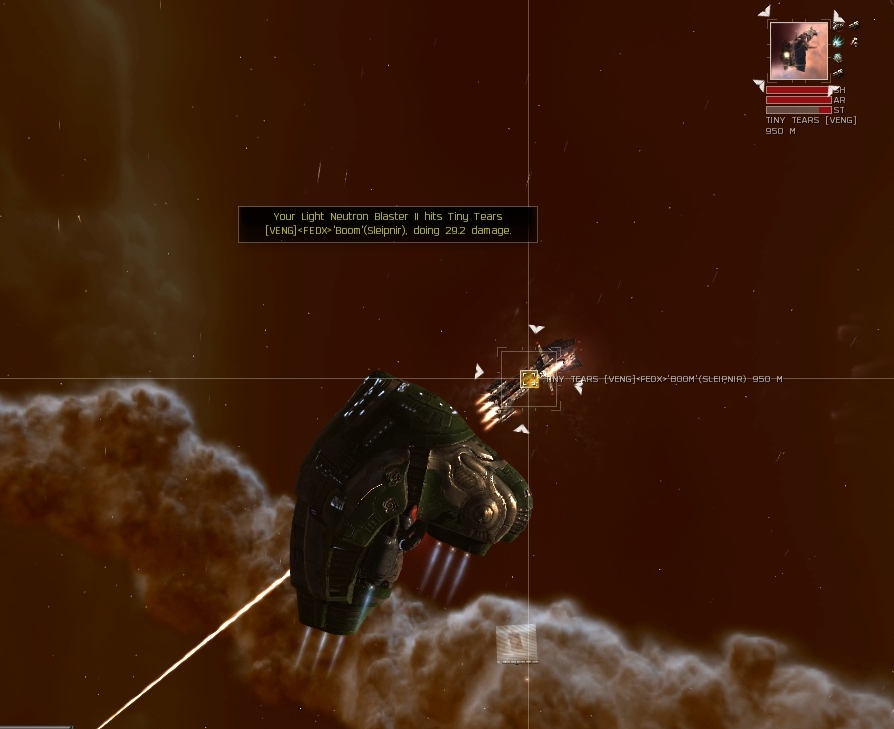 There was another guy, Yorku, who we caught in an Astarte who fought till the end. Another good sport and no smack at all. He was out solo hunting and got caught but at least he was making the attempt as opposed to Roma and his other pals who sat in station until enough people logged in.
I again reiterate that these guys are masters of flying up the shit pipe of the stations. You think I am joking?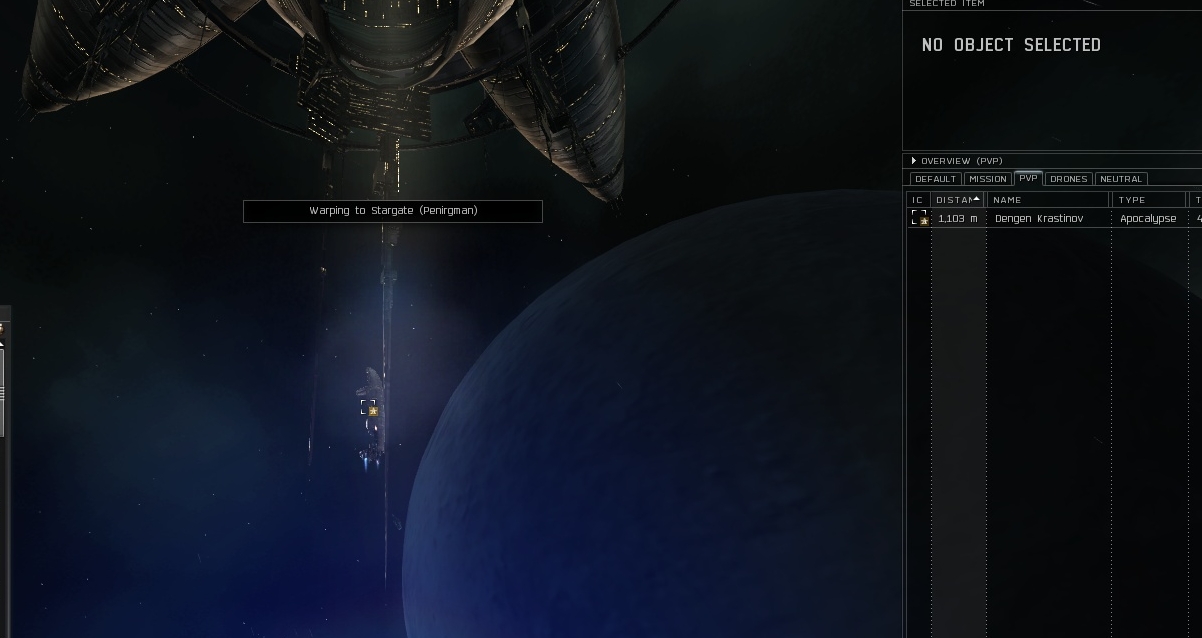 One day one of my guys was in Penirgman and Roma was all alone and didn't feel like undocking alone. Of course he doesn't miss a chance at talking some shit.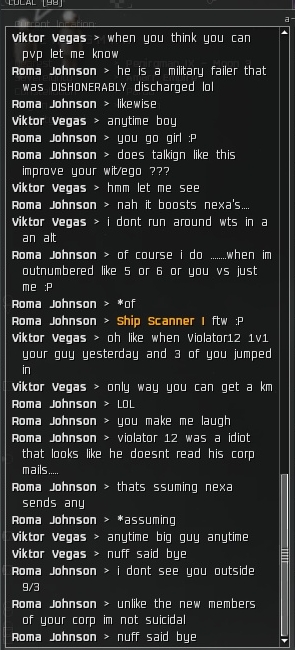 My guy seemed to be on the same time as Roma and ran into him another time. His excuse for not fighting? Some mysterious remote repper alts of ours.
Though he does enjoy naming his ships original names while him and his friends sit way up the undock.........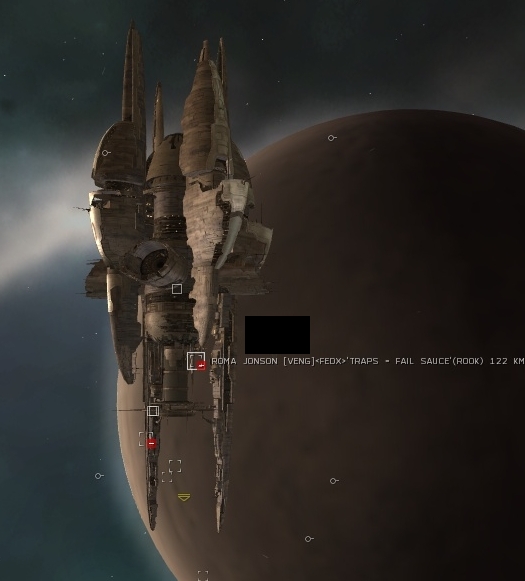 After a while a few of their members got tired of the war. Especially since they wanted to roam around Eve and the other 99% of the alliance was content to sit in Penirgman 24/7. I ran into one running a plex in high sec. I warped in with my Taranis, he was in an Omen and immediately ran away.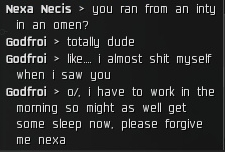 He was great at running, I missed him a few times. However, he did not have the undock, motor back up the undock pipe, and redock tactic mastered like the rest of his pals. He undocked with his cov-ops ship.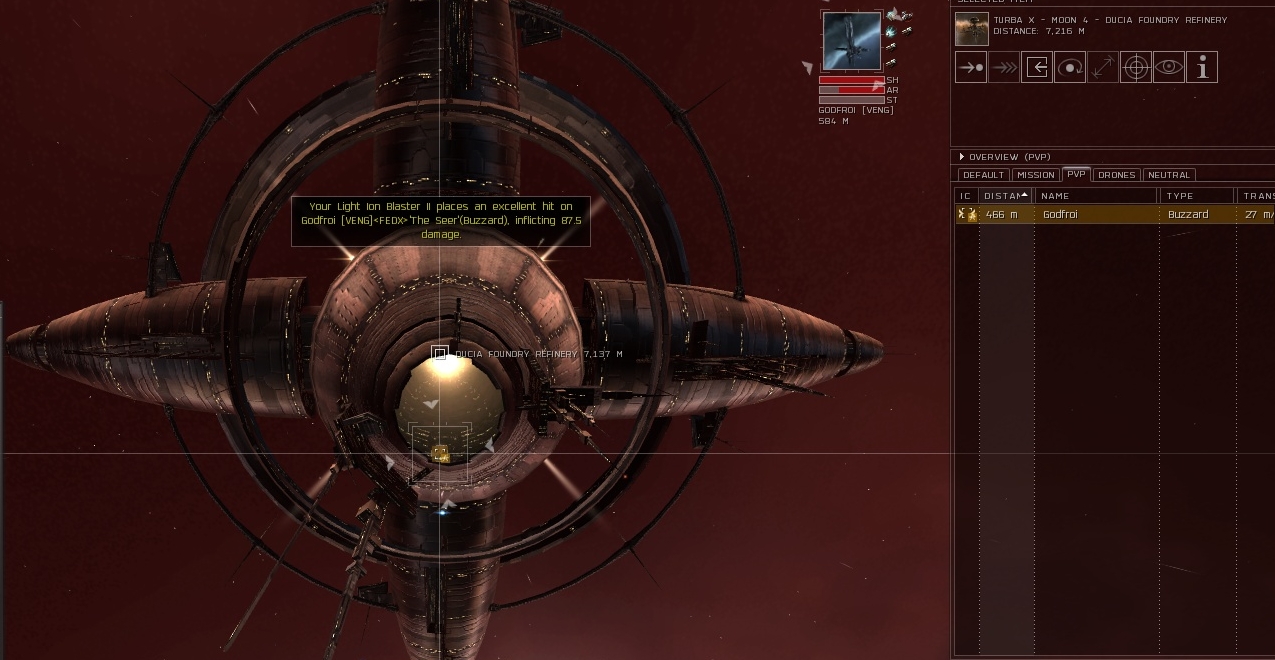 What he needs to do is hang around with Roma and his Penirgman pals. They have really perfected the fine art lingering around the bunghole of stations.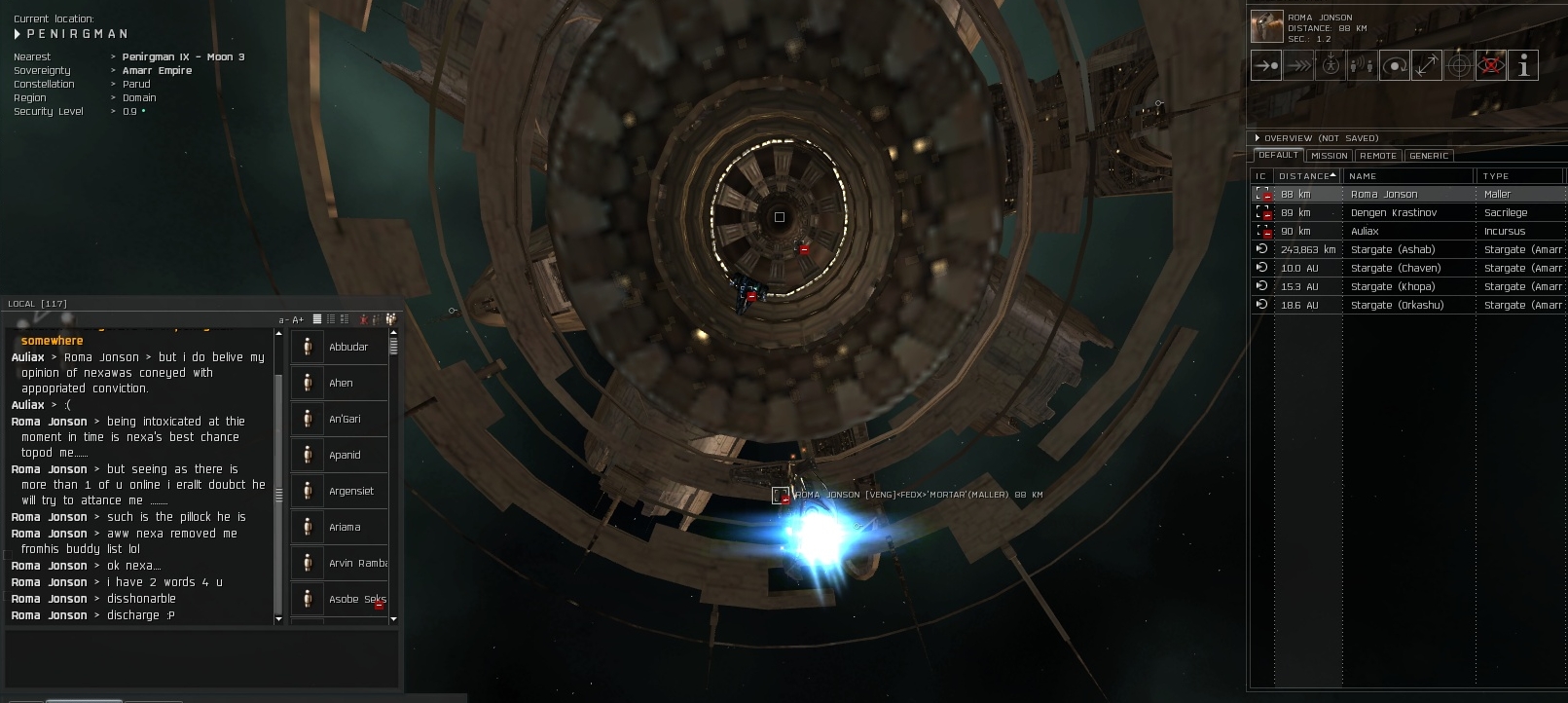 The thing I enjoy about this screenshot is what Roma has to say. He is bragging that he is drunk. This was on a Friday night and here we have Roma playing video games alone, while drunk. Now that's the sign of a winner! I mean you have to be majorly awesome to sit home alone and play video games while drunk. Without a doubt that is one sad fucking sight in my book.
One of the many sights I saw with them was when they would head back up the undock port.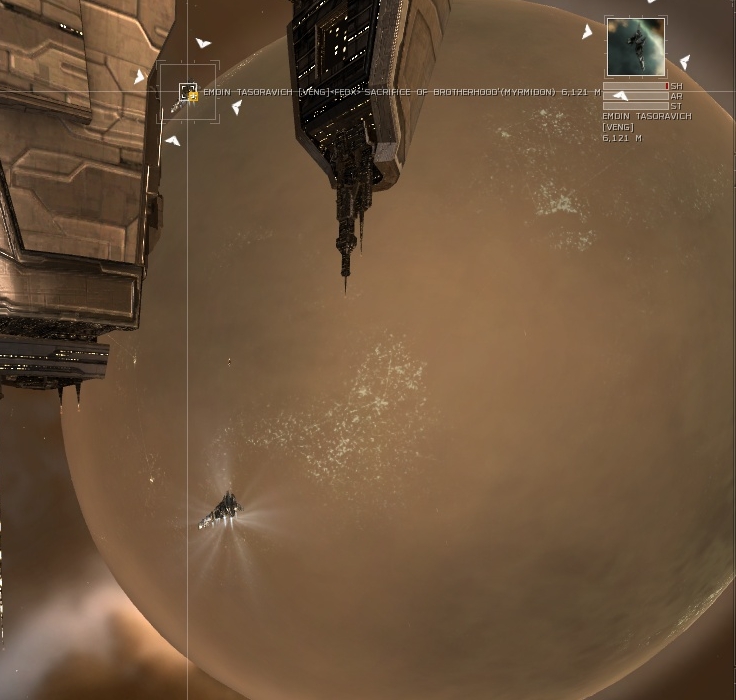 Actually he did fight but only after his pal in a Vagabond showed up. Apparently the Vaga pilot is an idiot because they warped to zero, landing immediately into web range and died a few seconds after. Always good when a nano-HAC warps to the fight with no range, and of course
no tank.
Apparently his corp failed in educating him on proper nano--ship tactics. I mean they advertise that they help with tactics!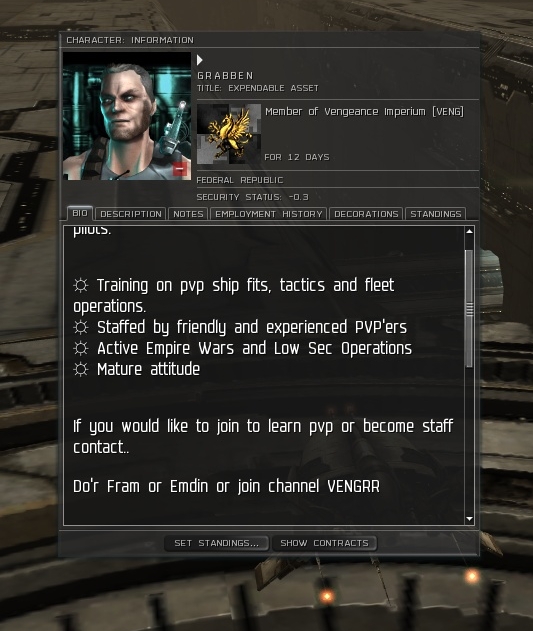 Wow! Look at that! They also offer a mature attitude. It's in at least 3 of their bios, so it must be spot on, otherwise, why would you claim to be mature when you're barely above being a mongoloid?
The Myrm redocked but only barely. We had a few people helping to try and bump them off the station but when you start completely up the stations rectum, it's tough to pry them out of there.
Perhaps they teach you how to get popped in your cloaking Recon ship with Sentry drones by a
Moros
. Or how to mission in low sec and not use a
PvP fit.
You can also learn how to fit a battlecruiser with a rocket launcher, small beam lasers, railguns, autocannons and salvager along with a few shield tank mods and some armor tanking mods, and let's not forget the dps mods! Gotta have a heat sink and BCS for sho! While we're at it let's toss a Radar backup array on this wicked motherfucker and take it out to low sec and rat. This Hurricane fit is
pure WIN!
One of the newer players of their corp who seemed to have the same play times as me would never undock. He did like to email me though. Of course, every time they had a loss there was always an excuse to go along with it. His name is Auliax.
2009.05.21 04:50
I was counter-smacking you after your neutral scout noticed I docked soon after you jumped into system.
You're completely mistaken about the "only fighting at station". For example, thzlou ran from me today in Palas in a belt, BTW, you only seem to fight when your alts have a complete recon of the situation and it's safe to undock and you know you can win, so isn't that the same thing? /shrug


I do know about the address-book bug, and your new member VIOLATOR12 had just JC'd out of Amarr Middle 10 minutes prior to the whole thing, and how was I supposed to know CHae Csee was greifing missioners? I only have 2 accounts! Not 6!

Cap recharger wouldn't have made a difference as I was toe to toe with a HAC and he obviously broke my tank in seconds. Unfortunately, my 2 alliance-mates with me at the time both glitched-out after jumping into him and had to relog, I was left alone so he can thank CCP for saving his ship.
So he has 2 accounts, which it seems like all of them do. His corpmates have a serious habit of "glitching out" when it comes to combat. He did master the ""reverse undock" maneuver though. No surprise there.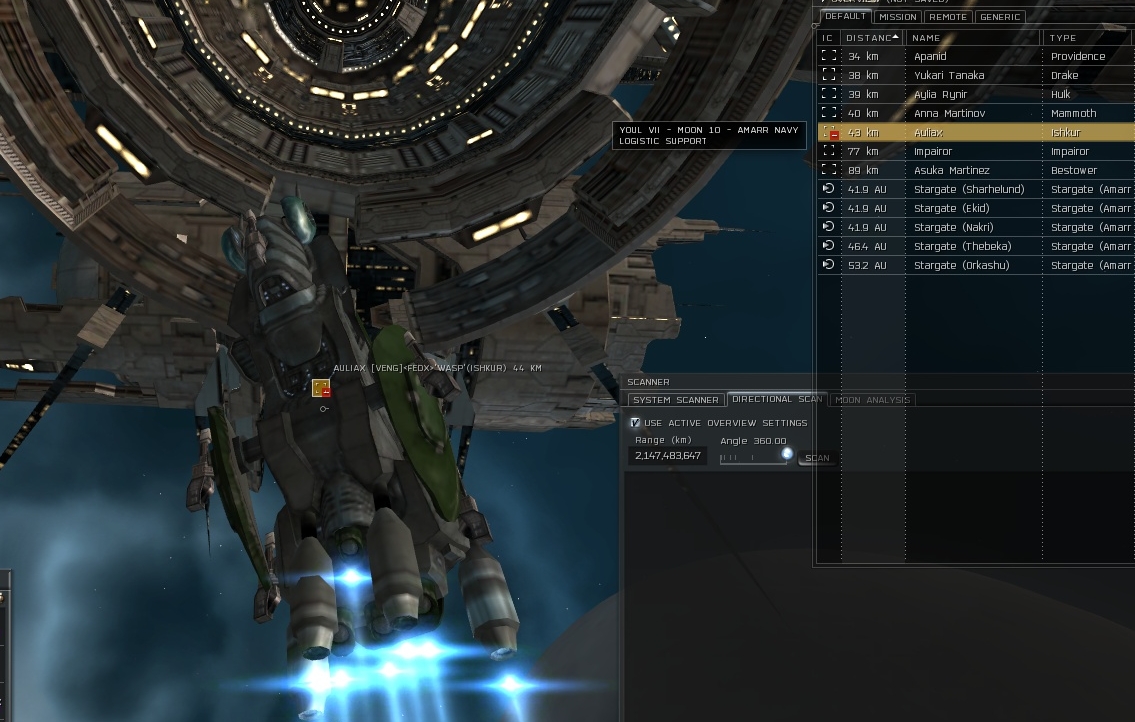 One of their king smack talkers decided to undock solo in his Inty. Luckily I had a full selection of ships to choose from so I undocked my Taranis and went at him. He was way too quick and I just couldn't catch him. I tried to refit but when I went back he crashed to desktop.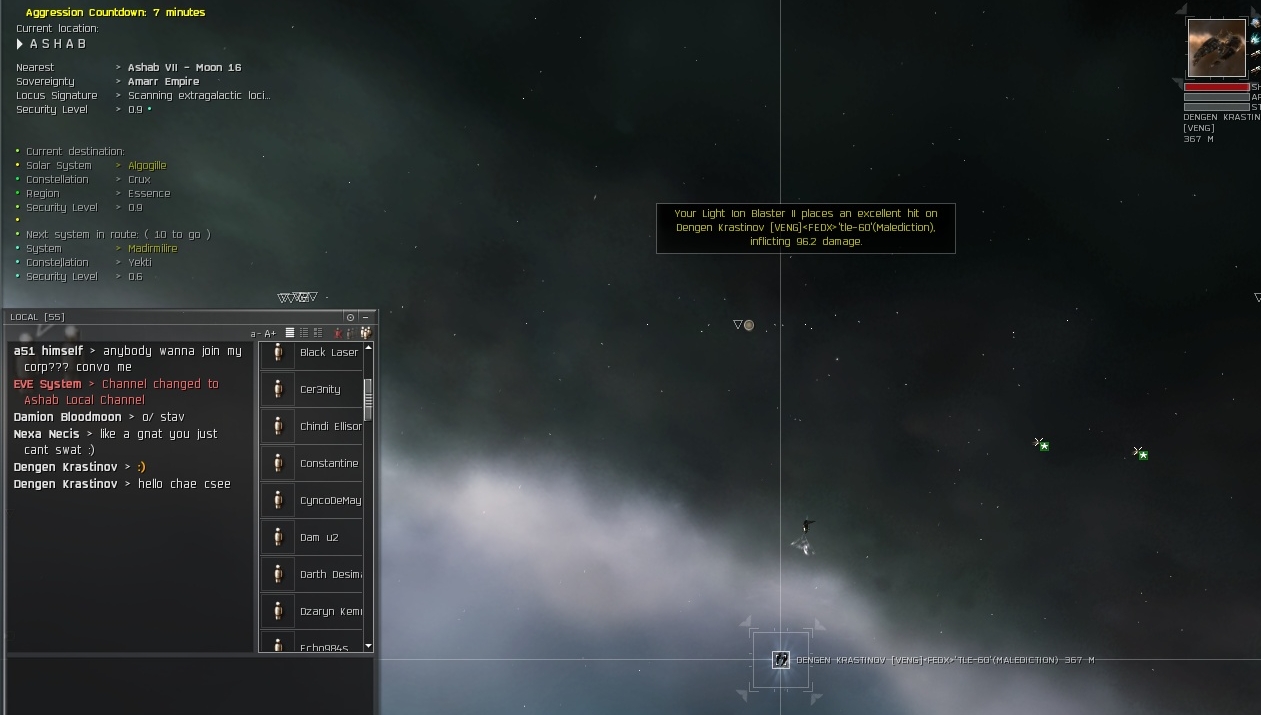 I knew he wasn't pulling a logoffski, but regardless, I have to kill him. I was surprised to see him log back on and be a good sport about it. He even apologized about bringing up my family in game.

Roma however kept up his usual shenanigans though. One day I jump into Amarr and he immediately starts posting a killmail in local over and over and over and over.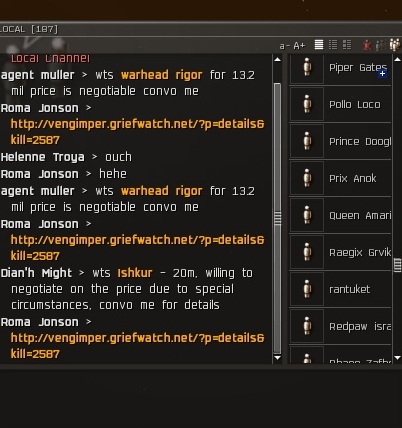 That
IS
pretty damn impressive!
20vs1 Dreadnaught.
Definitely something worth spamming local for over and over and over and over.
One of their players Breanna Bunch started jumping corp because they got tired of war and pulling logoffski's every time we caught them. Them and Roma both did a bit of corpjumping...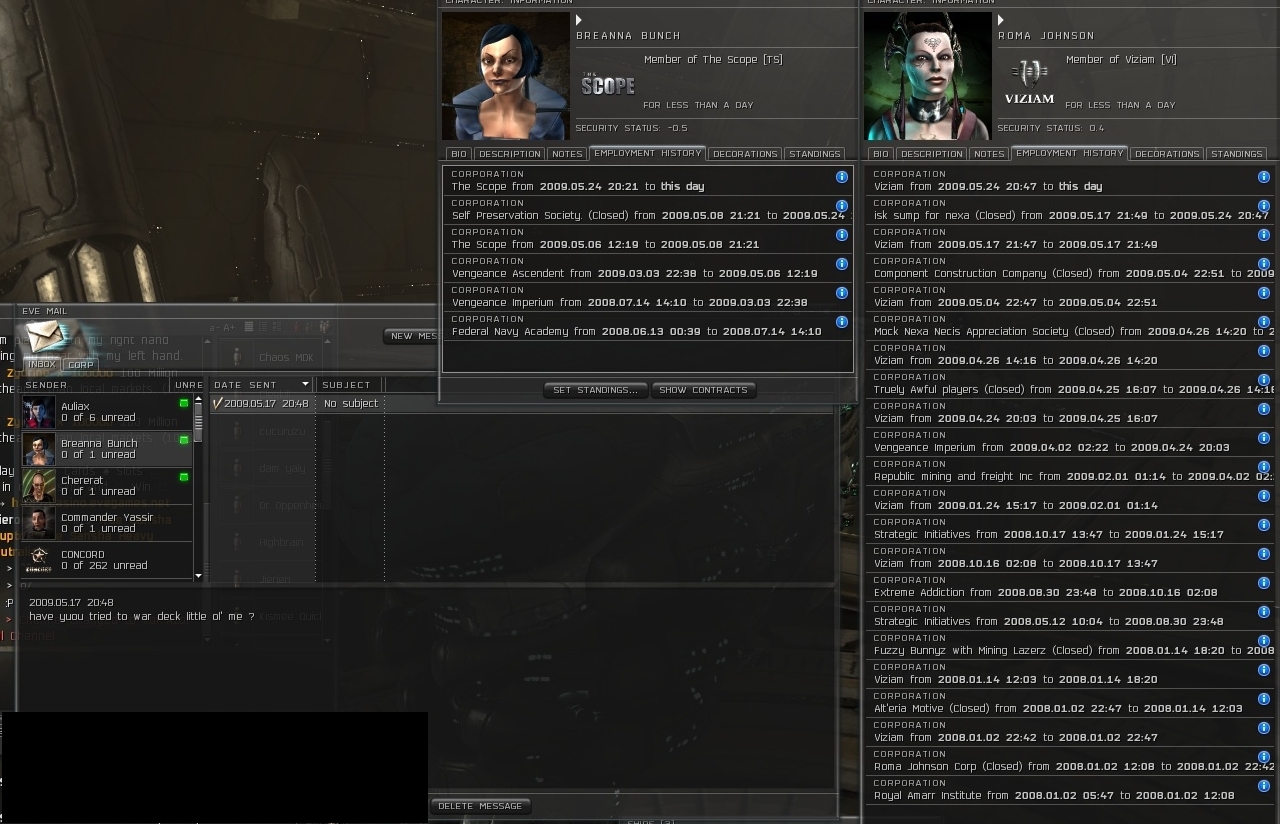 They both of course ended up rejoining Vengeance Imperium. Not because our war ended but because they had at least 5-10 million SP, a "pair" and lots and lots of maturity. Roma didn't do it for many weeks though. It seemed Federal Republic did a few cruddy war decs against a few people to hold up their badass Empire war dec reputation, then moseyed on out to low sec to hang with friends.
Ok, I have to start a new page of story. Ander did manage to pick up the server speed so it wasn't torture uploading pictures this time but it still won't let me write one big story so here goes
PART 2!
Comments
Display comments as (
Linear
| Threaded)