Official ETC CCP reseller - support eve-pirate.com by visiting our sponsor:
Posted by freaky in Piracy
Monday, May 11. 2009
freaky
Can you believe how quickly time flies when you're having fun? It's been 8 months since my last story and things are just as fun as ever! We've had some long time members leave us to explore the rest of the Eve universe and we've had some fresh blood inducted who are right at home creating havoc along with us. We've been dec'd by corps and alliances and of course have also done our fair share of decing corps and alliances and showing them exactly what a fun-loving small group of players can do.
I am still amazed that it's been three years and we are all having a blast still. We've made a ton of friends over the years and even more enemies and we're nowhere close to stopping anytime soon. I used to play EQ1 and EQ2 for ages and never made such good friends as I have in this game. While we are miles apart, leading different lives and going in opposite directions, we still chat it up every night and share in each others adventures that happen in game as well as out of game.
I would love to write a massive tale about all our exploits over the last 8 months but alas, I am a bit lazy and don't have the stamina to piece it all together. Instead I will show a few bits and pieces to tide you over until I can fully get back in the saddle and knock out another whopper of a story. Another reason I am being lazy is because I did a fresh OS install and I forgot to transfer the folder with my story in it. But I did save my original Eve folder so I still have all my chat logs and pics, but I am not in the mood to deal with re-writing and retrieving all the pics and logs. It turns out I think it will be a long story, but I won't have as many chat logs since it's hard for me to get it all in order, so I will try to peace it all together via pics and my own sweet words.
So where to begin? Well you might remember in our last story we had dec'd a corp called Butterfly Effect. They were so laughable because their corp recruiting bio said they don't do stuff that's against the rules and they aren't immature 12 year olds who haven't taken their Ritalin and in actuality, that's exactly what most of them were. They swore up and down that we would do nothing to them because they showed up with a ton of players right off the bat. Sure enough, as time goes on, their clot of players dissipated and we put the hurt on them. Even though they swore they would never pay and they would dec our supposed industrial wing, they got tired of losing and paid up.
I love that kind of ending. People unload a massive amount of smack and you end up getting them to pay you 500 million ISK. Good times! As you know we tend to run into a lot of retards in this game. It's always fun when these morons threaten you and end up being a no-show and give you all sorts of excuses why. One day I log in to see a typical death threat to me and our corp.
2009.01.17 19:54
OK, im gonna be very Blunt and when replying to this mail be aware that i hold your corp fully accountable. Chae Csee is a little fuck tard, who needs to learn some respect. Unless he is Kicked from your corp in the next 48 hours we will war deck and perma camp you until you quit. and with an active member count at any given time of 120 people thats not that hard. (shift works easy)
I want an apology on behalf of your corp for his outragous insults. Oh BTW? dis i memntion we are part of a Coalition with Chain of chaos alliance and Huzzah Federation? so with 600 online member count @ any given time... ok well i think you get my drift.
I begged him to follow through but said I know he wont and I will bet anything he will never, ever dec us. No way in hell I would ever boot a member over a threat. If one of my guys got us an endless war dec, I'd thank em, not boot em. Guess what happened?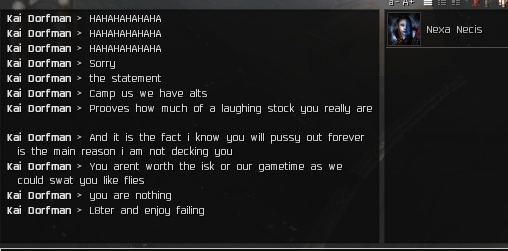 NOTHING! So typical. It was around this time we noticed a disturbing trend in Eve. Over 60% of our opponents were/are doing it. What is it you ask? Loggoffski? Neutral alts remote repping? Corp jumping? Nope. Well yes, they all do that cause they suck, but you want to know what the most recent addendum to the Carebear Playbook is? Read on!
The latest and greatest addendum is to jump into an alliance. Regardless of if you know them, regardless of if you like them, as long as they offer you a "safe haven", go for it. They get to charge your corp some ISK, you get to hide amongst the masses, and occasionally you will get to fight together, and more often than not, you get to die together.
Basically the bottom line is they do this to increase the war fees plain and simple. Eight of the last thirteen corps have done this. The downside is the inflated fees, but there is also and upside, more targets and the first few weeks of war are had on the cheap. Spend 24mil and you too can get 3 alliance war decs for 2 weeks!

The first corp that jumped into the alliance was called Templar's Union. They ran into The Last Stand alliance. As usual, we didn't back down in the least and kept up the pressure and the kills and despite being grossly outnumbered, we didn't even incur a single loss.
As you can see, they didn't do so well.
The main bunch of Templar's left the corp and formed a splinter corp which we immediately decd and they ended up paying nicely.
Then out of the blue we got decd by some old war targets who formed a new corp and wanted revenge. However, all they did was whine and complain that we blob them and never fight alone. The reality was that they had only 2 players, and they would sit in TMP where 5 or 6 of us were and they would sit in passive trimarked BS's with RR's. So of course they ended up getting spanked
over and over and over.
They dropped the dec after a few weeks. That was one unprofitable war for them that's for sure.
We then had a run in with Cinder Industrials. Of course they opted to run into an alliance called Brothers Grim. One of many lackluster alliances in this game. They did nothing but die basically. I laughed when I got a oh so threatening email from the Brothers Grim diplo....
2008.10.12 07:26
i suggest you remove the dec from cinder corp...
i understand you war dec industrial carebear corps around tashmurkon.... theres plenty more to dec.
i kindly ask you remove the cinder dec and we'll all just go about our business.
o7
kirth
Of course this only ensures that we keep the war on and focus on harassing them as much as possible. This is how I usually respond to weak threats..
2008.10.12 16:21
I suggest you mind your own business. You have no clue why we dec'd them or what they did. Just because they're miners doesn't make them exempt from consequences of their actions.

So do whatever you want. If they want to bring friends, so will we.

I don't think you have the guts to war dec us. Prove me wrong. If I don't see you within 48 hours, I will know what kind of scammer you are.

Nexa
Of course he doesn't war dec us or make the war mutual. Their goal, along with the rest of the wretched, shitty alliances in this game is to just drive up the price of war while banking that the opposing corp is afraid of dealing with an alliance. Their response was quite typical...
2008.10.12 20:39
its not a matter of guts....
its a favor... and we wont need to dec you, you can dec us lol.
I had some other pussy alliance send me an email as well with a similar threat. They didn't keep up the dialogue but Kirth did. I responded in kind....
2008.10.12 20:48
Do your favors. Our friends do favors too. I knew you wouldnt dec us.

You figured if 2 alliances sent me threatening emails, we would cower and drop the dec against your pals. Not so.

I knew it was a farce. A charade, a ruse if you will. Do them a favor and suck them into your almighty alliance. I am sure your entire alliance is willing to risk their ships for these people.



Nexa
He responds....
2008.10.12 20:58
actually im not at all interested in going to war with you....
i know exactly what you do, and we used to, and will be, doing the same again....
so i know how pointless the whole "bring your friends then ill bring mine" is... but circumnstances is maybe itll have to be the case....

btw thnx for the ctrl+paste response.
I retort....
2008.10.12 21:11
So why threaten us then? If you're not interested in war, why threaten it?

Cinder aren't defenseless miners. They're running around in Absolutions, Astartes and Falcons.

So don't go claiming they're an industrial carebear corp. Falcons, Astartes and Absolutions are pvp ships and generally not used by carebears or miners.

So again, either backup your threats or go try to scare other people.
I love that people claim to be defenseless miners and industrialists yet they are flying t2 pvp ships. All show and no go. You know they sit in corp and trade screenshots of their ship hangars full of ships of all types. Not a one with a single dent from pvp. All of them shiny and new. They're all for show. "Look at me, I am so cool in my new Rook! If some rascally pirate messes with my ore I will get my Rook and fuck his shit up! No one better mess with my shit motherfucker!" Ten minutes later the war email goes out and its, "WTF! We're miners! They're picking on us! We're defenseless and have no means to fight back! THIS IS BULLSHIT!"
He responds in kind....
2008.10.12 21:17
not intimidated by your words mate....
enjoy
They never are intimidated by us. They're a big, badass alliance after all. We're just a puny corp of high sec griefers who can't do shit, right? Of course they end up dying a bunch and have no skill or tactics whatsoever.
There was a bit of smack talk when we killed them of course.
[02:35:27] Sesshru > if i catch you anywhere your fucking dead
That was because he was stupid enough to fly a
hauler full of goodies
during a war. I love how people get so mad at us all because they decide to be morons.
Eventually Brothers Grim grows tired of dying and being camped and picked off constantly so they kick Cinder from the alliance and we dec them right away and they wind up paying us a surrender fee. Yay for TRAPS!
What does amaze me in this whole thing is the amount of sheer anger people have over losing stuff in a video game. I mean people are having utter and complete meltdowns over pixels. Whoodathunkit? Seriously. They even go so far as to wish ill upon my children. Is that fucking crazy or what?!
2009.01.14 05:37
You think i give afuck i doint i hope your kids doint have accident lol
Can you imagine what is going on in someone's life that they wish ill upon children because you blew up their shitty fit Osprey? That's depravity at its finest methinks. I mean you can run into plenty of racists like
Seanigulous
but threatening children is a whole different category.
Right around this time we ran into a group of smack talking "miners" in a corp called Harvester of Sorry who probably didn't realize what asshats we were. They had no clue that smack talk would end up causing them so much trouble. They ended up running out to low sec and hiding with their friends in a corp called Outriders. The funny thing is they lived up to their names. They harvested plenty of sorrow while out riding around like goofballs.
Their CEO obviously knew about us and how we operate judging from his bio....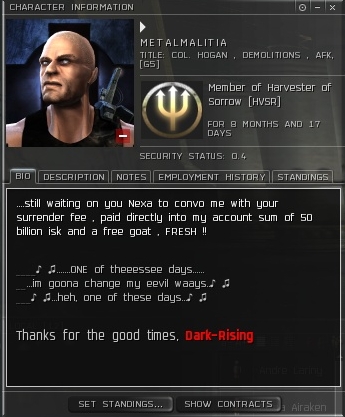 The best part was that they seemed to be part of a large German community of players. Gotta love those Germans. They stick together. Until you dec them for three months then it's every man for himself.
What we noticed was they really, really loved to logoffski.

They also enjoyed ejecting from their ships too.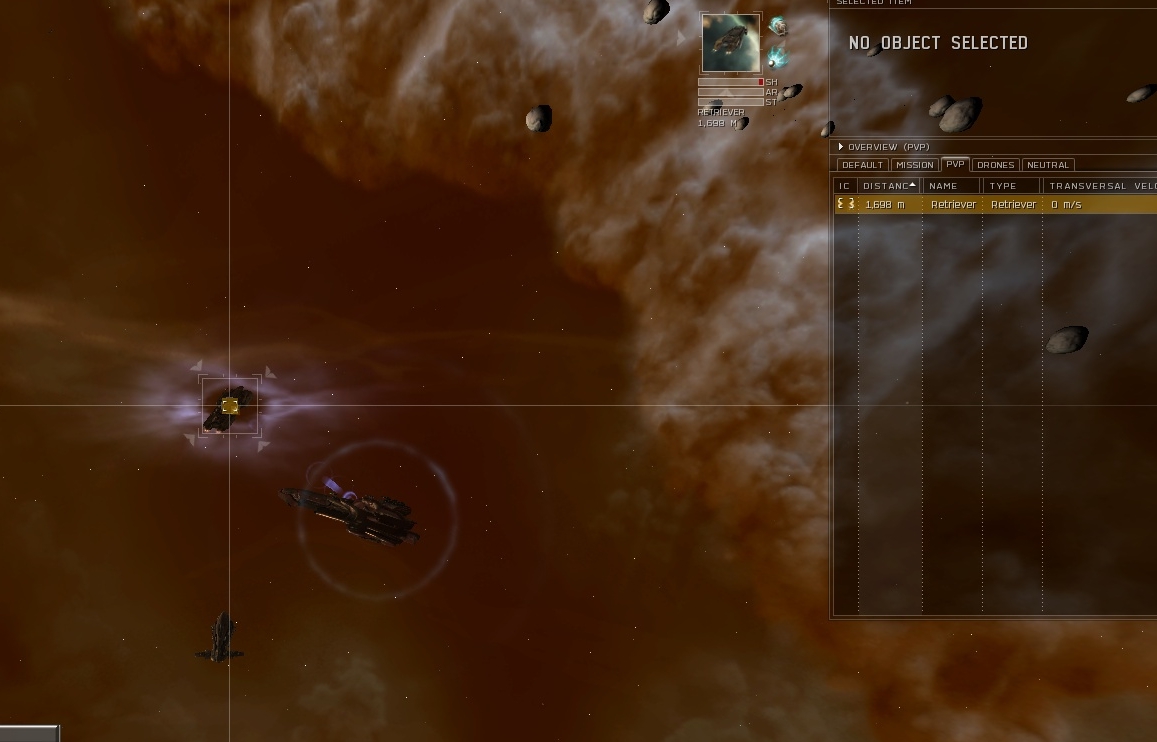 Then again, I think they enjoyed logoffski more. This one night was Christmas Eve and one of their guys was practicing his log out technique. He logged out and didn't expect us to be in his safespot waiting for him to log back in. Watch local...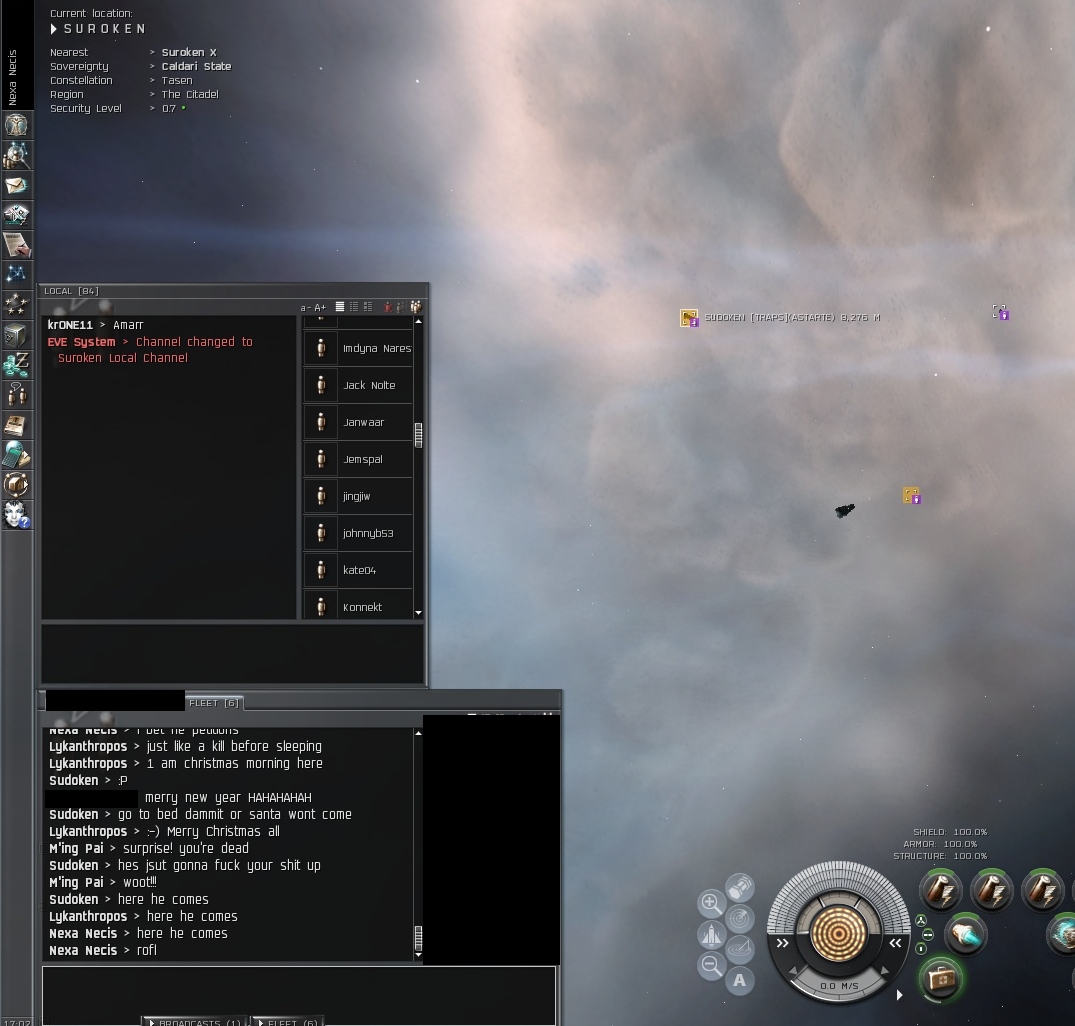 We're all camped and waiting for him....he logs back in......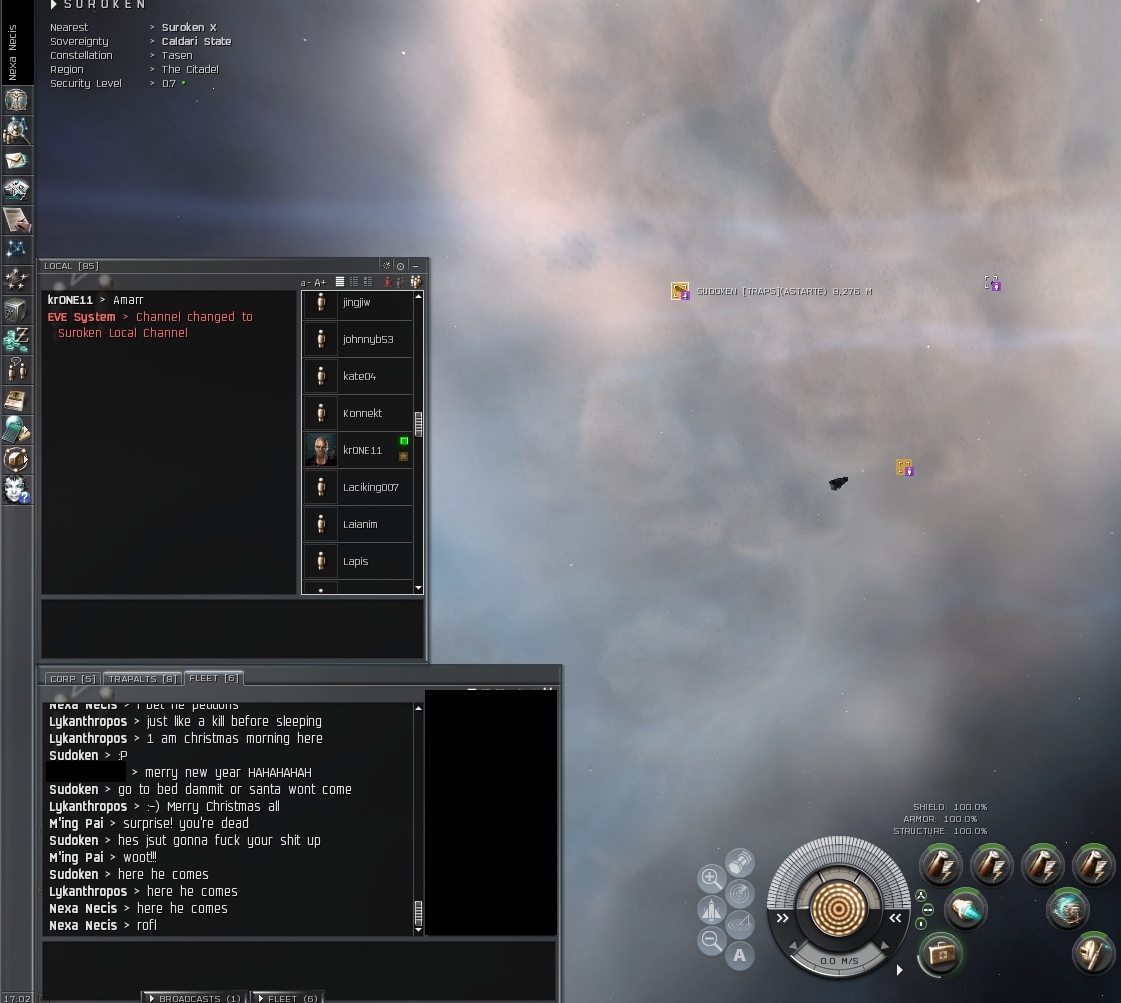 Not ones to be meanies during the holiday season, we wish him well!

I mean these guys really, really enjoyed the ol' logoffski tactic. You would think after the 3rd or 4th time of trying it, they would realize it's a useless tactic. It doesn't bother me a bit. Maybe they think it will save their pod since the pod autowarps before you can lock it. Luckily we have alt probers handy at all times. Chalk up another 100mil+ loss on a failed logoffski attempt!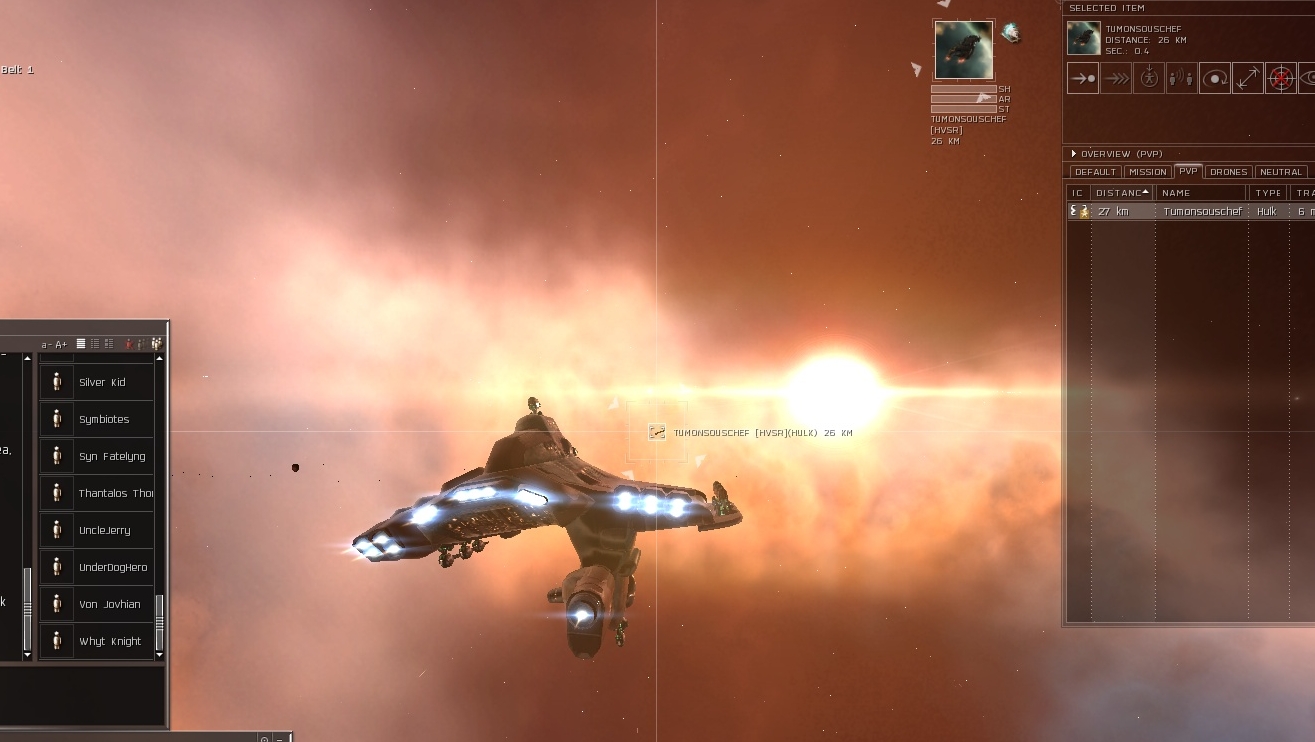 Of course since they are German friendly, they have their German friends checking on us all the time. As with Eve mistakes are made and instead of clicking my info tab, they start a convo. Here's a convo I enjoyed because I took a line from one of my favorite WW2 movies, Stalag 17.

I can tell they are really growing tired of us because I would show up in system solo with plenty of em in it, pop one of them in a mission and they all run and dock. I warped in and snagged one, the rest ran. I was surprised they wouldn't engage with a 3vs1.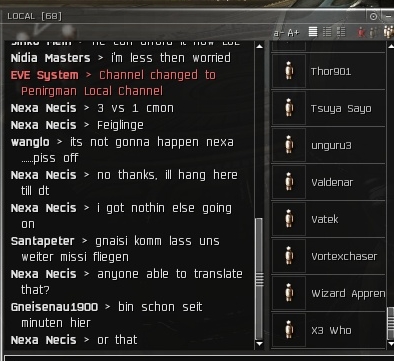 The reason I was surprised was because they were starting to name their ships in a smack talkish fashion....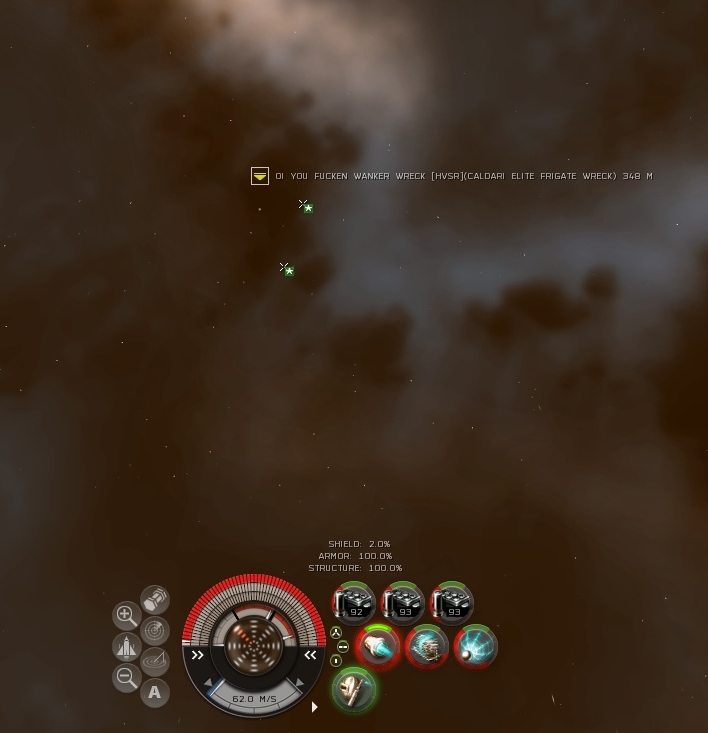 Lets not forget this one where the pilot immediately docked up once I jumped into the system alone in a Taranis!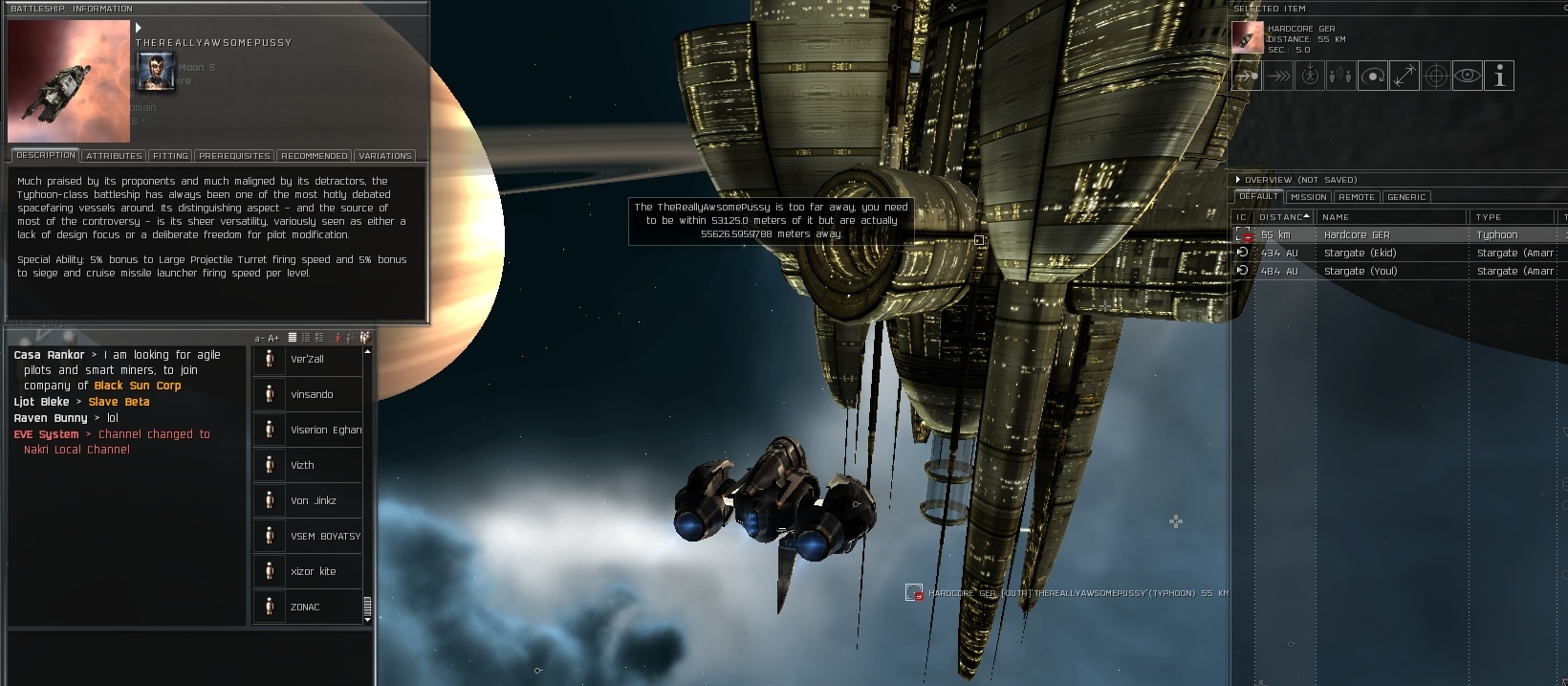 I kinda felt bad for the Wanglo guy. Why did I feel bad? Let's see....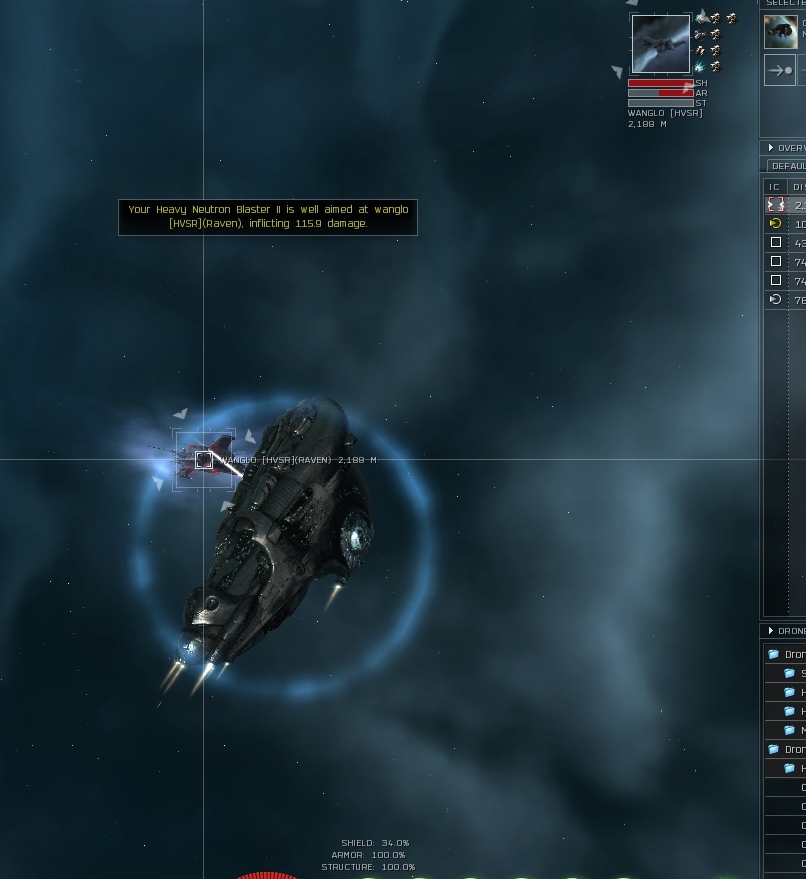 He loved to run missions during the war. I laughed though because he was on the younger side and was already cross training Amarr and Caldari ships. He also started fitting stabs too so I had to bust out the Phobos to tie him down.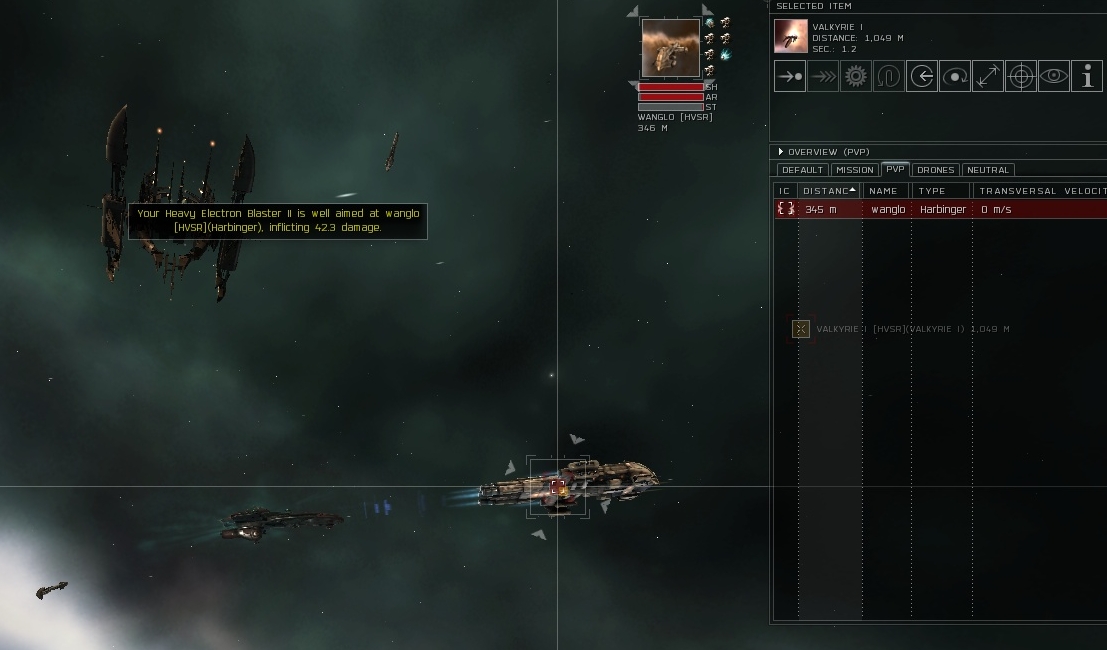 He lost a few Drakes, a Moa, Raven and Harbinger. So naturally he harbors a bit of resentment towards us. After a while though they realize they cant win, so they proceed to the next step in the carebear playbook. Jump corp!
The funniest thing to me is their bio's. I mean, if you read those bios on someone, you would say, "This guy probably fancies a bit of the old pew pew." In reality, it's the furthest thing from the truth. So they jump into a logistics holding corp...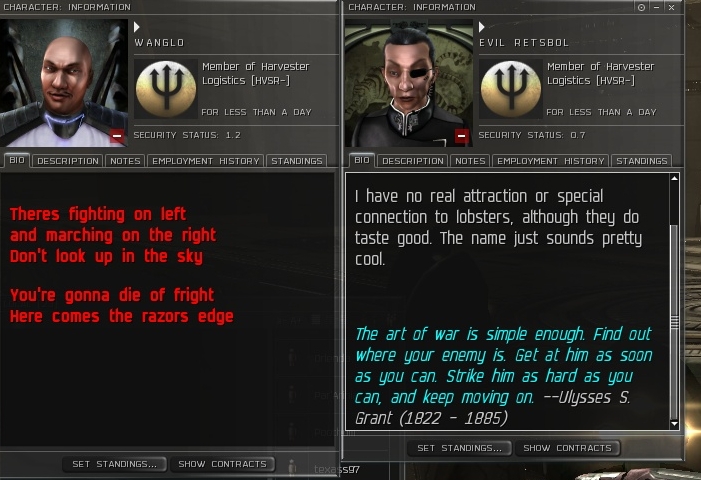 As you all likely well know, we do not stop once the splintering of corps occurs. We dec them on TRAPS, on alts, or with friends' corps too. This really seems to drive them nuts. So their whole outfit jumps into another new corp....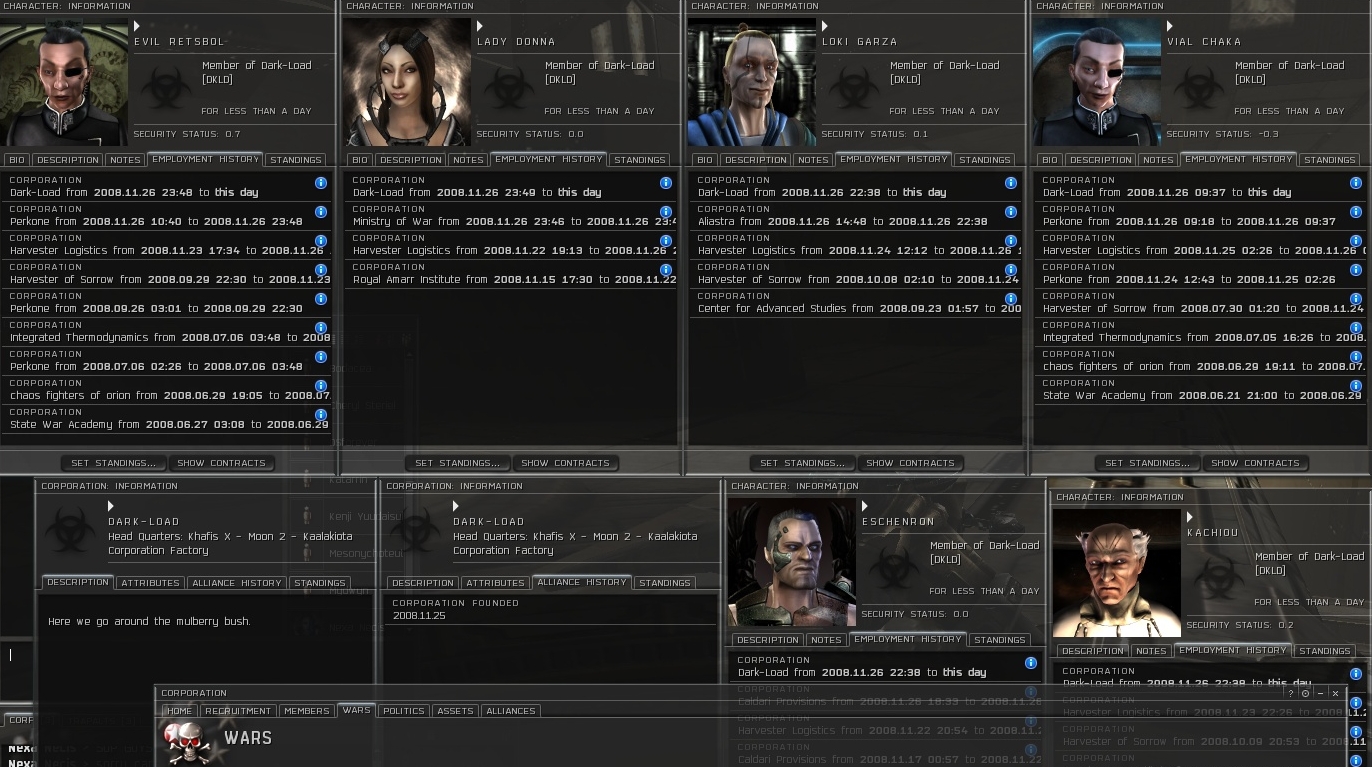 We press on, continuing to dec all the alt corps. Frustration sets in. Their CEO is a complete retard named Metalmalitia. Constant smack talker, never fights, never undocks, only spins ships and cries in local. I've seen tons of people like him in Eve. They claim TRAPS suck, we blob, we pick on newbies, we never fight, we dock all day, we smack etc etc. They claim we don't phase them, they're not bothered by us, they can handle us and anything we throw at them.
If that was the case, why even bother talking? Why bother spamming me with emails? Why bother asking "Why the war!?". Why bother running? Just sit in station, spin your ship and relax. Tab out of Eve and play some games on
Kongregate.
It must bother them. Look at all the crap they pull. Jumping through 10 corps, jumping into alliances, petitioning, smack talk, hiring mercs, and doing everything but trying to fight back. Well, they do try, but only when it's 10vs1 of course. Not that there's anything wrong with getting a good size gang going, but if you're trying to kill a solo pilot who excels at Empire war, try to use the appropriate tactic. Bringing 10 ships to camp me isn't going to work. I'll undock to a safe from station and leave or just sit and grind some ISK on an alt or hit up Kongregate while I rock out on
Slacker.com
.
Here's a small sample of his idiotic smack.....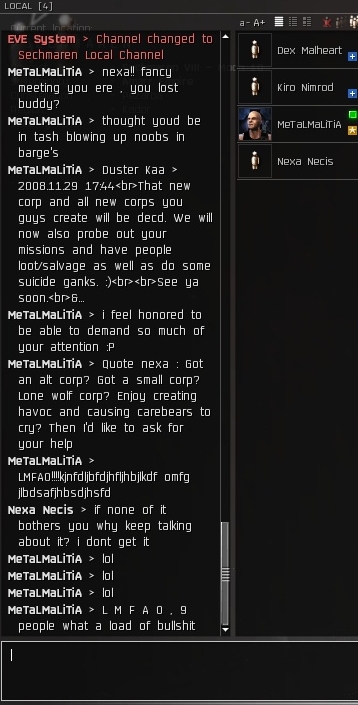 He's so unconcerned with the TRAPS threat, he starts creating alt corps for all to jump into....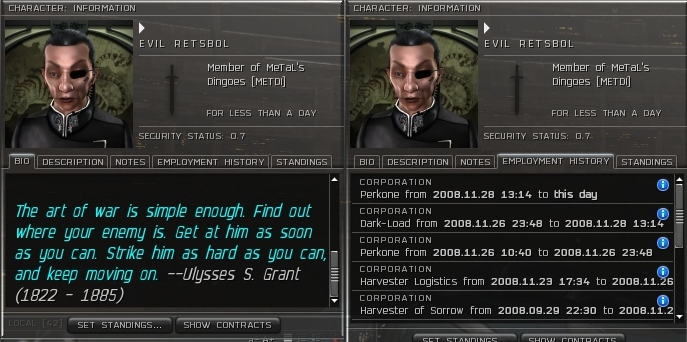 It still doesn't stop the war machine from rolling onward. We chase them down to low sec where they stay docked because no one in system seems to like them much either. I think they thought if they docked out in low sec we would go out there and get killed by better bad guys or something but where they ended up hiding had a bunch of corps and alliances who were blue to us so we rolled through the systems without issues.
They still didn't realize how tenacious we are. They jumped corp a few more times. One time it was into a corp whose name, while funny, violated CCP's language policy.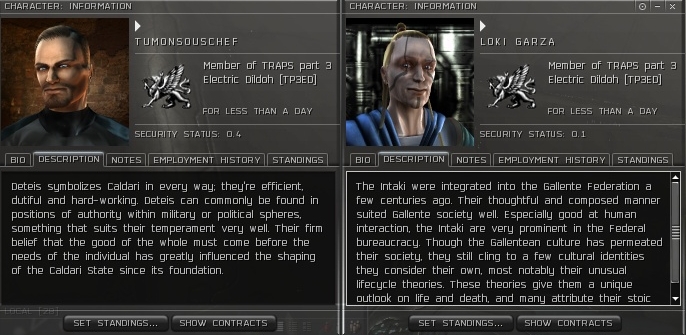 I immediately petitioned their corp name and the GM's put an end to the corp instantly. I think that might have been the final straw for them. With more and more people offering us help in decing the splinter corps and with them not being able to mine or mission at all, they gave in and paid up.

How about some quick comic relief? CCP implemented a medal award system in game and people seemed to enjoy it. I created a few for funny stuffs and other things. Some people though were quite full of themselves when it came to medals. Check out this guys....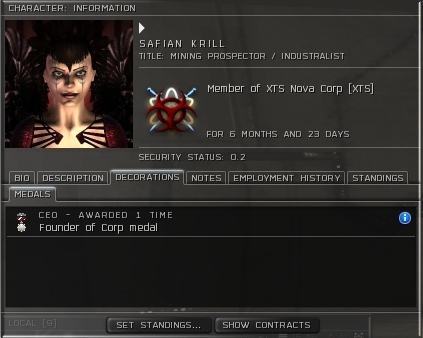 Founder Of Corp medal? Jeez, how about a Player Of Eve medal? Or even Guy Who Logged In medal? Someone should dec his ass for laughs. Maybe we will at some point.

We ran into a smack talking corp in TMP called Manufact Co. They were mostly newbish type players, with a few older ones mixed in. I think it was more of a juice the new players so the heads of the corp skim the ISK from the corp type setup. These guys were extremely clueless and a few of them were/are extremely retarded. They didn't like to fight at all. You can see
here
they basically avoided fights with us.
I laughed because they would just run a few systems away then they would sit and can flip people in belts and try to gank them. I caught a few of them like that, but usually they ran once they saw any of us in the system. They thought they were so badass though. I popped into their pub channel to get intel on a memberlist and look at the MOTD....

I am betting no one ever went to their pub channel over getting popped by their weakass corp. Such a tough MOTD but they do not live up to it. Most of their players were goobers like this one guy. He had no clue about the war, how it worked or anything. Since these type of shitty corps are basically every man for himself they never helped him or did anything to help each other in the least.
I try to keep things on a humorous tip when dealing with these types....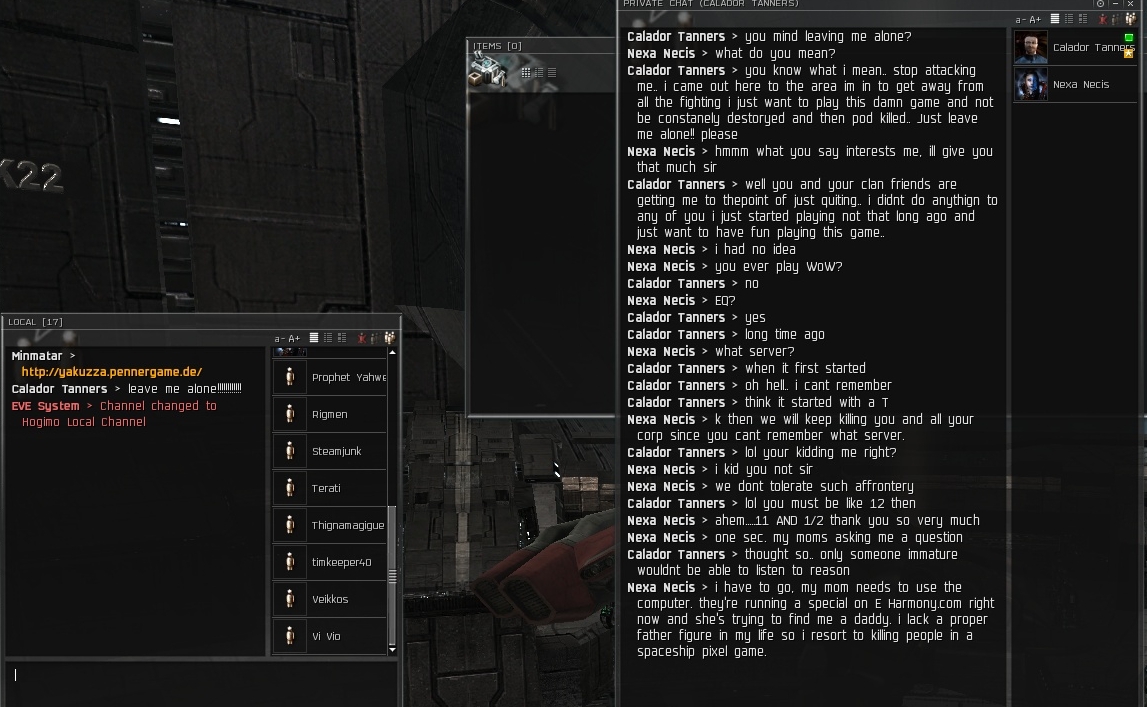 "Clan friends" hehe. Wrong game brother. Looks like he recently rejoined the same corp. We need to redec them again. They never got to pay up and we had to dec other corps at the time. We will return to harass them soon enough I think.
How about some more funny stuff? One night one of my guys asks if anyone can fly an Orca. I start laughing because we don't do that shit and the only possible reason he would be asking it is because he got someone to eject from one. I guessed right.....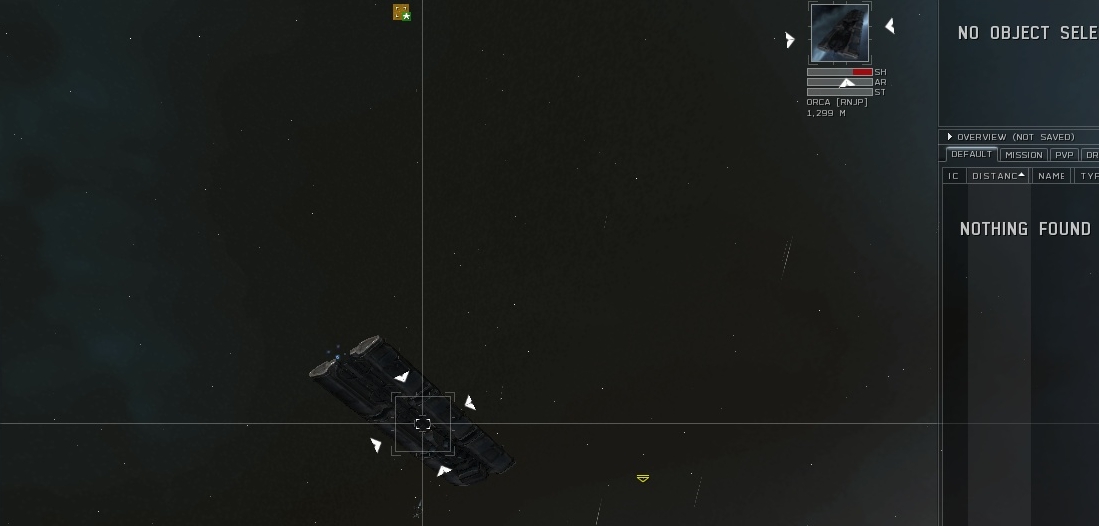 It's times like that I wish we did have someone who could fly them. So we're scrambling to see if we know anyone who can fly one and who is online and close enough to get there. I did manage to learn something from the encounter though. I always thought that if you target an unmanned ship then no one can board it. This is not true. The original pilot can board it at any time. So we're sitting there locking the Orca trying to find a pilot to snag it and the guy comes back in a Myrm.
We lock it and start to kill it, he jumps out of it and then warps out. We scoop the Myrm. We're still looking for a Orca pilot though. Then the guy comes back a bit later after he no longer has any aggro and he hops into the Orca again. He can't get away so instead, he self-destructs it and sends me some hatemail.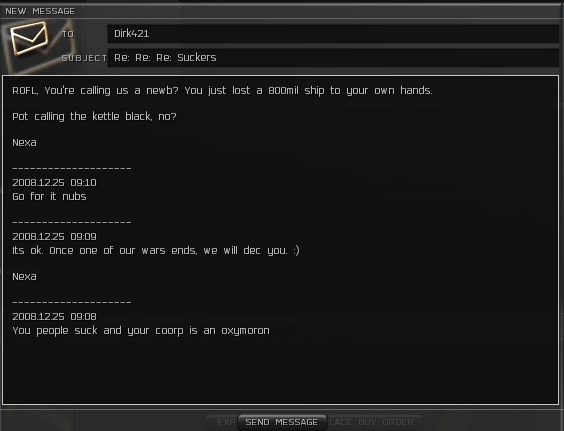 We were gonna dec him but I haven't seen him log on in ages. Too bad because judging from his emorage, he would've been fun to kill.
Then we ran into a corp named Shattered Dawn Imperium. They were a group of smack talkers who immediately ran into a much larger corp called Department of Defence. So we dec'd the Dept of Defence corp and they of course ran into an alliance called Damage Inc.
These guys were full of smack talking idiots. Once again they probably thought we would tuck our tails between our legs and drop the dec, instead we eagerly renewed it over and over. It was more of the same stuff, smack, hide, blob, permadock, mission, die, logoffski and such.

Let's all be sure to grind our ISK in our Command ships. This one guy was in a Vulture and was able to evade us a few times using the old MWD/cloak trick. We watched him for a few days and got his pattern down and planned our attack.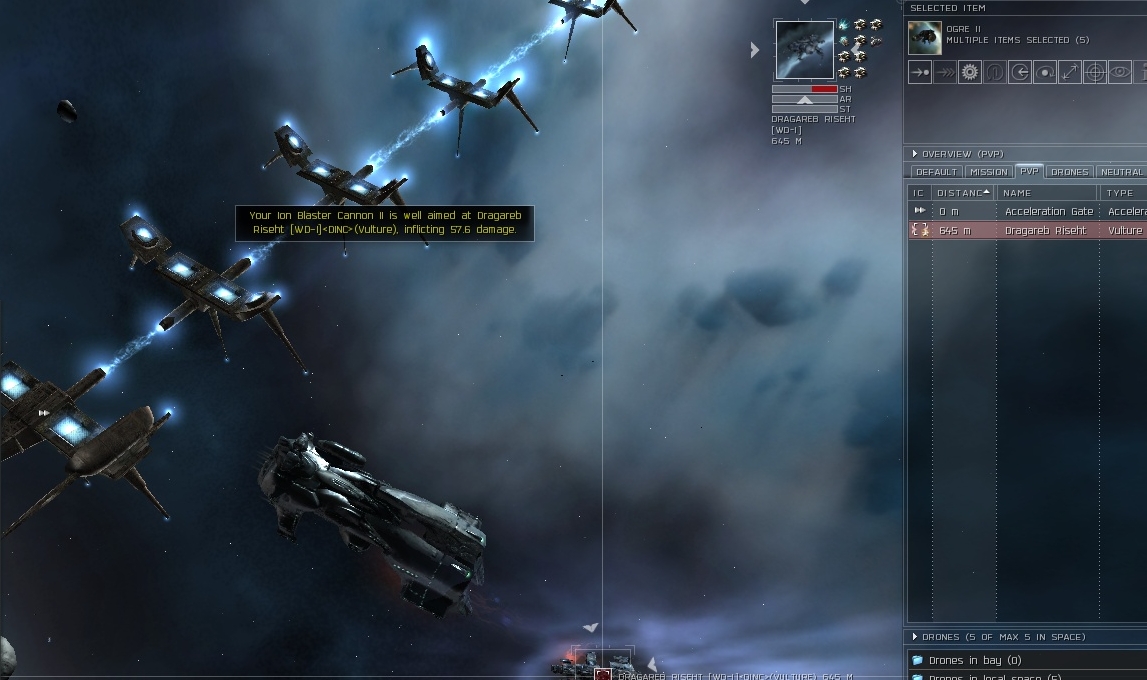 I am sure he was thrilled with the alliance leaders for letting that lame corp in. They were a very disorganize and pretty crappy alliance. What else is new, right? I did enjoy the fact that they loved to go on autopilot and AFK at gates in shuttles and pods. So I went and got a battle Impairor of DOOM! Behold it's sleek lines, with its turrets that spew forth fire and destruction!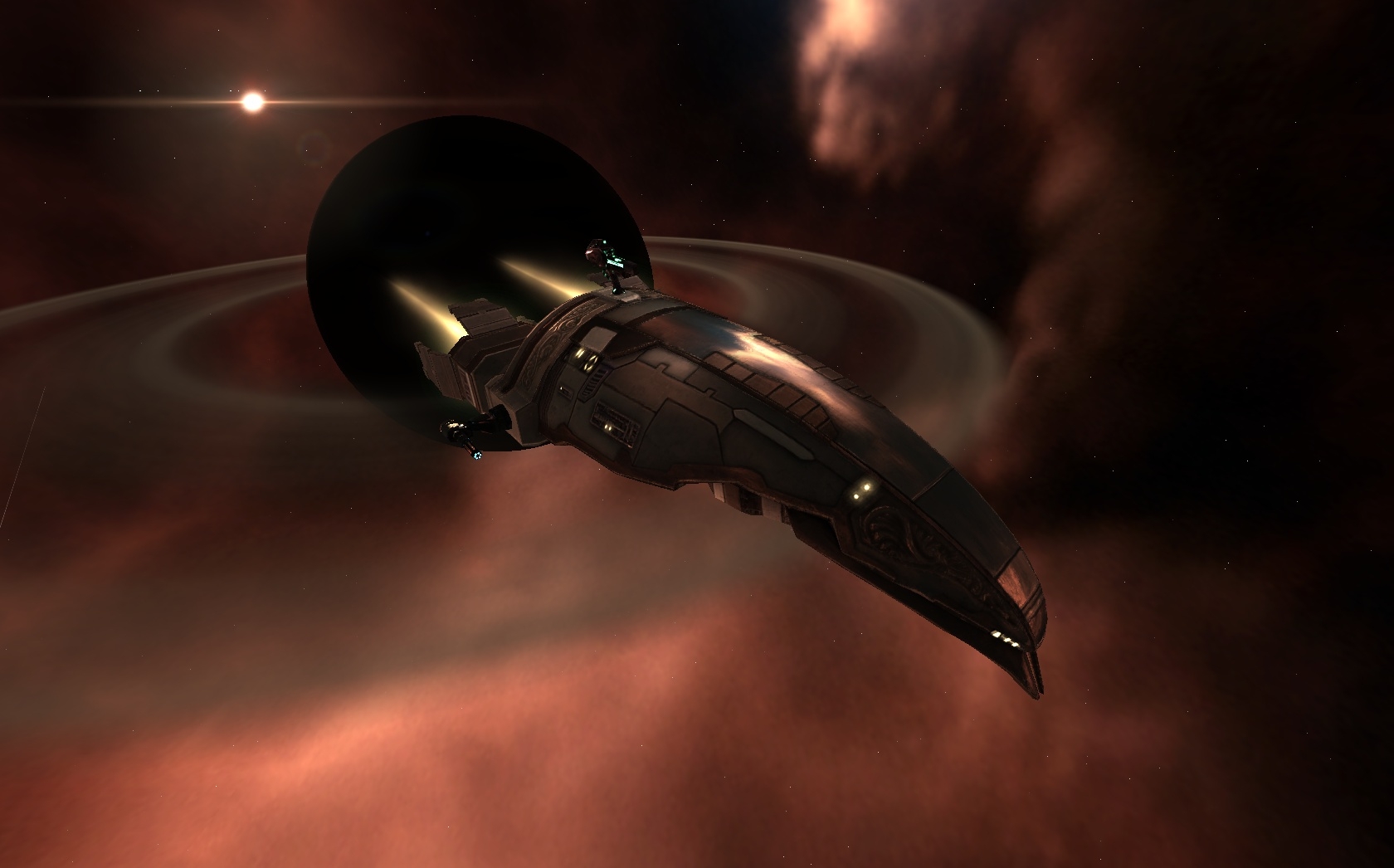 I caught a pod....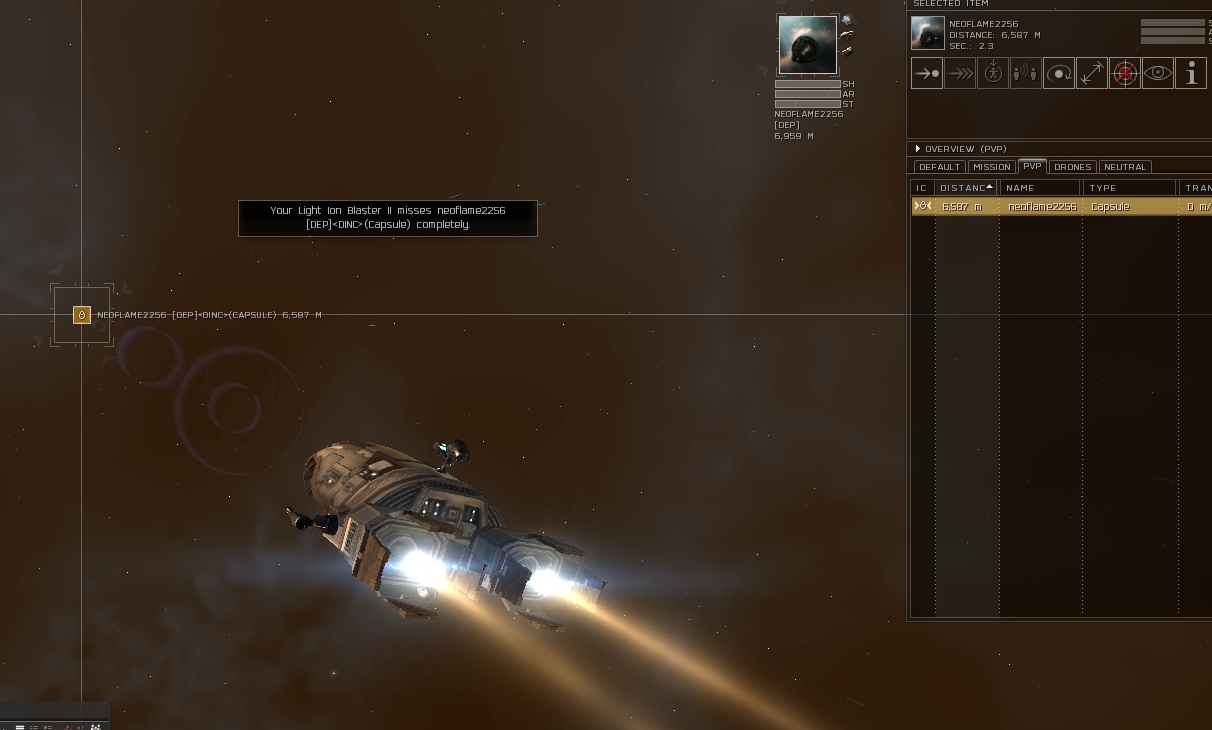 That's right baby! An Impairor with T2 gear kicking some ass at the gates. How about a shuttle? BOOYAH!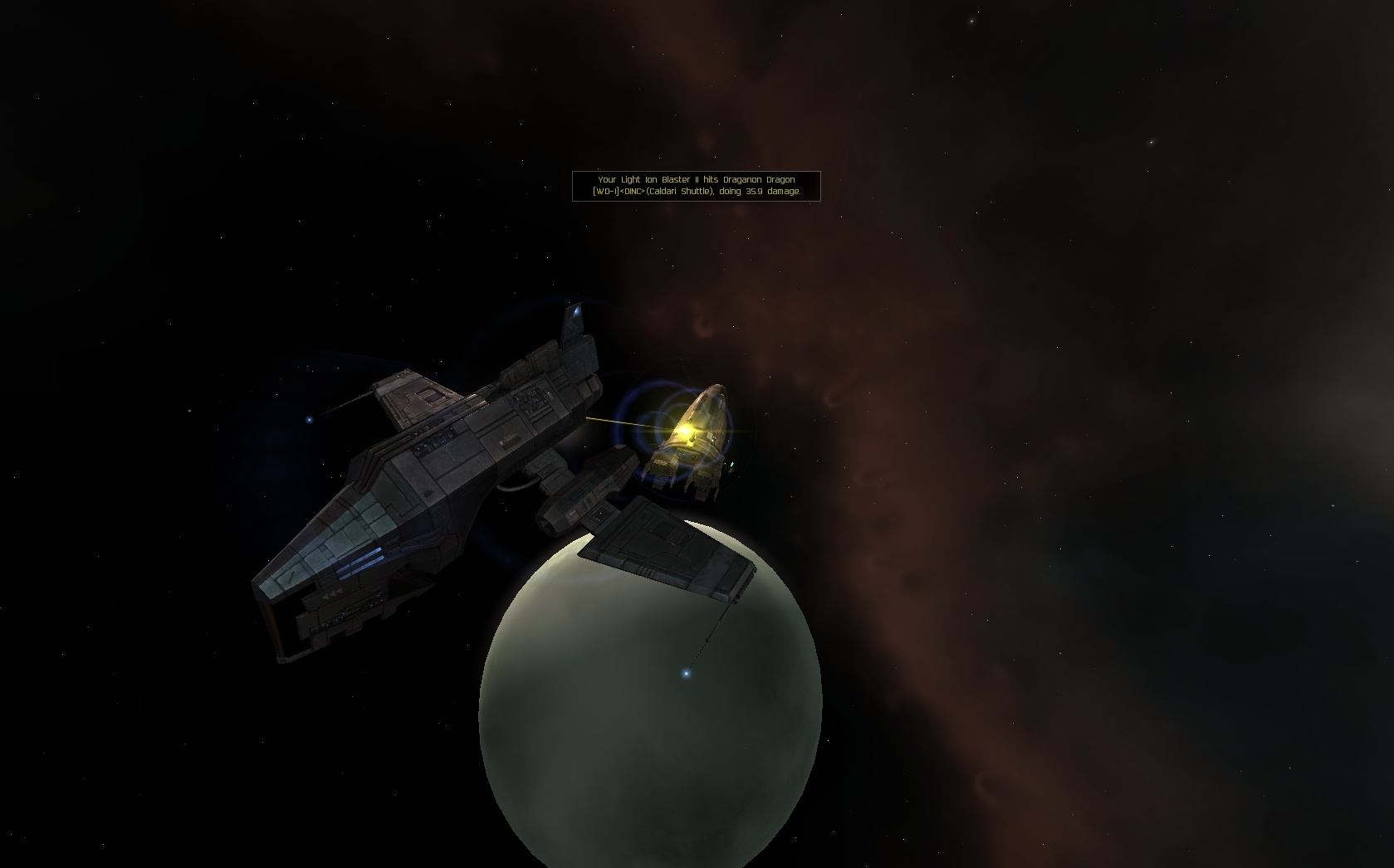 Fear the newb ship of AFK death! MUAHAHAHAHAAHAHA!
We proceeded to lay the smack down on their alliance for a few weeks. I could see they were growing tired of it all. Of course they were saying they were not bothered in the least by us. They were content with sitting in low sec or 0.0 doing whatever while the rest of them in Empire died at the hands of TRAPS. I hear that so much, but then again I also hear all the complaints from the people we kill or camp. Especially the ones who quit corp immediately after you score a nice kill on them. Hell it doesn't even have to be a nice kill. You can pop someones shitty empty hauler and they ragequit corp the second they dock.
So around the third or fourth week of war one of the corp leaders in the alliance grows tired of the alliance leadership and decides to take one for the team and do whats best for the alliance as a whole, which is to formally surrender to TRAPS. Hows a rigged Orca sound?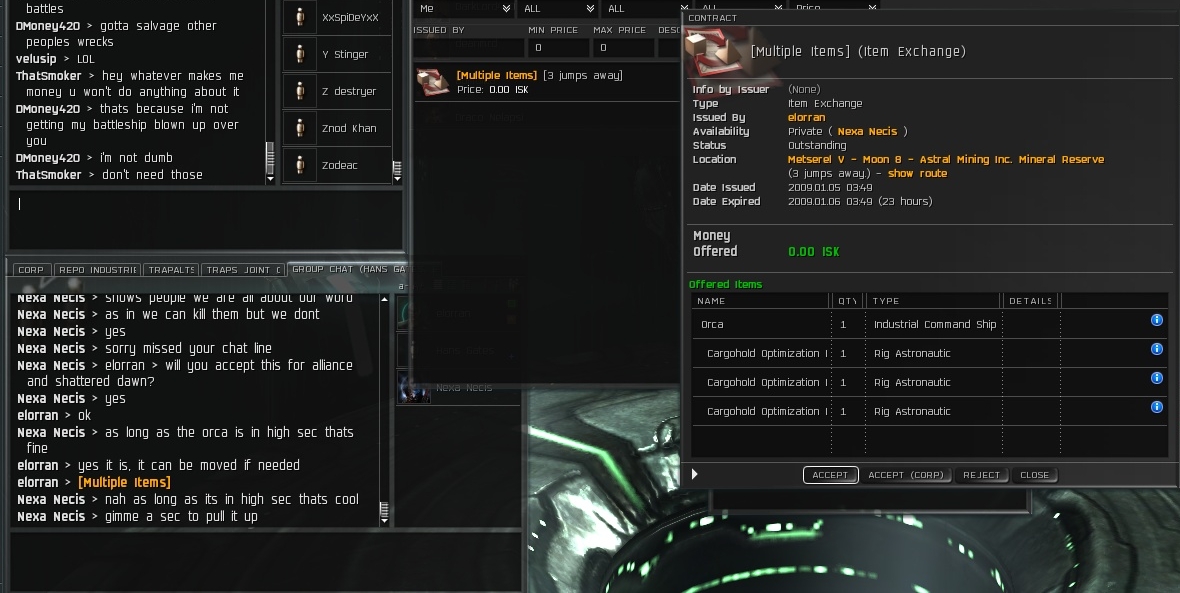 Works for me! We ran into a lunatic who was in the alliance who jumped out when we almost snagged their mission boat. Even though we didn't get to kill them, they loved to smack talk. They also tried to "sneak" into TRAPS. It always makes me laugh when spies and war targets try to join us. It's so obvious. What corp in their right mind is going to accept an active war target into their corp? Even if someone was to sneak in a spy, we don't run ops, we don't have anything secret, no POS's, no alt carebear corps, no nothing. We don't even have corp hangars to steal from.
All you would get is our killboard password, which honestly is so easy, anyone could probably figure it out in 3 guesses. Anyways.....So this moron convos me one day.....
Evelyn Mulwray > what say you to a large upset
Nexa Necis > huh?
Evelyn Mulwray > ive been in this corp for a week and they all blow ass
Evelyn Mulwray > what say you to a upset
Nexa Necis > im still not understanding, upset how?
Evelyn Mulwray > i can give you elo
Nexa Necis > give how so?
Evelyn Mulwray > please dont play dumb
Evelyn Mulwray > pos locs, ally vent login w/usernames, ally op times, locations.. staging points, favorite systems
Evelyn Mulwray > a war winning advantage
Evelyn Mulwray > what say you
Nexa Necis > sure
Evelyn Mulwray > one catch
Nexa Necis > ?
Evelyn Mulwray > i'll need a new home
Nexa Necis > that wont work unfortunately
Nexa Necis > least not with our corp
Evelyn Mulwray > I pose a threat somehow?
Nexa Necis > that and you smack talk a lot and no one in corp likes you
Evelyn Mulwray > in your corp?
Nexa Necis > yep
Evelyn Mulwray > I've only talked to you and ming
Nexa Necis > we watch you guys smack talking in local in motsu all day long
Evelyn Mulwray > i see
Evelyn Mulwray > think it over, i'll be around
They obviously have no clue about our network of spies, alts and informants. She would sit in Motsu all day and just talk shit nonstop. She wouldn't risk undocking of course because we probed out her mission before and she was able to get away.
Before she quits corp though we sneak up on her again and she was watching local or using a 3rd party program to alert her when a war target enters local because she instantly docked the second my guy jumped into the system. I mean anyone can watch local and run a mission but when you're in a system like Motsu that has almost 300 people in it nonstop, it would take you quite a bit to scan local and pick us out that quick. She of course starts smack talking and lying as well....

She tries to brag how rich she is but she would sit in system and ask people to split faction with her. She also admits to a friend that she uses illegal scripts while playing the game. They were petitioned after this convo but alas, CCP could care less. I have had people admit to using macros, explain how they use them and what they do, take screenshots of them using it, then petitioned and the people are never banned. Not even a temporary ban.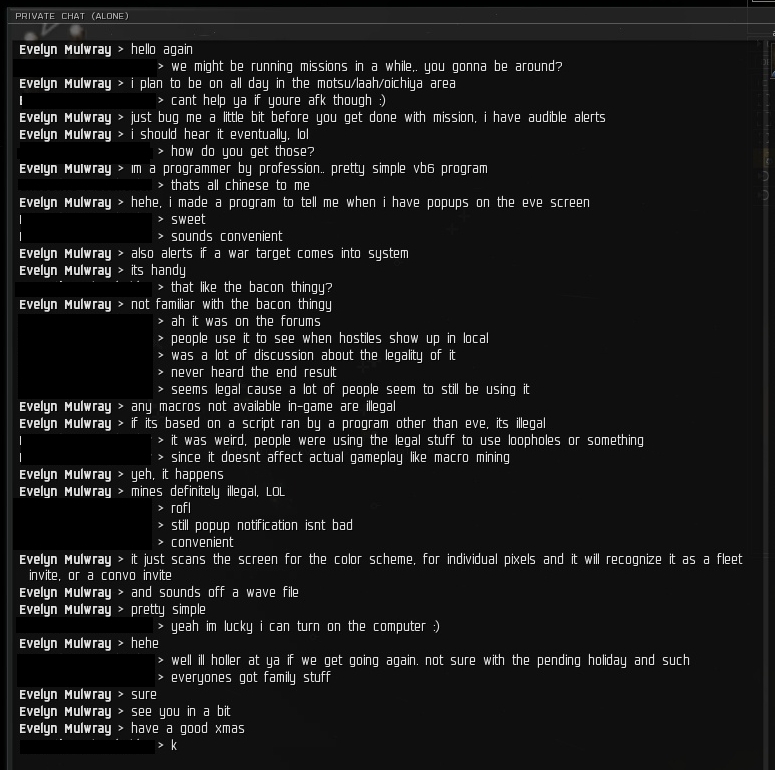 She eventually quit the alliance and briefly made her own extremely shitty corp. Look at this corp bio. We all had a good laugh at this one. The best part is, I think they were dead serious when they made it.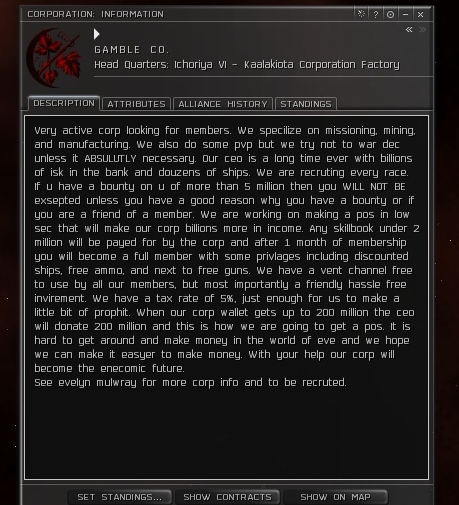 The next corp on the chopping block was Industrial Legion of Eve. They had an old war target of ours from a few months back, Article 14 Section 31. We had them decd for three months and they jumped through alliances and split up and we dec'd em coming and going. Our old target joined them and we proceeded with our promise of hunting them down. I offered their leadership a chance to pay up or boot him but they just fucked around and thought it was an idle threat.
It was awesome, within the first 24 hours we scored a kill on the
corp jumper
. We splashed his CNR and lots of good loot actually survived. We also snagged his pod which we heard was full of high end implants too. We were off to a splendid start to say the least.
After a bit of war, they had their friends in a corp called Terminal Logic dec us. Terminal Logic had a ton of idiots in it as well. Lots of smack, shitty tactics, logoffski's and abandoning of ships. Oh yeah they also jumped into an alliance too!
One of my favorite encounters was they had 3 Drakes and a Falcon running missions. Don't ask me why they had a Falcon but they did. So we watched them, probed them, refit with some ECCM and went in. We caught the slowest of the bunch, the rest ran and docked. I guess he didn't want to lose his precious pod so he was nice enough to give us a fully rigged Drake.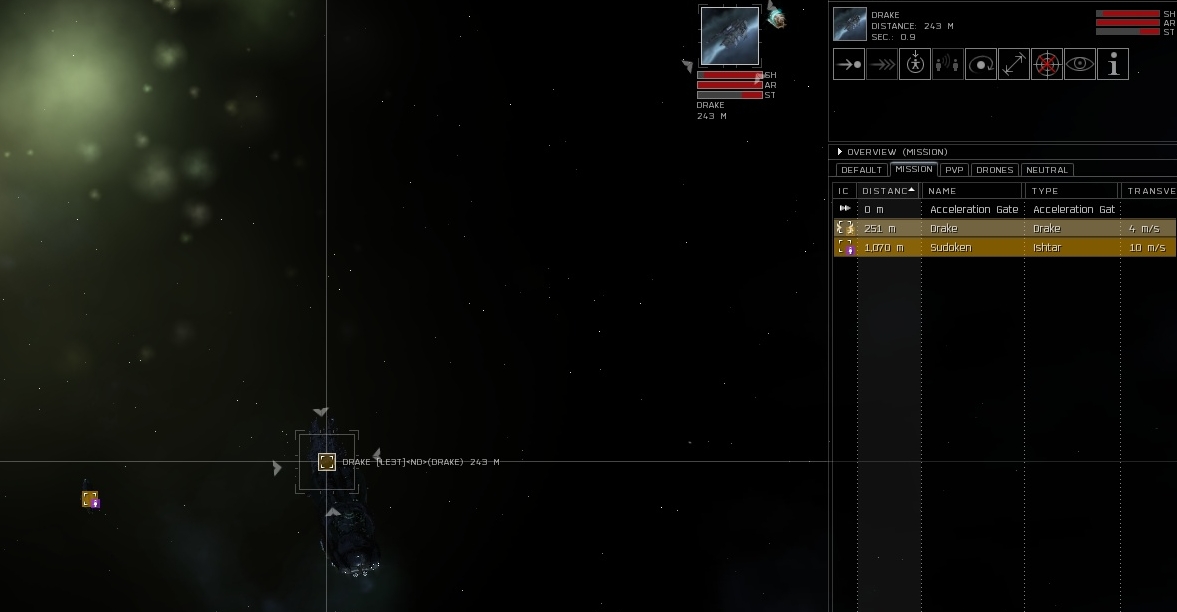 We laughed because they had more numbers, ECM, friends close by and they sat there while we scooped the Drake. They were sitting on the station undock as my guy docked with the Drake right in front of them all. ROFL!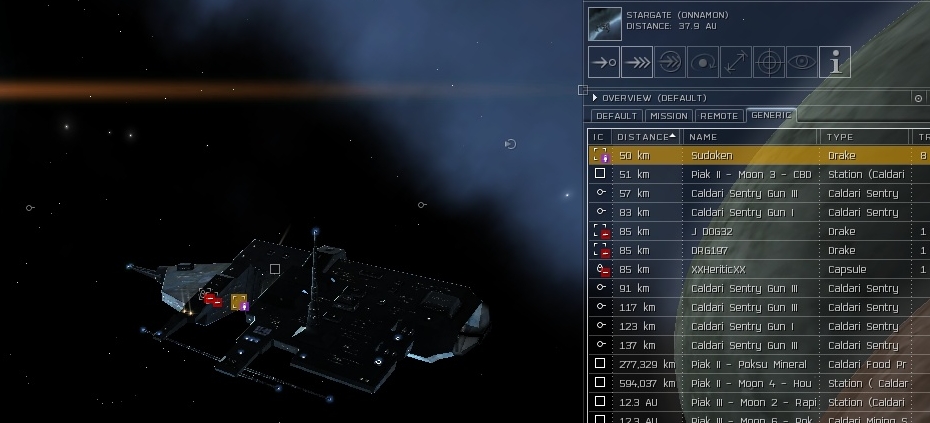 Unfortunately I have to make a second part of the story. For some reason this site only lets me preview the story till it hits a certain size. Once it gets too big, I can see it and I am very picky about previewing it and trying to make it look as good as possible. So I will end it here and
CLICK HERE TO GO ON TO PART 2!
Comments
Display comments as (
Linear
| Threaded)