Official ETC CCP reseller - support eve-pirate.com by visiting our sponsor:
Posted by freaky in Piracy
Sunday, August 17. 2008
freaky
I hope you're enjoying the story so far. We still have a bit to cover. There's still the ever branching war decs from the BMC corp, through OCCS to their new alliance. Don't forget about the corps that jumped from the alliance that we dec too.
Oh and I also will be putting in a story or two about my alts griefing their way through Eve. You can have so much fun with alts!
We will also deal with our fight against Eve University as well as our fun we had joining Privateers for a bit. I'll also touch on the completely lame tactic Eve Uni pulled to escape the shit they brought down upon themselves.
So get comfortable and here we go!
I notice a lot of people are coming and going through Seykachu's corp. They're only sticking around for a day or two at a time. So i decide to ask one of them what's the deal with everyone coming and going. One of them was complaining in local that they weren't happy joining a corp that stays docked 24/7.
Nexa Necis > yeah they were complaining about booting someone or someone leaving cause they didnt like the fact they had to sit docked all day and not make any isk
Karina Kalthalis > ahhh yeah me and I wasn't complaining but that doesn't matter
Karina Kalthalis > the fact sey didn't tell me they were in a war before I signed on
Karina Kalthalis > is what pissed me off
Pretty classy. Recruit people and neglect to tell them they're apt to die because of the war. He even ruined it for his corp OCCS before joining the alliance. I forgot to mention Sey and R3d's corp had a slight falling out. Seykachu basically bites the hand that was protecting him.

Abrynn > no thats y u die so often aye
SEYKACHU > shut it.
Abrynn > i dont have to make me
SEYKACHU > ur blocked
Kusariqqu > common mate
Kusariqqu > haha
Kusariqqu > ur weak
Abrynn > not wise to piss us off
Kusariqqu > your losses are pathetic
SEYKACHU > blocked.
Kusariqqu > do ur self a favor go grow ur self some balls
Kusariqqu > who r u to say skull doenst know what hes onabout?
Abrynn > yer blocked remember lol
Kusariqqu > good cos hes a prick
Kusariqqu > its ok he cant block me in space
Abrynn > undock seyk we can see how strong u are
Abrynn > im already waiting
SEYKACHU > the threat is well understood and remembered; I always have and shall have respect for r3d. take ur fucking bollox elsehwere. I thought ur helly sey meant something. But threat it boils down to. Get a dick instead.
So he sought solace in the arms of Covenant Of Prophecy alliance. These guys paid a heavy price for not researching a random corp that applied to join them. I heard different things. Some people said Sey never mentioned the war, then someone else said they knew about it but thought we would run instantly from the "threat" of their alliance.
These guys ended being fairly clueless about how Eve works. As you know we have a lot of probe alts, but sometimes we rock it old school and try for the old gang invite trick.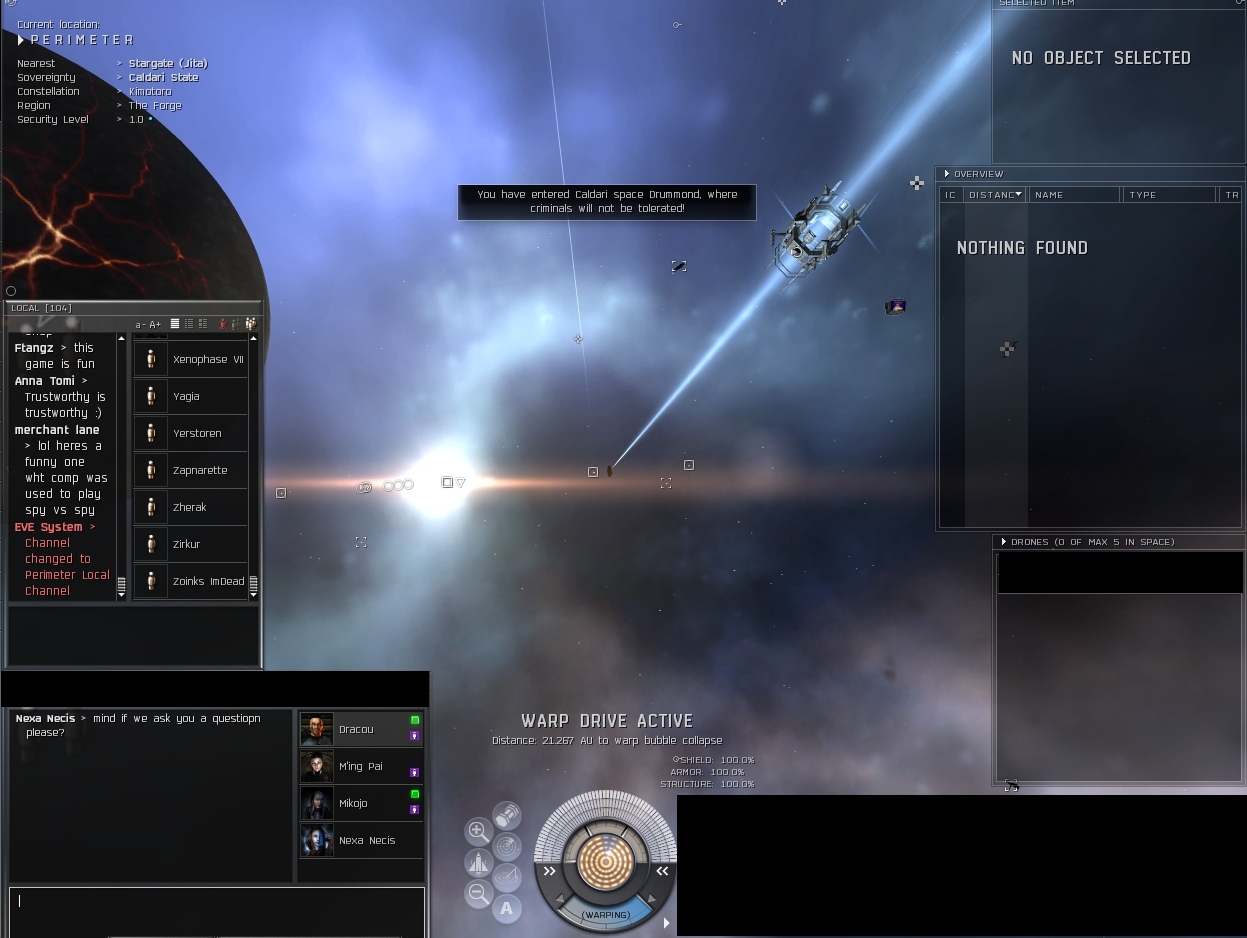 The funny thing about this encounter is, not only does he accept the gang invite, he warps out of the mission just as we warp into it. So we were all bummed and figured we would finish the mission for him. He actually came back!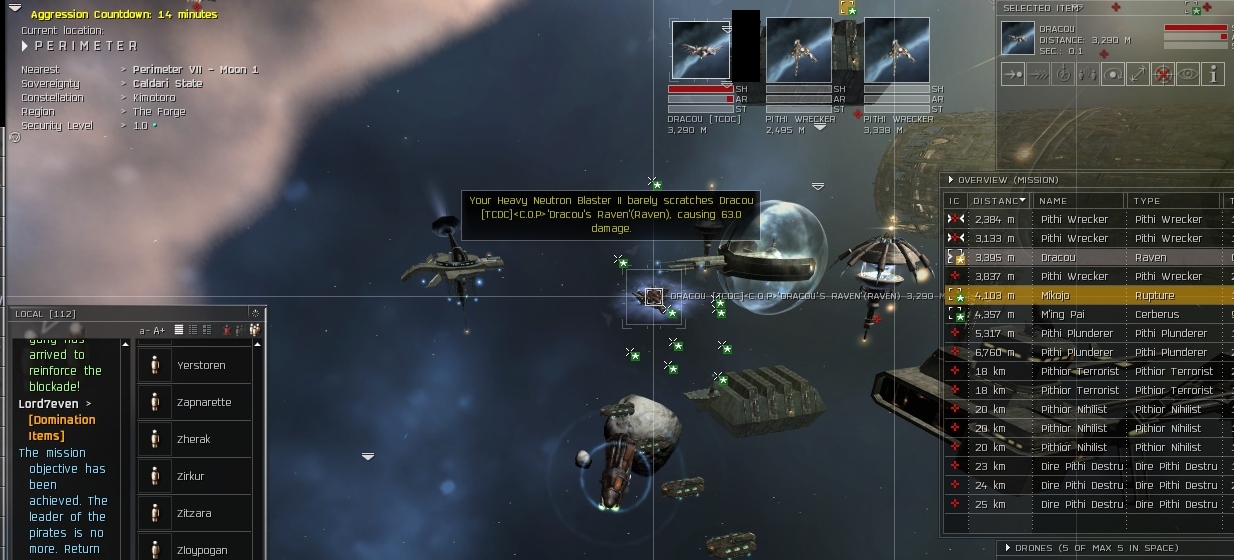 We also discovered their alliance also encourages macro mining. Their members even brag about it. I head out and find the macroer busy mining. He's not watching local of course. Then again, he's a macroer so he's not even watching the screen.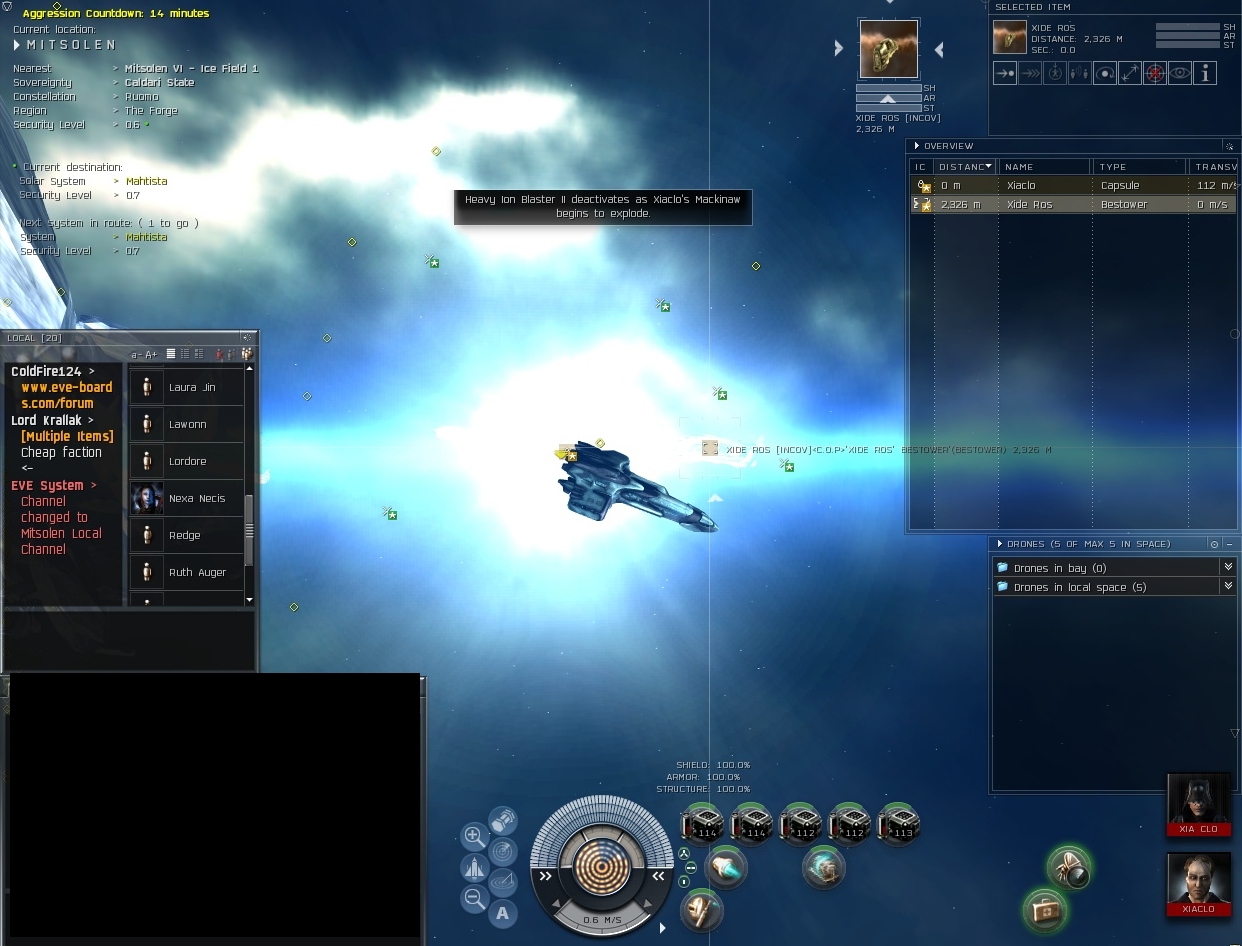 He decided to convo me for some reason. Here he explains he is going to redo is macro program to logoffski the second we enter the system.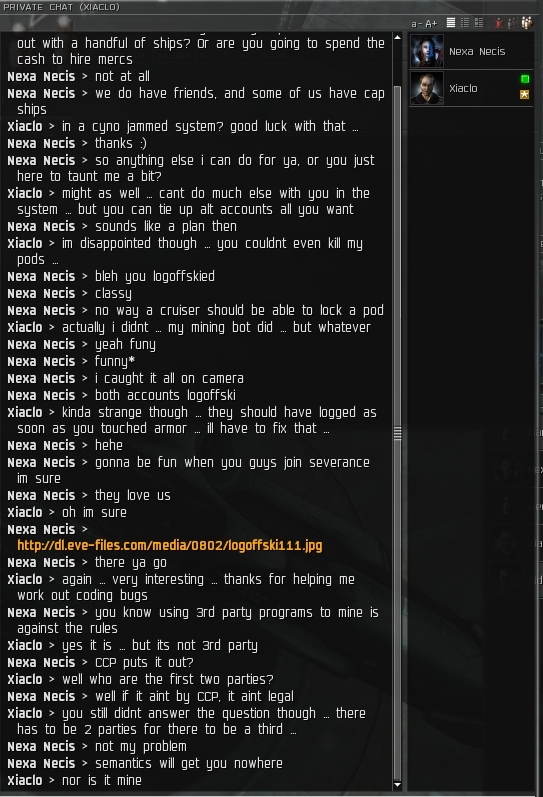 About eight hours later our macro friend goes and picks up a new Mackinaw in Amarr. I catch him on the rebound and pod his smug ass this time.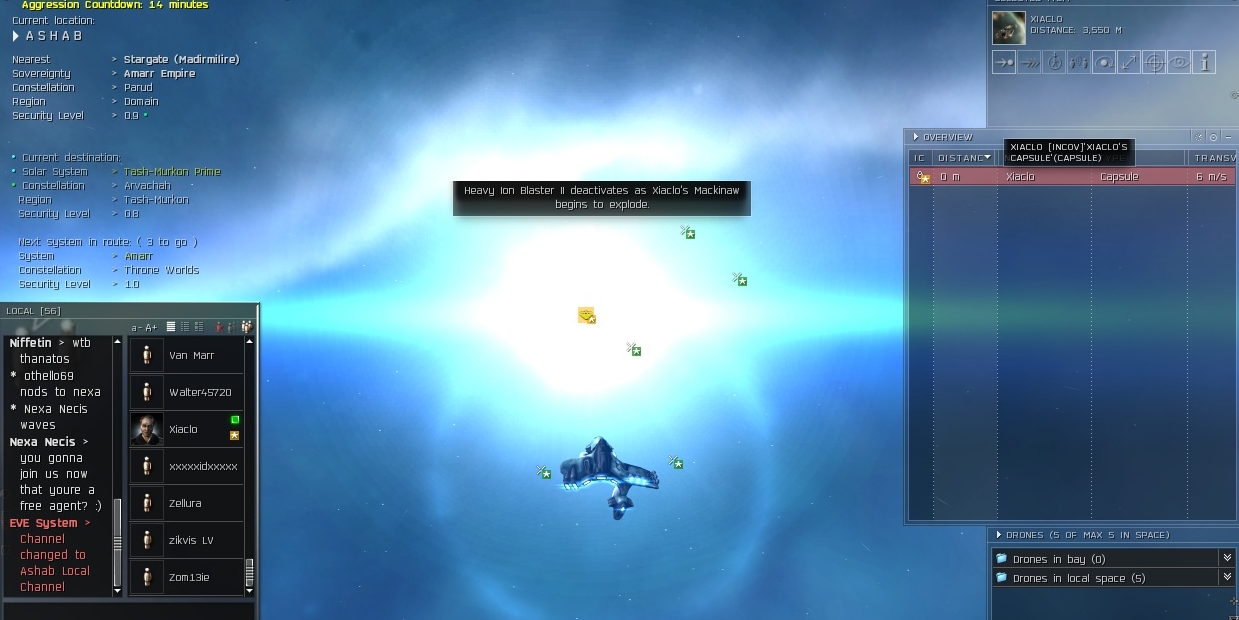 He's pretty pissed at this point. As usual they bring up the subject of honor. I found it especially funny in this case. Someone who is hellbent on breaking the rules is lecturing me, extolling the virtue of honor? I have a lot of our victims say that. Of course it has nothing to do with anything really. Honor has nothing to do when it comes to killing non-combat ships. These people seem to think it relates, but it just doesn't. I think it just helps them sleep better at night or something.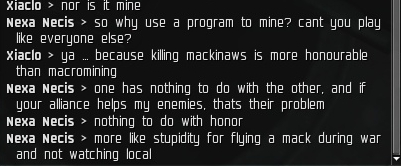 These people take absolutely no responsibility for their actions. It's not my fault his alliance CEO let in a war dec'd corp. It's not my fault he macros and doesn't watch local. It's not my fault he's flying a mining barge during a war. He would probably tell you otherwise though I am sure.
So we keep pounding on them. We catch one of them in a Ferox. I was surprised, I didn't think anyone flew those anymore. It had been a while since I popped one too. Guess what his uber tactic was?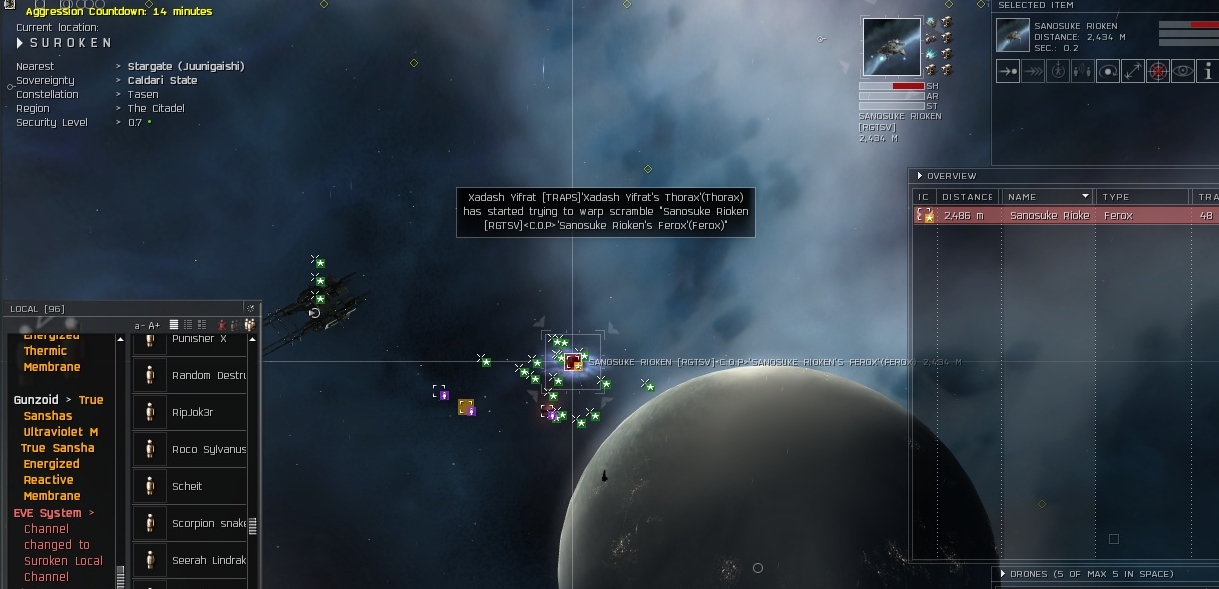 Yep, LOGOFFSKI! I emailed him about it and he replied. I LOL'd at his response too.
i did not logout on purpose, i accidentily kicked my power bar in rage! :(, i hope you are happy to have podded me again but this dose not faze me one bit. i still want to know how long you wish to prolong this war...

and as you know i am no match for you even 1 on 1, this is becoming pointless!
Another happy customer. His alliance leadership is doing a swell job I must say. I think they mounted like one gang to come hunt us. They ended up killing my Thorax with 6 people after I popped and podded one of their hauler bait ships.
Some of them seemed OK with the war though. I managed to find the alliance CEO and take out their Vengeance with my Taranis.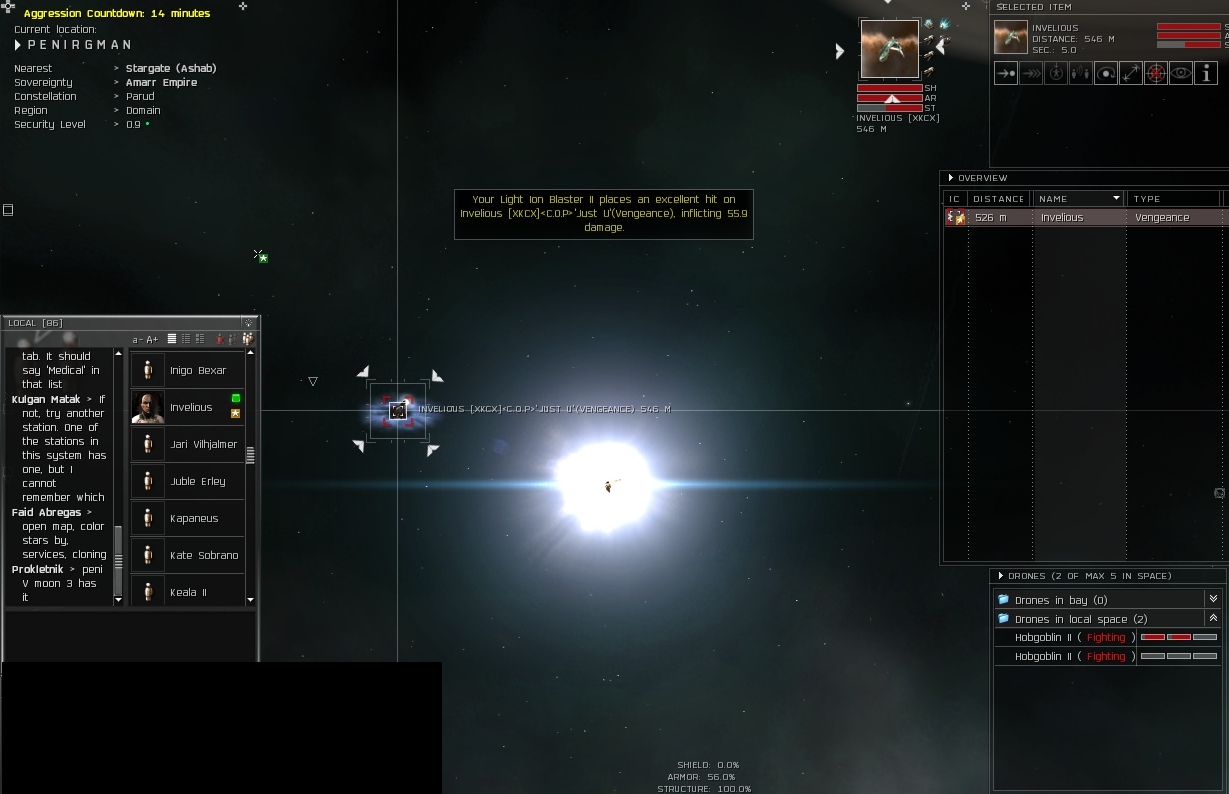 Once again we roam and find one of their pilots missioning. We probe him out and he's with another corp hanging out with them. We breeze in and pop his Myrm. Then the guy he was with decides to start smacking and taunting. He wouldn't take our can or put one out for me to loot. Instead he ran his mouth.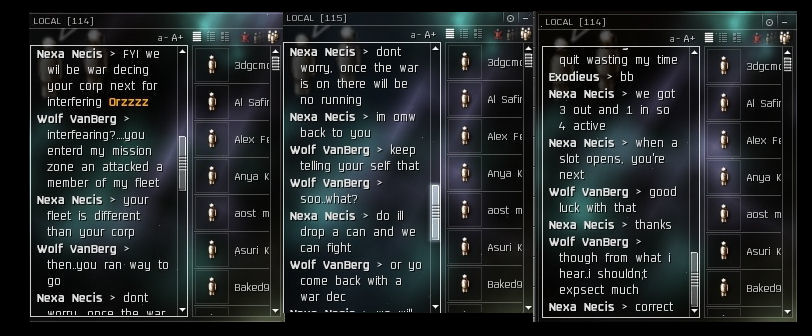 So I retract one of our other wars that was running slow and immediate dec his shit corp. Remember how badass he talked? He quit almost instantly. Guess what else he did? He basically scammed a bunch of newbies. How do I know? The new CEO told me.
I want to clear this up because basically Wolf as CEO of BHI, made it easy for him to lie to a buncha of noobs.,
Wolf lied to us from the very start. Everything we did was based on his manipulation. He never smack talked us.. to us he seemed like a good guy. I know you are smart enough to see that one can not make good choices based on lies. I can send you chat logs.. but if you can't believe me.. I doubt you will believe those either. Wolf directly lied about corp finances, who he killed, and left us out to dry with this war. I have one email I sent him as a last effort to see if he would man up and resolve what he started, no reply.. so I stepped up.
I was not 100% sure he lied until you confirmed he didn't kill you & escape concord or peitition ccp. I questioned him in a chat log about it. He lies to me in it. ..Im not sure what else I can say..
He's a real quality player alright. Guess who he joined up with? I emailed him to let him know we will definitely dec the shit out of his next corp. He went to the one corp/alliance that would give him the most protection in Empire space.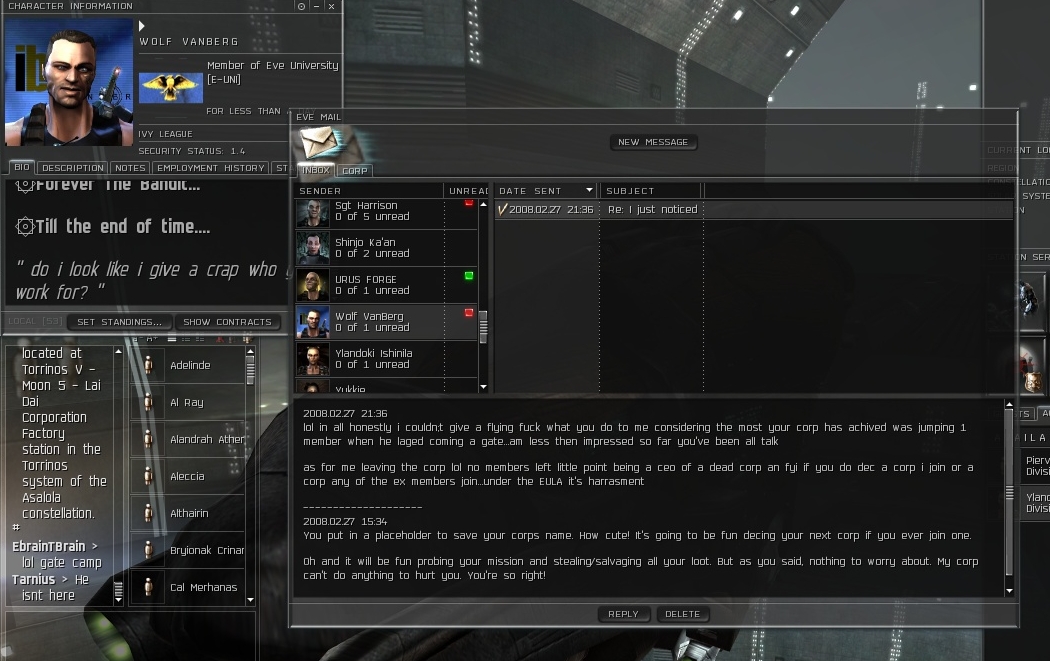 He's gonna petition for harassment. So tough! I even emailed the Eve Uni leadership what he pulled. They didn't care of course.
At this point their alliance starts breaking up and no one is logging on and anyone who does stays docked. They kicked Seykachu out and he ran out to low sec and tried to con another corp to help him out. What he didn't know was I convoed the guy and sent him the emails of Sey's corp complaining about him. Seykachu wasted no time pissing off the locals and they got booted out of their quick.
Now he completely gives up.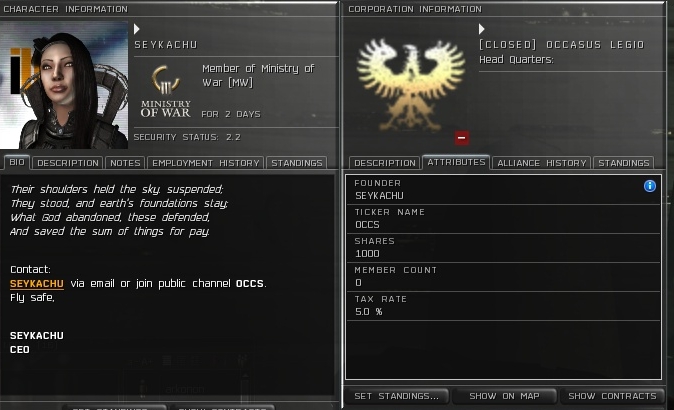 He logs out of game for a long while training a long skill. He just recently became active and joined Morsus Mihi. I wonder how much of an ass he is with that alliance? Any readers in MM? If so, ask him about us. See what he says.

One night when heading out to his low sec system, we caught a Hype at a safespot waiting down his criminal countdown.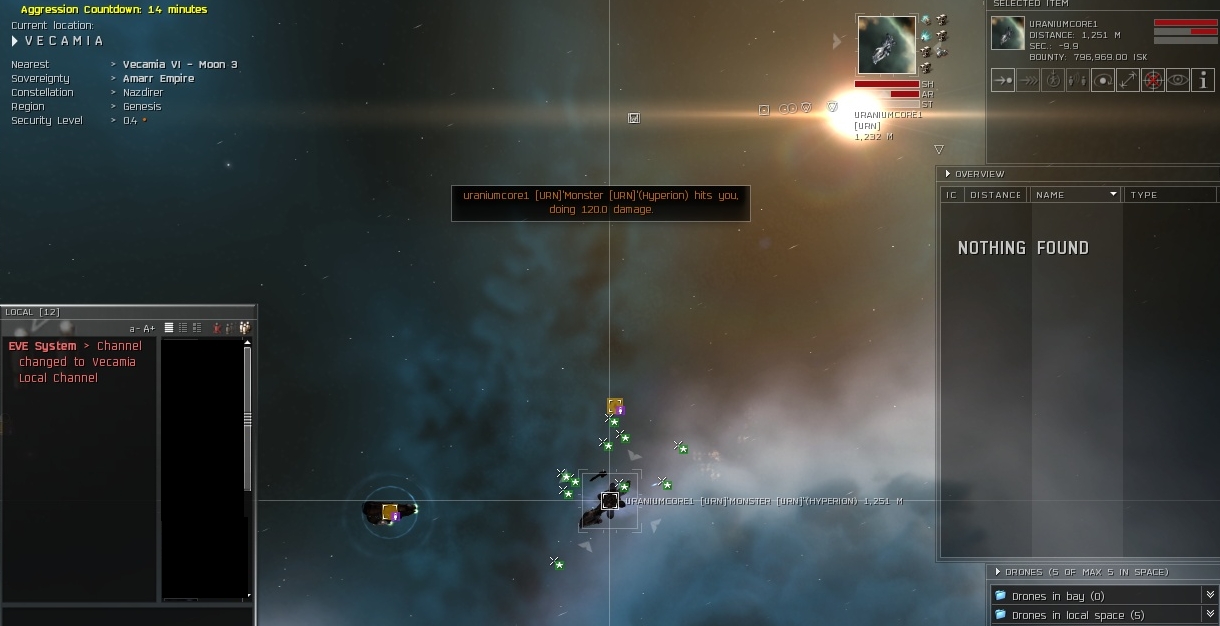 He was not happy at all. That's what you get for safespotting and not being aligned and moving at pre-warp speeds. Lesson learned. Price? One Hyperion stuffed full of goodies including a faction mod too.
After Sey left the alliance, so did our macro friend Xiaclo and his alts. I had petitioned him for admitting to macroing, but GM's didn't do shit of course. So we had no open war dec slots so I dec'd them on my alt. My only problem was my alt has next to no skills. He can barely fly a Caracal. He didn't even have enough to fit a warp scram mod. Since Xiaclo and his friends were known to macromine, I figured I could snag at least one of them on my alt.
I see Xiaclo and his alts all log in at once. I run a locate and it came back to a popular macro spot, Hentogaira. I head over there in my shitty Caracal. I warp to the ice belt they're in but I'm 80k away. So I bookmark their can, warp out and back again. I land right next to them. Keep an eye on the time in the bottom left corner, and keep an eye on my alts mods. Notice he has no warp scram fitted in the the first few pics.
This one is at 22:41.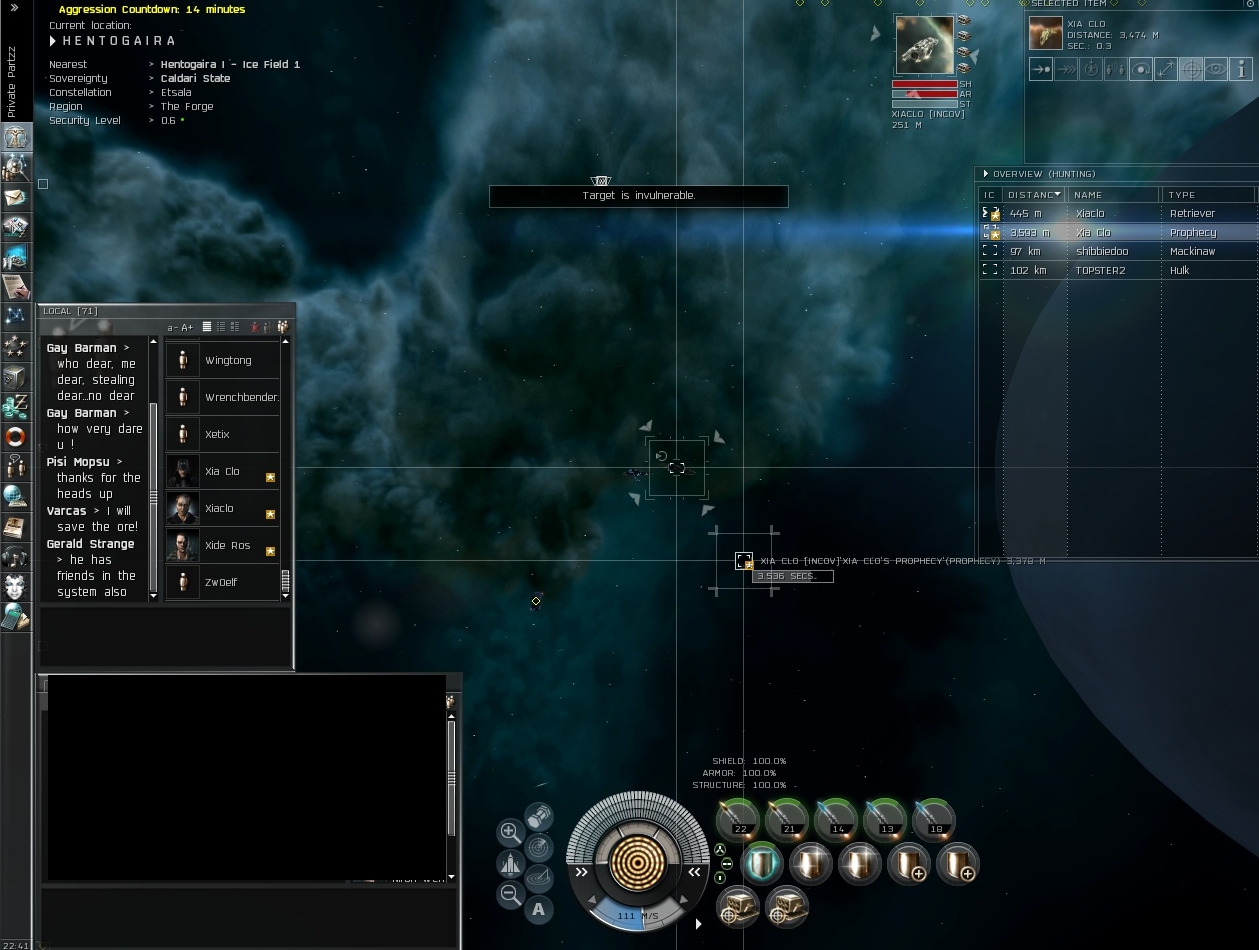 I pop the Retriever. Looks like he couldn't afford a new Mack yet.

As I start in on the Prophecy his hauler warps in at 22:45. 4 minutes later! MACRO! He has it set that his characters log in, mine one cycle then log out again over and over.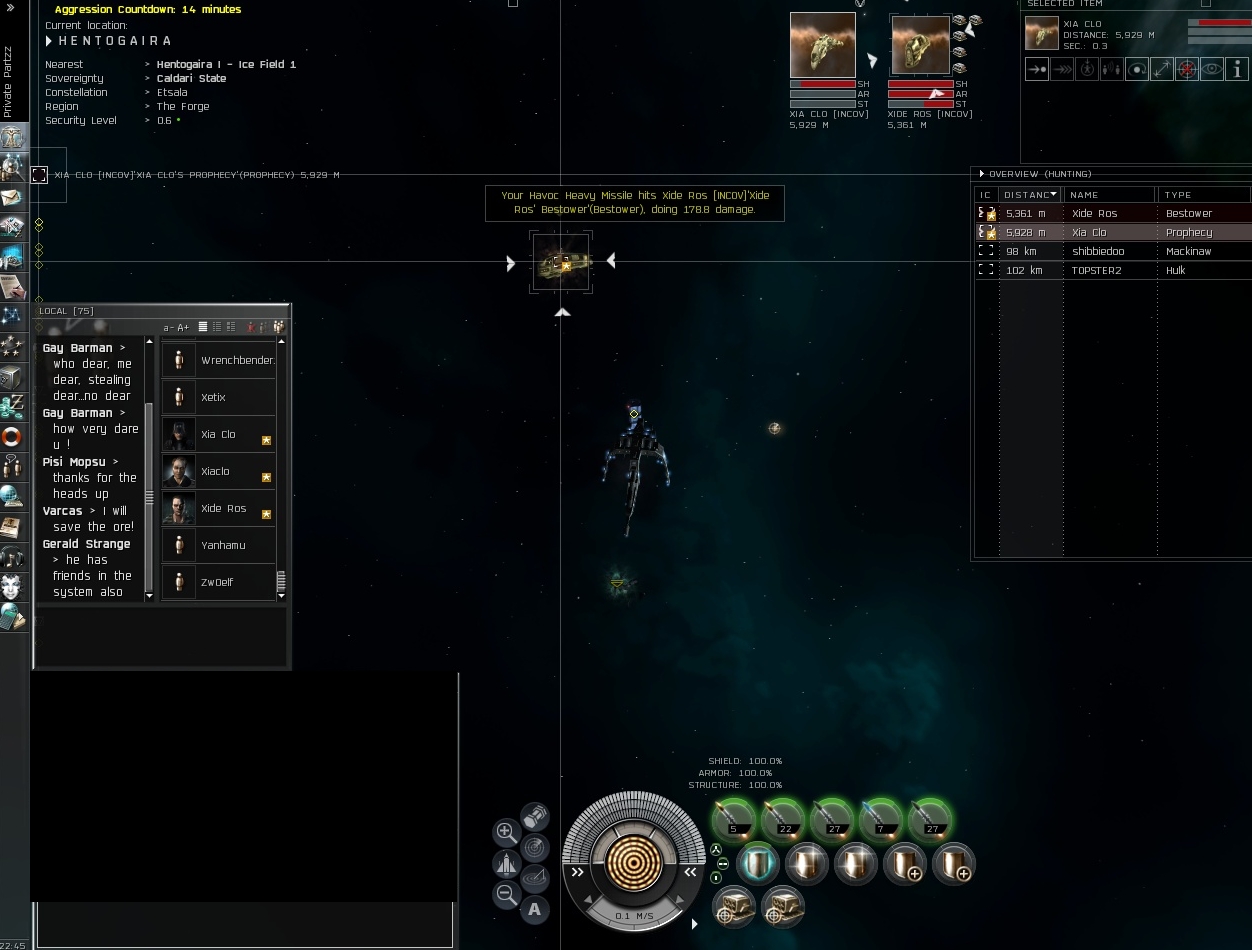 Now I start in on the Prophecy. He has it macroed to kill the rats while dual repping itself, rigged with nano pumps and a bunch of cap rechargers. So I couldn't pop it before his macro had his character log out. Now normally if I could use a scrambler, I could keep him there, but instead he gets to warp out once he logs off. So I leave and go buy the skill needed to use the scrammer, a scrammer, and I head back to the belt. I have to wait a LONG time before the skill is trained. Once it was trained, I docked, refit the scram, warped back to the belt and beat on the Prophecy.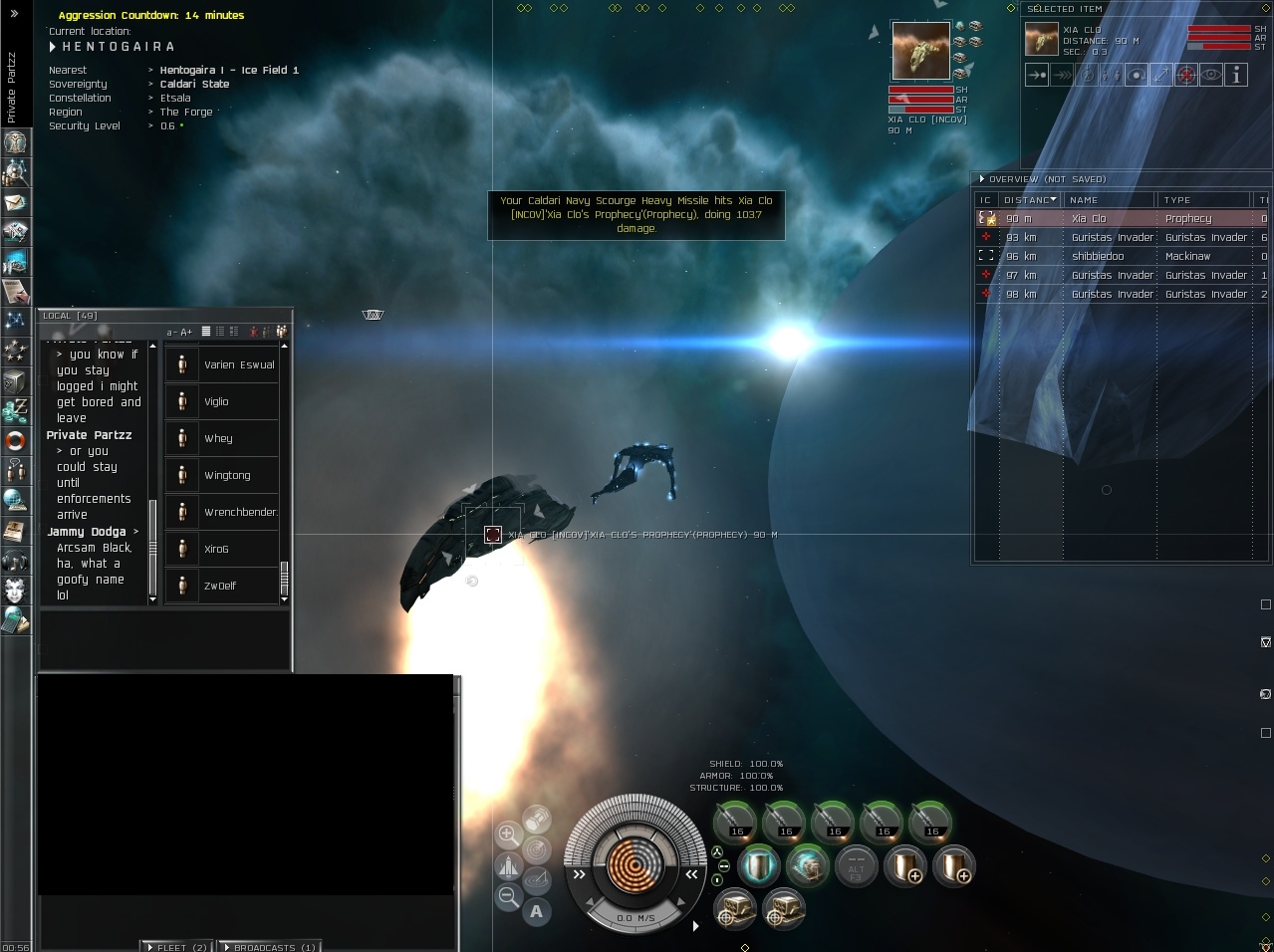 He ended up going pop at 00:59. That is over 2 hours later! Think we need more proof when we petition it? Apparently so because he never stopped playing and the GM's didn't do shit. I tried to convo his ceo, but all he did was smack talk my alt.
That was fine by me. He was a cocky fuck too because he decided to mine in the same system next to the same can 5 days later. Guess who lost their Mackinaw?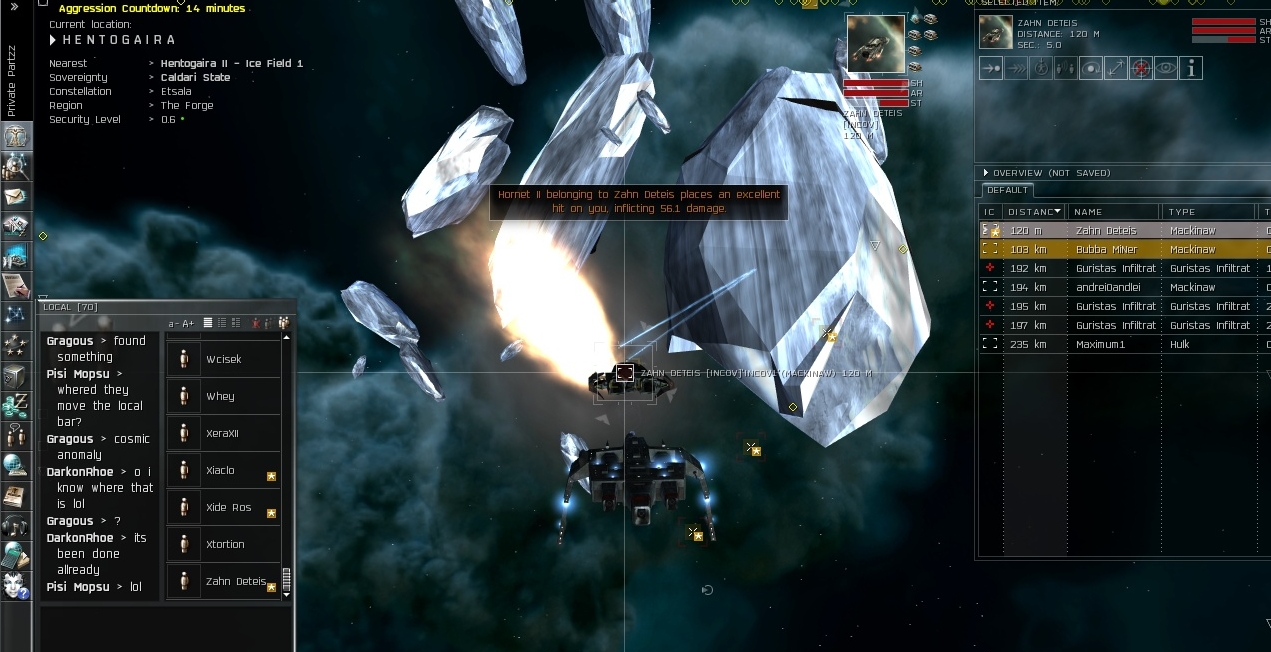 After a bit they started mining with a few BS as guards and they popped my poor alt's Caracal. It was OK though because as soon as a slot opened up we dec'd them on TRAPS again and this time they paid up real quick like.
I love being a dickhead in this game. You can tell that from reading my stories. So one night after I fucked with Xia's corp some dude convoes me and starts the conversation with a "?". Now what the fuck is going through this guys head, I have no idea. First of all who starts a convo with someone like that if you have not even seen or interacted with that person ever? It angered me. He wouldn't like me when I'm angry. I don't like me when I'm angry. So I decide to fuck with him.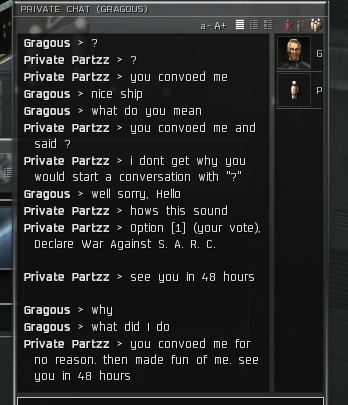 I don't think he had a clue about what was going on. I caught him the next day after the war went active. He undocked with me in station and I popped him. He was pretty mad and quit corp right after that.
So I see another corp that would look fun to dec called Legion of Lost Souls, corp ticker LOLS. These guys are all flying nice BS and command ships and have some with faction gear. I figure they have a few more people than us, this should be a good fight, right? Wrong!
Instead of giving us a try, they immediately run to their friends in Eve University and ask them for help. So TRAPS is so fucking badass, it requires one of the largest alliances in the game to counter our attacks? I feel so special! I mean it's really sad they didn't even try to fight. I mean I could see if you were getting your ass kicked for weeks on end or something but really, they didn't even try.
These guys were all pretty old pilots, they had POS's in high sec, they flew command ships and setup BS's for spider repping and whatnot, so they're obviously familiar with PvP.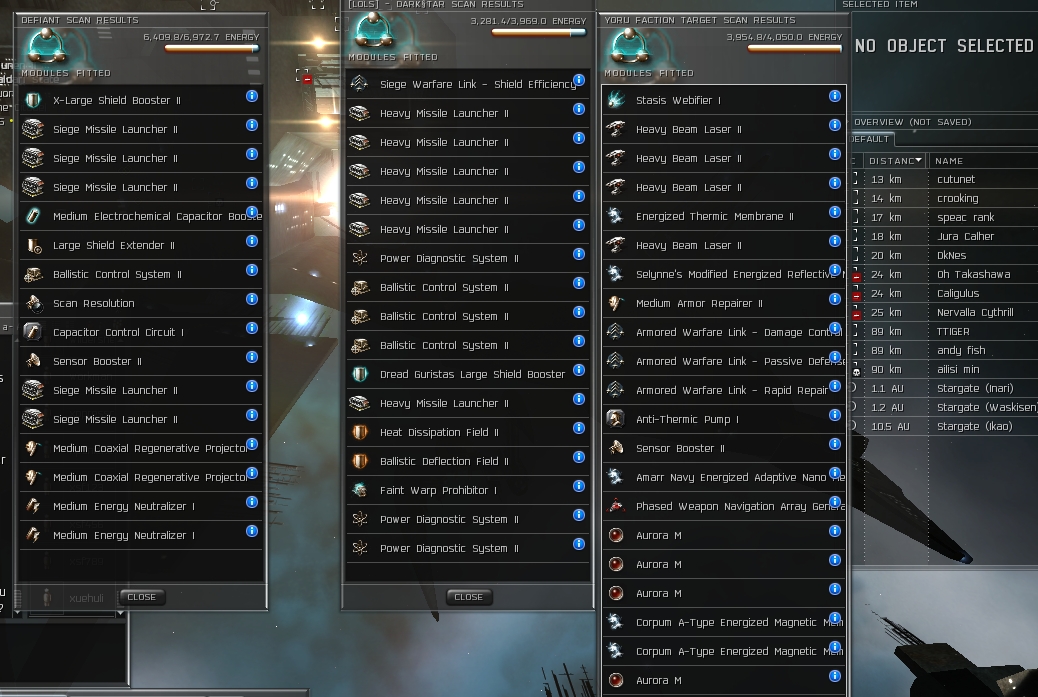 They literally ran to Eve Uni seconds after the war email went out. They sent me emails bragging about the imminent help from their uber friends and that TRAPS would run for our lives and cower. Oh how wrong he was. TRAPS will always have our pound of flesh no matter what the obstacles are. Eve University is quite an obstacle to overcome for any corp or alliance. They run in HUGE fucking numbers almost all day long.
It didn't stop us from taking it to them though. Now you would think with one of Eve's largest alliances on their side they would be very active in the war effort, right? Nope. They would just keep running missions while their Eve Uni friends camped gates 24/7. One time I caught them with my Dominix. Anyone care to guess what happened?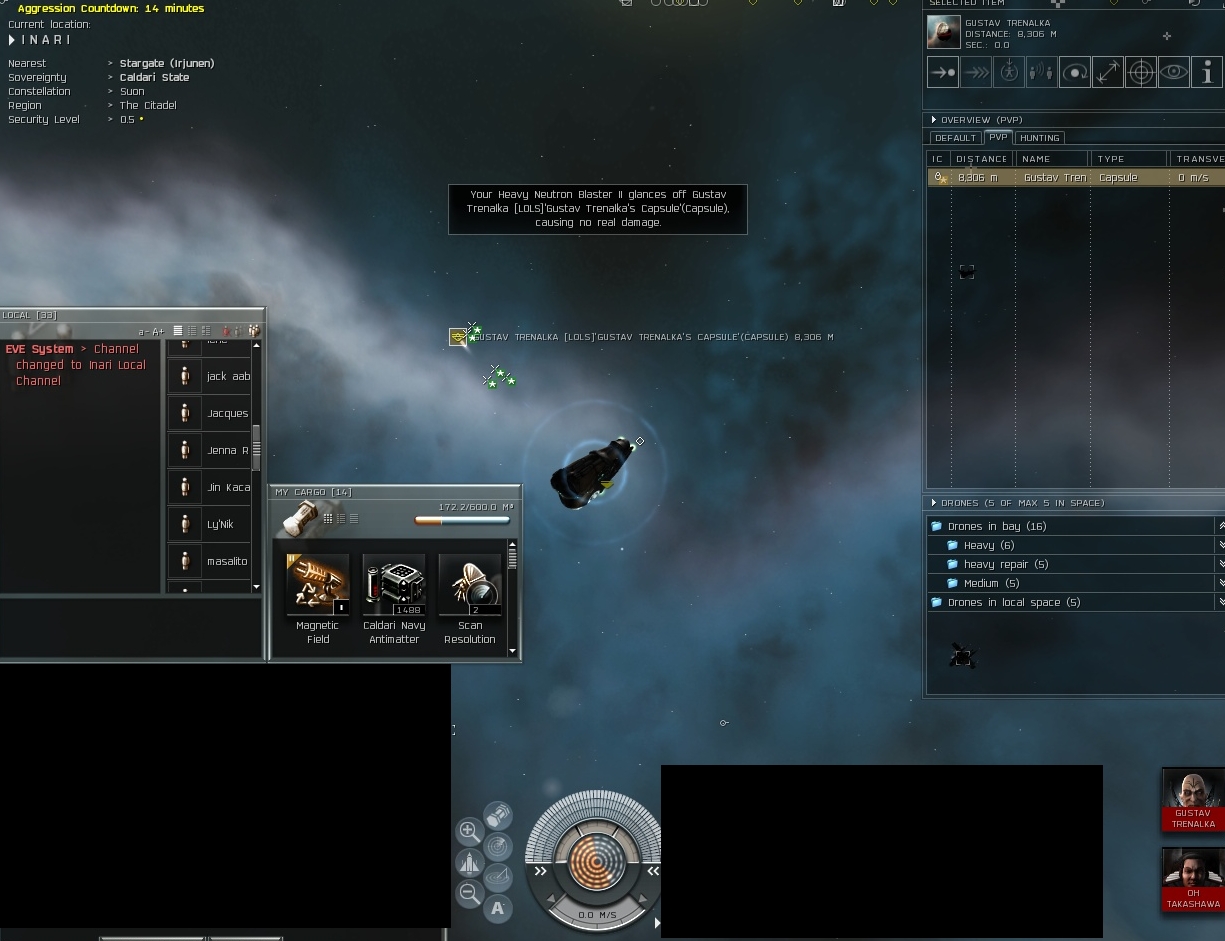 FUCK YEAH! DOUBLE LOGOFFSKI! Kick ass moves by a kick ass corp for sure. How fucking lame. I mean that's about as close to the bottom as you're going to get. You run from a fair war into a huge alliance, you don't help them fight much, and then you logoffski. I guess that's what Eve Uni teaches.
You may have read threads about people decing Eve Uni and them complaining that they're a helpful, neutral training corp. That's pretty much bullshit in my book. If they're a neutral training corp, why absorb a corp that really is capable of fighting their own battles? They also stuck their noses into Privateers' business which is why Privs dec'd them at the same time as us. So the neutral training alliance facade is long gone in many people's books after that incident.
The LOLS people continue not fighting the war and continue their missions. These fuckers are so rich, they don't have a salvage destroyer, they have a salvage
Rokh!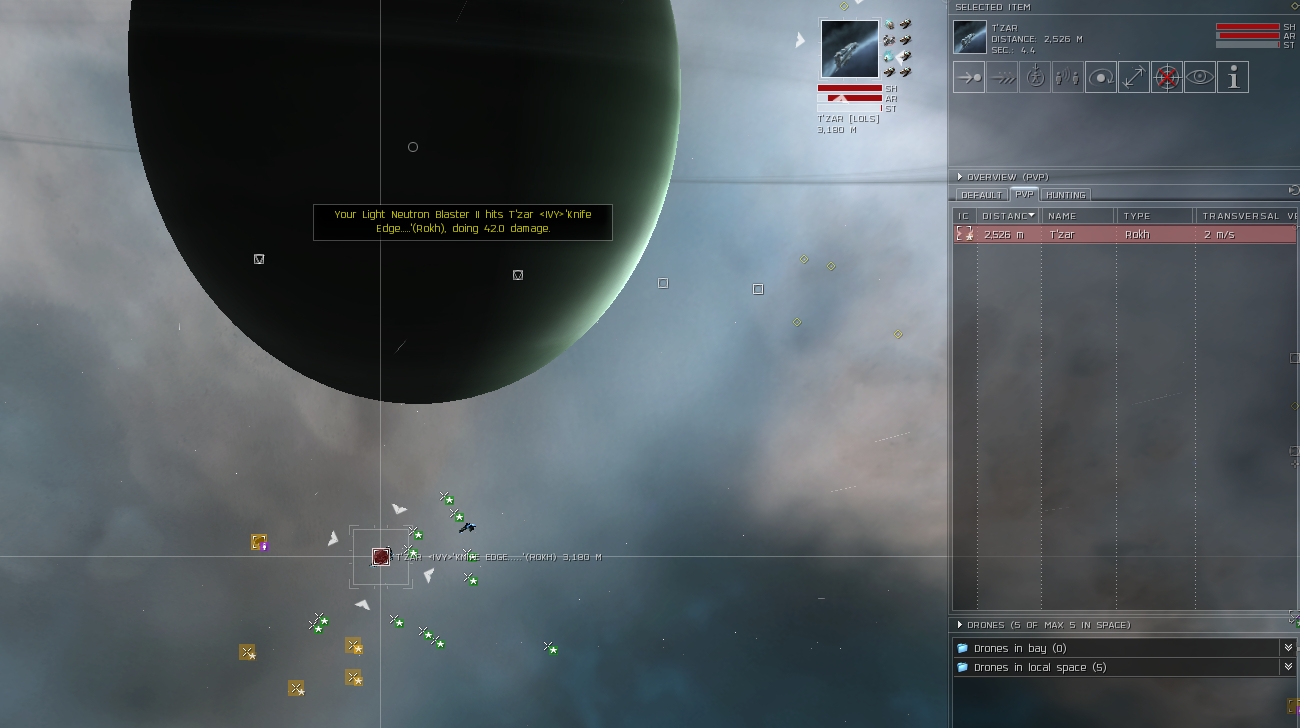 So one of the Privateers' commanders asks me if we would like to join them for the duration of the Eve Uni war to save on war costs and tag team them. The corp agreed it would be a bit of fun, so we joined up.
In addition to the many huge Eve Uni gate camps....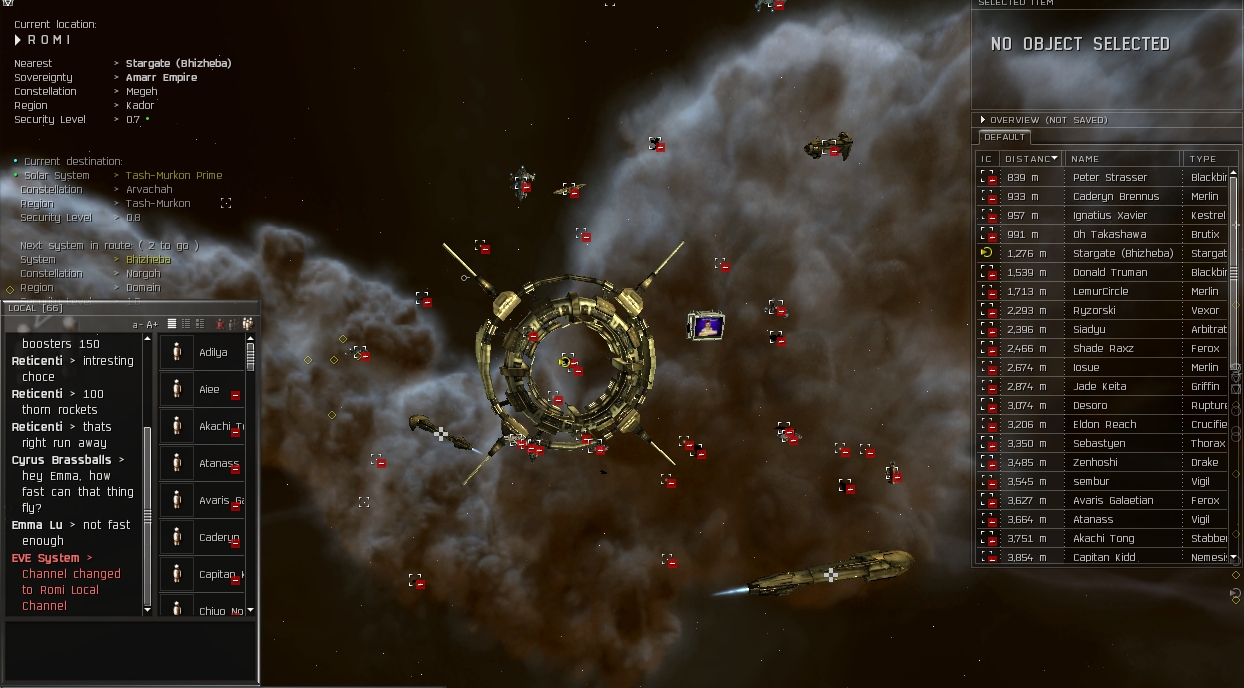 ...we ran into, we would also stumble onto random war targets that Privateers had existing wars on. I caught a Dominix at a gate, alone I thought. As I am trying to kill him, he's mission fit, tanked for my damage type so he's lasting forever and a day. A friend of his comes along in a Drake and starts in on me as the Domi tries to get to the gate in time.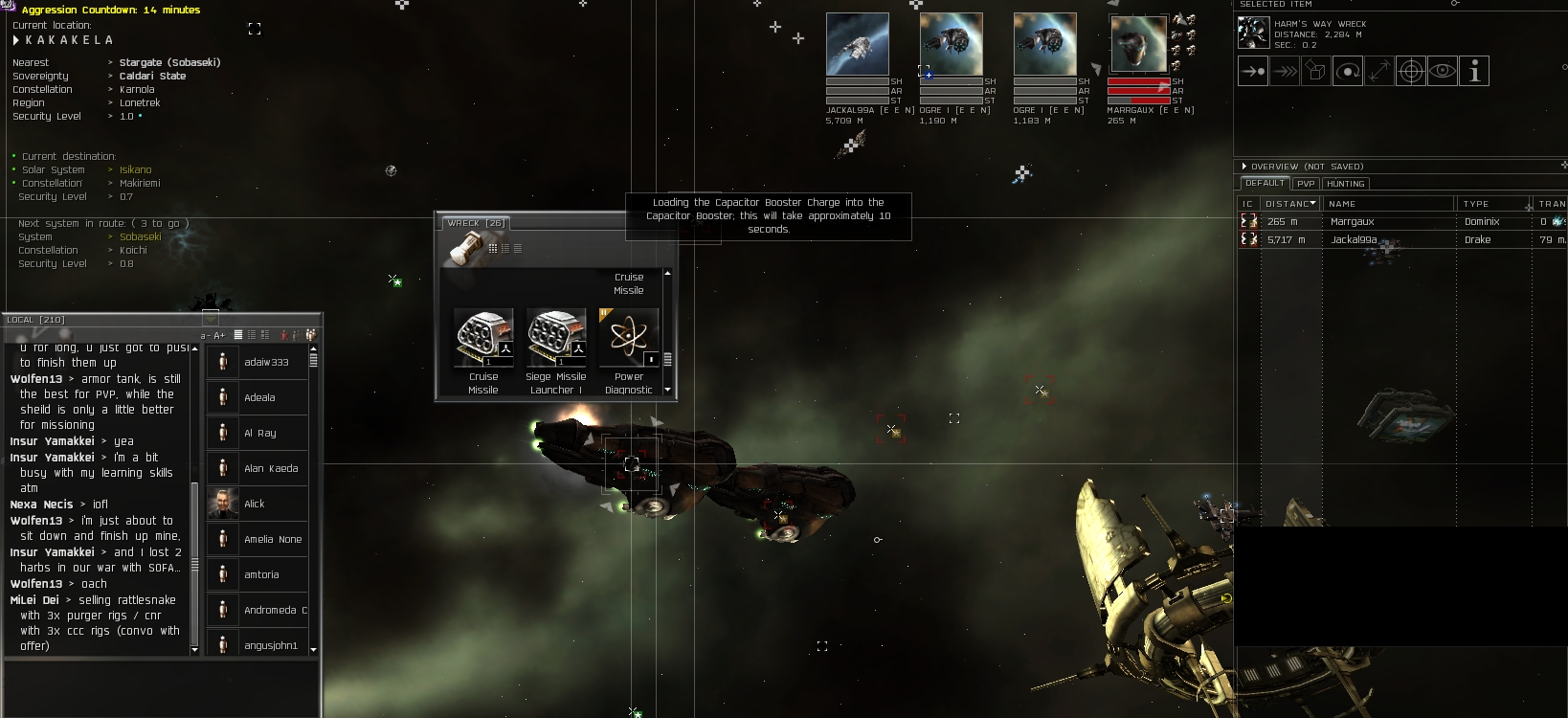 As I am pounding on the Domi, the Drake is pounding on me and some retard in his Raven decides to shoot me for no reason. He gets introduced to Concord immediately and I scoop up about 50mil in loot as I am still fighting the Domi and Drake.
The fucking Domi manages to get to the gate and deagress, and I turn onto that shitty passive tank Drake. By now I am low on cap boosters and the fight has gone on forever so I am sure help is en route. The Domi comes back to help the Drake and I go deep into structure and manage to warp out.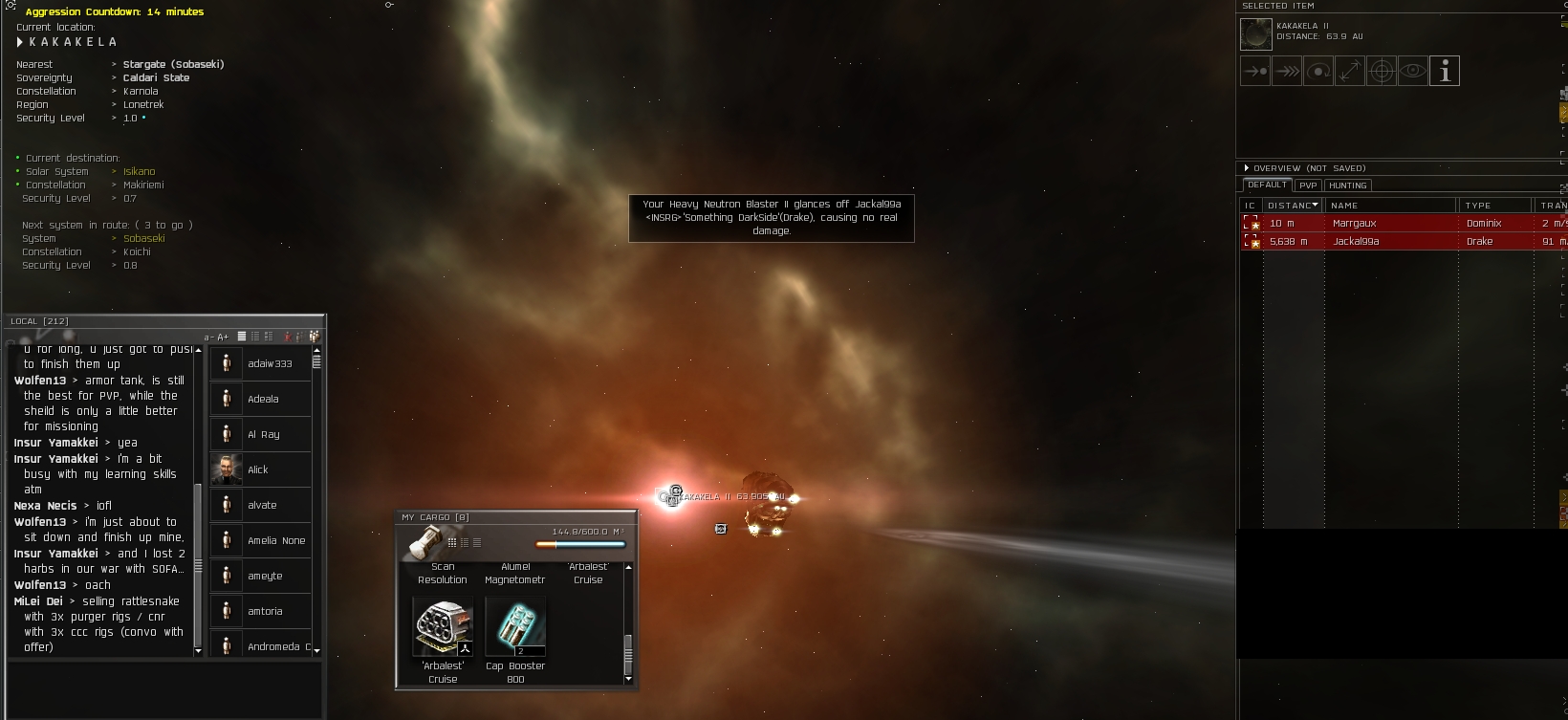 That was a fun one. It really gets you pumped up when it's a close one like that. It's one of the reasons I like to hunt solo and keep TRAPS on the small side and run in small gangs. I was roaming alone one night and the Eve Uni people caught up to me. Of course Eve decided to fuck up and not listen to my commands and I lost my Mega. I didn't complain or make excuses, I said GF as soon as I got my pod out.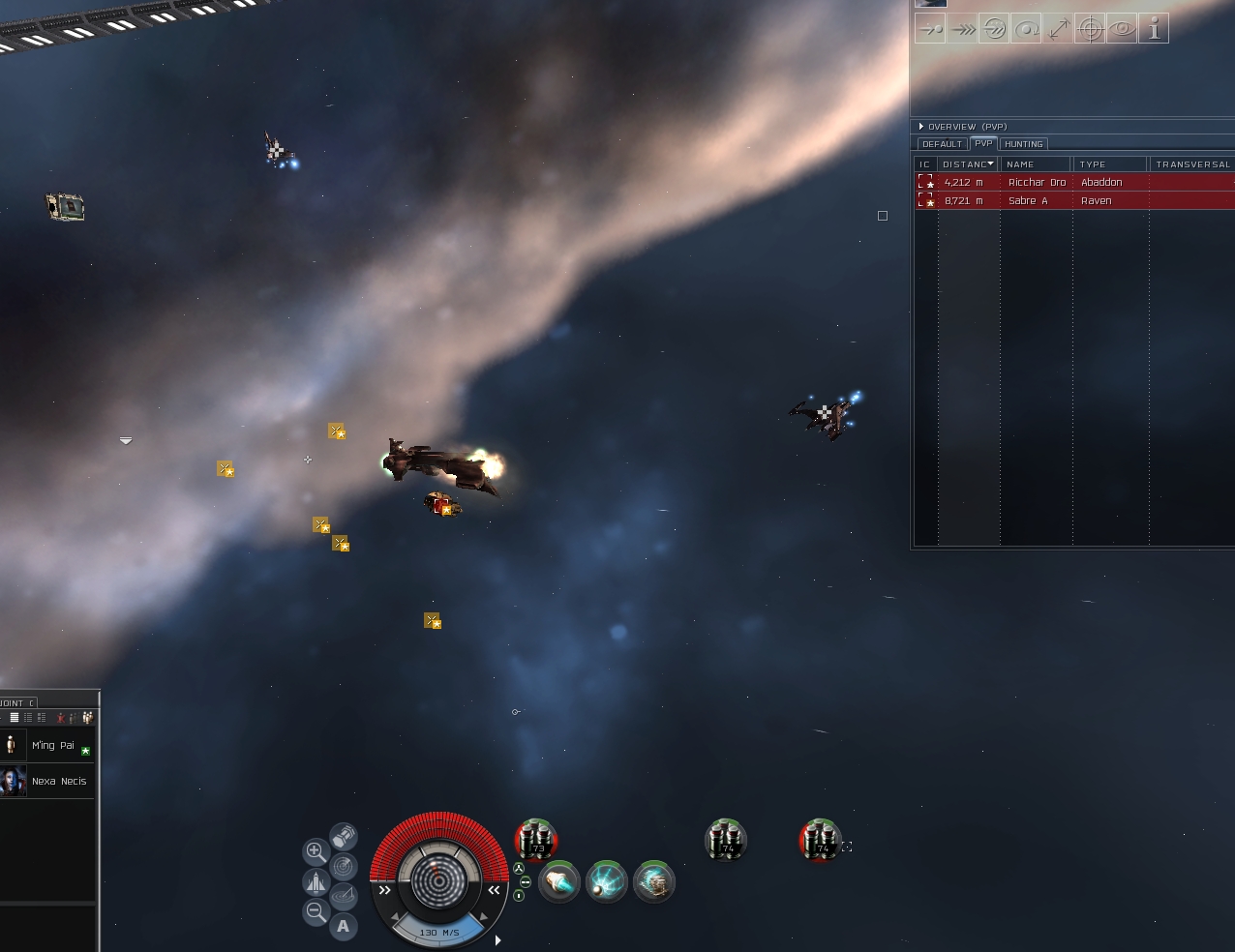 Other times I got the upper hand. There was a Taranis and 3 Drakes in Amarr and I kept playing tag in my Taranis. I caught the Taranis pilot once but lagged out and my scrammer refused to activate so he warped out. I kept at it though and got my kill before the Drakes warped in!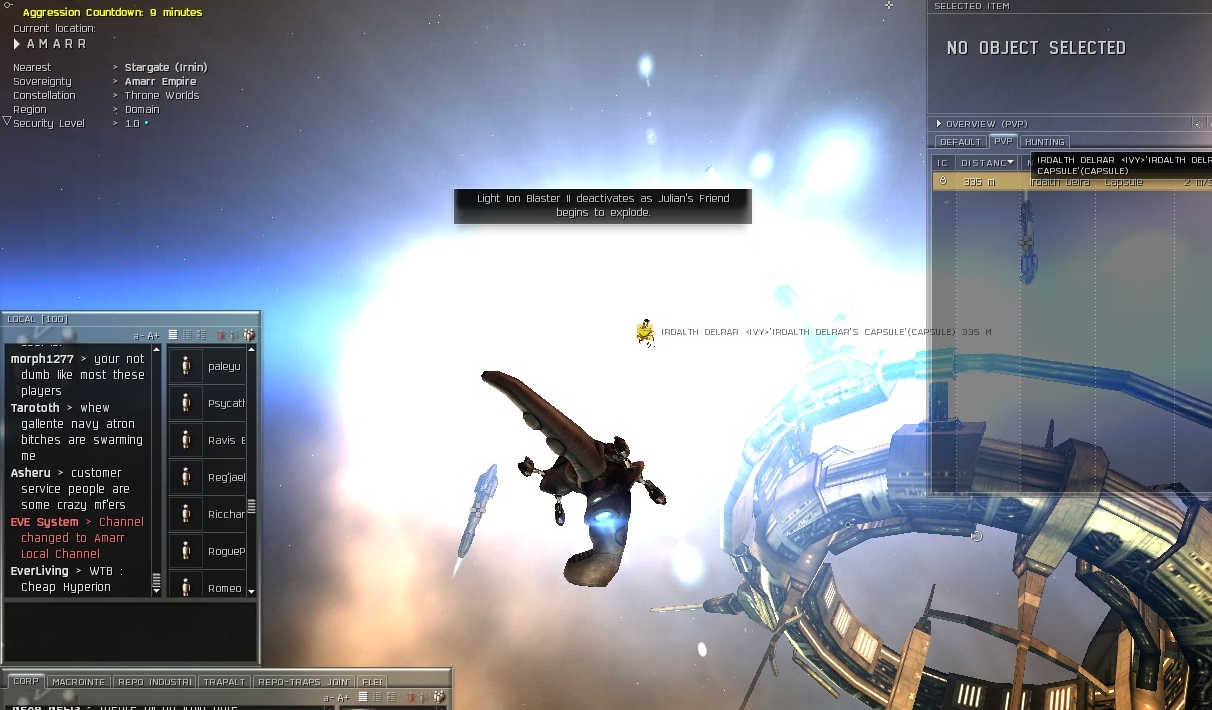 Unfortunately Eve University decided to pull one of the biggest pussy/exploit moves around. They created a bunch of alt corps. I am talking a SHITLOAD of them. Then they created more alt corps. They had 30 alt corps dec the other 30 alt corps, then Eve Uni absorbed the 30 alt corps with wars against them. So it made it look like Eve Uni was dec'd by 30 corps in addition to Privateers which basically drove up the war dec fee to an ridiculously insane amount like 5-10 bil a week or something. the whole scam cost them maybe 200mil if that, which is nothing for that alliance.
It turns out a lot of the Eve Uni people thought it was a shit move and thought it was also a shit move to jump into our dec against LOLS. I made a post on Eve O forums that since EVe Uni pulled that scam and made themselves untouchable, we should dec their sister corps and any corps friendly with them. I got a lot of in game email from people saying they were disassociating with EU because of that shit move.
Nexa,

Figured I'd already confirm the obvious, we surrendered. However I'll also state it's cuz we were booted out of the Ivy League. I found your gameplay very smart when I was online. Even if it was frustrating that we didn't get any kills on your corporation, just wanted to say thank you for the times you did engage us.
and

2008.05.30 14:55
This message to you is (for my part) personal and private. You will do with this information as you wish, I just ask that it be kept out of CAOD.

Extracted from your post "If they keep this up and say CCP doesn't do anything in an immediate sense, how about decing all the people who jumped from Ivy. Make it to where if you're affiliated with them, you will be hunted as well. Make it even more unappealing to be in Ivy than it already is.

It's like if you can't kill the main boss, then hurt his family and friends."

Don't assume everyone that's left Ivy since the war, left because of the Privateers. There are other reasones to leave Ivy. For example, I left because of the latest tactic by Ivy against the Privs: although there have been some other actions lately that made me want to do so. This was just the straw that broke the camel's back.

BTW, congratulations on a successful campaign against Ivy. You have some skilled pilots.
I would have to agree, we did do a pretty good job of things. Check out the KB
here!
We have a really fun group of people I must say. It's what keeps me in TRAPS and keeps me playing. I keep hearing from people that my guys are always smack talking and scamming and all sorts of stuff like that. Of course, no one has proof. We always have the proof to the contrary. I logged in one day to see this email and it made me happy.
2008.04.11 22:07
I wanted to compliment you on the character of you corp. I recently agreed to a 1v1 with a memeber of traps when i looked at my overview there were 2 of them shooting me.

the gentleman i agreed to the 1v1 with did not know this and refunded me 50mill
the gentleman that broke 1v1 contracted me a brand new hurricane

I was amazed at the integrity of your memebers you got a really great corp goin for ya =)
-Neal
We make mistakes like anyone, but it's how you fix those mistakes that can show your true character. Speaking of character, we ran into another nutjob. His name is Precious Kargo and his alt Filthee McNasty. Apparently one of my guys stole a small nos from their rat wreck and the guy went ballistic. Telling my corpmate he hopes he dies in real life, preferably in a painful way like in a fire. I mean he went off the deep end.
So we went out for revenge. We suicided him
twice.
He tries to explain himself but can't control his temper.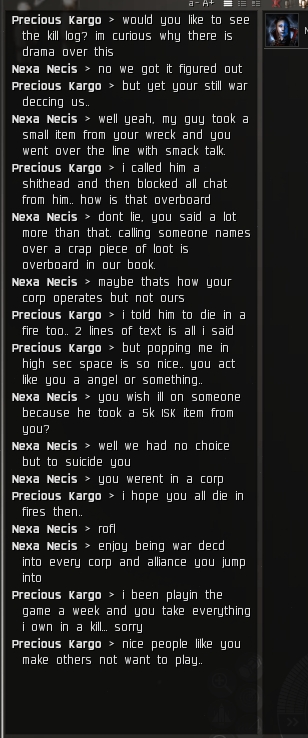 So you might noticed he joined Brotherhoof of the Spider alliance. We didn't care, we suicided him again and made a few more attempts on alts and killed him.

He attempts to apologize but Ilet him know it's too little, too late....
2008.06.03 03:44

I am truely sorry for wishing harm on you and anyone in your corp, I was angry for M'ing Pai killing my friend and had no other means to defend myself with than harsh words. I am sorry for any trouble I have caused to yours or any other corp and I hope we can put this incident behind us

PK
He then responds back after a few days....
2008.06.05 22:33
I changed my mind after reading the forums and seeing all your griefing.. your a cunt and should die in real life.. seriously I hope you die in the most horrible way possible. take the rest of your asshole corp with you you fucking cunt..

dont bother petitioning or replying either.. accounts already been canceled.. so just fuck off and die.
Another one bites the dust! WOOT!
So we dec'd another corp of smack talkers called Black Dragon. Their CEO convoed me asking me why, I told him why and he didn't seem to care. I get convoes from his corpmates.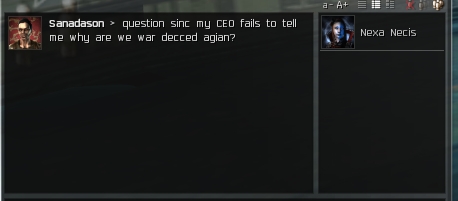 This guy Sanadason goes off the deep end too. Apparently they smack talked other corps and the other corps dec'd them as well and he thinks we went through the trouble of hiring mercs. ROFL.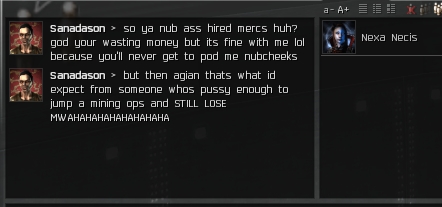 Once again following the Carebear Playbook these guys join an alliance called Visions Of Warfare. Now you can't tell me those guys aren't willing to fight! That's a PvP name if I ever heard on for sure. Let's see if they live up to their name.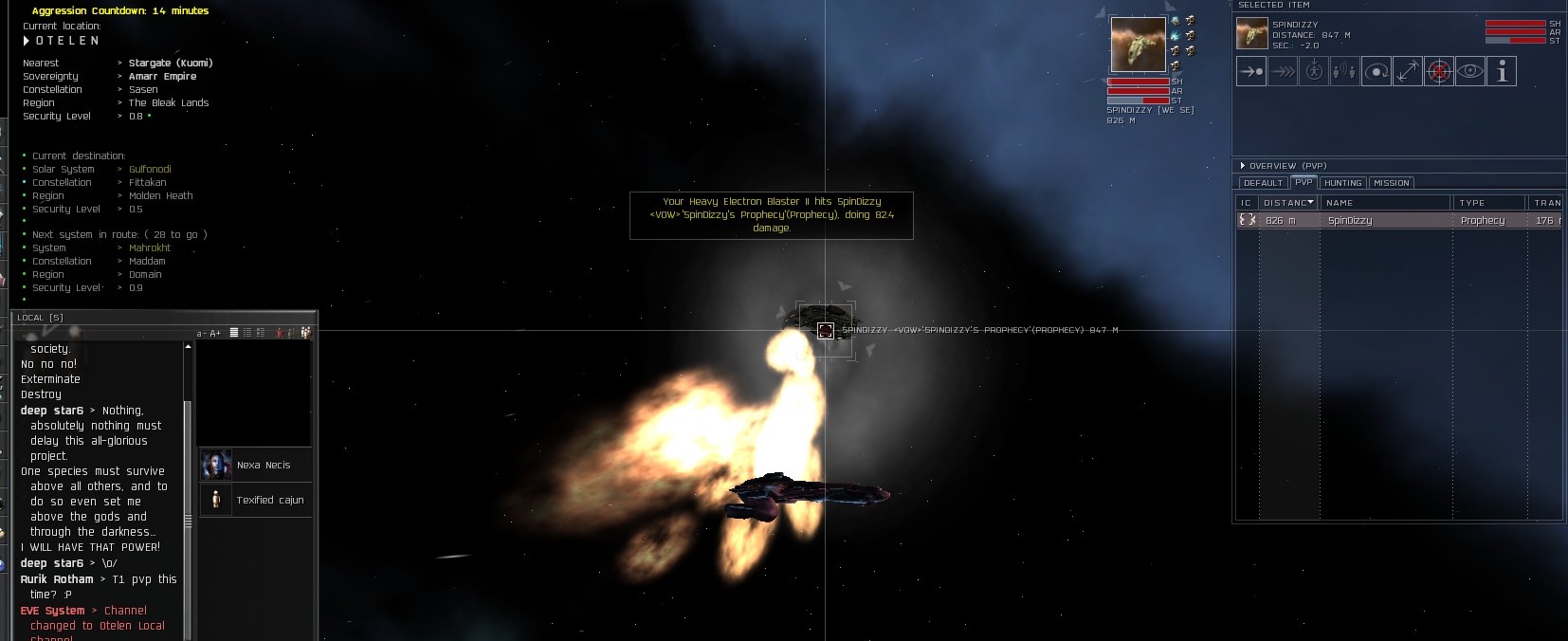 Here's a guy in a Prophecy from a corp called We See Dead People. I guess they're looking in the mirror. This guy saw us, ran, safespotted, and logoffski'd. We caught him though. At first I thought he was stabbed but it was my warp scrammer lagging and not working again. It will just sit and blink while all the other mods activate. Annoying as fuck. I emailed the guy though because I found it funny that a PvP alliance like that would run so quick and logoffski. He responded back...
2008.05.27 10:07
1. Check your facts first, I wasn't warp core stabbed.
2. Why would I stay and fight when you'd always bring all your friends?
3. Nice Try?, I logged off cause it was 3 am in the morning here, the gates were locked from aggro, and I wasn't playing silly buggers warping from safespot to safespot for 15 minutes when I was nackered and just wanted to go to bed while you got people on both the gates to track me down, so I lost my rag and logged, think I care? Platinum insured.
4. This corp is heavily inactive, I'm nearly the only person ever online, and I don't know any of them or their alliance, nor get any help from them.
5. Enjoy it while you can, probably leave this alliance again, being taken for a mug really.

Enjoy the rest of your mail smack.
You can see how people hide behind scary sounding names like Visions of Warfare and We See Dead People. I caught another one of the We See Dead People in his Vexor. Look at this one and prepare to laugh!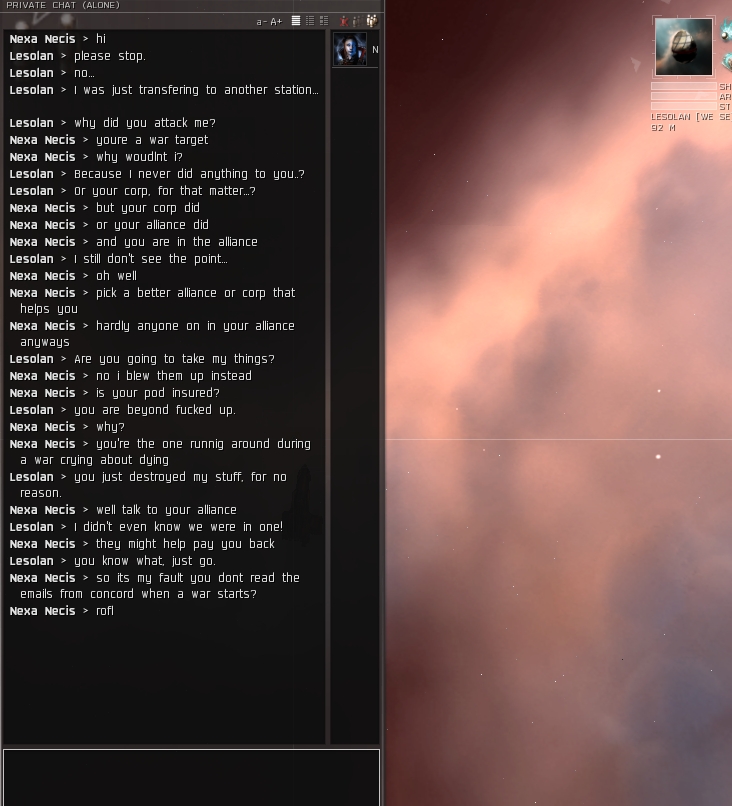 What fucking planet are these people from. They join a PvP alliance and cry about losing a Vexor with shit gear? Insane! I caught another one and he was pissed too...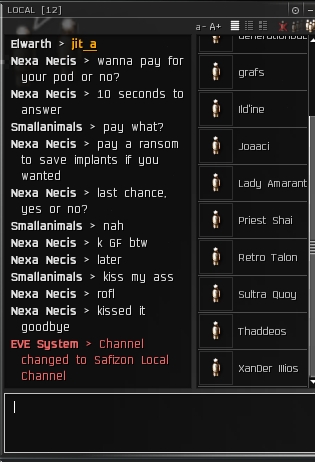 He was decent enough to apologize later though so that was kind of nice of him.
2008.06.09 01:21
Nexa, sorry about the poor sportsmanship. GF is a good fight...i'm just tired of losing ships to you.r corp. sorry for the frusration. Smallz
So we keep pounding the crap out of their alliance. One night we find a guy dumb enough to run missions in his faction fit CNR! We manage to pop him and score a nice bit of
loot!
Of course I offer him a email thanking him for the loot and letting him know who caused the war and why he died for someone he never met. I didn't smack him at all and he goes off on a rant. I had a post on the Eve O forums about corp jumpers. They crashed the thread lying about me. You can read my post catching them in their lies
here.
He said my guy had a shitty Harpy fit, he said my guy was retarded for losing his Harpy to a CNR, he said I sent him loads of smack and all sorts of other lies. He got called on it pretty good. They eventually got tired of losing and paid up. Here's the final
tally
of the campaign. All those loses because they took in an unknown corp and figured we would run from their scary sounding alliance. Wrong again!
I'll wrap it up here in a minute. I got one more quick story of having fun with my alts. After a bit we joined REPO again for some mass target fun. One alliance decided to smack talk the heads of REPO without rhyme or reason and he got his sorry ass a war dec post haste. I happened to have a alt in an NPC corp who wanted a new home so he joined the Omega Mining and Research alliance.
What I found out was they actually were an alliance made up of 1 main corp and 1 alt corp. The alliance was specifically created to avoid those random war decs from people like TRAPS. Yep, people are willing to spend 1 billion ISK to insure they never have to fight for the most part. Unfortunately they all decided to keep logged out forever. The funny thing is they had no clue how war decs worked. They thought that the cost of the war was based on the number of corps in their alliance, so to avoid the REPO war they were going to create alt corps in an attempt to drive up the war costs on us.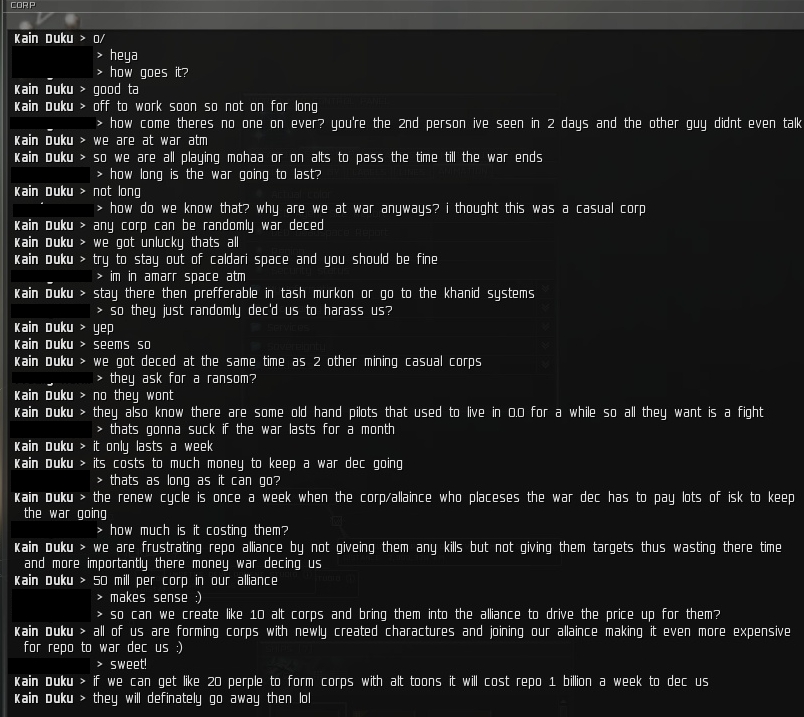 They kept not logging in for a few weeks so REPO let the war drop, but with my alt in place I could exact some revenge from the inside. I waited another week or two and people started finally logging in. One night the CEO was out and bragging about his Mackinaw and Occator. I asked if I could swing by and take a peek.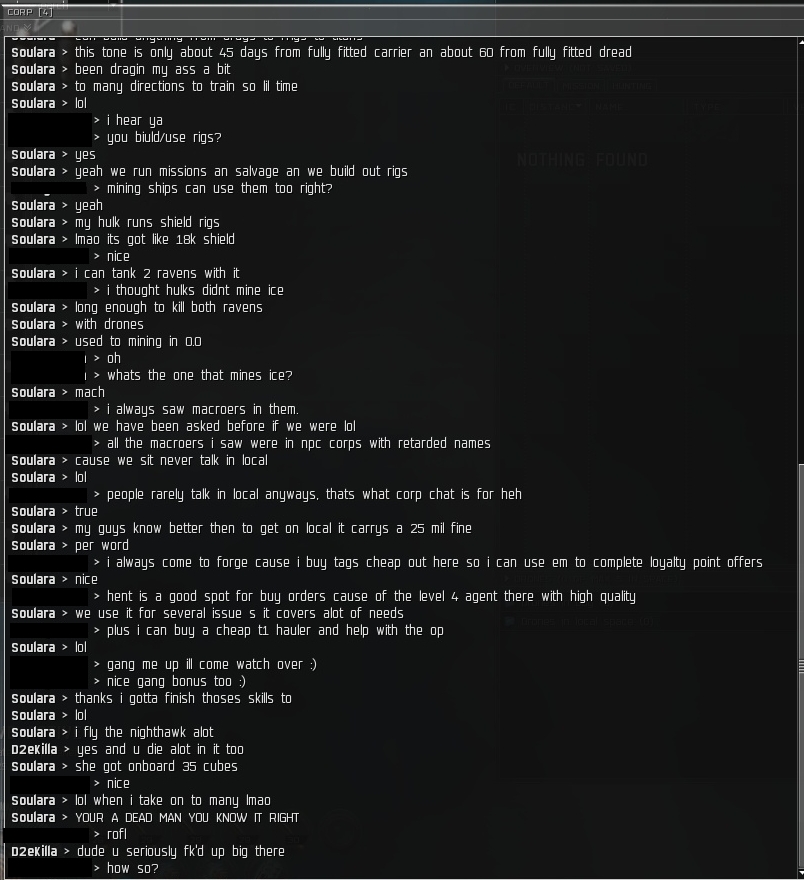 Why was he so mad? Because I popped his Mackinaw, Occator and pod.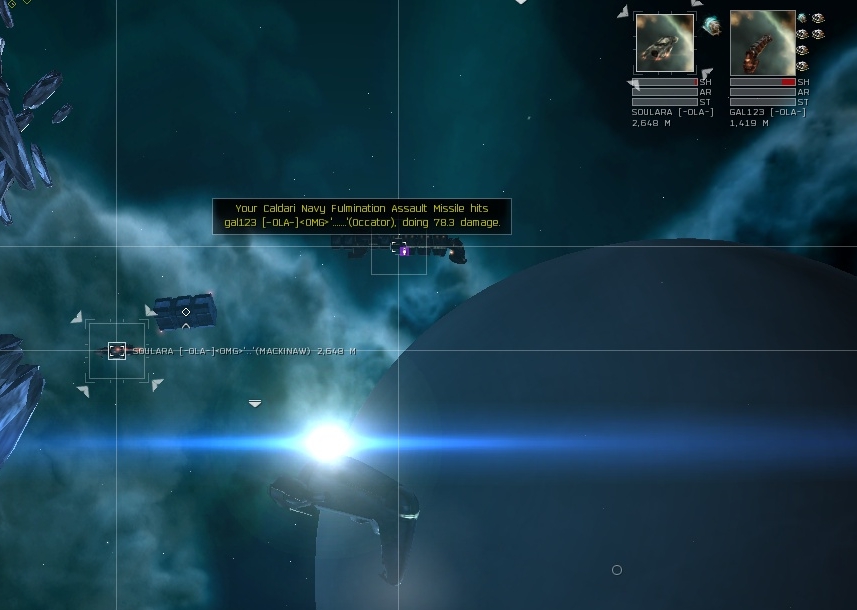 The best part was they didn't boot him from corp. They kept him in figuring they could get their revenge. They camped me all day while I was at work, smack talking in local for hours. So I got home from work and found one of them AFK on autopilot! I decide to get a bit cheeky with him.

After that one they finally booted me. I sent my alt back to Hent and have been suiciding them whenever they go mining. One night I was bored and decided that having 5.0 sec status was too much for the alt, so I fitted up a Smartbombageddon and went to work in an ice field.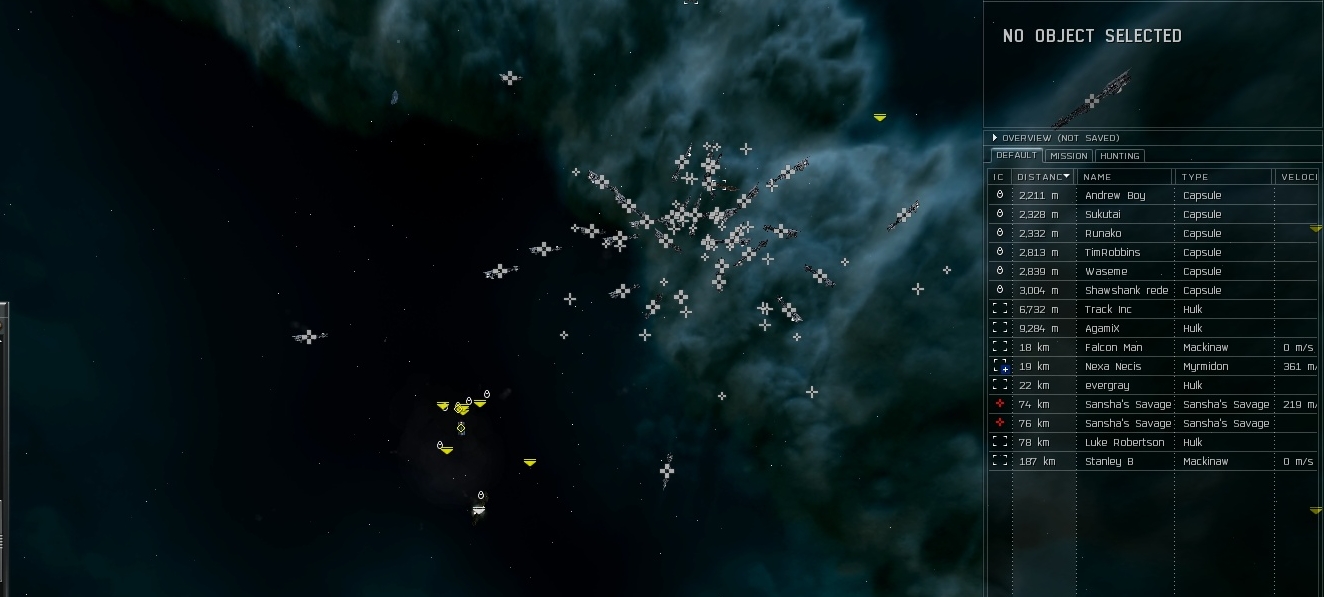 5 Mackinaws and a Itty 5 all went kablooey!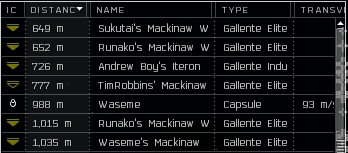 I even made a few million profit on that one. Good times I say!
Well I hope you enjoyed the ride. I will try to be more involved with getting some stories posted more often. I just get busy with RL and with our targets in game, I don't get a lot of time to write.
Have fun and be safe everyone!
Comments
Display comments as (
Linear
| Threaded)