Official ETC CCP reseller - support eve-pirate.com by visiting our sponsor:
Posted by freaky in Piracy
Sunday, August 17. 2008
freaky
They talk about us, telling lies, well that's no surprise. Can you see them? See right through them, they have no shield, no secrets to reveal. It doesn't matter what they say in the jealous games people play. There's a weapon that we must use in our defense, Silence. When you look at them, look right through them. That's when they'll disappear. That's when we'll be feared.
Going old school with a 80's retro-flashback a la
Go-Go's.
Wow, it's been forever and a day since I last wrote a story. I just got so wrapped up playing the game, I couldn't drag myself away long enough to pen another tale. Now I think I am ready.
This one will be a long one and probably broken up into two parts. Just a little info on what we've been doing over the last 6 months or so. We're still decing corps, alliances, griefing people and getting smack-talked out of the galaxy by lots of players. No surprise there, right?
I will post some of the funnier things I've ran into the last few months. Anti-pirates who smack talk, then complain and give every excuse in the book as to why they lose a fight. Anti-pirates who get caught trying to pull off login traps then deny it. Of course, don't forget all the crazy smacktalkers out there. There is no end to their litany of whining and excuses.
I always feel like my stories are repetitive. Yet I get a fair amount of fan mail in game with people saying how much they enjoyed them and such. I was debating if I should write more or not. As I said, how many times can you tell a similar stories with only the names changing? Then I thought about it a bit and realized, all of Eve is repetitive to some degree. You grind ISK, you fight, you mine, you mission, you chat, you kill, and you die. You have a pattern of sorts. You might even read the forums. How many posts have you seen titled, "Best Raven setup?", "Best Amarr BS for PvP?" and "Macroer Solution Ideas"? You still click and read them don't you? You still laugh at things even though you've seen it a hundred times before, right?
In the next two stories, I will take you through high sec to low sec and see what we find out there. Lots of smack talkers, lots of crybabies, and lots of fun. We held our own against long time pvp'ers and even took it to Eve University for a month. 2 weeks of that all on our own. We did pretty darn good all things considered.
It's the same reason I still play Eve. I love to hear people complain. I love to get their threats. I love to hear them try to rationalize their actions while pointing out TRAP's actions are unjustified and dishonorable. I love getting emails from people complaining about my corpmates killing them or stealing their ore. I love hearing my guys get excited about decing someone or scoring a kill and them posting the smack that follows. Call me crazy, call me a loser I guess. I like it. It's what keeps me playing.
I mean, when you log in to see stuff like this, it would keep you playing too!
2008.05.29 23:21
hey i was pod killed last night in this war lost everything. i have been playing this game as just a plane jane minner nothing less nothing more. kept to my self most of the time and because of some idiots i had to pay a price. NOT FARE! i just want to play this game and not be looking over my sholder. i have spent a lot of time just so i can mine and ship goods i never asked for this. so please let me out of this hell. just go after the ones the are to blame.
Read on!
I will start it off with a brief bit about serving up a steaming plate of shit to someone who thought you were out of their hair over a year ago. We dec'd a corp called Celestial Fire over a year ago. He was in it. He was a pissy smartmouth. We popped his Geddon and he wasn't thrilled, so he quit corp and made some snide remarks anytime he saw a TRAPS member.
So I decided to grind some ISK and see that he is constantly mining in a Hulk next to where I mission. He's in Yanuel which is .8 space. So I would need either tag team him in cruisers with a friend or I could refit my suicide Smartbominix to a large blaster suicide boat. I warp into his belt and pop his Hulk. I amazed there was no smack talk. So I head in to dock. Then I go AFK a bit and come back to a chat from him.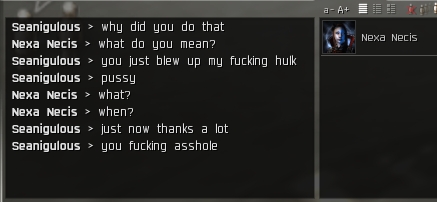 His abrupt end of the conversation shows I really got to him. So I email him and tell him that if he doesn't pay me 100mil ISK I will continue to suicide him and if he starts running missions I will probe out his missions and take his loot, salvage and bounties. That sets him off!
2008.06.05 16:49
Suck my balls

2008.06.05 16:50
I am petitioning you haha Guess what ! you're a cheater

2008.06.05 16:54
I am petitioning your guy and your corp for griefing. Good luck Loser!
After his first email I immediately petitioned him for sexual harassment and tell him I've done so.
2008.06.05 16:54
oh but the funny part about the e-mails is that CCP has a log and I never sent you any sex emails haha so sorry. But you did kill my ship in 0.8 through griefing which is NOT allowed.
Bye Bye
So I sent back an email wishing him luck with his pointless petition.
2008.06.05 16:59
The petition will work out just fine cause your a fucking faggot and can SUCK MY BALLS and are a fuckiing asshole.
So I petition him for the foul language again. I think the GM contacted him about the cursing and ball sucking comment as well as informing him that his petition doesn't mean shit and he's got to suck it up. Not one to stop whining, he hops into the Help channel and looks for moral support and ends up getting scammed.
2008.06.05 17:20
Major Faggot > so what happened exactly?
Seanigulous > i was mining
Seanigulous > i look away for a minute in yanuel .8 secuirty
Seanigulous > and Nexa necis has killed me with her wreck next to mine, and she emails me saying she is going to gank me over and over and over if i dont pay 100m
Seanigulous > so here we are
Major Faggot > what was he in?
Seanigulous > Dominix
Major Faggot > yeah that'll do it
Major Faggot > you should have left or responded, it sucks but every cocksucker out there has the ability to 1up concord
Major Faggot > a tough lesson
Seanigulous > no man
Seanigulous > i am going to fucking sue ccp for my subscription fees if they dont fix this
Seanigulous > this is a breach of game, because of the game's poor coding rules isn't a reason for them to be able to do that
Seanigulous > CCp should fix that shit, it's bullshit and it's a game flaw and a game cheat
Seanigulous > and I am seriously ready to sue them if they dont fix this somehow
The funny part is people convoed him and told him they would assasinate me for 10 or 15mil ISK. He paid a few people and then realized he got scammed. So now he's out a Hulk, 30mil ISK, and on warning from a GM for telling me to suck his balls.
I offer him a chance again to pay 100mil and he declines. Six days go by and a friend wants to drop some pain onto Sean's new Hulk. So we bring 2 Domis into the mix for pure overkill and psychological damage. Now he is just plain steaming mad beyond belief.
The next day he kept convoing me asking me to fight him. Geddon vs whatever I bring. Now I have had a ton of people ask this and then chicken out or I spot their friends in Logistics the belt over. He has killrights on me so he can fire at will. I turn around and meet him on the Tash gate in Bhiz.

He only lasts about 15 seconds. He had a horrible fit, but I gave him credit that he put up where lots of others have not. I convoed him to tell him I respected that he made an effort at least and gave him some pointers on fittings and on how to manage his anger over a game. He was pretty nice to talk to at that point and I told him I wouldn't actively harass him anymore and he was cool with it.
The funny thing is a month and a half later my corpmate ran into him mining in Yanuel and flipped his can of ore. So he came back out in an Inty or AF and tried to kill my guys Inty. He messed up and my guy got out and came back in a Huginn and Sean had already hopped back into his Hulk and proceeded to mine with a10 minutes left on his aggro timer! Needless to say, he lost another Hulk! He emailed me and tried to say my guy dishonored a 1vs1 with him by running away then coming back and popping his Hulk after he promised not to. It was such a laughable email, I didn't even bother replying. I looked at his bio and noticed he's CVA friendly.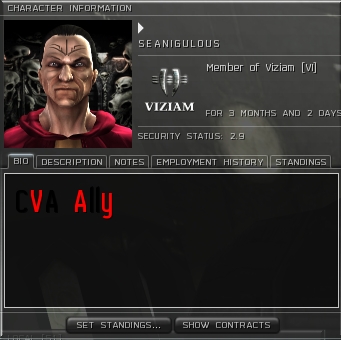 He joined them 5 days later. Too funny. I wonder what his current corpmates think of him. I knew local around Yanuel would laugh at him because he would shit a brick every time his ore got stolen. I am guessing he failed to sue CCP. I haven't heard anything about it yet.
It's stuff like that I wonder, what makes people go that crazy? I mean, I get annoyed when I lose a ship or miss a kill or something, but not to the point I flood someone with emails telling them to commit homosexual acts against me. I just can't fathom where the anger comes from. I can't even imagine how mad these people must get when something shitty happens to them in real life. Can you imagine you hit his car in a small fender bender? Can you imagine you screw up his Grande Breve Mochachino Carmel Machiatto order? He might fucking drop kick your mom in the uterus for such offenses.
Another war we had developed into quite a fun affair. One of my guys decided to flip some cans full of ore and the miners docked and came back with 2 Ravens. How they managed to lock his Taranis and kill him I will never know, but he is Lithuanian so that probably has a lot to do with it. Our pilot Nirt likes to keep an exotic dancer in his cargo for good luck. He asked for it back and was refused and there was a few smug remarks thrown out by them since he did kill a Nemesis and Retriever of theirs before they got him.
So he asked if we could dec them. Coincidentally I already had them in my to-do list since I had a character that missions out in their low sec system Faswiba. The corp was called Blacktalon Mining Corp and their ticker was BMC. Some of them seemed ok with the war, others would have insane meltdowns over it. Naturally that would lead us to some damn fun times and multiple chain reactions triggering more wars and a wave of death that spread through several corps and alliances.
So I put in the dec and off we go. I noticed one of them, Zerrux would only fly a covops frigate, cloaking and running and hiding. Of course that doesn't stop his tough talking smack.

One reason I don't smack talk is because it would probably come back and bite me right in the ass and having me look like a fool. It happened to him not once, but twice!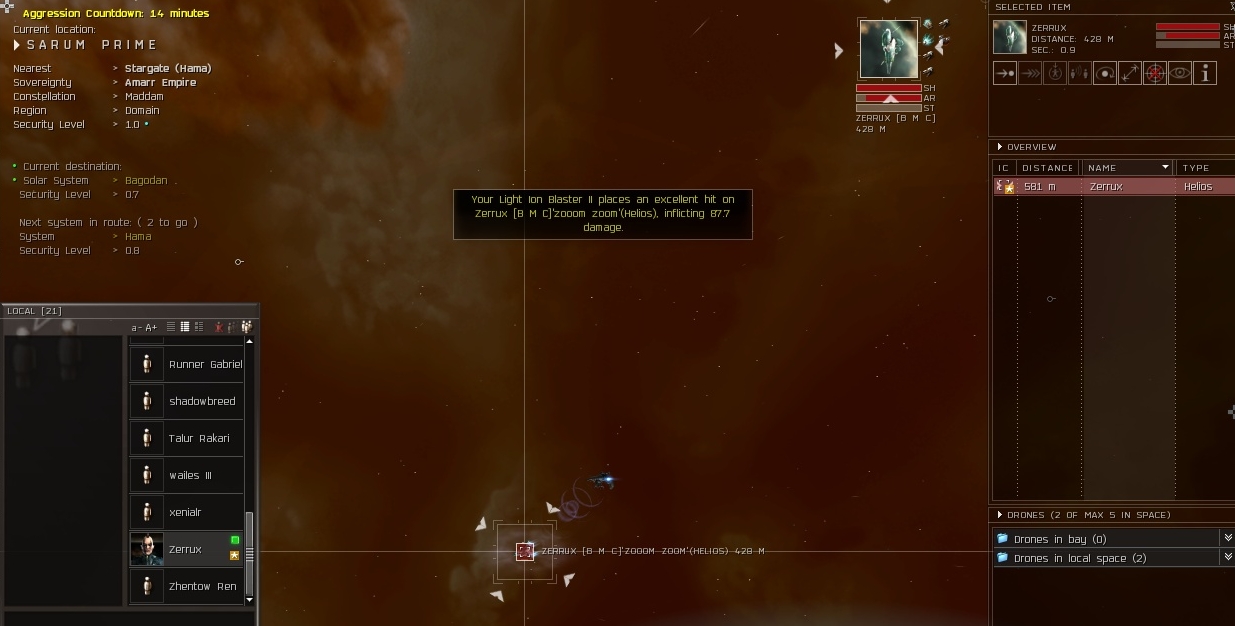 Then later that day I see him in my Taranis again. This time he undocks in a Hurricane. What's he do? Warp out!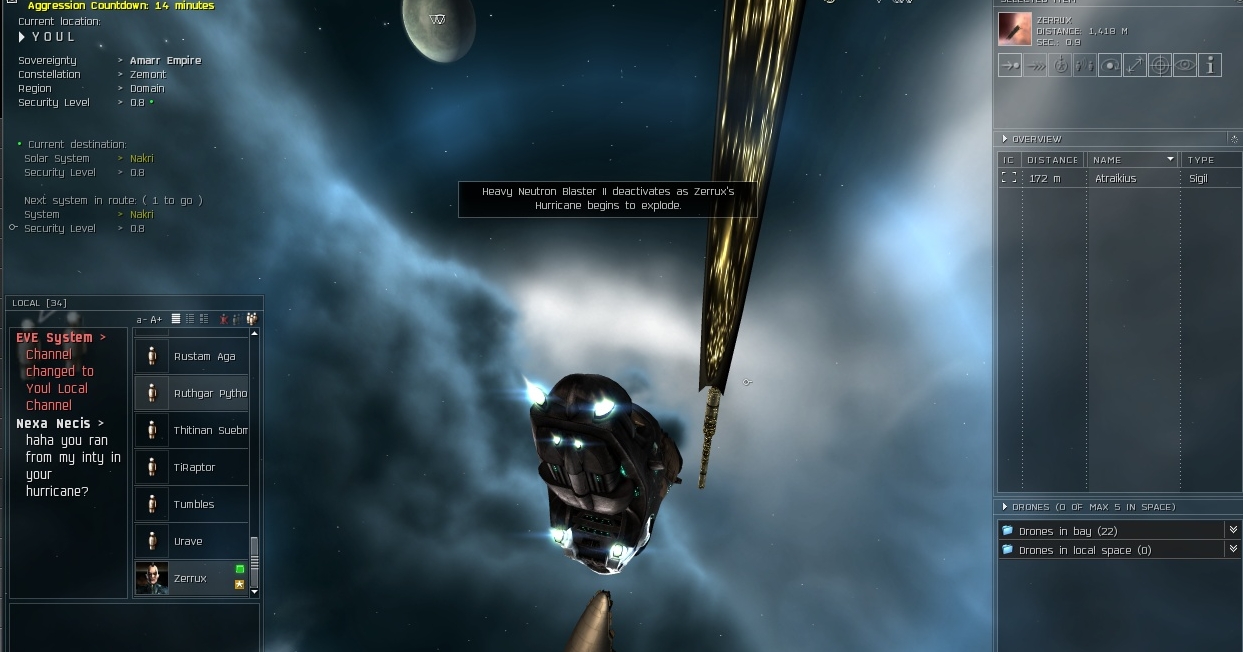 So I have a good laugh and go grab a Dominix since there were a few of them around the area and the Taranis wouldn't cut it. So I catch him at a station and he warps out. Stabbed up of course. So as usual, I stalk my prey. A corpmate logs in and I tell him that we got hostiles about and he heads over for the fun.
My alt finds Zerrux again with a corpmate practicing some pew pew against each other at a planet. They're both in Hurricanes and they're not even at a safespot but right at the planet's warp to zero point. Woot! So we warp in and proceed to pound them.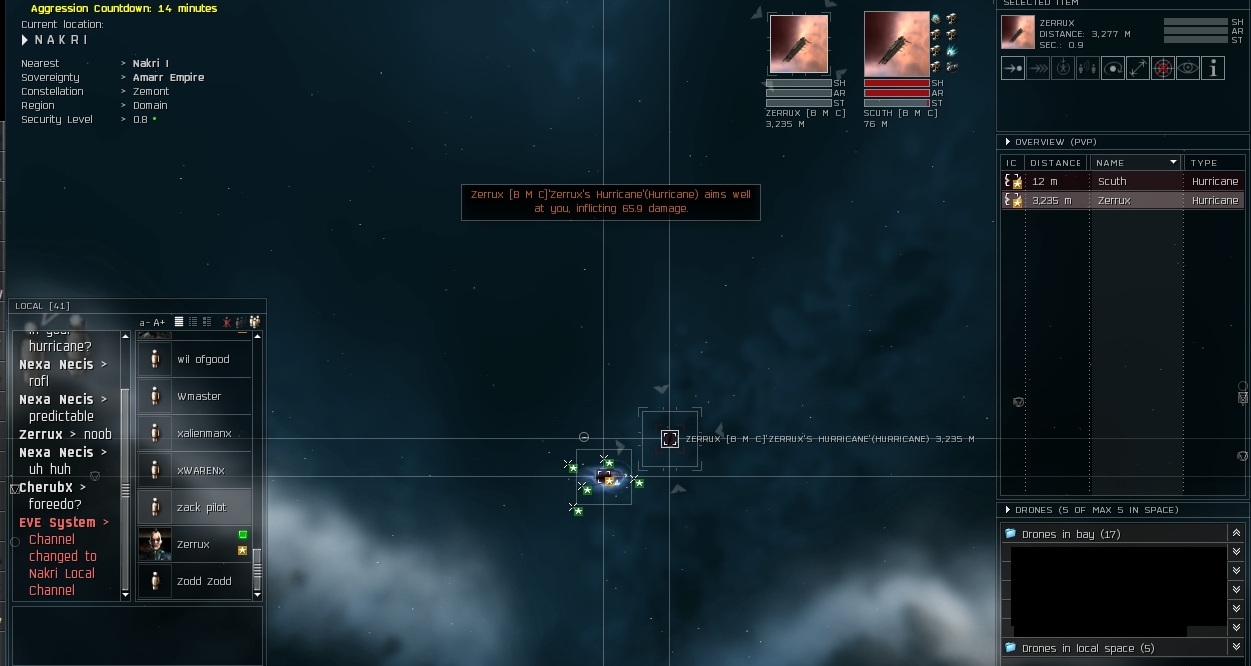 Needless to say he failed to live up to his promise. Not only that, I ended up scoring his corpse from that Helios fight. Booyah! I love when that stuff happens.
A short time later BMC had their friends from low sec, CCCP help them out by decing us. CCCP is a long time anti-pirate corp that works out of Faswiba. I had seen them there on my alt and knew they were good pvp'ers but also smack talked A LOT. I don't get why these corps like BMC who are quite capable at PvP in their own rights don't really even try to fight, they immediately bring in friends to help them. I mean, it's a fine tactic, don't get me wrong. What makes me laugh is the friends brought in are usually the biggest hypocrites and smack talkers too. This time was no exception.
If you check out their stats on our killboard, you will see them with 17 kills and 8 losses. Not too shabby at all. All kills but 1 had 3-6 people on the mails. What's that mean in world of Eve? That means they don't really hunt solo. Again, not that grouping up is a bad tactic, but you look like a retard crying that people wont fight you when it's 8vs1 in your favor then when the numbers are even, you dock up and refuse to fight.
One day I jump into Bhiz and there's a ton of them there. I am in a Taranis and all alone with everyone being logged out or AFK. Then the smack commences and all the usual bullshit from the "good guys" gets tossed out. TRAPS only decs miners, runs from every "real" PvP corp, everything we say is nothing but a lie, and all we do is smack talk, hide, run, whine and are losers in real life.....

Abrynn > is it fun decing miners for no reason?
Nexa Necis > who says we had no reason
Nexa Necis > you never asked why
Cmdr Tanaka > ok whats the reason?
Cmdr Tanaka > im asking?
Abrynn > yes i have just not u
Nexa Necis > ask the CEO of BMC, he shoudl know
Abrynn > so y did you dec them
Cmdr Tanaka > he dont
Pharaik > you guys must feel real proud when you just decimated a mining corp
It's funny, they're miners yet somehow have enough skills to fly Ravens chock full of T2 gear and Recon ships with T2 gear. Yep, defenseless miners alright.
Nexa Necis > i dont see you guys fighting when outnubmered 10 to 1
B0ndalavin > well let me know when its my turn to watch them, i have to baby proff my home again
Cmdr Tanaka > maybe ill get wrok to come jion in again
Pharaik > now thats just dumb
Cmdr Tanaka > for fun
Nexa Necis > go ahead
Abrynn > yeah they slaughtered you once
Nexa Necis > obviously you need help


Abrynn > nah u guys just hide
Nexa Necis > everyone loses
Nexa Necis > not everyone wins every time
Nexa Necis > least we dont run to get help when we lose :)
Believe me, we got options to get help if we want it or need it but I never exercise that when it's a basic corp war or even with most alliances. We're quite OK taking our lumps and swallowing our medicine all by ourselves.
Pharaik > so tell us stright what did they take?
Nexa Necis > im not lying
B0ndalavin > thier pride
Nexa Necis > they took an exotic dancer
Pharaik > really?
Nexa Necis > ive got no reason to lie
Cmdr Tanaka > yes u do
Nexa Necis > if it was another random dec i wuold say so
Cmdr Tanaka > yer a pirate
Pharaik > thats lower than picking out a corp at random
B0ndalavin > no reason to tell the truth either
Nexa Necis > of course
Nexa Necis > lets face it, anyting we do in your eyes is lame
Nexa Necis > no matter what
Nexa Necis > so its pointless discussing it
B0ndalavin > it does make a difference
Cmdr Tanaka > yep
Nexa Necis > if you say so
Abrynn > run run as fast as you can
B0ndalavin > a lot of people walk away when warranted
Nexa Necis > funny abrynn got outta dodge in her vaga when we had 5 people and it was ok, i evade 8 people and im a running
fool

double standards of anti-pies


Abrynn > yeah but you guys didnt even try
What's she leaving out? It was 4 BS and a BC trying to catch a nanoed Vaga. Yeah, now that's well worth spending an hour doing. Very realistic indeed. Again, her running is fine, and we're lame for not following, and it's lame we had 5 people, yet here I am alone, in a Inty, and I am the lame one for not fighting, and none of them chased me, but I was a fag for running. Double standards of carebears and anti-pirates are universal it seems.
Nexa Necis > well were outnumbered/outgnned atm
Cmdr Tanaka > yer always gonna be outgunned
Nexa Necis > im sure
B0ndalavin > we will wait
Nexa Necis > were used to it
Abrynn > dont forget out classed
Nexa Necis > of course
B0ndalavin > go get reinforcements
Guess what? We didn't get reinforcements. We don't want or need them. The smack and threats continue....
Cmdr Tanaka > remove yer war decc from BMC
lady helga > and we not in mining barges either
Nexa Necis > no thanks
Nexa Necis > ill keep it on for months
Cmdr Tanaka > then we will keep ours on for months
Nexa Necis > sounds good
Cmdr Tanaka > and you will fold
Nexa Necis > not likely
Nexa Necis > we enjoy you wasting time on us
I am omitting a lot of the snide comments and just plain rude insults. It was crazy to read. People in local kept sending me emails asking what I did to piss them off so much, then they would laugh when I told them all we did is a dec a corp they were friends with.
One of my favorite comments was...
lady helga > i came back to bmc for giggles and targets :)
So that would lead you to think that in a completely fair fight, 1vs1, same ship set for pvp and them being 3 years older than my character, they surely would engage and not cower at the last minute, right?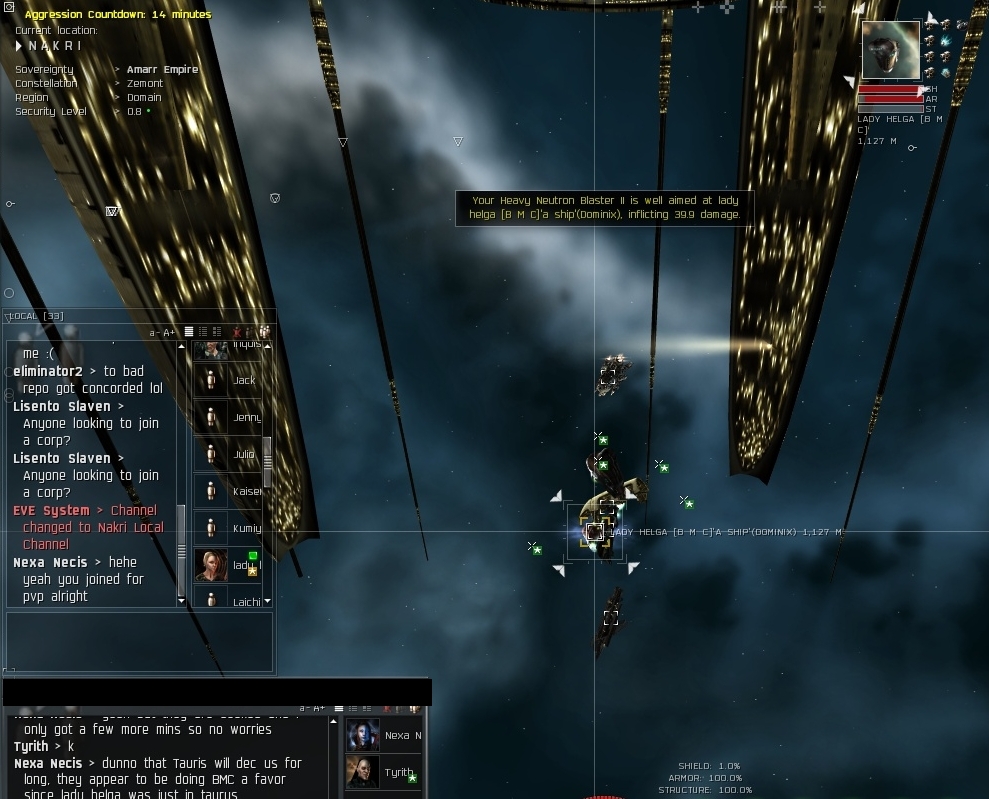 Yep, she redocked. Notice she couldnt even dent my Domi? I mean according to their anti-pie friends, that move was supremely gay, lame and cowardly. Personally, if I was losing, I would've went to the death on that one since you're not really going to find a even fight like that too often.
As the war progressed they see we're not going to give up even though BMC gets another merc corp to dec us that they were friendly with. So we had 5 wars active and we were doing very well all things considered. At this point some of the BMC guys decide to jump corp into an alt corp. So of course we dec them, and then the 8 million ISK war dec exploit is brought to my attention.
What is that? It's when a corp you dec knows you can only have 3 decs at once, so they create 4 alt corps and use alt placeholders then jump to the one corp you dont have dec'd. Once you dec the other corp, they jump to the other corp you had to let lapse or retract to dec the one they just joined. They did this over and over and over and over and over.
Here's how it looked at first....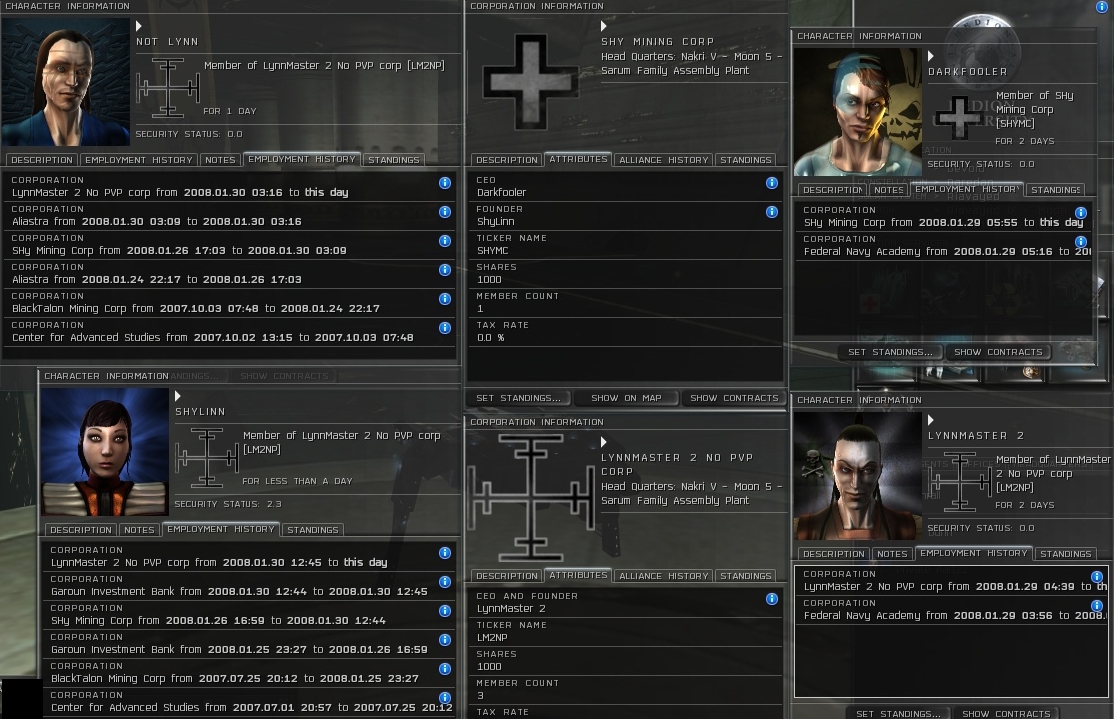 That was just the beginning. I ended up petitioning it because I thought this must be an exploit. After all, jumping into and out of alliances to avoid war decs was declared and exploit and this was no different. They would jump within minutes of the new dec notice being emailed to them. The GM's all said it's legal. They also said it's OK for us to keep decing them though. So I continued to do so on my alt. Look at how many times they ended up jumping!

Would you want this person in your corp? I wouldn't. I mean if you're not going to stick together, what's the point? It's not like they were the transportation/hauler alts. All they did was sit and grind missions all day. To each their own I guess.
CCCP's CEO R3dskull was a loon. That dude smacked all day long and thought every single person was a TRAPS spy. You enter system and if he didn't know you and you were there longer than 10 seconds, you were a spy. Pretty soon all of them thought the system was full of TRAPS spies. The best part was one of my alts had missioned in Faswiba for ages and was friendly with all of them already and they never questioned him.


R3DSKULL > traps lap dog
R3DSKULL > tell yer master that she is a moron
SEYKACHU > say hello to Jhonn Sabre from me
Nexa Necis > you talking to me? cause i have no idea what that means
SEYKACHU > nice one, cakeface
Nexa Necis > nope
jangofett > where r ur little friends
SEYKACHU > free floating, cakeface
jangofett > hehe
You will notice Seykachu likes to smack along with his corpmates as well. Keep an eye on Seykachu, he plays a nice part of the story later on.

R3d liked to brag in local at any given chance. The rhetoric was non-stop at times.

R3DSKULL > hey ive earned the right to say im atleast an expert in eve
R3DSKULL > in this last year killed well over 300 ships and lost a handful
R3DSKULL > im not to shabby
ROFL! They said TRAPS are braggarts, but we never say this kind of crap. He claims he even smack talks his own members. They kept saying all TRAPS did was dock up and all they did was hunt and never dock. I happen to take screenshots to show otherwise.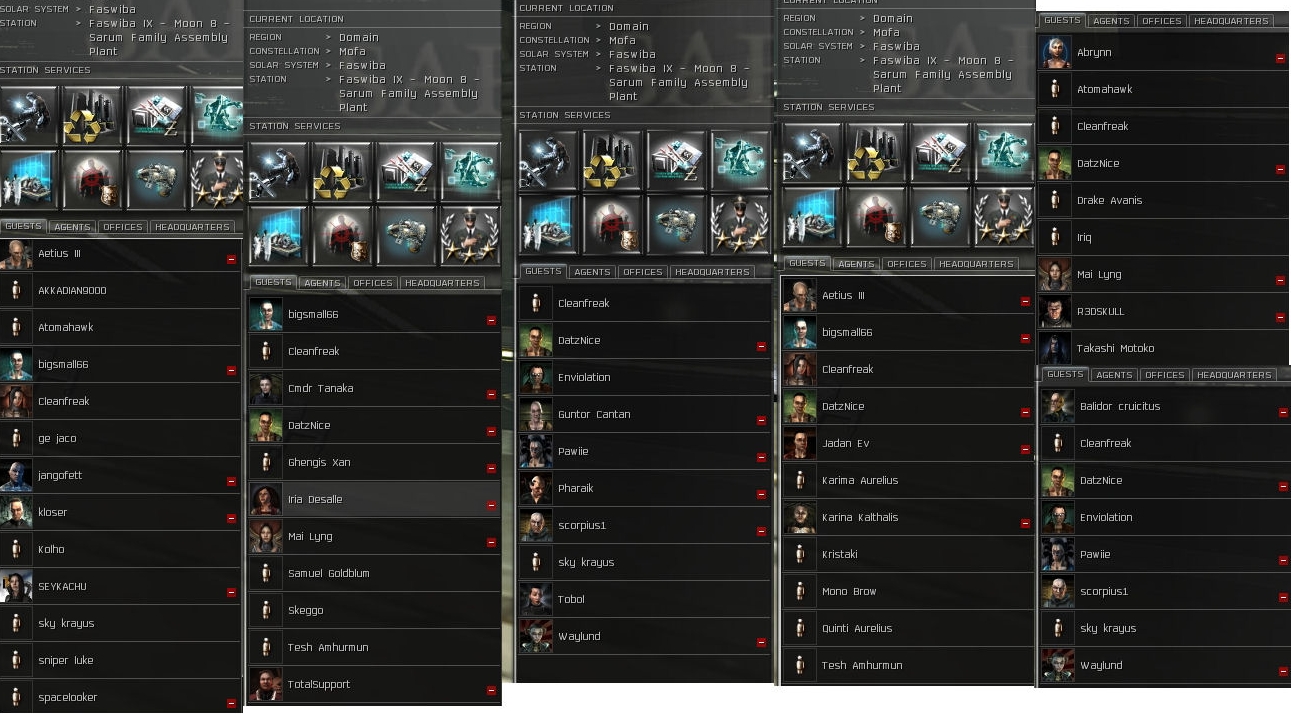 Nexa Necis > so all i ever see is your guys docked
Nexa Necis > but im sure they afk
Nexa Necis > i afk a lot
R3DSKULL > yes i know
Nexa Necis > but i dont smack them for it
R3DSKULL > why
Nexa Necis > i know theyre afk or busy or not in the mood
R3DSKULL > you should
Nexa Necis > nah
R3DSKULL > i smack them for it
Nexa Necis > hehe
R3DSKULL > im always yelling
R3DSKULL > wtf u lamers
R3DSKULL > get out there
R3DSKULL > they are like
R3DSKULL > why they just dock
R3DSKULL > and we sit there forever
R3DSKULL > im like so what
R3DSKULL > i had to stop playing for a few days i got so mad
Nexa Necis > and when you do undock, its either with a 5+ man gang
Nexa Necis > or its in a smaller gang with cloaker/nanos
Nexa Necis > which is fine
Nexa Necis > i never bemoan tactics
R3DSKULL > yeah i tried to come in small ships
R3DSKULL > we got outgunner
Nexa Necis > my only gripe is, its stupid to say, "you only fight when you got the numbers!" then every kill of yours against ours you have got way more
Nexa Necis > so its like being a hipocrite
R3DSKULL > same both ways right
R3DSKULL > yeah but we come in various ships
Nexa Necis > totally
Nexa Necis > its a fair tactic
He doesn't seem to get the point. Most anti-pies and carebears don't. They embrace double standards as the best way to live.
Well one night we had an epic battle for TRAPS. We had 8 people, they had 8+ people. It was a great fight. It was 6 BS and 2 BC on our side and 6 BS, and 1 recon for them, they had another guy or two warp in with smaller ships or a recon but didn't engage since the battle wasn't going their way and they gave the order to retreat.
Primary the ECM!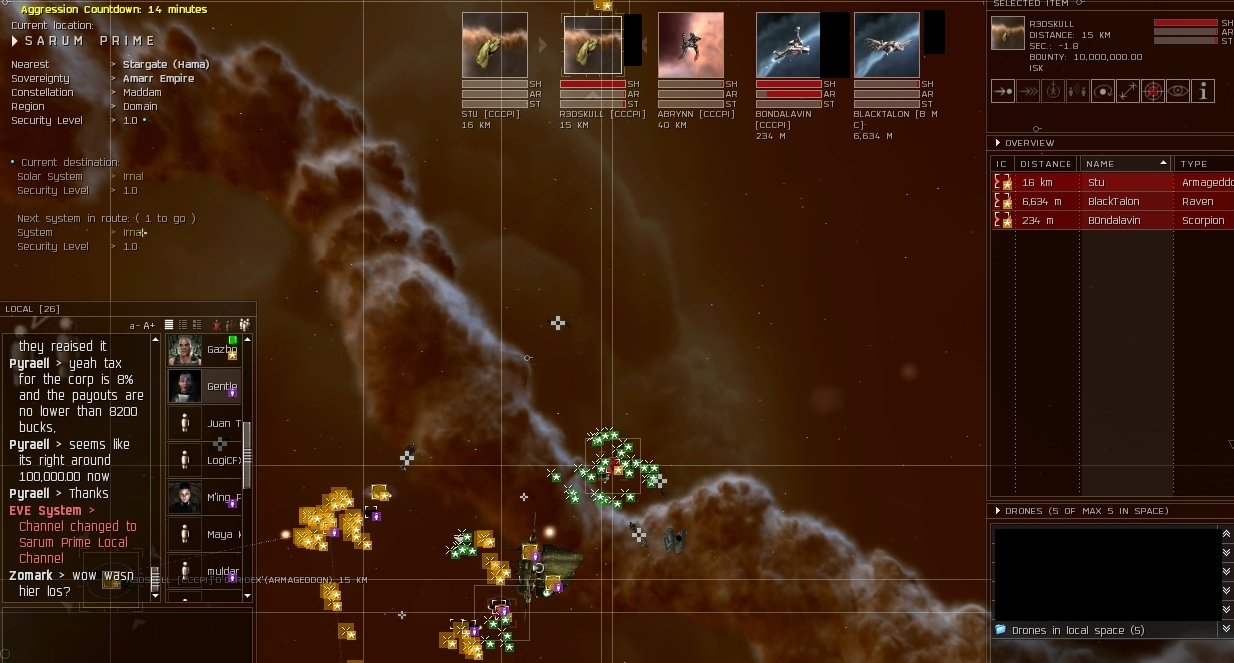 Take out the Amarr DPS!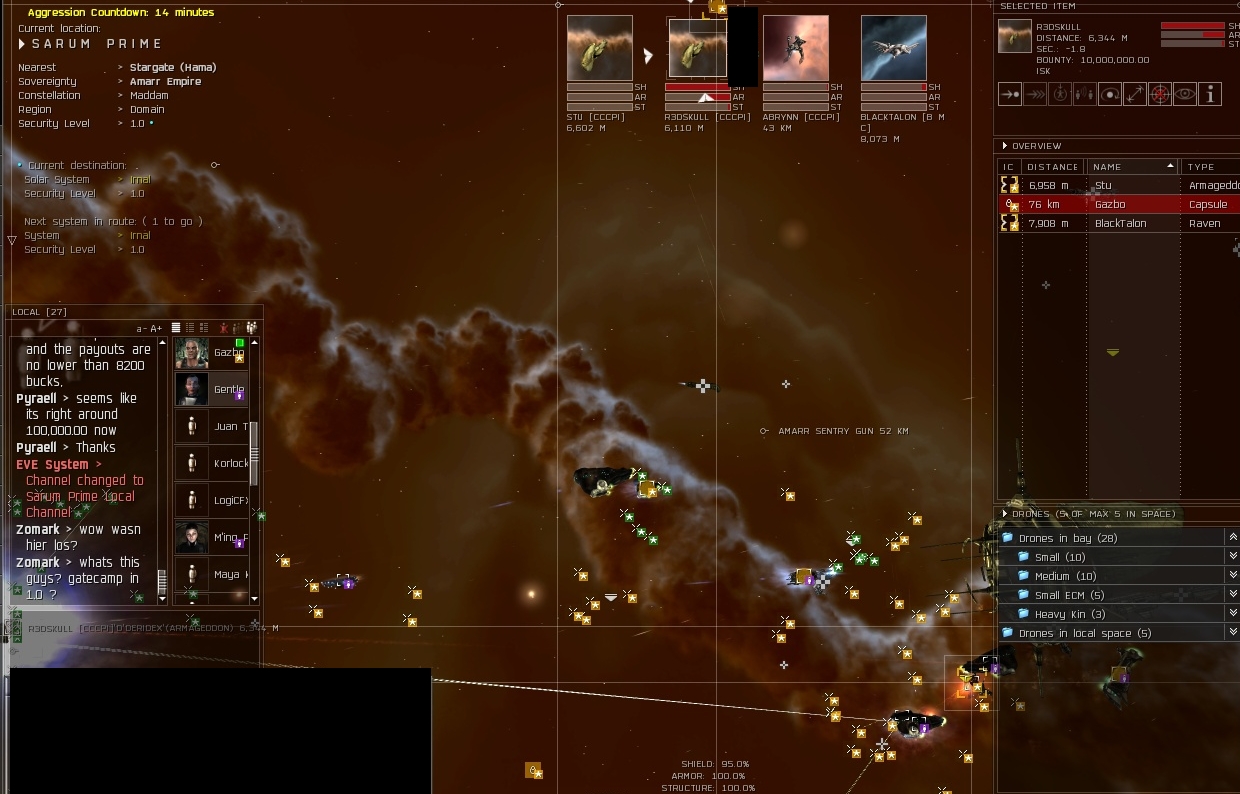 Clean up the rest....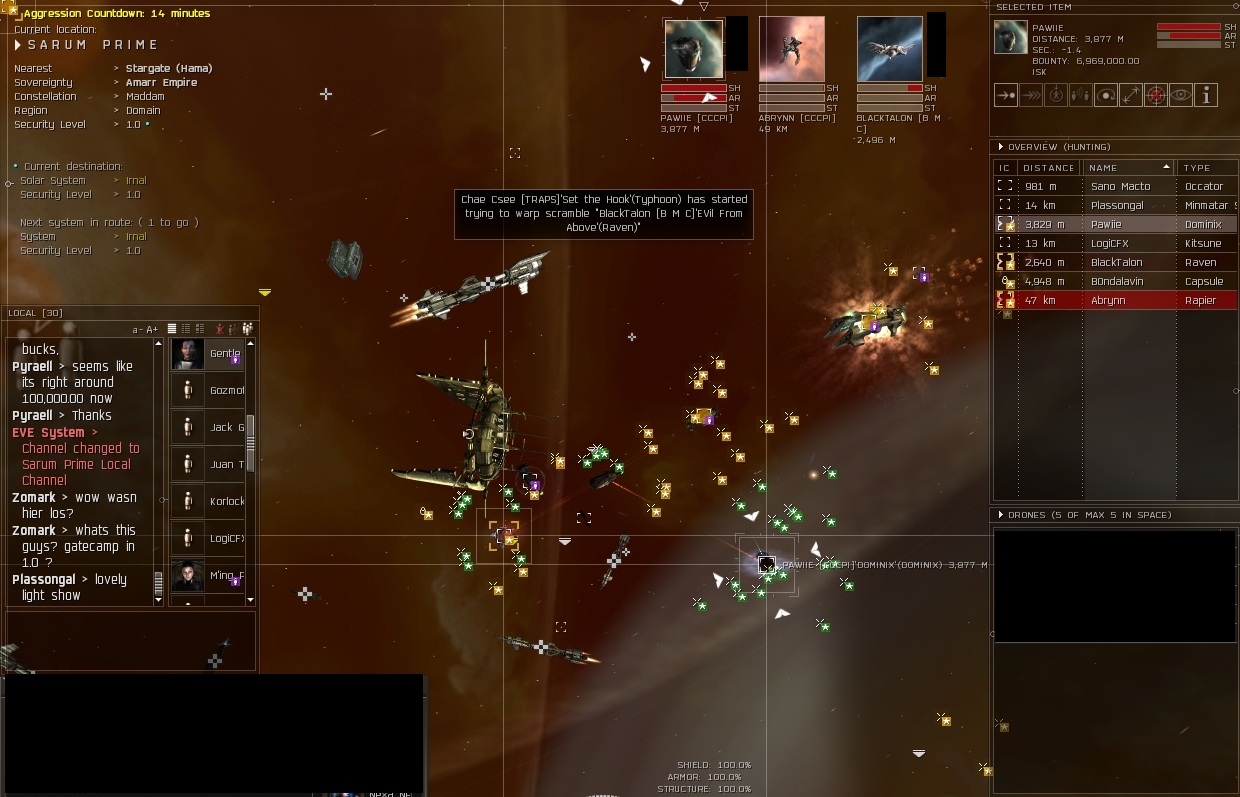 Score one for the bad guys! You can see the
engagement here.
They offered "Good Fight" even!

R3DSKULL > gf
M'ing Pai > gf guys
Gentle Glide > frapsed
Gentle Glide > good fight
muldar > gf
Abrynn > fair aye
Abrynn > yea ok
BlackTalon > dang went pop
Nexa Necis > gf
R3d eventually ruins it when he starts giving a litany of excuses. He blames the BMC guys this time, next he blames lag too when he loses naturally. It couldn't be that it was just a fight that they lost fair and square could it? Hells no. If they won it and we complained about lag, I could only imagine the smack they would've thrown back at us.

R3DSKULL > but they suck
Nexa Necis > Black has a decent fit
R3DSKULL > black talon?
R3DSKULL > i had to sort him out
R3DSKULL > in that battle with you guys
R3DSKULL > he was retardedi
R3DSKULL > t was a mission fit
R3DSKULL > im like WTF
R3DSKULL > he dont know shit about pvp
R3DSKULL > he cant do it well at all
R3DSKULL > he shoots the wrong targets
I don't know PvP Raven fits very well but it seemed OK. He had cruise missiles fitted but this was before the torp changes. I've seen way worse fits TBH and you have to at least give the guy credit for trying, don't belittle his effort, that's a shitty move in my book.
We engaged them again a few days later and R3d again. They would do this thing where one guy would sit in a BS as bait then they had Falcons or Rooks a jump or two out and if we engaged the ECM boats would show up mid-fight.
They tried it again and one of our guys who engaged as we warped to him wound up dying. Mind you, our pilot was 18 months old fighting a pilot who is older and who has been PvPing for ages. Our guy wound up dying but not before we managed to pop R3d's Geddon. Out come the insults and excuses....
Nexa Necis > you cannot avoid lag in eve, you can only hope to delay it
R3DSKULL > atleast u understand had i been able to fight there would have been a very different outcome
R3DSKULL >


R3DSKULL > i had the most dps out of all the BS in fight
R3DSKULL > oh well
R3DSKULL > doesnt matter what could have happend
R3DSKULL > what did happen was we exchanged BS
R3DSKULL > lol
R3DSKULL > mine was worht a tad more
R3DSKULL > so in end u won that one
R3DSKULL > and got me pod
R3DSKULL > dammit
Nexa Necis > and yer bounty you pirate
R3DSKULL > yeah
R3DSKULL > thanks
R3DSKULL > that sucks
R3DSKULL > my corp mates do that shit to me
R3DSKULL > really fucks me off
R3DSKULL > wtf is ming doing in a domi with t1 drones?
R3DSKULL > why do u let them fly ships with t1 drones >>??
R3DSKULL > i never let anyont fly ships with t1 fittings
R3DSKULL > no way
Of course Ming is retarded for using T1 drones. He has no choice, it's called not having enough skills to use T2. According to R3d he doesn't let people fit T1 gear in PvP encounters. That's a lie because if you look at his people's losses and his own, he uses T1 gear? So not only is he a liar, he's also a lamer who uses T1 gear in fights. Well I guess you can't fault someone for making fun of their own faults, right?
R3d promised me that they would keep us dec'd for as long as we kept BCM dec'd. He lied again. Shortly after the 2nd BS loss, they let the war lapse and we haven't heard from them again. I heard there was some dissension amongst their ranks shortly after our war. They lost a few long time pilots and the word I got was people were sick of his crazy ramblings. Here's a classic email where he explains that smack is a weapon!
2008.02.13 12:14
Smack is simple, Its a tool used against pirates to make them angry or make them make mistakes. most fall for it as they are weak minded that is why most pirates are pirates. I dont veiw smack as a bad thing its simply a means to and end. also passes time when bored. ANd shows no respect for you enemies. Respect you say the people we fight do waht you do. When phariak said that we left cva to fight you he was speak metophorically. your type of person yer type of corp. Those who would exploit the weak and pose as the strong. As for the corps i defend. /me shrugs i cant control those people if they want to throw there ships at you then so be it. I offer my help at no charge and require nothing from them. If they wish to heed my advice and warning them thats at there descretion. And i do not appreciate the way you state things out of context to seem as you would see it. we do not use logon tactics. But we will login if somone finds one of you around. As we are a clan not just eve gamers..
Thankfully BMC had a character in it who gladly took up R3d's smack slack. His name is Seykachu. This guy was something else. Seriously. He's one of those people who live in their own little worlds and woe to the person who dares interfere with his idea of what a game is and how it should be played.
He scored a kill on us and immediately put it in his bio. He loves to smack and brag.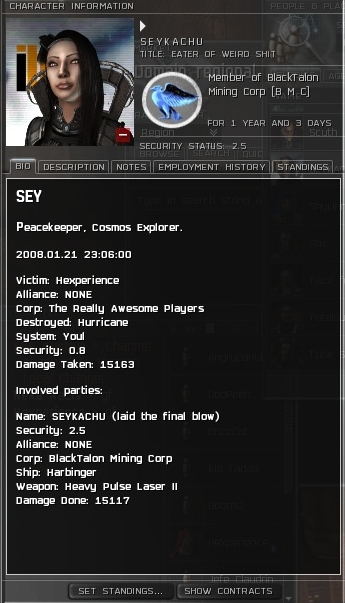 This guy had zero clue about how to PvP but he had a ton of cash apparently. I end up with a hat trick, killing him 3 times in a row without me catching anyone else.

He decides to leave BMC and make his own corp, Occasius Leggio or OCCS. I tell him that we will dec him for running.
I am starting my own corp thats why, and now as good a time as any.
If you respect my fighting against u then also respect this: do not war dec me.

In return I will leave you guys at the hands of faith and do no more to go after u .
However BMC are my good friends, and very powerful. CEO is back.

If u remove war Dec, ull not loose all ur ships. CVA and 5 other corps will hit u over the week to come.
Trust me, every corp that tried, has removed war dec

I have no hands in that and if u leave me be now, we can meet in pvp in the future,
But if u attack my new corp know that ur forcing me to disband my first attempt at a corp.

And that isnt pvp is it? Leave me be, and we shall meet later
in the rightful time when my destiny is clear, but not now, not next month, but sometime.

Sey

I love the old "CVA WILL GET J00!" threat. That's one of the top ten threats I get from our targets. He claims CVA AND five other corps will dec us if we dec them. Guess what? CVA didn't, neither did 5 other corps. Surprised? I didn't think so.
He goes on a recruiting binge even with the war on, failing to inform people that he has an active war from one of the most tenacious corps in Eve. He thinks by having way more people in corp, that will scare us off I think. I decide to pop into their pub channel to see if they're still recruiting and get some intel on their members.

EVE System > Channel MOTD: •Occasus LegioThe Sun's Legion is now actively seeking members. We are an anti - pirate corp that trains together in the art of fighting. We need You, who stands with your Friends.The training gives us the safety to focus on otherthings when time be; so we need Mission Runners, explorers interested in Cosmos, and Belts. - But all with an edge towards PvP.Contact:SEYKACHU via email or join public channel OCCSFly safe,SEYKACHUCEO and Founder

SEYKACHU > Corp has not been around much but we are growing iwth a few each day
Nexa Necis > you guys recruiting still?
Balidor cruicitus > yup come join the party
Nexa Necis > sweet
Xanth Trelidan > if you have a solid plan to move to 0.0 i would consider it but otherwise.....
EVE System > Nexa Necis was muted by SEYKACHU., Effective until 2008.01.31 15:18:17.
So he boots me and then blocks me from emailing or convoing him. He eventually unblocks me and continues on smack talking....
SEYKACHU > http://www.eve-pirate.com/index.php?/archives/600-Smack-TalkWar-Dec-Part-2-Electric-Boogaloo.html
Ravik Mol > Fun read.


SEYKACHU > yeah cakeface can write
SEYKACHU > doin the smacktalk routine nexa, keep counting our numbers, capital pilots joining , cakeface
Yeah, lord knows the cap pilots who join a brand new corp CEO'd by a smacktalking retard who has no clue how to fit a ship are going to be the BEST cap pilots evar! I laughed at all the Geddons we popped of his. He kept fitting trimark armor rigs but had no plates fitted! That was like tossing 60mil worth of rigs out the window. Completely useless. I decide to try and put an alt in his corp since he is recruiting with reckless abandon. Sure enough he accepts after a brief and hilarious convo, because he is totally lying out his ass to my alt, and to every single person who applies....
SEYKACHU > Im lookin for osmeone that can take a bit of rough times
SEYKACHU > without leaving corp
How fucking funny is that one? He fucking quit BMC because he wrongfully assumed we wouldn't dec them and he wasn't cut out for the constant pressure we kept on them.

SEYKACHU > we about to join alliance
Carebear playbook, anyone?

SEYKACHU > first you need to know that we are in conflicht with some evil doers
SEYKACHU > We are an industrial pvp corp, we defend ourselves, and if we see a pirate we lock and load
SEYKACHU > At moment a corp that been declaring war on many innocent miners have war declared us. We are in Faswiba system where we have friends that war declared them back. Here it is quite safe.
More bullshit, as you will come to see.
SEYKACHU > As they are outnumbered
SEYKACHU > But now and then they manage to sneak in and we get a lost ship
ALT > what alliance are you guys thinking of joining?
SEYKACHU > neweden has asked us to join and we been in talks
SEYKACHU > the threat is external, and we are an industrial pvp corp. our business is to fight back. no corp here disbands due to threat, many in high sec do

Again, too funny since he quit BMC to avoid war. He said it in his threat email to me. Now all of a sudden he is all about the PvP? Remember this part, "no corp here disbands due to threat, many in high sec do".
SEYKACHU > corp war declared us, our friends, and we all war declared them back
SEYKACHU > it means they shoot you on sight if they see u in local lol
ALT > are you all winning?
SEYKACHU > and they can
SEYKACHU > well
SEYKACHU > 5 wardeclarations on corp
SEYKACHU > they are one
SEYKACHU > they cant take that of course
SEYKACHU > they lost a lot
SEYKACHU > they pirates btw
ALT > so were winning then? thats good to hear, makes me feel a bit safer


SEYKACHU > do it for a living
SEYKACHU > yup

Complete and utter bullshit. BMC had a shit record against us, and OCCS had a really shitty record against us. The only ones with a decent record was CCCP, but keep in mind, they were also working in contention with a few other corps so they had a distinct advantage.
Seykachu keeps working with BMC and CCCP. We start wearing them thin and they decide to try a login trap. Personally, I think it's a valid but lame tactic. In my book it would be the last resort of a corp that is in dire straights and needing to score a win. It's not a tactic you would need to pull when you have your opponent dec'd by your corp and 3 of your friends corps are involved with the wars as well.
They decide to put a rigged
Retriever
in the belts. It was such an obvious setup, I swapped my Domi for my quick kill Thorax. I jump into the belt and engage. Guess what happens in local?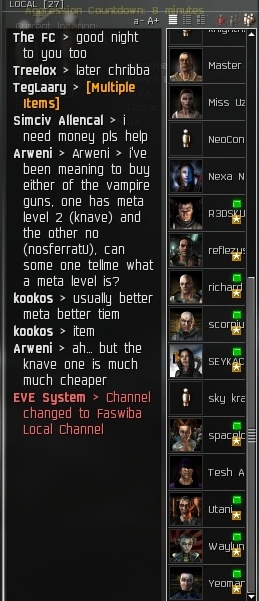 Local went from one war target to 15. Of course R3d claims they had nothing to do with it and that it was pure coincidence on CCCP's part.
2008.02.13 16:19
haha ok if thats what u believe. Seyka is telling u funny stuff. I am not one for logon traps, ive warned Seykachu about login traps. But yer attempt to try to turn people agianst eachother is amusing at best.
Hmm, let's see who is lying, shall we?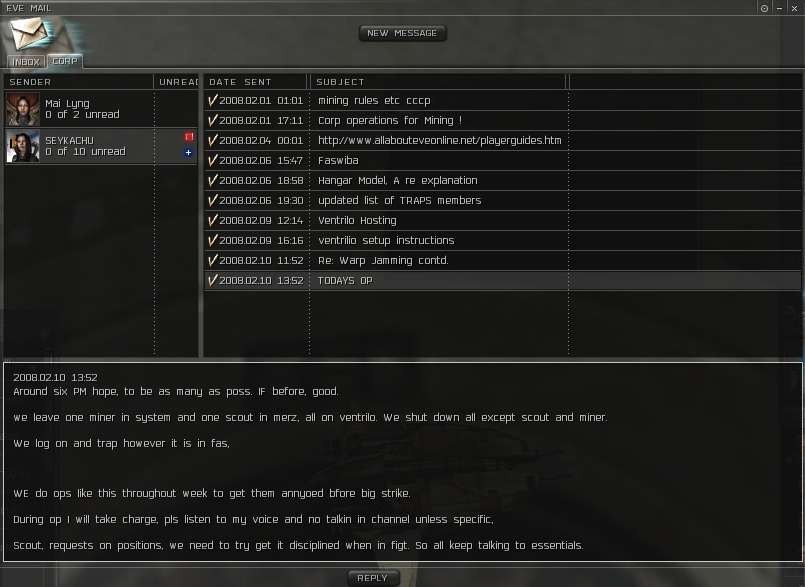 The funny thing was I scored the kill, and got out before any of them got into the belt and I docked up. I sat and waited while they all talked shit in local. Then once enough of them were AFK, I went out to kill some more. I managed a 2vs1. Vexor and Raptor vs my Thorax with several other war targets in system.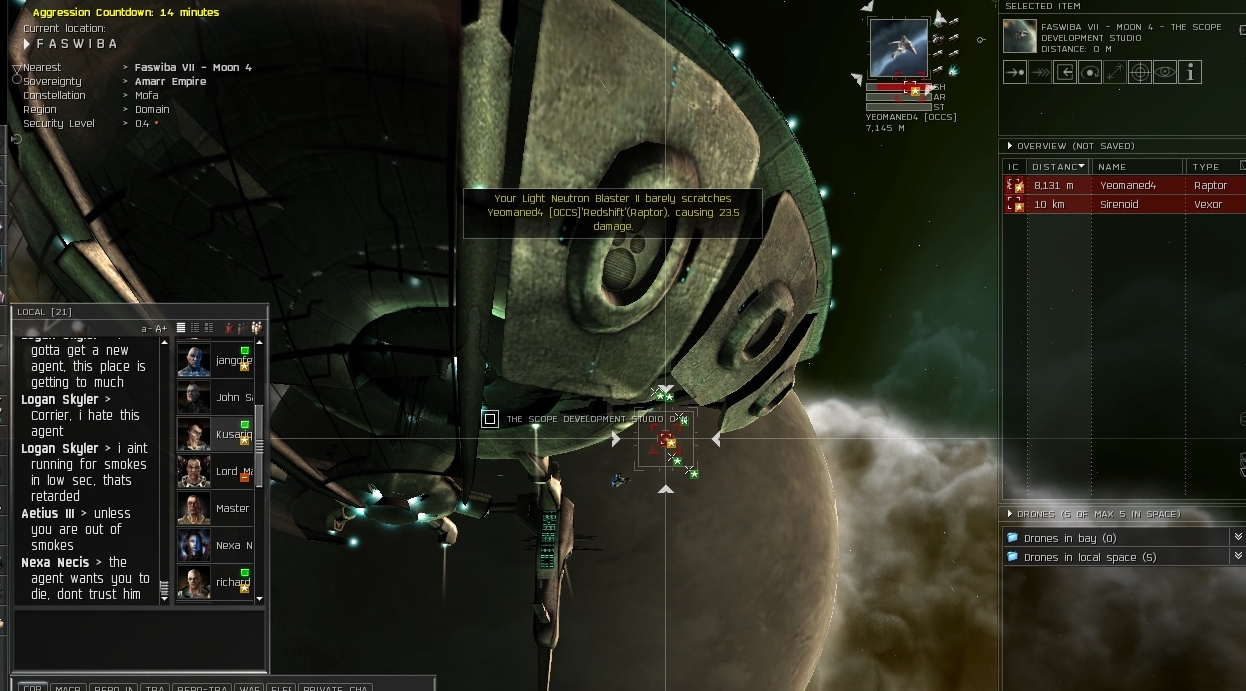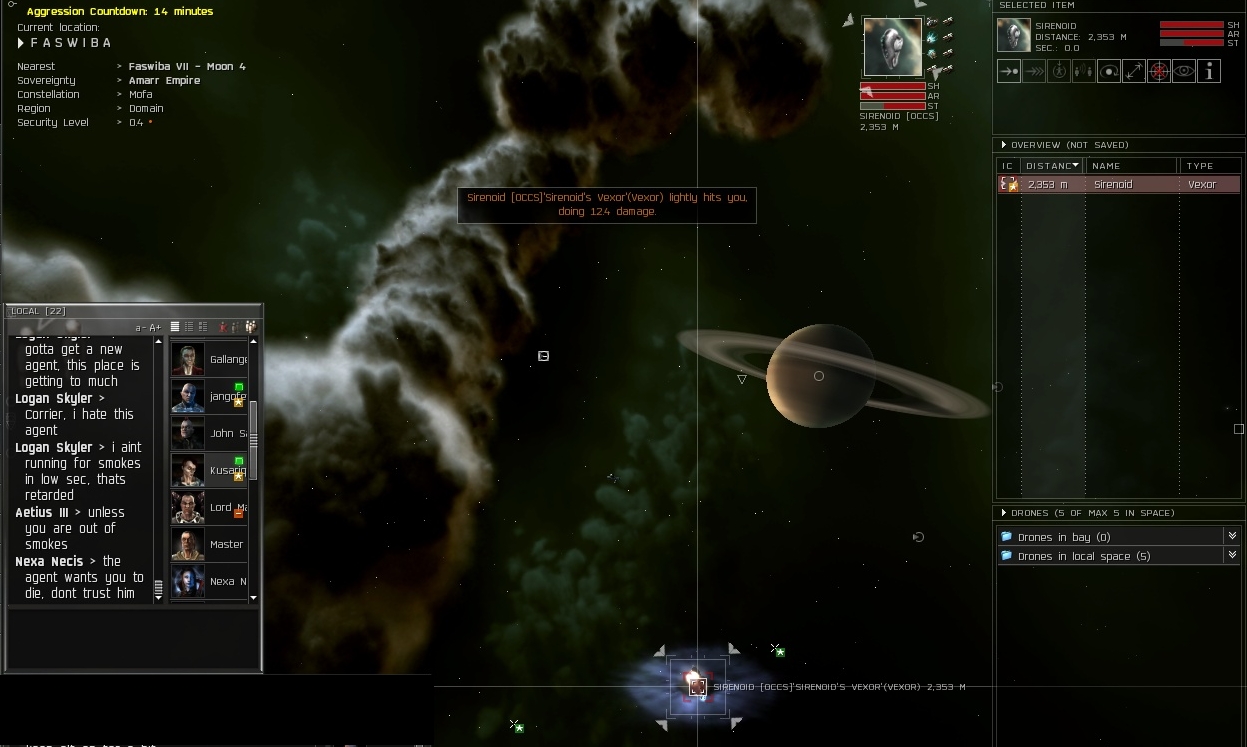 Local starts getting annoyed and one of the alliances decides to try and put me down. A Harbinger kept undocking to fire at me. I took a chance to see if I could pop him before he popped me or before more war targets or his friends showed up.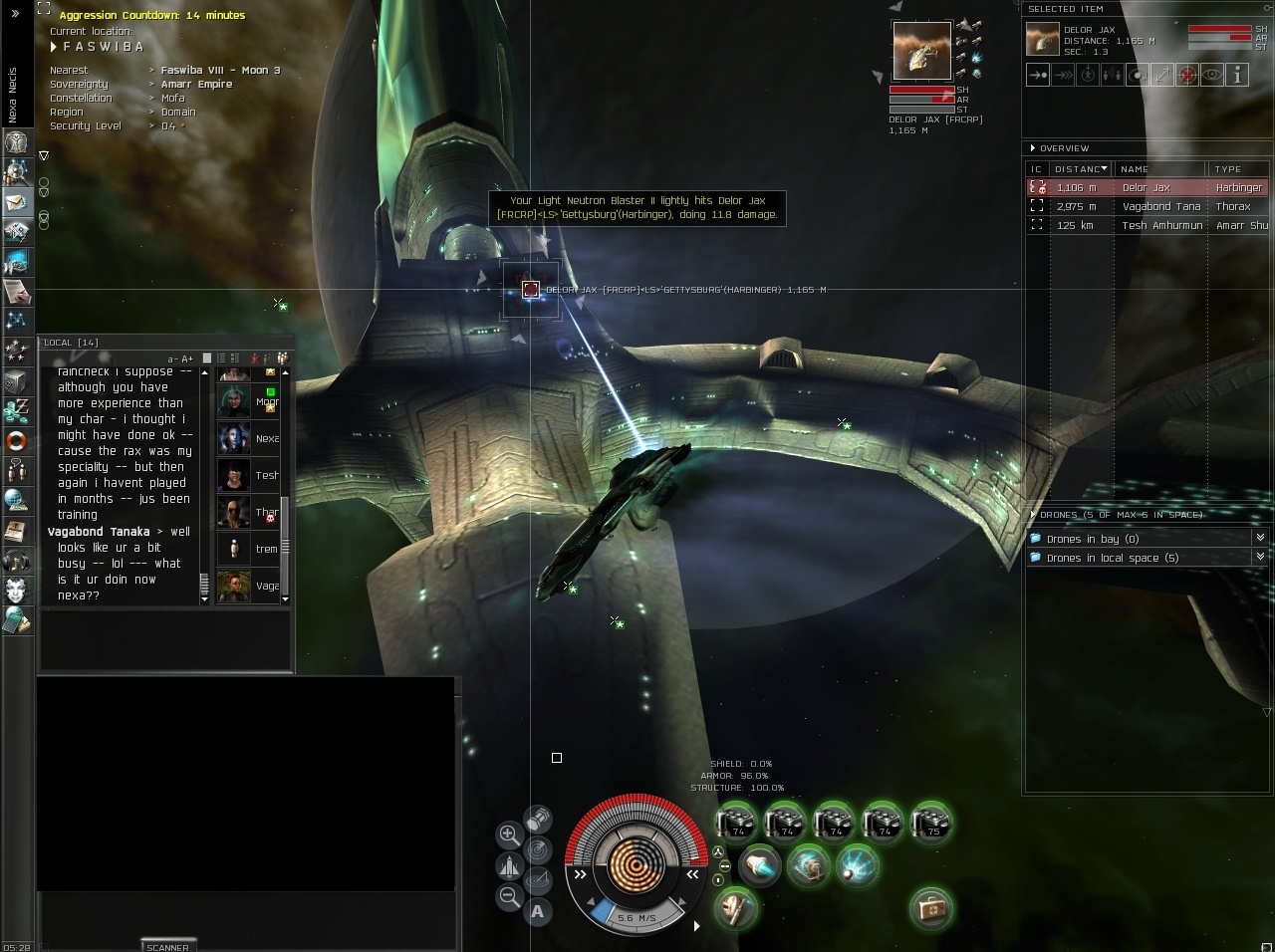 I managed to pop him and escape before the calvary arrived. What do you think would be necessary to take me down? I'd say maybe 2 cruisers or 2 BC's. Not these guys. How about a Mael, Geddon, Proph, Malediction, Crow and a Onyx.? Would that be enough to catch me and kill me?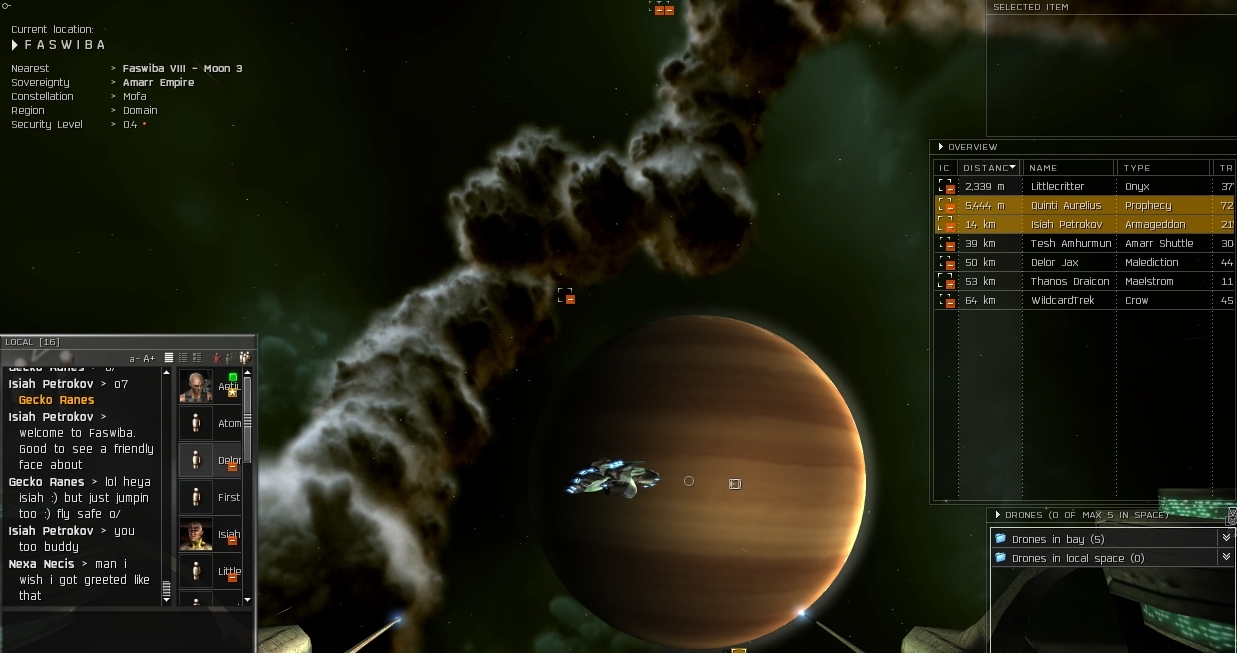 Apparently not because I just kept breezing by them before they would lock me down. The funny thing is the CEO of that alliance said that TRAPS was neutral to them and wouldn't interfere with us, but as you can see, that promise fell through.
The really funny thing about killing all of those guys was that Seykachu thinks it was a victory for them. I am not sure what occurs in his mind to make him think that. Perhaps some chemical imbalance or deficiency causes the basic logic functions of his brain to fail and not work correctly.
2008.02.11 13:00
Yesterdays op was good and we managed to trap Nexa . More ops are to follow.
Also the younger players did well.
The fact that we did not pod her matters little to me we got her thinking.
In the forthcoming ops the focus gna be on our "senior" pvp team and it is no reflection
on younger players willingness to fight. I appreciate everyones help but we
now need to keep a tight ship and minimize losses.
This is again not a reflection of any ones performance but just how a tight team must work.
And how most pvp teams in EvE works and we have just started. As I said all did good.
I will approach all younger pvp eager players with a training program
that should bring them onboard the pvp detail if they want so this spring.
We shall continue ops during week, rise the co ordination of the team.
Thanks for all your help, new and old yesterday. We worked as a team, and many showed


SEY
That is some serious bullshit his pushing on his corpmates. I guess having a ton of ISK must go to your head because this guy had ISK to burn. One day he tried another trap of sorts. We warped to the belt and everyone ran but one Caracal so all his mates left it to die. Then for some reason Seykachu comes back into the belt and proceeds to die quickly.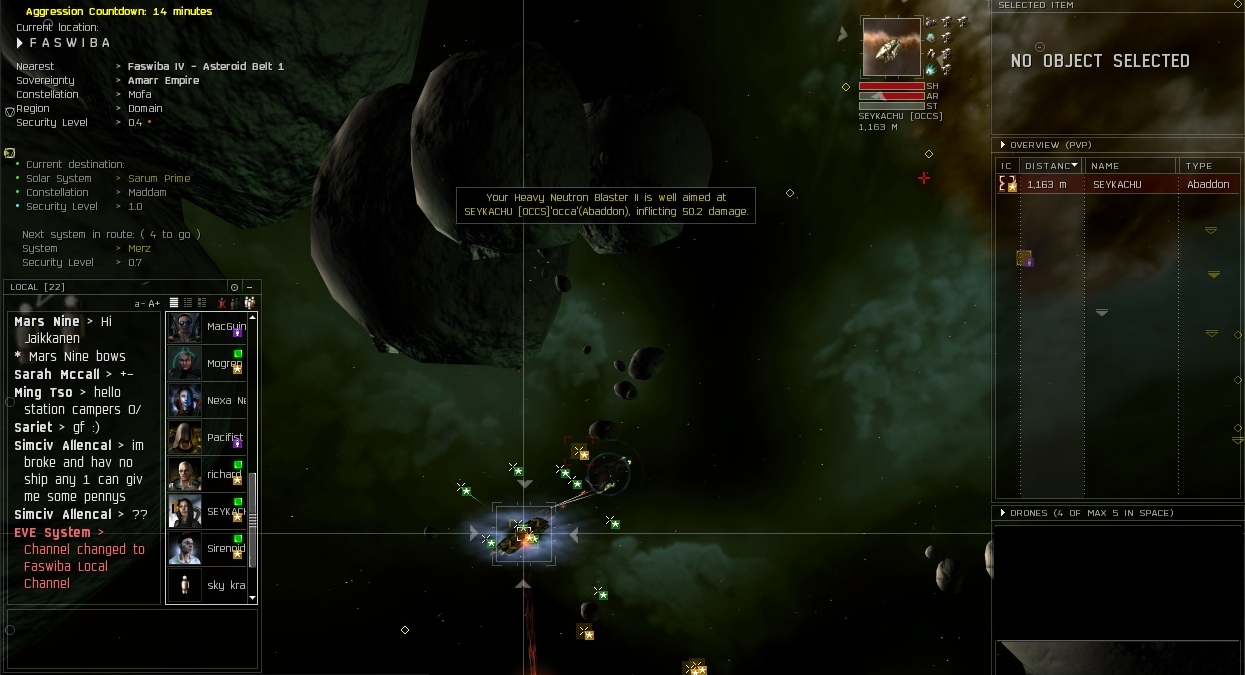 He really has no idea about how to fight. He would just roam alone and warp to moons and sit there for a while. Of course were able to probe him out.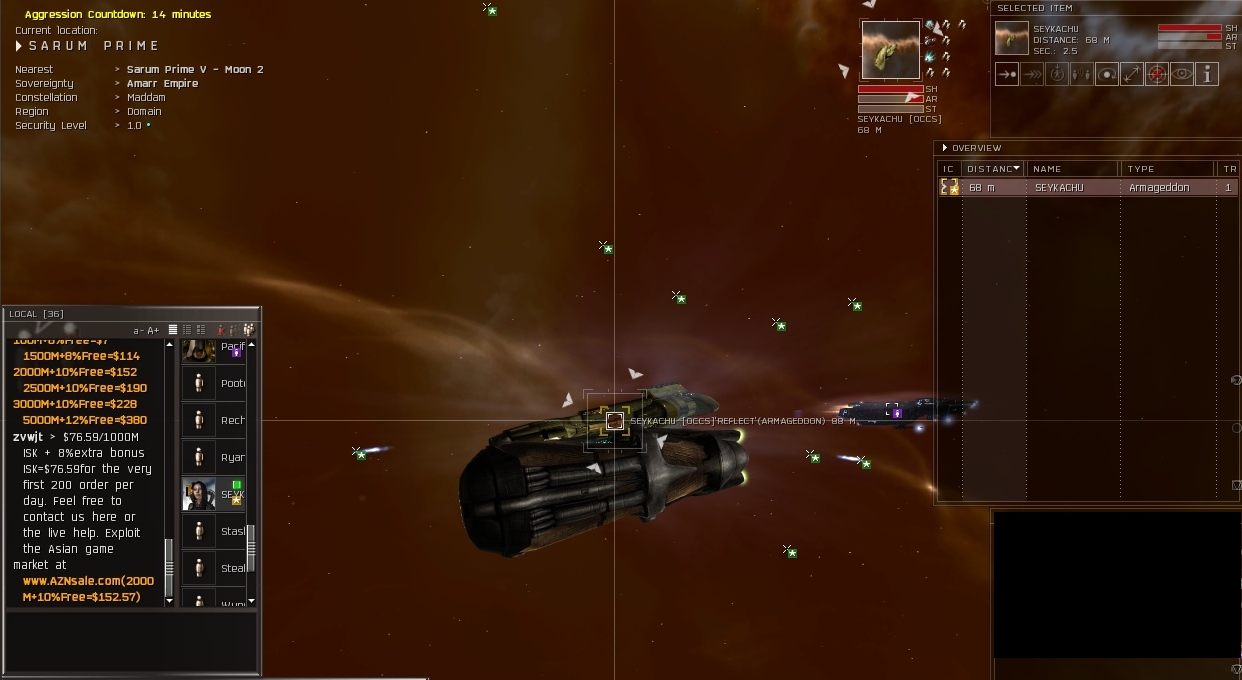 One would think he would learn we have probe alts and sitting at a moon doesn't do much for your safety. He doesn't learn.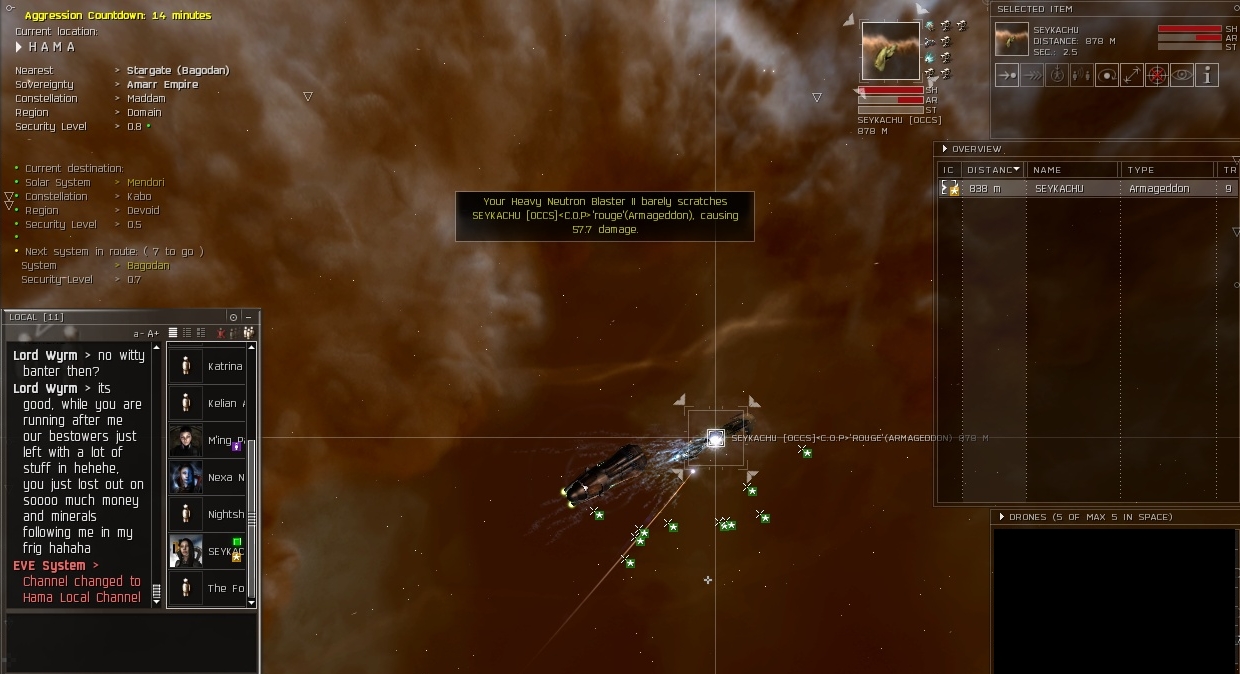 At this point he tries to join an alliance. True to form, he is going verbatim from the Carebear Playbook. He joins up with Covenant Of Prophecy. I don't think he was quite straightforward with them. He was able to join easily and no contact was made from their alliance to us regarding the war. It seems like half the players we popped had no idea there was a war active. How stupid can you get?
I mean, OK, sure, not everyone does Empire wars, right? Let's looks at the plethora of errors that would need to happen for you to die unawares. First of all your alliance heads would need to somehow recruit Seykachu's corp, OCCS. They would have to either be completely retarded by not checking out their background or to see if his corp had any active wars against it. Then once they did join the alliance, the members would be equally retarded for not reading the corp mails. Seykachu and his corp would also need to be a bunch of asswipes for not informing everyone of the giant shit sandwich they're bringing to the table for the entire alliance to take a bite out of.
This shall continue in
Part 2!
!
Comments
Display comments as (
Linear
| Threaded)